Moto G5S Plus review
Georgi Vasilev, 20 January 2018.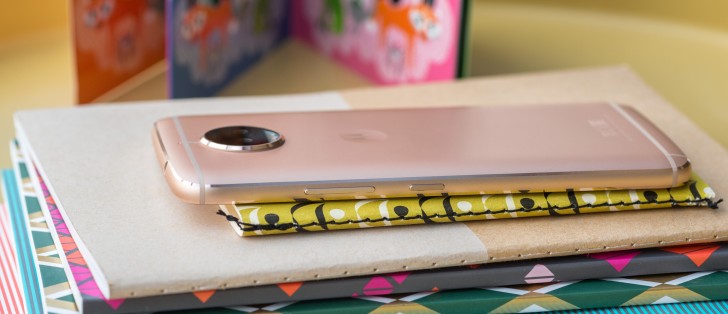 Software
The Moto G5S Plus runs Android 7.1.1 Nougat, and we can't really fault it for not having Oreo as it did, after all, come out all the way back in August. Oreo is coming, though, so no worries. The look and feel of the Moto G5S Plus' software is for the most part that of stock Android.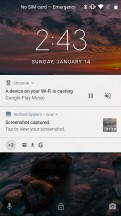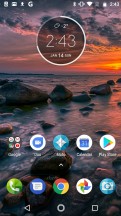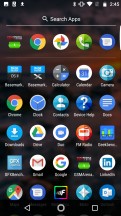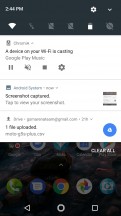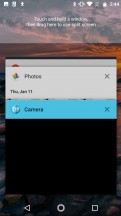 Lockscreen • Homescreen • App drawer • Quick toggles/notifications • Task switcher
The Moto G5S Plus' fingerprint scanner can be used in a number of ways. The obvious one is to wake/unlock the phone - it is always-on, very fast and quite reliable.
For navigation purposes, as part of Moto Actions, it can fully replace the on-screen nav bar - tap to go Home, swipe left to go Back or swipe right to switch between recent apps. Gestures get detected pretty accurately, though you may find the left-right mechanics a little counterintuitive if you switch hands often.
Pressing-and-holding the sensor for a short time will lock the screen, while a longer press will summon the Google Assistant. These two overlap and mastering them does take some time, but it's ultimately a great way to do away with the on-screen navigation bar in case it's not your thing.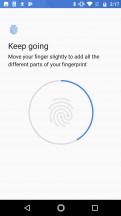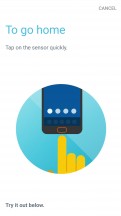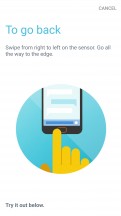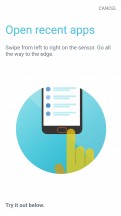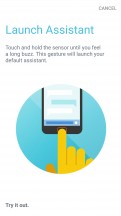 Registering a fingerprint • One button navigation
Moto Display is another long-standing proprietary feature - it now comes with an updated clock design with an integrated battery ring, a blue-colored theme and direct-replies from the locked Active Display. There's no way to change the color, but you can select which apps to block, choose how much detail to show, and toggle the quick reply feature. Also part of Moto Display is a new feature called Night Display - the phone will display warmer colors to filter out the blue light that's known to mess up your sleep according to research.
In the Moto actions category, you'll find gestures like 'pick up to stop ringing', which most phones have, but a couple that are unique to Moto are "chop twice for flashlight", and "twist for quick capture".
As for multimedia, it's all in the hands of Google and its default apps. Google Photos is in charge of gallery-related tasks and video playback, while Google Play Music is the audio player. There's an FM radio too, with RDS and recording capability.
Performance
The Moto G5S Plus is powered by the Snapdragon 625 chipset, a super-popular midrange SoC, and rightfully so - the 14nm chip blends excellent power efficiency with adequate performance. The former we already established to be the case once again, let's have a quick look at the latter.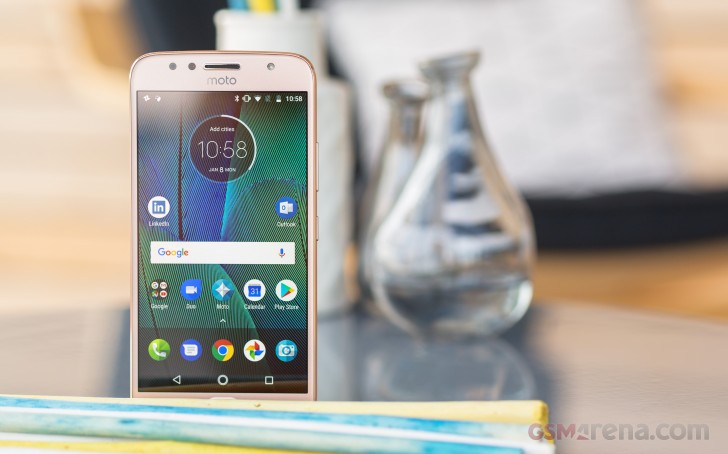 The numbers are hardly surprising - after all we've tested a whole lot of Snapdragon 625 phones, and the Moto G5S Plus isn't much different. In single-core CPU tasks it's on par with its predecessor and the Moto X4 (S630 and a slightly higher clocked processor), while the HTC U11 Life (S630, again), the Xiaomi Mi A1 (S625), and the Honor 7X (Kirin 659) marginally outperform it.
The Snapdragon 625 uses eight Cortex-A53 cores. A Cortex-A72 core is inevitably vastly more powerful as represented by the Galaxy A8 (2018)'s Exynos 7885 Octa chipset in the chart below. We've included the Samsung mostly for reference as it's about twice as expensive and not really a direct competitor. Same with the Oppo R11s and its Snapdragon 660 with them Kryo cores.
GeekBench 4.1 (single-core)
Higher is better
Oppo R11s
1614
Samsung Galaxy A8 (2018)
1532
Huawei Honor 7X
904
Xiaomi Mi A1
877
Xiaomi Redmi 5 Plus
874
HTC U11 Life
873
Motorola Moto X4
866
Motorola Moto G5S Plus
848
Moto G5 Plus
847
Xiaomi Mi Max 2
824
vivo V7
775
vivo V7+
767
Samsung Galaxy J7 Pro
735
Nokia 6 (Global version)
665
Motorola Moto G5S
635
In the multi-core part of GeekBench, the Honor 7X lags behind the Moto G5S Plus, but the Mi A1 is mostly keeping up with Moto's pace. The U11 Life is thereabouts as well.
GeekBench 4.1 (multi-core)
Higher is better
Oppo R11s
5907
Samsung Galaxy A8 (2018)
4418
Motorola Moto G5S Plus
4331
Xiaomi Redmi 5 Plus
4309
Xiaomi Mi A1
4292
Moto G5 Plus
4255
HTC U11 Life
4140
Motorola Moto X4
4136
vivo V7
3935
vivo V7+
3912
Samsung Galaxy J7 Pro
3768
Huawei Honor 7X
3535
Nokia 6 (Global version)
2841
Xiaomi Mi Max 2
2445
Motorola Moto G5S
2277
The Snapdragon 625 never had much ambition in the graphics department and GFXBench only proves that Motorola didn't mess anything up and utilized the whole potential of the Adreno 506. The Moto G5S Plus is thus on par with the old model and the Mi A1, while the U11 Life and Moto X4 are ahead thanks to a more powerful Adreno 508. The Honor 7X, on the other hand, can't match the G5S Plus' framerates.
GFX 3.1 Car scene (1080p offscreen)
Higher is better
Oppo R11s
8.7
Samsung Galaxy A8 (2018)
6
HTC U11 Life
5.4
Motorola Moto X4
5.3
Samsung Galaxy A7 (2017)
5.2
Oppo F5
4.2
Xiaomi Mi Max 2
3.5
Moto G5 Plus
3.5
Xiaomi Mi A1
3.5
Xiaomi Redmi 5 Plus
3.5
Motorola Moto G5S Plus
3.5
vivo V7
3.4
vivo V7+
3.3
Huawei Honor 7X
2.8
Nokia 6 (Global version)
2.5
Motorola Moto G5S
2.5
Samsung Galaxy J7 Pro
1.9
GFX 3.1 Car scene (onscreen)
Higher is better
Oppo R11s
8.7
vivo V7
6.6
vivo V7+
6.6
Motorola Moto X4
5.8
HTC U11 Life
5.3
Samsung Galaxy A8 (2018)
5.2
Samsung Galaxy A7 (2017)
5.2
Oppo F5
4
Motorola Moto G5S Plus
3.8
Xiaomi Mi A1
3.5
Moto G5 Plus
3.5
Xiaomi Mi Max 2
3.5
Xiaomi Redmi 5 Plus
3.4
Huawei Honor 7X
2.8
Motorola Moto G5S
2.7
Nokia 6 (Global version)
2.5
Samsung Galaxy J7 Pro
1.9
Bring CPU, GPU, storage and RAM performance together and you have an Antutu score. It's mostly a lot of the same thing here between the Snapdragon 625 devices while the Kirin 659-powered Honor 7X and the Exynos 7880 Galaxy A7 (2017) are in the same pack. The S630-powered Moto X4 and U11 Life are a notch above, while the Galaxy A8 for this year surges ahead, though it can only dream of catching up with the S660 Oppo R11s.
AnTuTu 6
Higher is better
Oppo R11s
121638
Samsung Galaxy A8 (2018)
85389
HTC U11 Life
72854
Motorola Moto X4
71224
Motorola Moto G5S Plus
64360
Oppo F5
63889
Moto G5 Plus
63390
Xiaomi Redmi 5 Plus
63019
Huawei Honor 7X
62177
Xiaomi Mi A1
61762
Samsung Galaxy A7 (2017)
60767
Xiaomi Mi Max 2
57902
vivo V7+
57791
vivo V7
54970
Samsung Galaxy J7 Pro
47920
Nokia 6 (Global version)
47495
Motorola Moto G5S
47283
Predictable performance is what we got out of the Moto G5S Plus. It's no powerhouse, but it's more than adequate for the usual stuff. Snapdragon 630 phones will give you a slight improvement in 3D tasks for not a substantial premium, while the Honor 7X and its Kirin 659 is more or less evenly matched.
My dad was still using his Moto g5s plus until a few days ago asI upgraded him to a Nokia x20 for security but also bigger screen for his degrading eye sight Will install Lineage OS and GCam on it later as a backup device for him!
Solid device at this price range. I mean what can you accept at this price range, phone is solid, a great battery backup, using for 3 years now with heavy usage but never had any issues with this. Installed custom rom, pixel experience and that works...
Volte not supporting... Specially jio sims