Motorola One Action review
GSMArena team, 16 Aug 2019.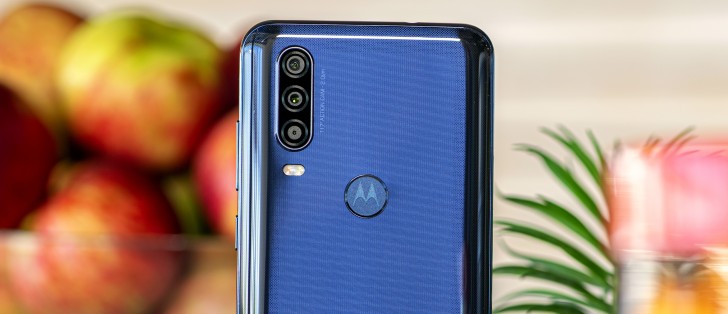 Clean Android One with a couple of Moto features
Since it's part of the Android One family, the One Action runs a clean version of Android - the latest Pie. It's not without a few Moto touches, however, most prominently its own take on navigation.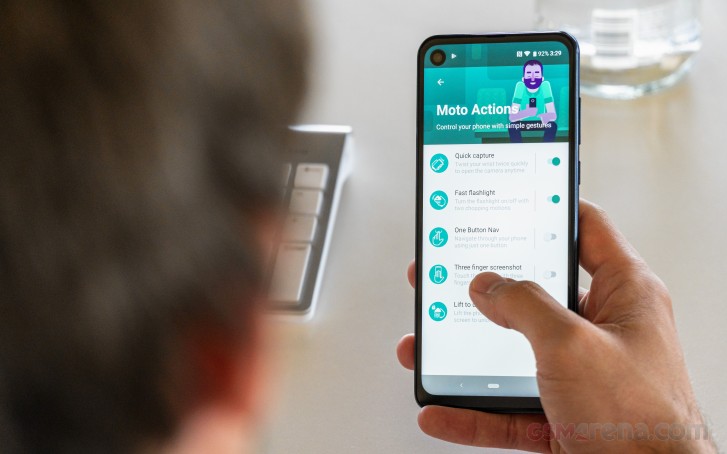 They call it One Button Nav and it's a single elongated button in the center - tapping it once takes you to the home screen, a swipe up brings out the recent apps menu, swiping to the left acts as a back button while swiping to the right quickly switches back to the last opened app. The quick switch works pretty well which is not always the case with Android implementations. If, on the other hand, you want to have the Android default navigation with a small pill and a back button, you can switch One Button Nav off.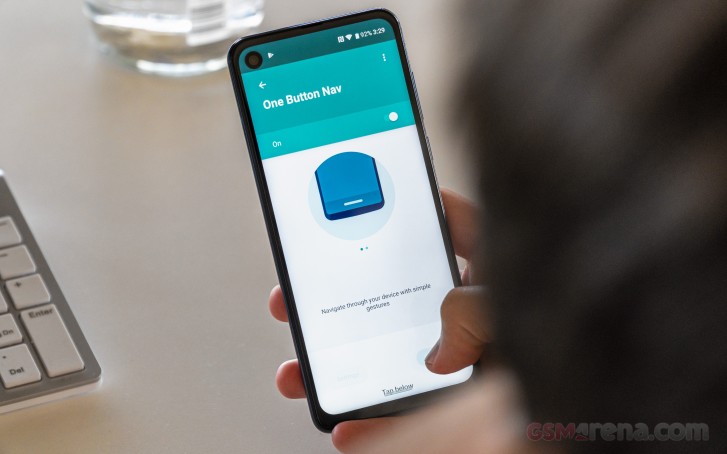 One Button Nav is part of the Moto actions set of custom gestures in the Moto app. A karate chop action turns on and off the flashlight while the twist motion launches the camera app and both work even when the screen is off. There's also a three-finger screenshot gesture - pretty self-explanatory. Not all Moto Actions have made the cut, however, compared to non-Android One Moto phones like the G series.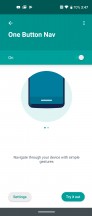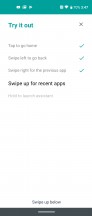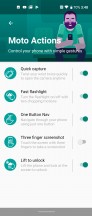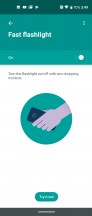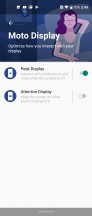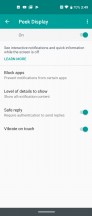 One Button Nav • Moto actions • Peek Display
Moto Display consists of just two options on the Moto One Actions and the more important one is Peek Display - the not-always-on display. It'll display notifications and let you interact with them right there on the lockscreen plus it'll wake up when you pick up your phone. Another feature, Attentive display, will keep the screen on as long as you are looking at it.
All of these aside, the rest is pretty much Android 9.0 Pie as Google intended it to be - well, there's also the greenish hue of the quick toggles.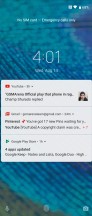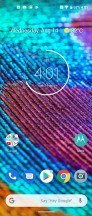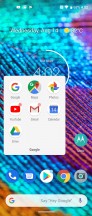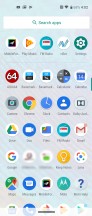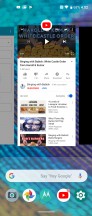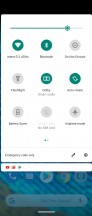 Lockscreen • Homescreen • Folder view • App drawer • Task switcher • Quick toggles
As you'd expect, the Security & location menu contains the available biometrics - fingerprint and face unlock. Both seem to work pretty well but keep in mind that the face unlock feature works only with the front-facing camera without any additional 3D scanning tech so the fingerprint remains the more secure biometric unlock method.
For better or worse, there's not much to talk about One Action's software. It's straight up barebones Android with the Motorola features we mentioned on top. Stock Android fans will surely like it, while those after more customization may find the Moto add-ons too basic and not enough.
As was the case with the One Vision, there's a few words to be said here about the hole in the upper left corner. The size and position of the camera cutout mandate an oversized status bar, which inevitably eats away a ton of screen estate. There has to be a better way.
Exynos-powered One Action
The Motorola One Action has the Samsung Exynos 9609 chipset inside, the same one you'd find in the One Vision. It's essentially the same SoC Samsung fitted in the Galaxy A50, albeit with its CPU marginally downclocked. That means the high-performance cluster of 4xCortex-A73 cores ticks at up to 2.2GHz (2.3GHz on the E9610) while the 4xCortex-A53s are limited to 1.6GHz (1.7GHz on the E9610). All else is the same, to the best of our knowledge.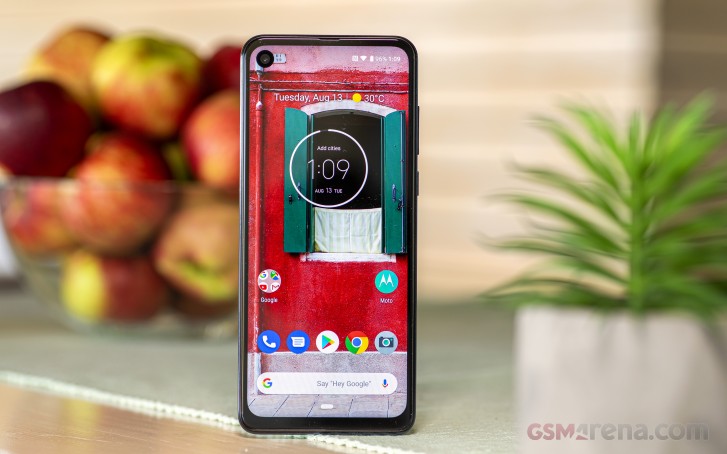 With that said, we weren't exactly surprised when the benchmark scores came in. Indeed, the Motorola One Action posted very similar numbers to the ones we got out of the One Vision, in turn quite close to the Galaxy A50's. The Galaxy has a minor advantage under single-core CPU loads, but the difference isn't significant and fades in multi-core applications. The Huawei P30 lite with its Kirin 710 is ever so slightly behind the One Action in single-core, only to pull ahead in multi-core - again by a little. That's not to say there aren't more powerful offerings for the Moto's money - the Xiaomi Mi 9 SE with a Snapdragon 712 inside for example.
GeekBench 4.1 (multi-core)
Higher is better
Samsung Galaxy A70
6584
Oppo F11 Pro
6020
Xiaomi Mi 9 SE
6017
Realme X
5915
Realme 3 Pro
5881
Xiaomi Mi A3
5686
Huawei P30 Lite (perf. mode)
5549
Huawei P30 Lite
5523
Motorola One Vision
5425
Samsung Galaxy A50
5396
Motorola One Action
5271
Realme 3
4936
Samsung Galaxy M30
4188
Samsung Galaxy A40
4112
GeekBench 4.1 (single-core)
Higher is better
Samsung Galaxy A70
2391
Xiaomi Mi 9 SE
1905
Samsung Galaxy A50
1715
Motorola One Vision
1609
Motorola One Action
1604
Huawei P30 Lite (perf. mode)
1576
Oppo F11 Pro
1560
Huawei P30 Lite
1534
Xiaomi Mi A3
1531
Realme 3
1482
Realme X
1475
Realme 3 Pro
1471
Samsung Galaxy A40
1325
Samsung Galaxy M30
1311
The Mi 9 SE has an even greater advantage in gaming where its Adreno 616 GPU proves more powerful than the One Action's Mali-G72 MP3 - to the tune of being able to push twice as many fps as the Moto. Meanwhile, the Galaxy A50 and the Huawei P30 lite post virtually the same numbers as the One Action.
GFX 3.1 Manhattan (1080p offscreen)
Higher is better
Xiaomi Mi 9 SE
26
Realme 3 Pro
23
Samsung Galaxy A70
15
Motorola One Vision
14
Motorola One Action
14
Samsung Galaxy A50
14
Huawei P30 Lite
14
Huawei P30 Lite (perf. mode)
14
Oppo F11 Pro
14
Realme 3
13
Xiaomi Mi A3
13
Samsung Galaxy A40
8.1
Samsung Galaxy M30
8.1
GFX 3.1 Manhattan (onscreen)
Higher is better
Xiaomi Mi A3
27
Realme 3
26
Xiaomi Mi 9 SE
24
Realme 3 Pro
20
Motorola One Vision
13
Motorola One Action
13
Samsung Galaxy A50
13
Huawei P30 Lite
13
Huawei P30 Lite (perf. mode)
13
Samsung Galaxy A70
13
Oppo F11 Pro
12
Samsung Galaxy A40
7.4
Samsung Galaxy M30
7.3
Over in Antutu, there's little to split the One Action, Galaxy A30, and P30 lite, though the Moto does inch ahead.
AnTuTu 7
Higher is better
Xiaomi Mi 9 SE
180057
Samsung Galaxy A70
167750
Realme 3 Pro
155647
Oppo F11 Pro
150218
Motorola One Action
148748
Samsung Galaxy A50
144574
Motorola One Vision
143124
Huawei P30 Lite (perf. mode)
141600
Xiaomi Mi A3
140633
Realme 3
132764
Huawei P30 Lite
129887
Samsung Galaxy A40
106388
Samsung Galaxy M30
101651
Overall, the Motorola One Action offers okay performance for a midrange phone, on par with key rivals. That said, there still are more powerful phones you can get in this price range - particularly if you're looking for more GPU oomph, a Snapdragon 710/712 headset like the Xiaomi Mi 9 SE or Realme 3 Pro would be a better bet.
I love this phone pretty good till now completing nearly 2 years
The device has a Dual SIM and they have two radio transceivers, one for each SIM card. It means that the battery is used more and faster than regular Single SIM devices and they are more expensive to manufacture, which is why you paid a higher price...
I have had this Motorola action one for almost a. It is starting to become not so reliable. Case & point: battery wears out very quickly now. At times when I'm on the phone, my contacts can't hear me.