Motorola One Fusion+ review
GSMArena team, 06 July 2020.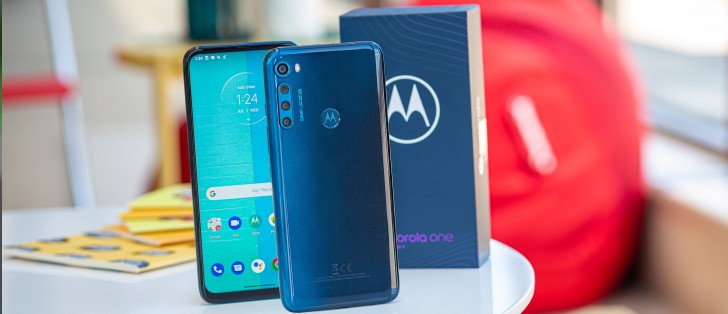 Android 10 with My UX
Motorola has settled on a mostly stock Android experience for its smartphones, even the ones that are not part of the Android One program - like the One Fusion+ here (confusing, isn't it?). Even so, there's an extensive list of custom features nicely bundled in the Moto App.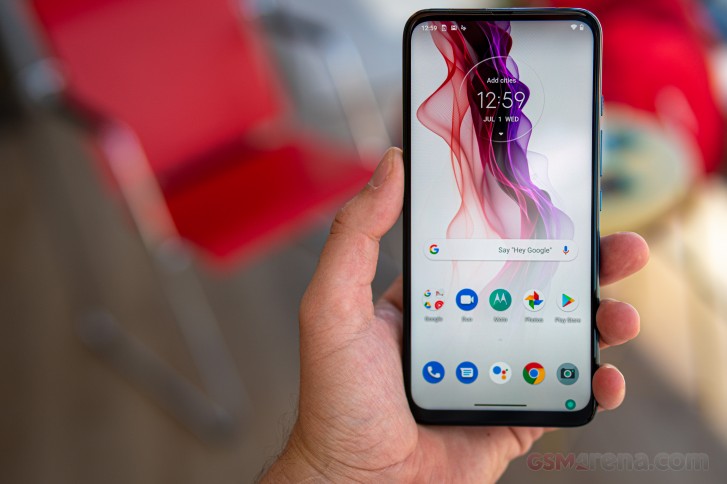 Moto Actions are an assortment of clever ways for interacting with the phone - including a karate chop for toggling the flashlight on or off, twist motion to launch the camera app, three-finger screenshot gesture, accelerometer-based ringtone silencing.
Moto Display has just one option on the One Fusion+ - Peek Display - the not-always-on display. It will display notifications and let you interact with them right there on the lock screen plus it will wake up when you pick up your phone. Attentive display, a feature available on other Moto phones, is missing on the Fusion+ because the selfies camera is hidden and can't track your face all the time.
There's a new Personalization feature that lets you customize the look and feel of your Moto. You can play around with the size and layout of the icons on the homescreen, change the system font, and pick an accent color for the quick toggles.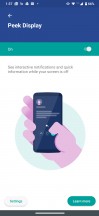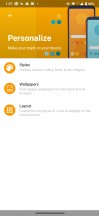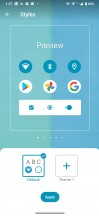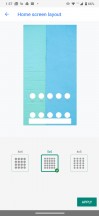 Peek Display • Personalization • Styles • Layout
Moto Gametime is the company's set of tools for enhancing mobile gaming. It lets you filter out calls and notifications, block Moto Actions, the Performance section allows you to turn off adaptive brightness. An optional in-game floating icon called Toolkit gives you quick toggles for calls and notifications, access to your choice of two messaging apps as well as access to the full Gametime settings.
The Motorola One Fusion+ relies on gesture navigation via a single elongated button in the center. Swiping upwards takes you to the home screen, a swipe up with a pause brings out the recent apps menu, swiping on the pill (left or right) switches between the last used apps. If you want Back, then just swipe anywhere from the edge of the screen. If, on the other hand, you want to have the classic three-button navigation, you switch to it from Settings.
All of these aside, the rest is pretty much Android 10 as Google intended it to be.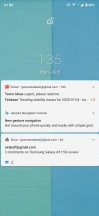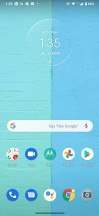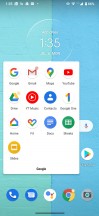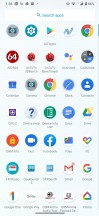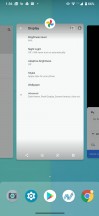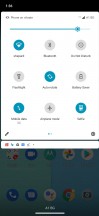 Lockscreen • Homescreen • Folder view • App drawer • Task switcher • Quick toggles
The Motorola One Fusion+ also supports FM radio and there is a pre-installed app for that. You don't see this every day, not anymore at least.
Performance and benchmarks
The Motorola One Fusion+ is powered by the Snapdragon 730 chip - one of the most popular upper-midrange platforms from Qualcomm. The Indian version of the Fusion+ runs on the Snapdragon 730G chip, which has a minor difference in the GPU clock but otherwise - identical to the 730.
The CPUs of both 730 and 730G are the same - octa-core processors with two Kryo 470 Gold (Cortex-A76) cores clocked at 2.2 GHz, and six Kryo 470 Silver (Cortex-A55) ones, working at 1.8 GHz. They are all built on an 8nm LPP node and hence pretty power efficient.
Both chips also have the same Adreno 618 GPU. But the one on the 730G is clocked 75 MHz higher and sits at 575 MHz. This is the only difference between the two chips.
The One Fusion+ is sold in only one configuration with 6GB RAM and 128GB UFS2.1 storage.
And now let's run some tests, shall we?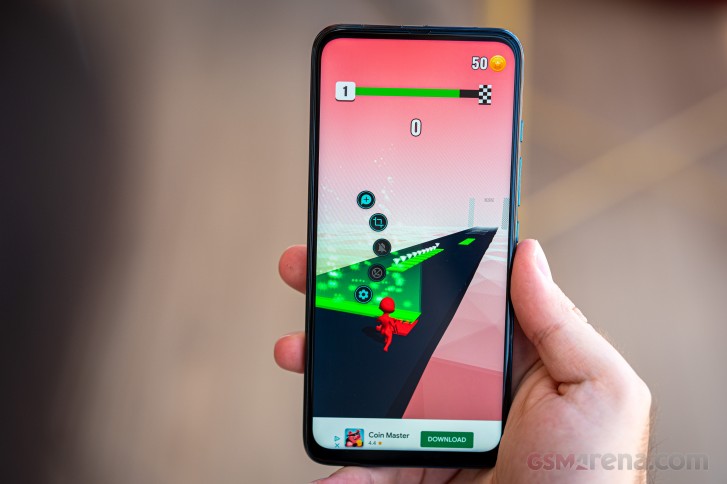 We ran a couple of benchmarks, and the CPU is shaping as an excellent performer. The Kirin 810 processor is a bit more powerful, but it's available only in very limited Google-less phones for now. The Snapdragon 720G scores a fraction higher, but it has higher clock speed (2.2GHz vs 2.3GHz).
GeekBench 5.1 (multi-core)
Higher is better
Huawei P40 Lite
1862
Xiaomi Redmi Note 9 Pro
1785
Realme 6
1726
Motorola One Fusion+
1705
Xiaomi Redmi K30
1692
Realme 6 Pro
1666
Sony Xperia 10 II
1413
Motorola Moto G8 Power
1394
Samsung Galaxy M31
1315
Xiaomi Redmi Note 9
1292
GeekBench 5.1 (single-core)
Higher is better
Huawei P40 Lite
591
Xiaomi Redmi Note 9 Pro
571
Realme 6 Pro
565
Xiaomi Redmi K30
548
Realme 6
548
Motorola One Fusion+
542
Xiaomi Redmi Note 9
361
Samsung Galaxy M31
349
Sony Xperia 10 II
315
Motorola Moto G8 Power
311
Same applies for the graphics performance - the Huawei beats all, but Google gets in the way of fame. Then the Adreno 618 within the Snapdragon 720G (Redmi Note 9 Pro) is a fraction better than the Adreno 616 as part of the Moto's S730 chip.
Still, the GPU performance is plenty adequate for the class.
GFX 3.1 Manhattan (onscreen)
Higher is better
Huawei P40 Lite
30
Xiaomi Redmi K30
27
Realme 6 Pro
27
Realme 6
27
Xiaomi Redmi Note 9 Pro
26
Motorola One Fusion+
25
Samsung Galaxy M31
14
Motorola Moto G8 Power
12
Sony Xperia 10 II
10
GFX 3.1 Car scene (onscreen)
Higher is better
Huawei P40 Lite
18
Realme 6 Pro
16
Realme 6
16
Xiaomi Redmi K30
15
Xiaomi Redmi Note 9 Pro
15
Motorola One Fusion+
14
Samsung Galaxy M31
9.2
Motorola Moto G8 Power
6.6
Sony Xperia 10 II
5.6
Throwing all the components into the mix in Antutu, the One Fusion+ is on par with the Realme 6 Pro and Redmi K30. Once again, Huawei's Kirin 810 proves superior, while the S720G-powered Redmi Note 9 Pro beasts the Moto by a whisker.
AnTuTu 8
Higher is better
Huawei P40 Lite
325777
Realme 6
288931
Xiaomi Redmi Note 9 Pro
279625
Xiaomi Redmi K30
272229
Realme 6 Pro
268785
Motorola One Fusion+
267980
Xiaomi Redmi Note 9
200414
Sony Xperia 10 II
196545
Samsung Galaxy M31
195284
Motorola Moto G8 Power
173607
The Motorola One Fusion+ offers a lot of bang for its attractive price and shows consistently strong numbers on the tests, no matter the tasks. Finally, the toughest challenge - gaming - is not only possible on the Fusion+, but a smooth experience at that.
Today's date is Aug 26, 2023 and mine is still running fast n smooth. I've always been a Motorola fan. However when I found the deal and researched the phone, it spec'd at 6gb RAM, bc I'm heavy RAM user. But when I bought it, I ...
I've been using this phone since September 2020 and in 2+ years of use, I have not had a single issue. Really happy with this phone. Keep the great work going Motorola. 🙂
Anonymous
16 Jan 2023
Lay
Agreed, excellent performance and durability.