Motorola Razr 40 Ultra review
GSMArena Team, 1 June 2023.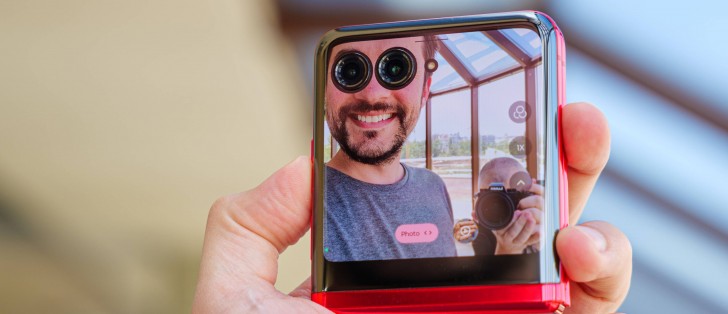 6.9-inch flexible OLED and 3.2-inch external display
The Razr 40 Ultra now features a bigger 6.9-inch foldable OLED panel of the LTPO kind. It has an unorthodox 1080 x 2640px resolution, which equals a tall 22:9 aspect ratio. The panel supports HDR10+, 10-bit color depth and up to 165Hz refresh rate making it one of the fastest displays on the market. During gaming, the screen supports up to 360Hz touch response rate for a more responsive gaming experience.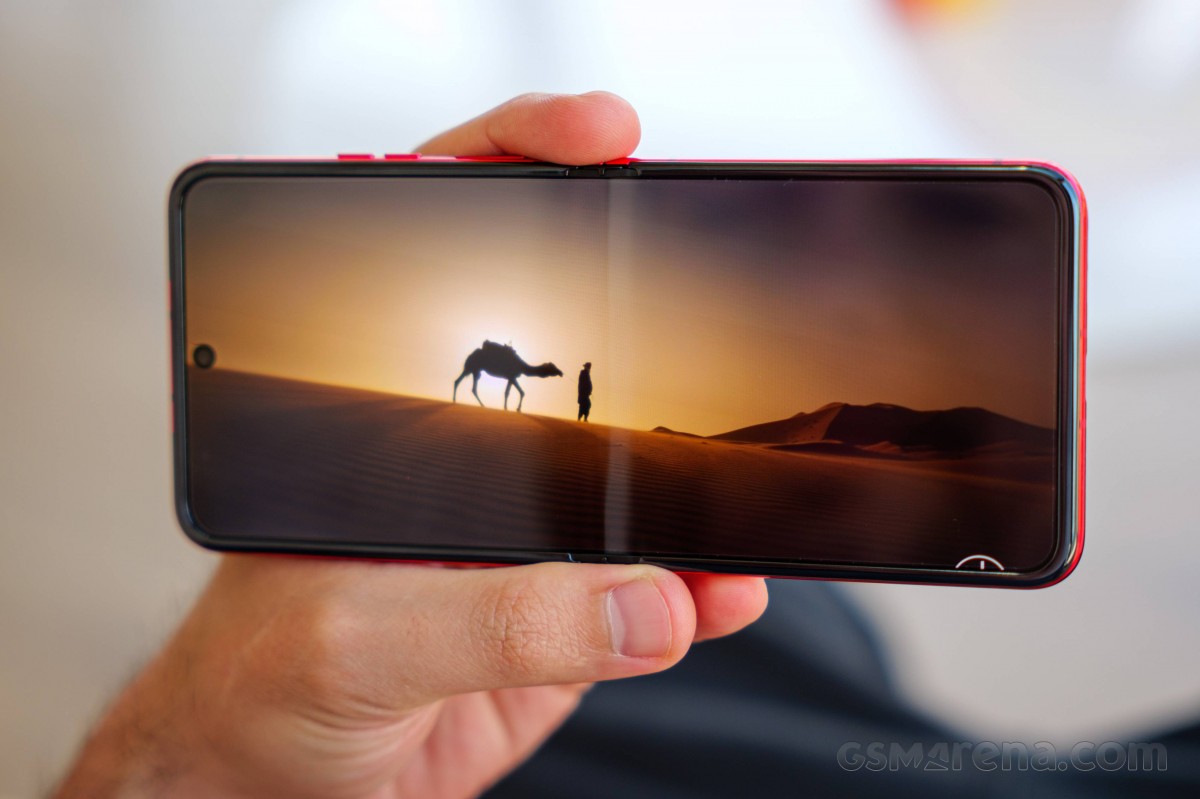 It has a pre-applied film screen protector for extra protection and it may also be essential for the display's functionality. The crease in the middle is somewhat subtle at first glance, but you can definitely feel it when you glide your finger across the screen.
Motorola didn't cut any corners with the external display either. The 3.2-inch OLED panel has a 1066 x 1056px resolution and supports basically te same set of features - HDR10+, 10-bit color depth and touch response rate of 360Hz. However, it runs at 144Hz instead of 165Hz, which is more than enough for a smooth viewing experience anyway.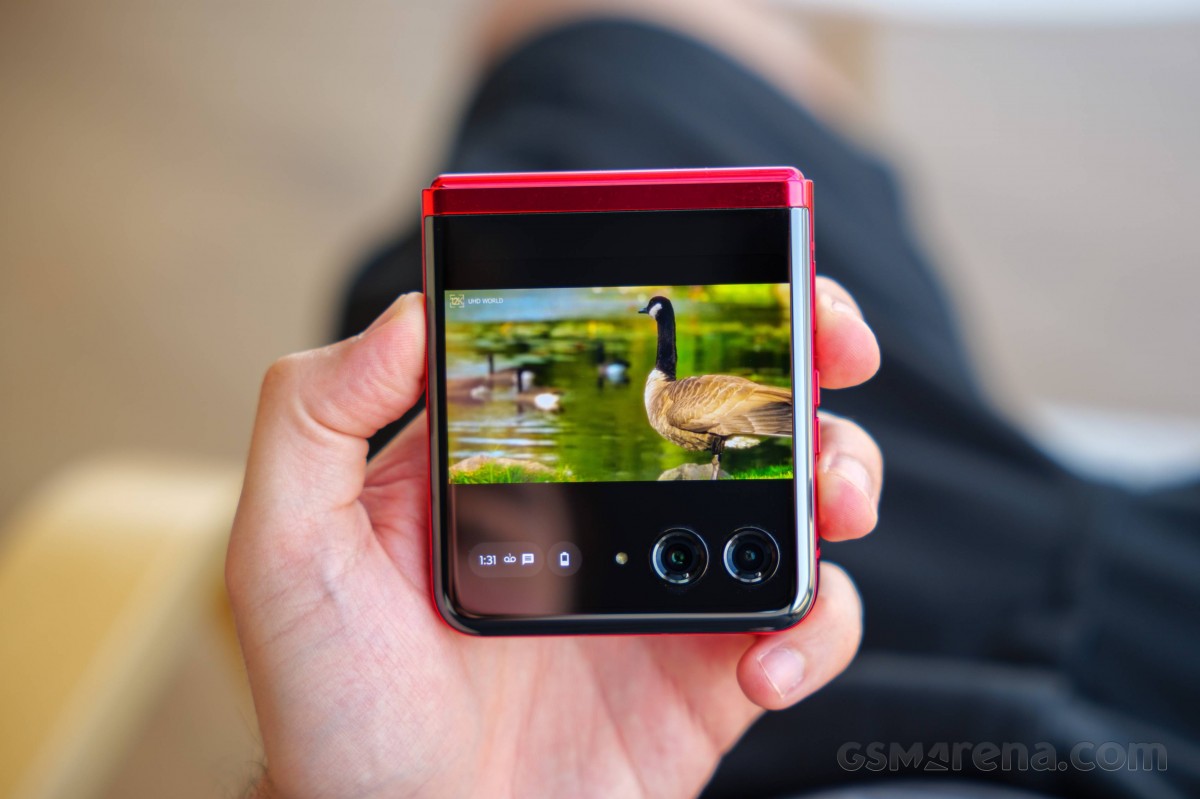 We weren't able to confirm this for sure, but we suspect that Motorola uses one of the camera sensors to detect the ambient light and adjust the brightness of the external screen. The main display, on the other hand, has a full-fledged ambient light sensor.
Both displays show excellent performance in our tests. The foldable screen peaked at 1,050 nits in auto mode, while in manual, it got up to 506 nits. Despite the protective film on top of it, we found the peak brightness to be good enough for comfortable outdoor use. The external display has similar readings - 505 nits in manual and 932 nits in auto mode.
Max display brightness test
White test pattern, 75% fill (nits)
Sort by
Manual mode
Auto mode
Motorola Razr 40 Ultra

1050

506

Oppo Find N2 Flip

1039

547

Motorola Razr 2022

1033

496

vivo X Flip

1027

606

Motorola Razr 40 Ultra (ext. display)

932

505

Samsung Galaxy Z Flip4

919

505

Huawei P50 Pocket

803

521

Motorola Razr 2022 (Cover display)

N/A

369
Color accuracy on the external screen isn't great and it tends to display blue-ish whites and grays. The same goes for the main screen in the default Saturated color mode. Switching to the Natural color preset brings the average dE2000 down to just 2.2. Solid result.
HRR control
Since the handset uses an LTPO OLED panel, it's capable of granular refresh rate adjustments. When the screen is idle, the refresh rate dials down to 1Hz, no matter the brightness level. It can also accommodate all video types, including 24fps ones. And while we like these implementations, there's more we don't like. For instance, we couldn't get the display to ramp up to 165Hz. It was always stuck at 120Hz and Chrome was even switching between 120 and 90Hz without any obvious logic.
The only time the display saturated the full 165Hz was in certain benchmarks or when we enabled the Extreme refresh rate mode via the gaming sidebar. However, we are unable to confirm whether the games can actually run at 165fps since the refresh rate doesn't always match the frame rate. We tried some titles that are known to be limited to 60Hz and the refresh rate counter displayed 165Hz and that's why we have our doubts.
Either way, the refresh rate is kind of sketchy and you won't be using the full potential of the 165Hz most of the time.
The external display follows a similar pattern and only goes up to 120Hz instead of 144Hz when actually needed. And since it's not LTPO, it defaults back to 60Hz instead of 1Hz.
Battery life
The Razr 40 Ultra features a bigger 3,800 mAh battery along with a more efficient Snapdragon 8+ Gen 1 chipset. And the results from our tests show a significant improvement over the Motorola Razr 2022 in all scenarios. The screen-off and screen-on tests all show measurable improvements and the overall score shoots up to 83 hours. We are particularly happy to see the web browsing and video playback runtimes increase, as they were abysmal in the last generation.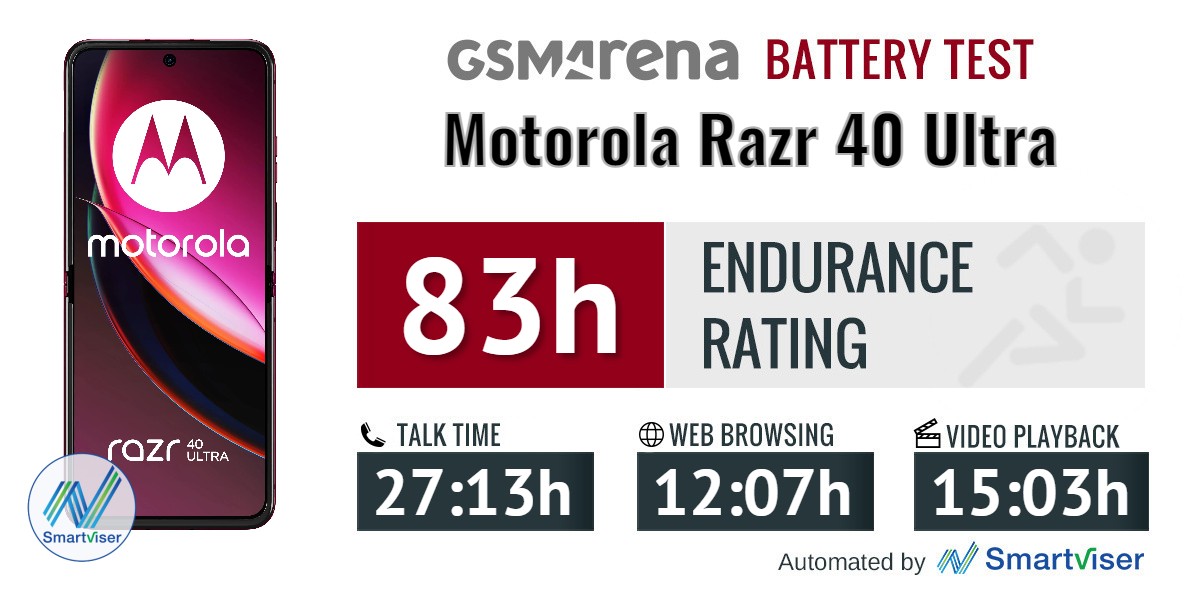 Our battery tests were automated thanks to SmartViser, using its viSerDevice app. The endurance rating denotes how long the battery charge will last you if you use the device for an hour of telephony, web browsing, and video playback daily. More details can be found here.
Video test carried out in 60Hz refresh rate mode. Web browsing test done at the display's highest refresh rate whenever possible. Refer to the respective reviews for specifics. To adjust the endurance rating formula to match your own usage patterns check out our all-time battery test results chart where you can also find all phones we've tested.
On one hand, putting the Razr 40 Ultra into context reveals that battery life overall isn't very impressive. Many of the standard form factor flagship phones offer longer battery life. On the other, the Razr 40 Ultra's battery life isn't too bad when comparing to other vertically-foldable smartphones - it outlasts the Galaxy Z Flip4 for example, though the Oppo Find N2 Flip still does better.
Charging speed
The new Razr 40 Ultra seems to be borrowing the 30W TurboPower charger from its predecessor but to our utmost surprise, the handset shipped with a USB-A to USB-C cable instead of USB-C to USB-C. The appropriate USB-A charger was in the box as well. In any case, the Razr 40 Ultra, despite having a bigger battery, has relatively faster charging than the Razr 2022.
However, the device isn't very impressive when put into context. The somewhat small 3,800 mAh battery fully charges within 1 hour and 27 minutes while a 30-minute charging cycle replenishes 45% of the battery. Not nearly enough to be deemed competitive.
30min charging test (from 0%)
Higher is better
| | |
| --- | --- |
| Huawei P50 Pocket | 70% |
| Oppo Find N2 Flip | 62% |
| Galaxy Z Flip4 | 55% |
| vivo X Flip | 53% |
| Motorola Razr 40 Ultra | 45% |
| Motorola Razr 2022 | 37% |
* Tap/hover over the device names for more info
Time to full charge (from 0%)
Lower is better
| | |
| --- | --- |
| Huawei P50 Pocket | 0:54h |
| Oppo Find N2 Flip | 0:58h |
| Galaxy Z Flip4 | 1:15h |
| Motorola Razr 40 Ultra | 1:27h |
| vivo X Flip | 1:27h |
| Motorola Razr 2022 | 1:34h |
* Tap/hover over the device names for more info
Speakers
Although the Razr 40 Ultra uses a hybrid stereo setup, with the left channel acting as an earpiece, the sound is pretty balanced. Loudness-wise, the speakers got "Very Good" score of -25.4 LUFS, matching the Razr 2022's speakers from last year.
After a subjective assessment, the device Razr 40 Ultra seems to borrow the speakers from its predecessor, which is mostly a good thing. We like how clean the sound is, with well-pronounced mids, clear highs and vocals and a sufficient amount of bass.
Use the Playback controls to listen to the phone sample recordings (best use headphones). We measure the average loudness of the speakers in LUFS. A lower absolute value means a louder sound. A look at the frequency response chart will tell you how far off the ideal "0db" flat line is the reproduction of the bass, treble, and mid frequencies. You can add more phones to compare how they differ. The scores and ratings are not comparable with our older loudspeaker test. Learn more about how we test here.
Anonymous
24 Aug 2023
qqb
What is with the downgrades!!!????
very bad battery, crease in the centre will appear more if you use the phone often, so its not. that great, average camera in 2023. high price, i will sell it soon as im not really happy with this phone
Anonymous
08 Aug 2023
nFZ
Yes it does