Motorola Razr foldable US launch pushed back to February 6
Victor, 22 January 2020
It's been a few months since Motorola officially unveiled its Razr modernized foldable screen take on the iconic Razr V3 design. Delays in release schedule for the nostalgia-infused handheld followed almost instantly but now the release is finally in sight.
We are sure high interest in the product is only half of the story here, especially now with word of Samsung's Galaxy Z Flip also on the horizon. Regardless, Motorola appears to be following through with a US release for the Razr.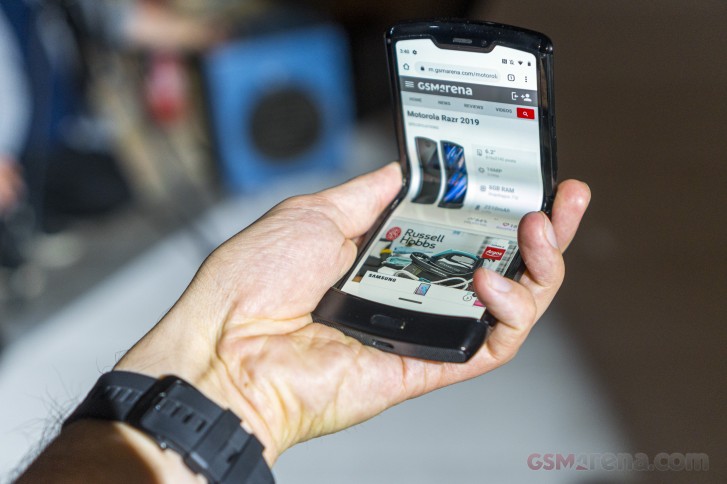 As per the latest info, the official US schedule for the phone has January 26 set as the pre-order date. February 6 should kick-off unit shipping. In fact, starting February 6, the Razr should even be available in stores, in some limited quantities. We wouldn't count on enough units for a walk-in purchase, though. As per Motorola's current exclusivity agreement, the phone will be available at Verizon, Wallmart and Motorola's own website.
US pricing for the Razr is set at $1,499. Quite steep for a phone with Snapdragon 710 chipset, fairly single 16MP camera and 2,100 mAh battery. Then again the design alone is probably enough to justify the price.
As for the rest of Motorola's vague list of "select markets" to eventually get the Razr, we definitely know that UK buyers will get it. Pre-orders for the phone are already up, exclusive through EE's website and only on contract for now.
The order form says that you can expect a unit in 28 days or so, meaning actual Razr unit availability will likely mostly sync-up with the US. In the meantime, you can read more about the phone in our hands-on review.
Related
I just want a new "Motorola Moto X 2013"
i dont care what motorola provides...but i am huge fan of motorola from 2004, motorola is best
Yup. keep pushing back. Meantime let Samsung and other OEM release their foldable clamshell phone. Moto still has a lot of fan but they cannot deliver what their fan wants.
Popular articles
Popular devices
Electric Vehicles