Motorola ThinkPhone review
GSMArena Team, 6 March 2023.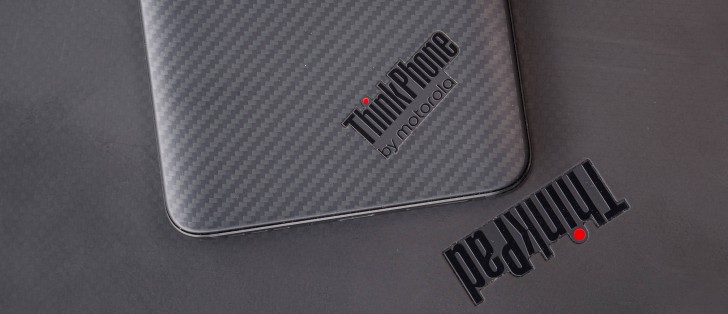 Design
Most of you are probably familiar with the iconic black and boxy design of the ThinkPad laptop line. It has still survived today in a highly modernized way. The original inspiration is still alive and well, though. That actually stems from the Japanese bento lunchbox.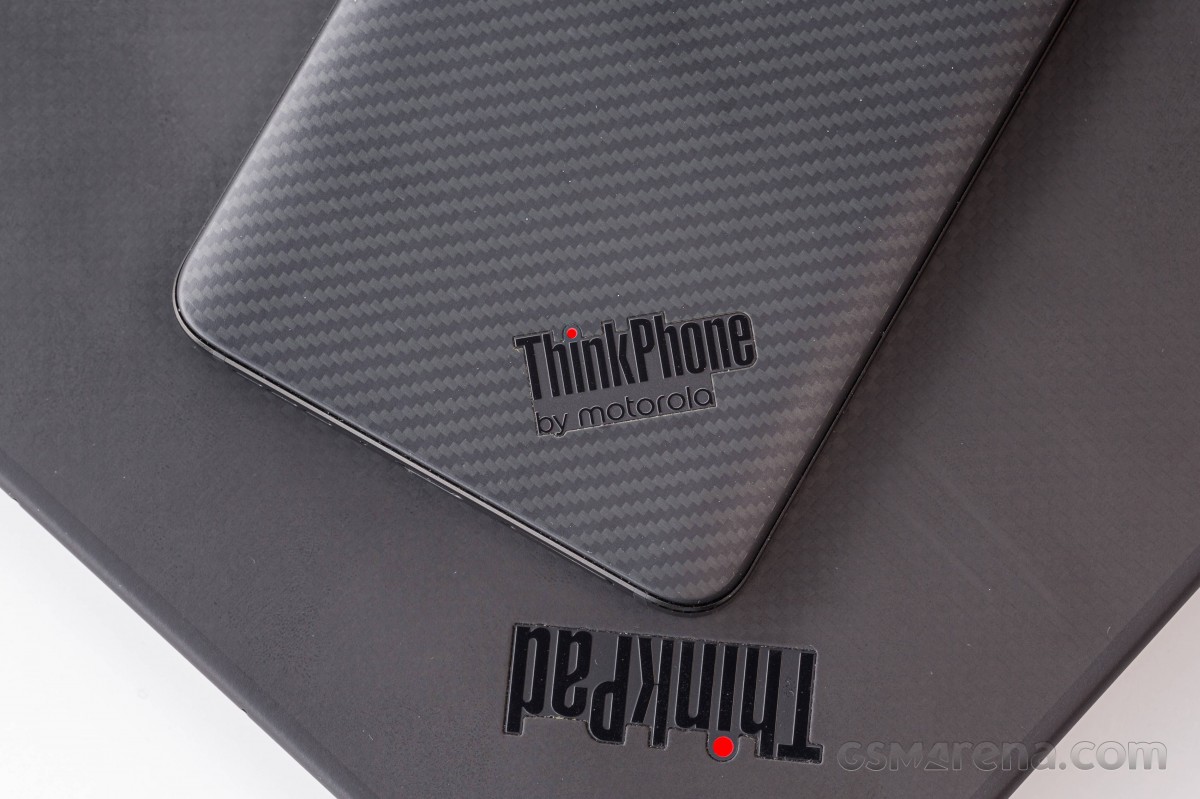 The ThinkPhone isn't nearly as boxy, though. Just like a modern ThinkPad laptop, it has its fair share of curves, particularly on the back of the device, where the back panel folds into the middle frame. The shape itself isn't unique or uncommon for a modern phone, but the carbon fiber pattern is a distinctly and unmistakably ThinkPad one.
It almost looks like the ThinkPhone comes with a pre-applied skin on the back, but it's a bit fancier than that since it has a fine texture to it as well. The ThinkPhone logo on the back is very tastefully made, in our opinion. It is sort of embossed on the back and sits on a layer of its own. Unfortunately, the little red dot in the "i" does not light up like it would on some Thinkpads.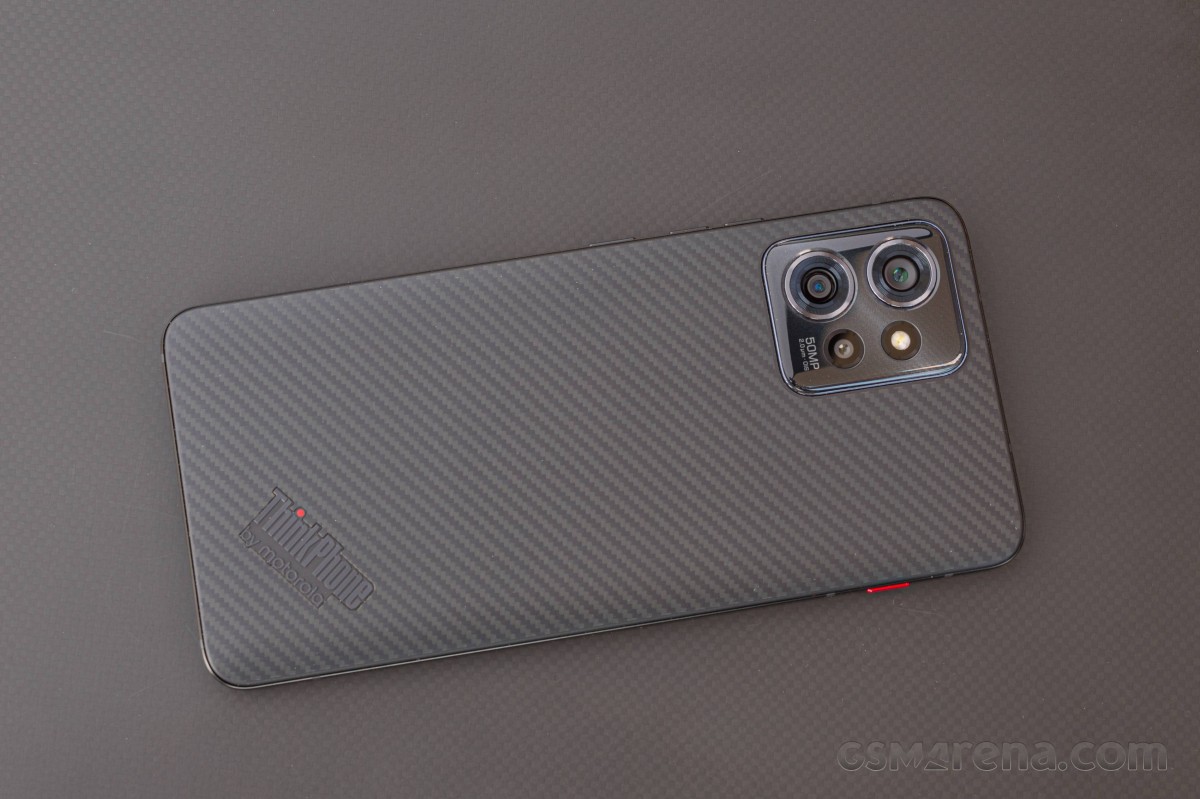 Nothing particularly stands out about the frame of the ThinkPhone, other than the fact that it is a real fingerprint magnet. It is just solid metal.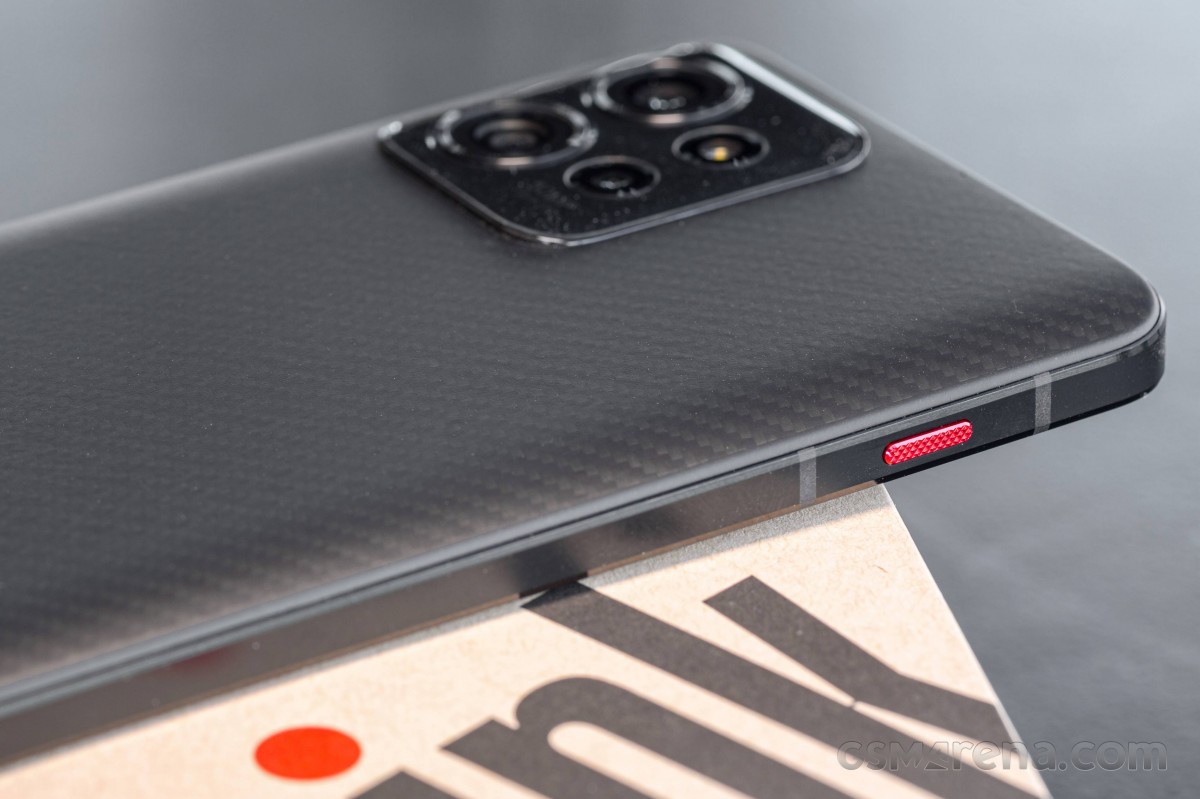 Even so, the design team still managed to incorporate another iconic bit of the ThinkPad design - a bright red accent on an additional programmable button on the left-hand side of the phone. It even has a textured top side, not unlike the famous track point on ThinkPad laptops.
Turning the phone around to its front, we find pretty minimal bezels around the display. Motorola still managed to fit a couple of sensors in the top frame on the left side of the earpiece.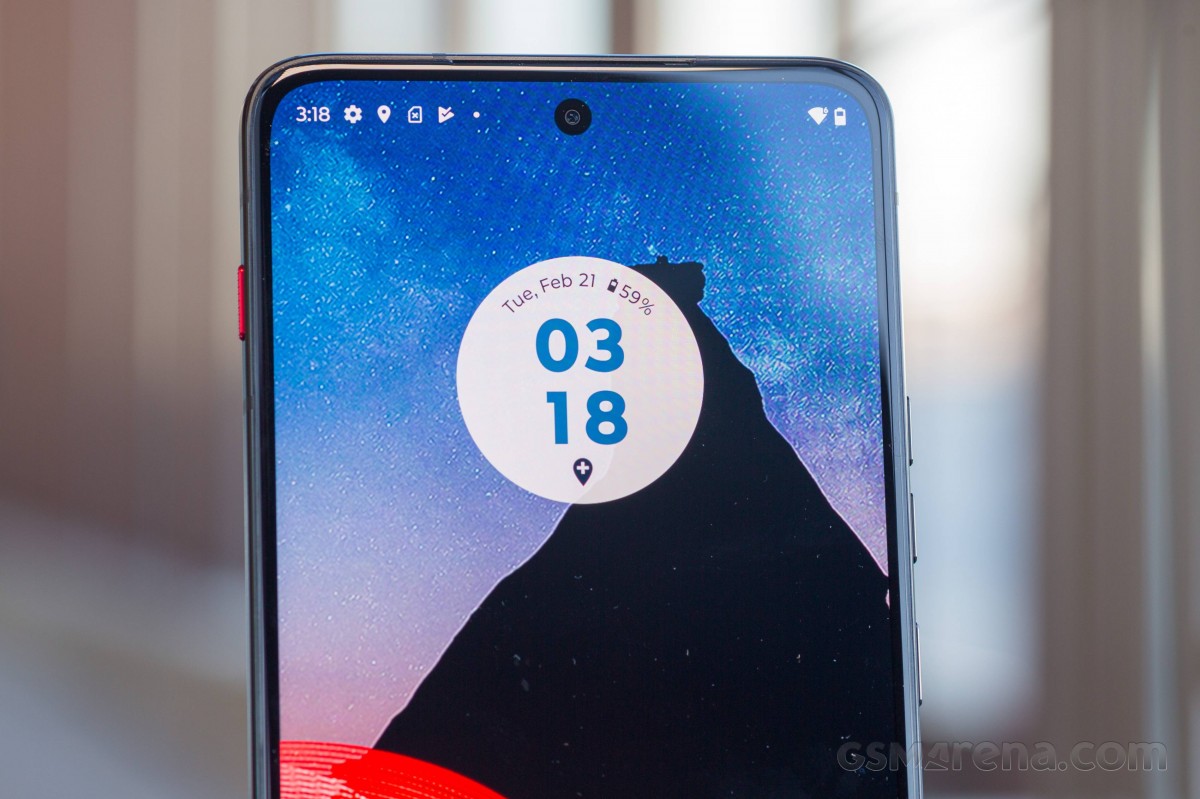 The selfie punch hole is also very reasonable in size and not too obstructive.
Build quality
The ThinkPad line has always prided itself on being tough and durable. While not exactly a rugged laptop in the full sense of the work, these machines are designed and have proven time and time again to be able to survive abuse. The same logic is seemingly applied to the ThinkPhone too. It is not exactly your traditional bulky and clunky rugged phone, but it is still made to last.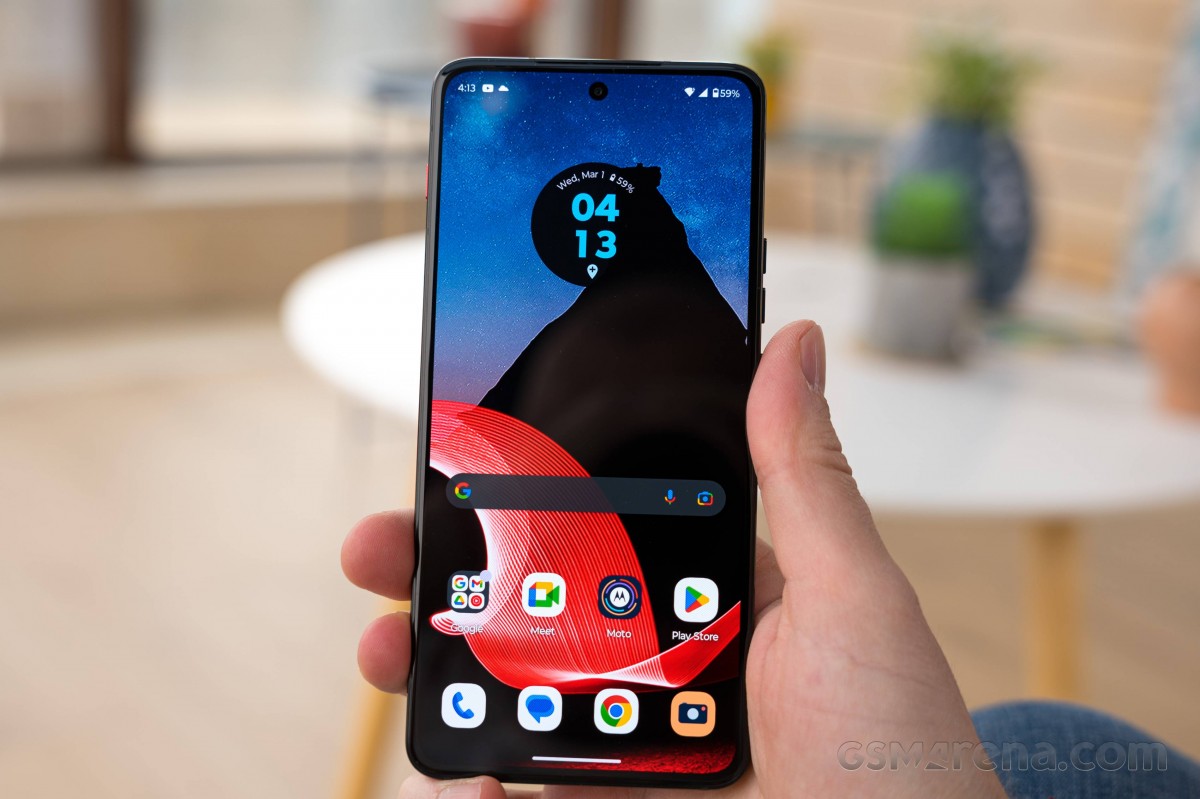 As we already mentioned, the ThinkPhone has a MIL-STD-810H certification and should survive a drop on concrete from up to 1.3 meters. It also has IP68 ingress protection, which means it should be fine for up to 30 minutes in up to 1.5 meters of fresh water.
In terms of materials, there is an aircraft-grade aluminum frame, which feels very solid and has practically no flex to it. Also, on the bill of materials - lightweight aramid fiber for the backside. And on the front - Gorilla Glass Victus is protecting the display. All things considered, the ThinkPhone seems to be well-geared for extended durability.
Controls
The Motorola ThinkPhone has a pretty standard control set and layout. Well, the red shortcut key notwithstanding. It can be customized by the user. A single click can launch an app, play and pause music, or open the voice or screen recorder.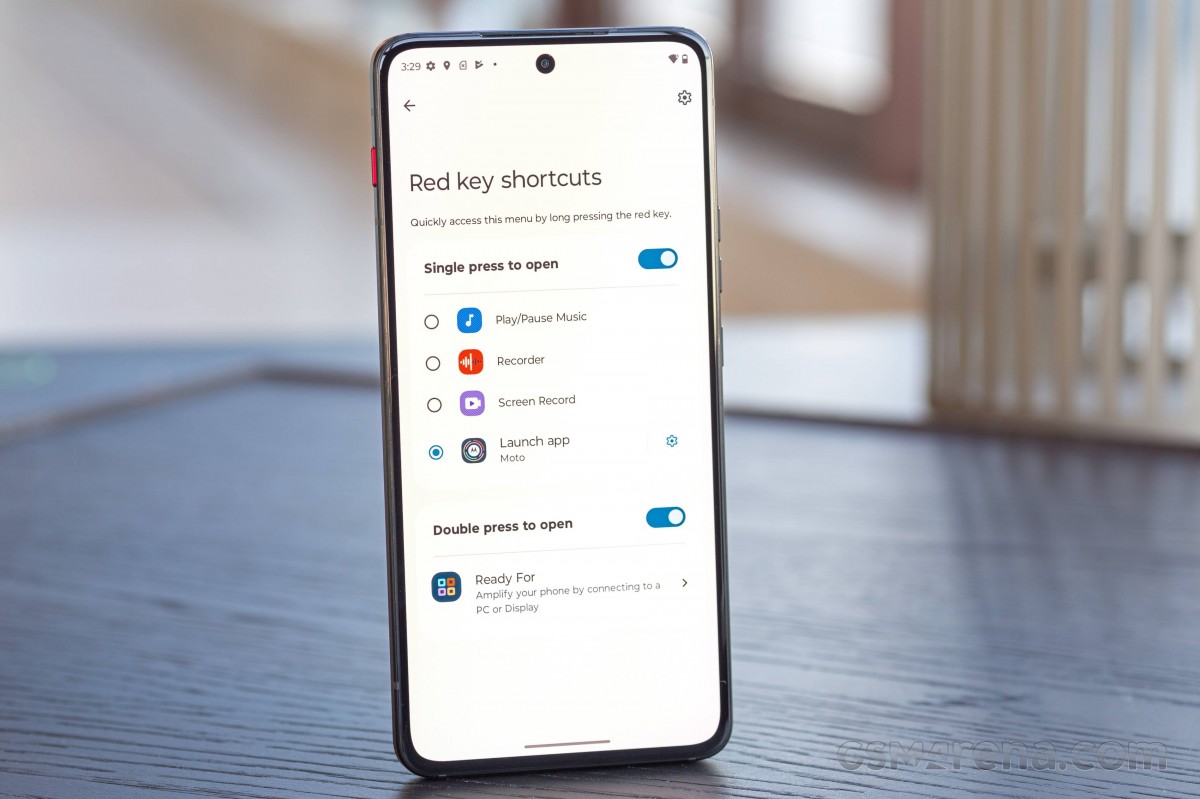 A double tap on the button launches the Motorola Ready For app with one of several pre-defined actions available as well. You can also disable the red key while in landscape mode. That's a decent level of versatility for the button overall.
The red key sits alone on the left-hand side of the phone, along with a trio of antenna lines.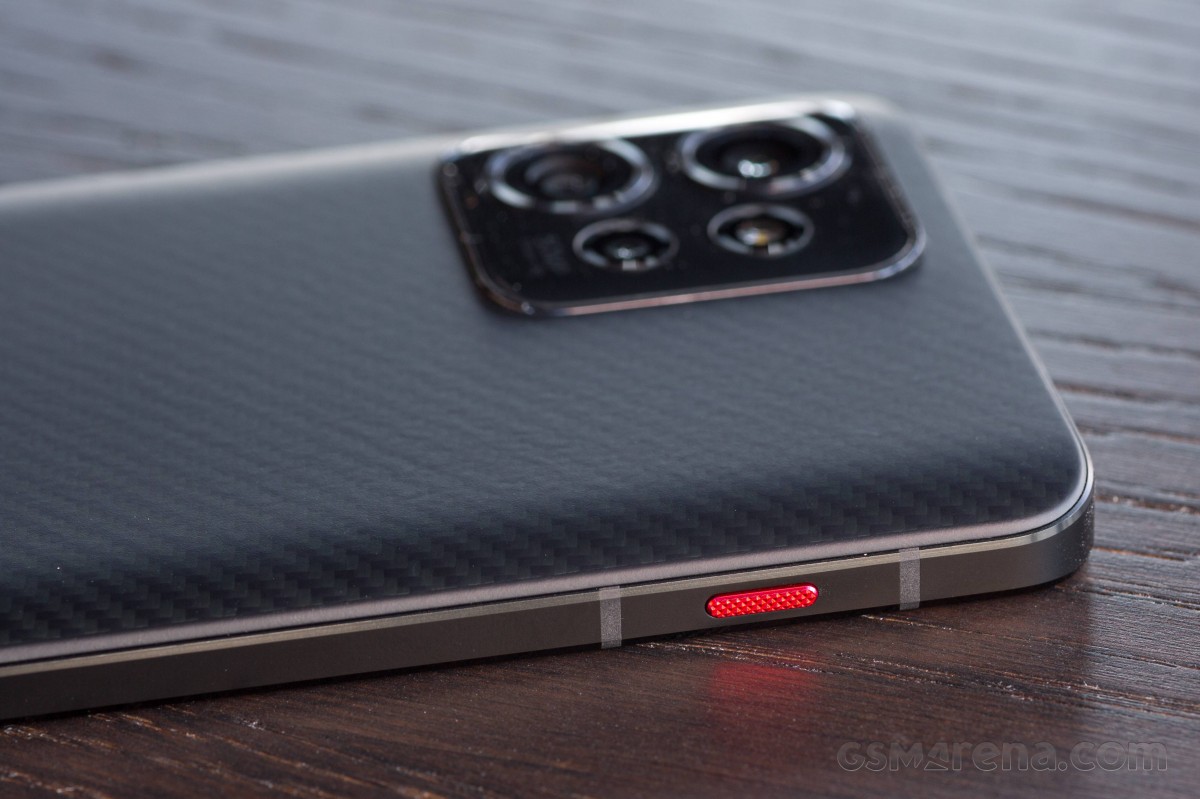 The right-hand side houses the power button and volume rockers. These are relatively well-positioned but not exactly pleasant to press. They feel a bit mushy to the touch. Not unusably so, but it still could have been a lot better. Plus, the power button is very similar in size and feel to the volume rockers, making it tougher to feel out without looking.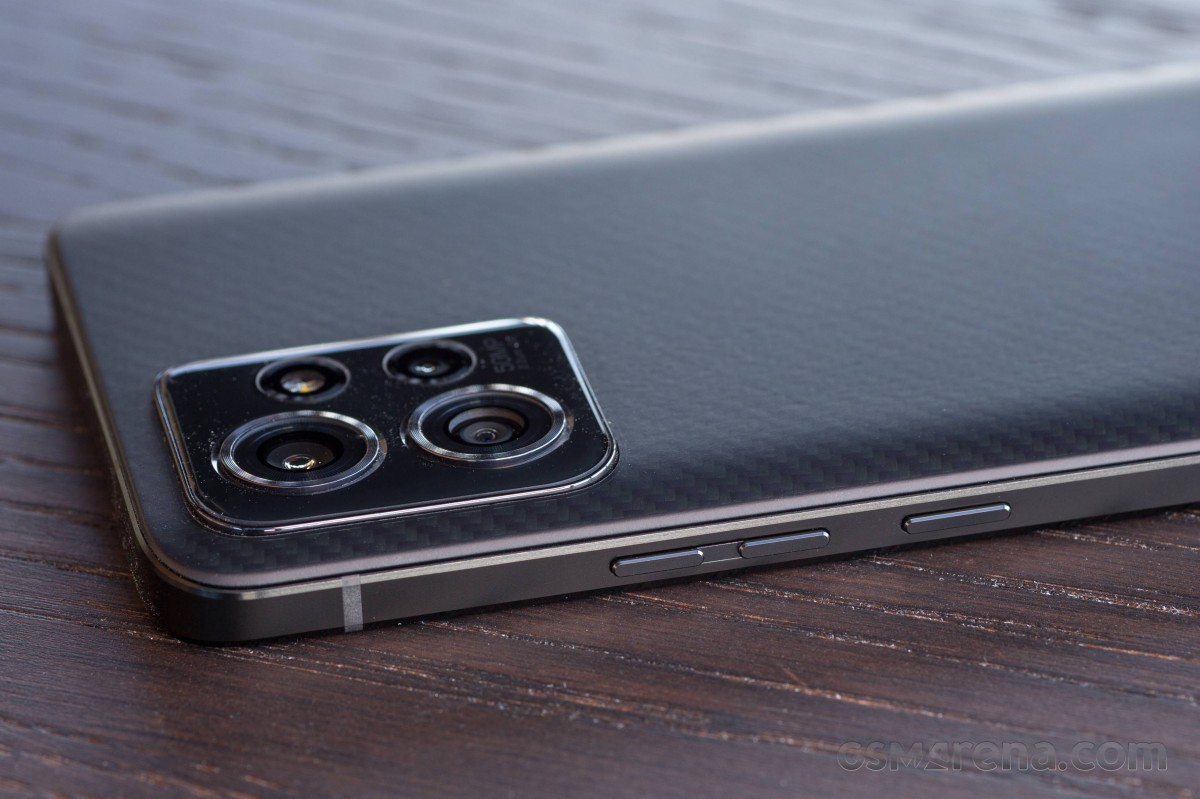 The top of the phone is mostly empty save for a small hole for the secondary noise-canceling microphone and a couple of antenna lines.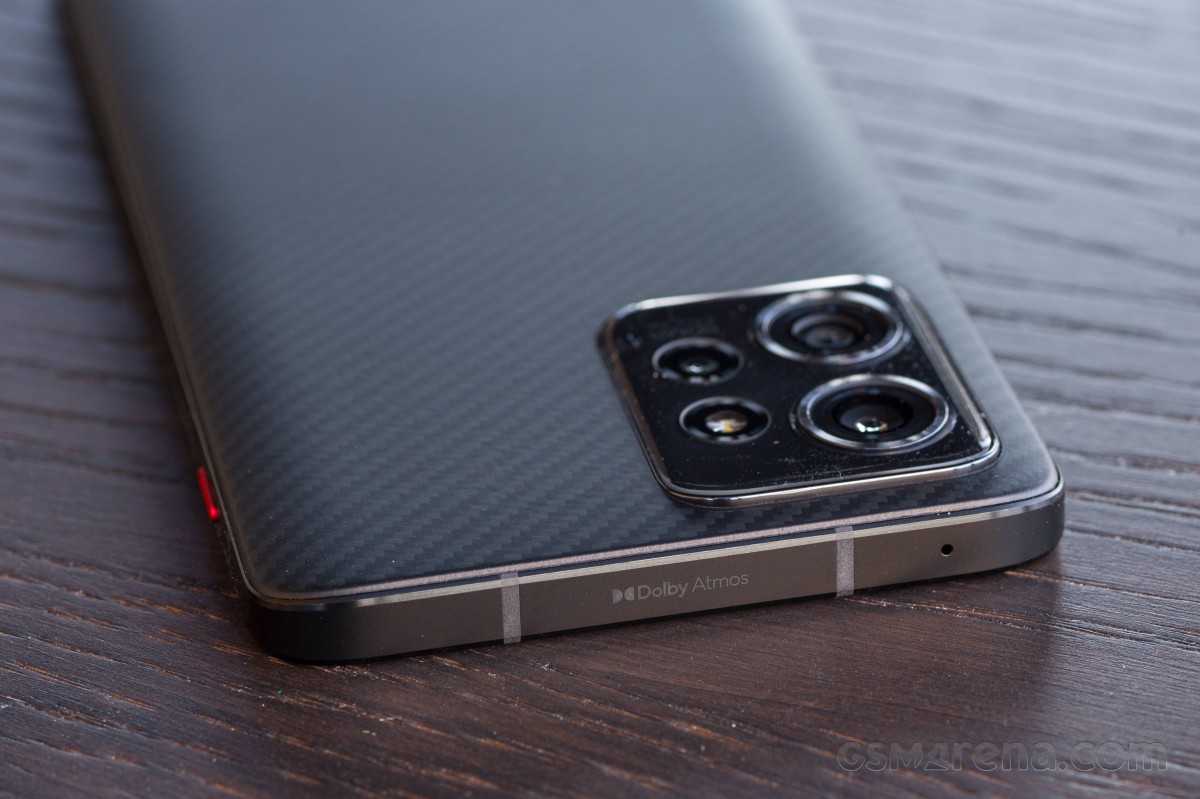 The phone's bottom side has a dedicated bottom-firing speaker, a microphone, a USB Type-C port and a dual Nano-SIM card slot. There is no expandable storage on the ThinkPhone. Also, in case you were wondering - no notification LED.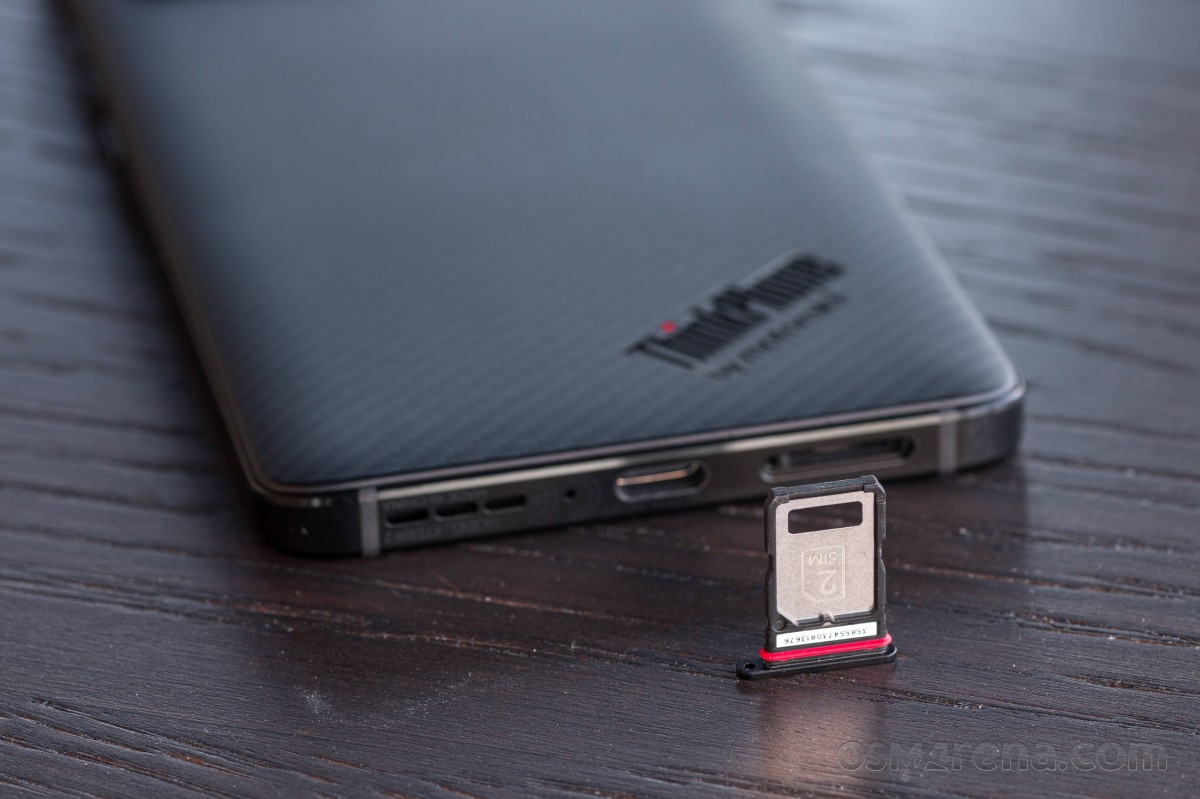 The Motorola ThinkPhone uses an in-display fingerprint reader. It is an optical unit, and it's very snappy and accurate. We have no complaints about it.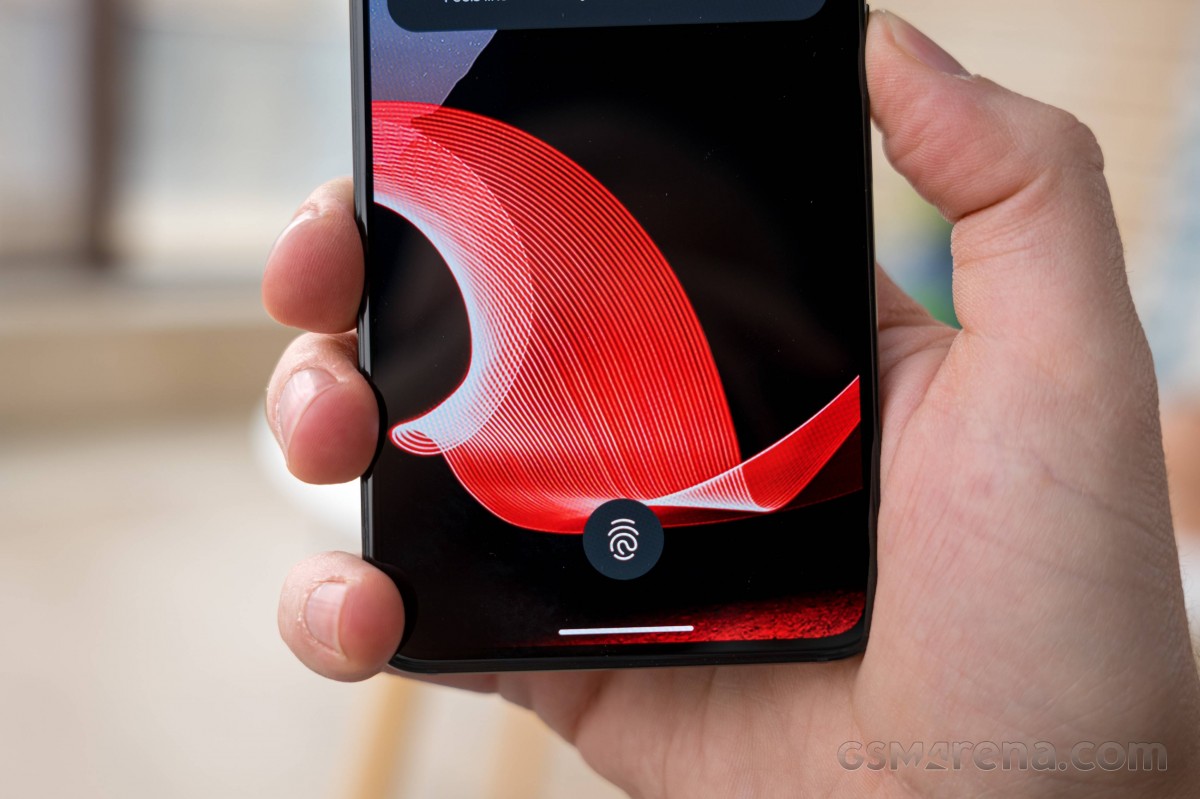 Connectivity
As already mentioned, the ThinkPhone has dual Nano-SIM slots with SA/NSA/Sub6 5G connectivity. A single SIM version does exist as well. For local connectivity, there is tri-band Wi-Fi 6e, and Bluetooth 5.2 with LE and NFC. There is no radio on board and no 3.5mm jack. The ThinkPhone also has GPS, GLONASS and GALILEO.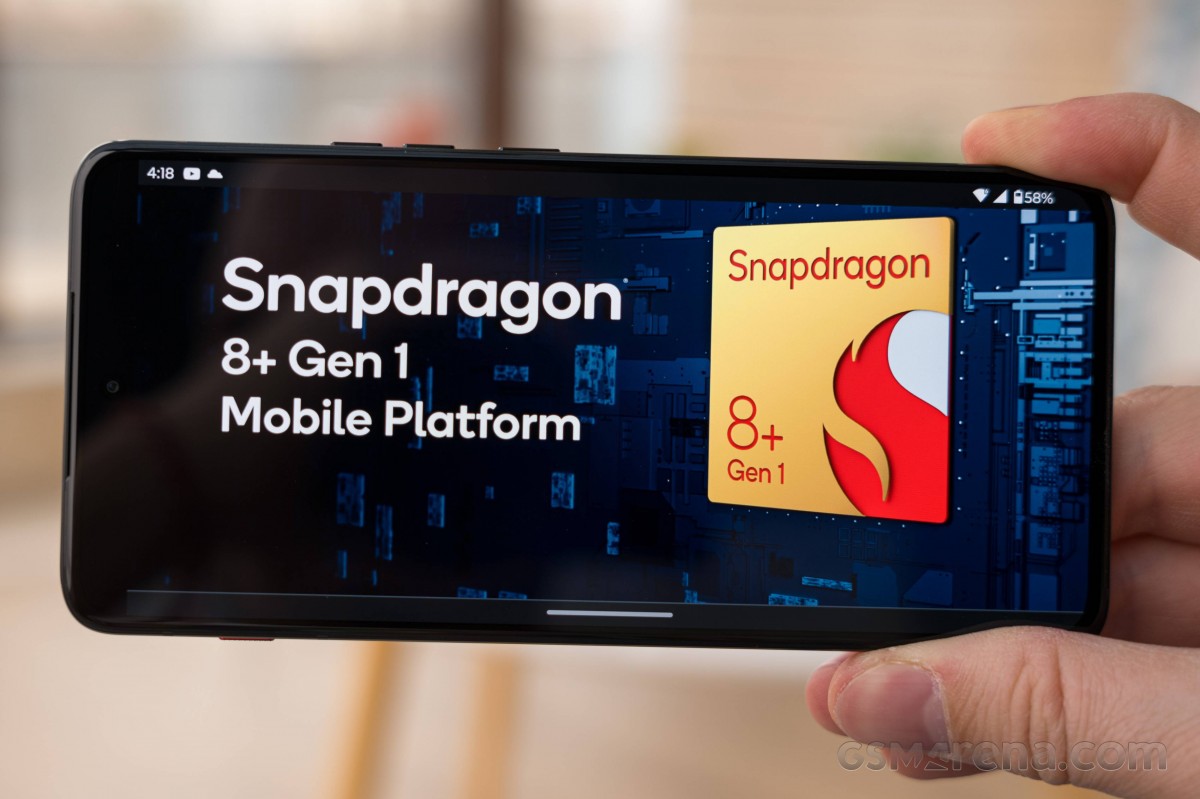 The ThinkPhone has a full array of sensors on-board. This includes an accelerometer and gyroscope combo (TDK-Invensense icm4x6xx), a light and proximity sensor combo (Sensortek stk3acx), a magnetometer and compass combo (Haechitech mxg4300) and a barometer on North American units.
We also tested the capabilities of the USB Type-C port. As advertised, it has USB Host or OTG functionality. But beyond that, the ThinkPhone is part of a select group of devices that have video output via USB alt-mode. In the case of the ThinkPhone, Motorola's Ready For desktop environment is being pumped through to an external monitor. You can achieve the same result wirelessly by casting to a TV or PC as well.
Does it have a curved screen? Very hard to discover on the images in the review... GSM-Arena would need to add "curved screen yes/no" in the phone specifications... I really do not like curved screens and would not buy a curved screen pho...
You'll need those advanced additional security features since Motorola/Lenovo doesn't provide timely security updates or Android version updates. They are about the worst I have seen in terms of phone software support.
Anonymous
21 Mar 2023
Lxm
Phones are computers you can run code in using Termux. I dislike curved screens, bezels and chins much better. No notch for me.