My top 5 phones of 2021 - Sagar
Sagar, 09 January 2022
Yet another year passed by amongst all the chaos and uncertainty that prevailed in many parts of the globe due to the COVID-19 pandemic, which continued to affect the supply chains resulting in delayed or canceled launches of smartphones. However, that didn't stop the brands from launching new phones, and we remained busy testing them throughout the year as we published more than two reviews each week on average.
While I didn't get my hands on new gadgets as much as my colleagues at our HQ did this year, as GSMArena.com's India-based Editor, I received quite a few smartphones released locally, some of which didn't make it to our office, including the iQOO 7 Legend, iQOO Z3, iQOO Z5, and Oppo Reno6 Pro 5G (Dimensity). And, instead of picking my favorites from the smartphones that went official this year, I decided to compile the list from the ones I got to use myself for extended periods. So without further ado, these are my top 5 phones of 2021, in no particular order.
Realme GT 5G
Realme's first big smartphone announcement of the year was the Realme GT 5G - its flagship for 2021. The GT 5G is an almost complete package. And I say "almost" since the only thing I think it was missing was the telephoto camera. The last time we saw Realme launch a proper flagship was the X2 Pro in 2019. It had a top-tier chip, HRR screen, versatile camera setup, glass-metal build, 50W charging, and a 3.5mm headphone jack.
The X50 Pro 5G that arrived in 2020 came with similar flagship-level specs but ditched the headphone jack. With the GT 5G, Realme brought back the 3.5mm headphone jack but removed the telephoto camera. Not just that, we now had to make do with a 2MP unit for macro shots, unlike the X2 Pro and X50 Pro, which sported 8MP ultrawide cameras for macro photography.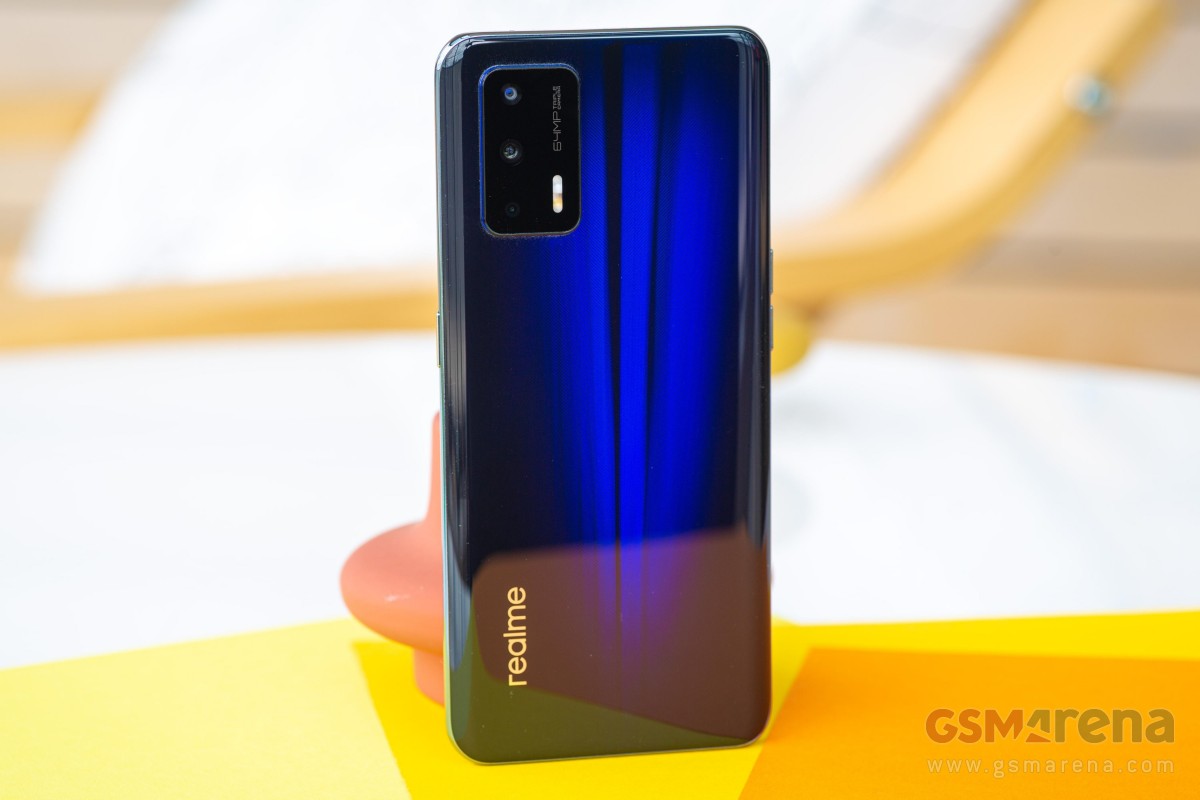 Realme GT 5G Dashing Blue color model
Additionally, the Realme GT 5G doesn't have an IP rating, and while that's something I can ignore for its price, what I can't is the fact that most games were capped at 60FPS, meaning the HRR panel remained unutilized when gaming.
That said, the Realme GT 5G has a lot going for it that earned it a place in this list. The smartphone is powered by the Snapdragon 888 SoC, which throttled at peak loads at times but offered an overall smooth experience.
The smartphone is built around a nice 120Hz FullHD+ Super AMOLED display, features stereo speakers, supports 65W fast charging, and takes nice photos from the primary camera. It also felt very compact in my hands, making it comfortable to hold for extended periods.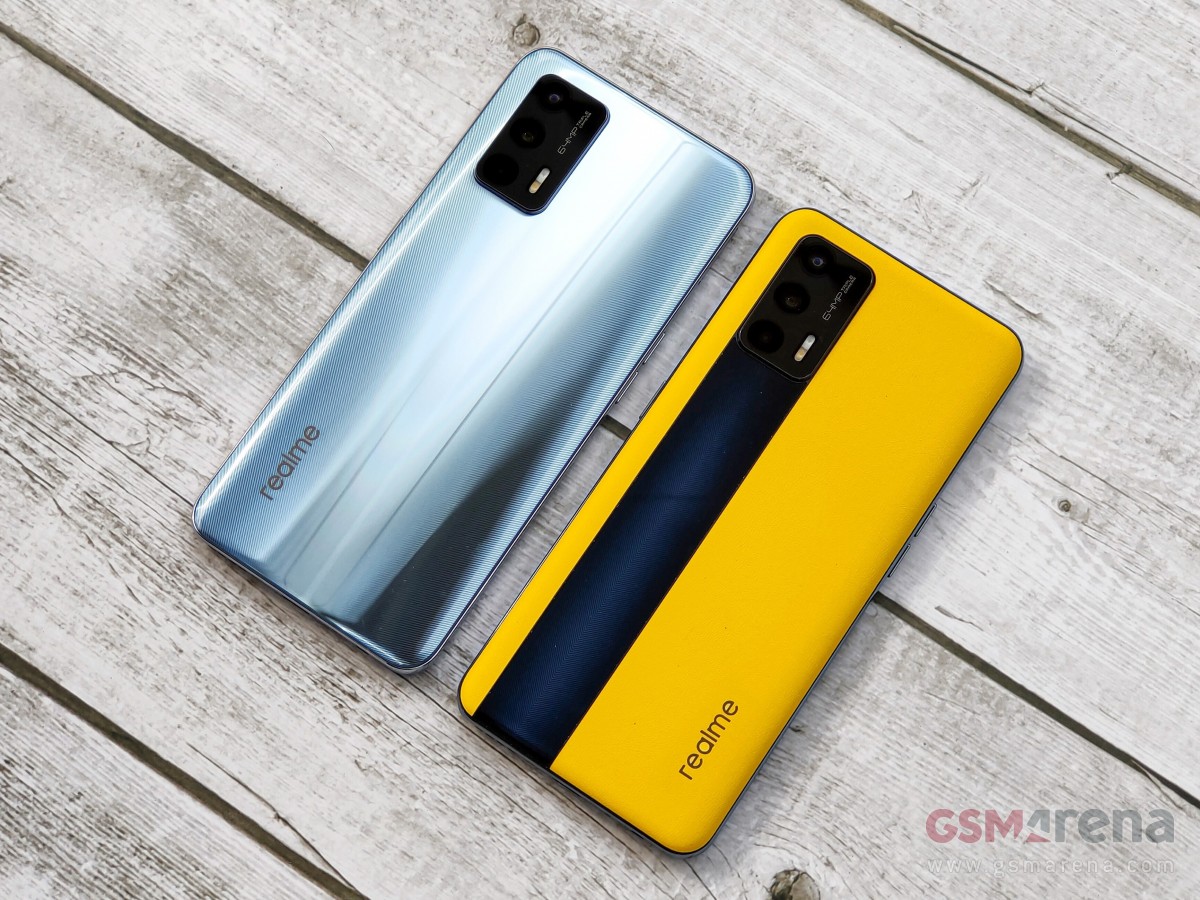 Realme GT 5G's Dashing Silver color model with the Racing Yellow Leather Edition
The Realme GT 5G has three color options - Dashing Blue, Dashing Silver, and Racing Yellow. The first two flaunt a glass back with a comet-like design reminiscent of Realme 6's, while the third one sports a vegan leather panel, which feels premium and is a joy to use. You can read our Realme GT 5G Racing Yellow Leather Edition hands-on here to learn more about it.
Realme GT Neo2
The GT Neo2 is yet another impressive smartphone Realme launched in 2021, and it is an easy recommendation, especially if you don't want to buy the pricier GT 5G. After all, it's powered by the capable Snapdragon 870 chip - which isn't the hot mess that the Snapdragon 888 is but provides a lag-free experience - and has similar specs on offer.
You get a 120Hz AMOLED screen, 64MP camera system (again with no telephoto), stereo speakers, NFC, 65W charging, and a 5,000 mAh battery, which is 500 mAh larger than the GT 5G's cell. It has a nice build and its haptic feedback is one of the best I've seen on a Realme smartphone yet, making typing an enjoyable experience, something perhaps more brands should focus on.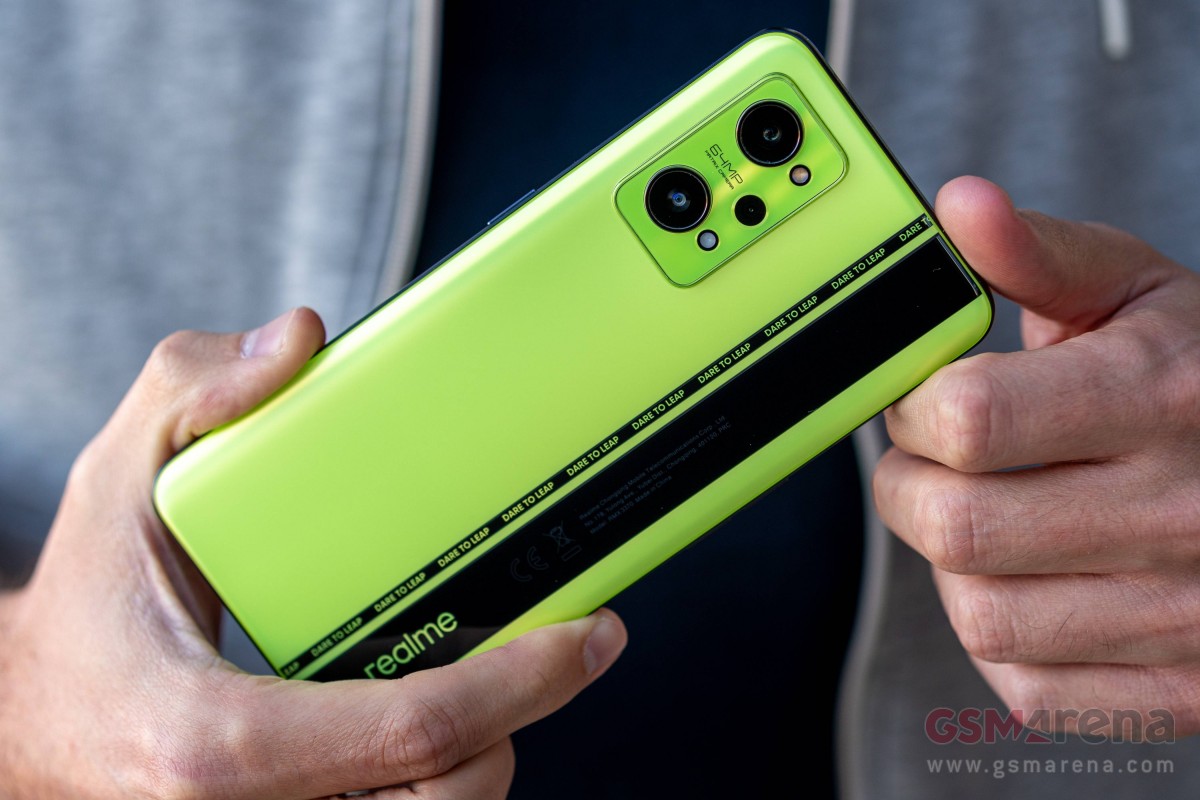 Realme GT Neo2 in the attractive Neo Green color
However, the Realme GT Neo2 is heavier and wider than the GT 5G, making it less comfortable than the latter to use. It also doesn't have the 3.5mm headphone jack onboard, and games don't move north of the 60FPS mark. The smartphone also has no IP rating and microSD card slot, but there's only so much you can ask for at this price. More so when you consider the INR4,000 ($55/€45) discount by Realme India on prepaid orders, which brings down its starting price to INR27,999 ($375/€330), making it even more appealing.
iQOO 7 Legend
vivo sub-brand iQOO announced the iQOO 7 series in India in April, consisting of the iQOO 7 and the iQOO 7 Legend. However, the Indian iQOO 7 is a rebranded Chinese iQOO Neo5, while the iQOO 7 Legend is a rebadged Chinese iQOO 7 with slower charging.
The iQOO 7 Legend is a gaming smartphone and comes with a feature called In-Display Monster Touch - a fancy name for the pressure-sensitive areas on the screen that mimic the press of a hardware button to improve your gaming experience. And in my experience, they actually do.
The way this feature works is it allows you to map on-screen game controls for a quicker reaction time, which comes in handy in fast-paced games because all you have to do is press the screen harder to execute an action without having to move your finger. Another advantage of the In-Display Monster Touch controls is that you can have more space on the screen for extra controls, or maybe just remove them by mapping to the Monster Touch.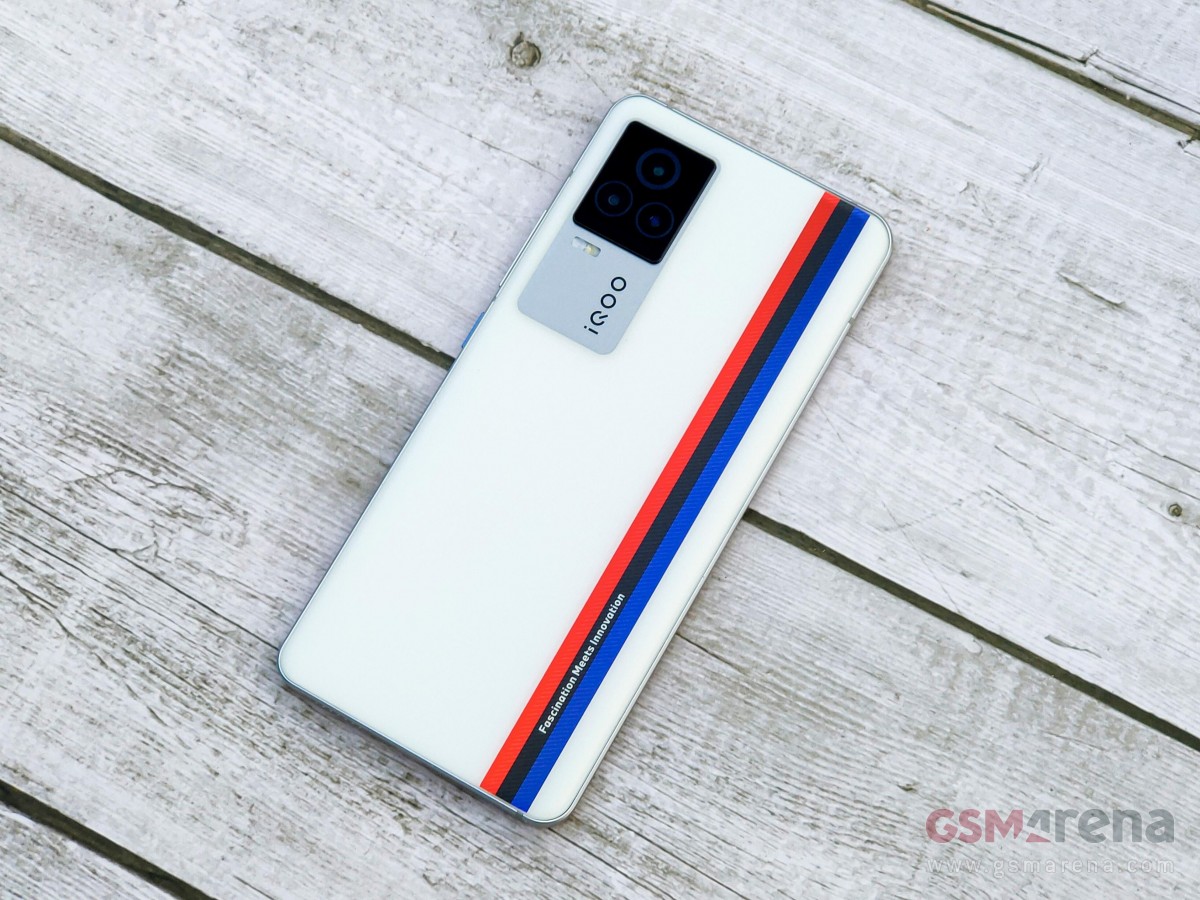 The In-Display Monster Touch feature worked really well for me and got me quite addicted to Call of Duty: Mobile. So much so, that I prefered the iQOO 7 Legend over other phones when it came to playing COD. The iQOO 7 Legend's In-Display Monster Touch is also the reason I now refuse to consider something a "gaming smartphone" just because the processor inside it can run games smoothly. There has to be a feature like the In-Display Monster Touch which elevates the gaming experience on that phone for me to consider it a gaming smartphone.
That said, the In-Display Monster Touch currently only supports two games - the other is Free Fire. Besides, there were hardly any games that ran beyond 60FPS, meaning the 120Hz refresh rate on the AMOLED panel was only utilized by apps. However, the iQOO 7 Legend ran all the games I played smoothly - thanks to the Snapdragon 888 SoC, which, on my unit, was paired with 12GB RAM. Although there's also an 8GB version priced lower.
While the iQOO 7 Legend was advertised as a gaming smartphone, it's quite an appealing option for the non-gamers as well since it comes with stereo speakers, NFC, Hi-Res Audio, and versatile camera setup on the rear comprising 48MP primary (with OIS), 13MP ultrawide, and 13MP telephoto units.
The smartphone also supports 66W charging, which, in our tests, filled up the relatively small 4,000 mAh battery in 32 minutes. Besides, the iQOO 7 Legend feels premium to hold and has a sturdy build. And then there's the paint job on its AG Glass back panel, which isn't as flashy as the ones we see on other gaming smartphones - yet another reason for non-gamers to consider the iQOO 7 Legend.
vivo X70 Pro+
At INR79,990 ($1,075/€945), the vivo X70 Pro+ is the most expensive smartphone from the BBK group you can buy in India right now. However, that's easily justifiable as it offers you a very premium experience - right from opening the equally premium-feeling retail package to the moment you hold the phone in hand. I mean, you can tell the X70 Pro+ is an expensive, premium smartphone the moment you hold it.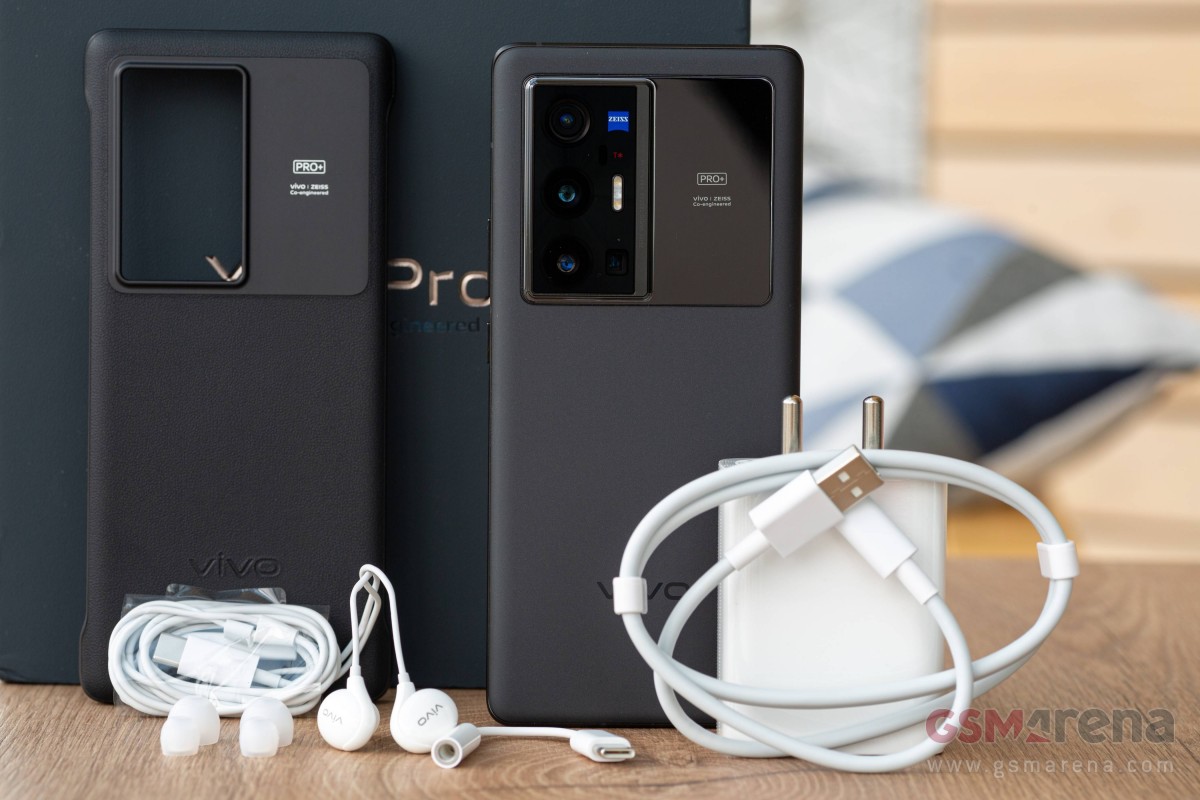 The vivo X70 Pro+ has a sturdy build, and the back panel made with the new Fluorite AG technology and having a satin finish feels good to touch. Of course, it also makes the smartphone slippery at times, but that's easily fixed when you snap on the bundled protective case to it.
This protective case has a leather-like finish and vivo included it into the package of international models since the leatherback versions are exclusive to China, unlike the X60 Pro+.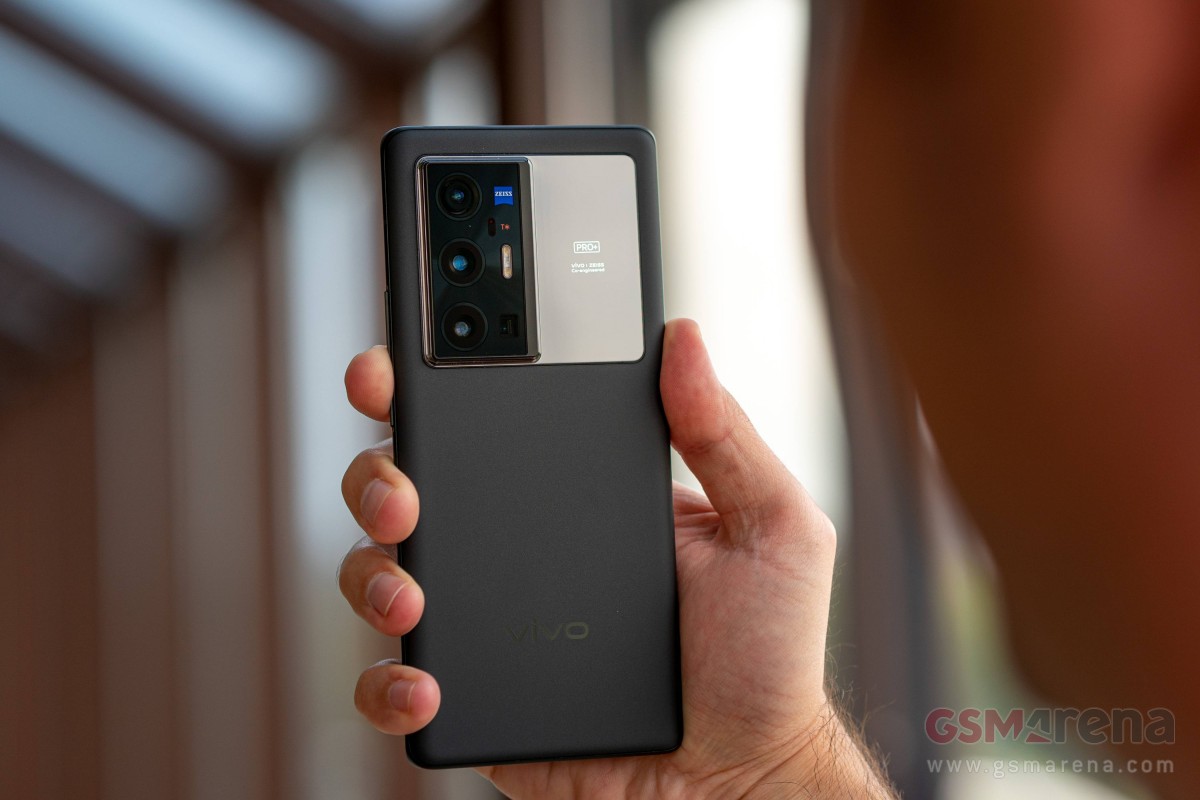 That said, there's more to the X70 Pro+ than just the design and build. The smartphone is packed to the brims as it comes with the Snapdragon 888+ SoC, 12GB RAM, 256GB storage, 120Hz QHD+ AMOLED panel with a fingerprint reader underneath, stereo speakers, 4,500 mAh battery, 55W wired charging, and 50W wireless charging. It also supports reverse wireless charging, allowing you to charge other devices wirelessly.
The X70 Pro+ is also IP68 rated, features a 32MP selfie camera, and sports an intriguing camera system on the rear, consisting of 50MP primary, 48MP ultrawide (with gimbal), 12MP telephoto (2x optical), and 8MP periscope (5x optical) units. All four of these come with OIS. The only thing missing in the specs department is the 3.5mm headphone jack, but vivo includes a headphone jack adapter and USB-C earphones with the retail package to make up for it.
My overall experience with the vivo X70 Pro+ was pretty good, but I didn't find it to be ideal for one-handed usage.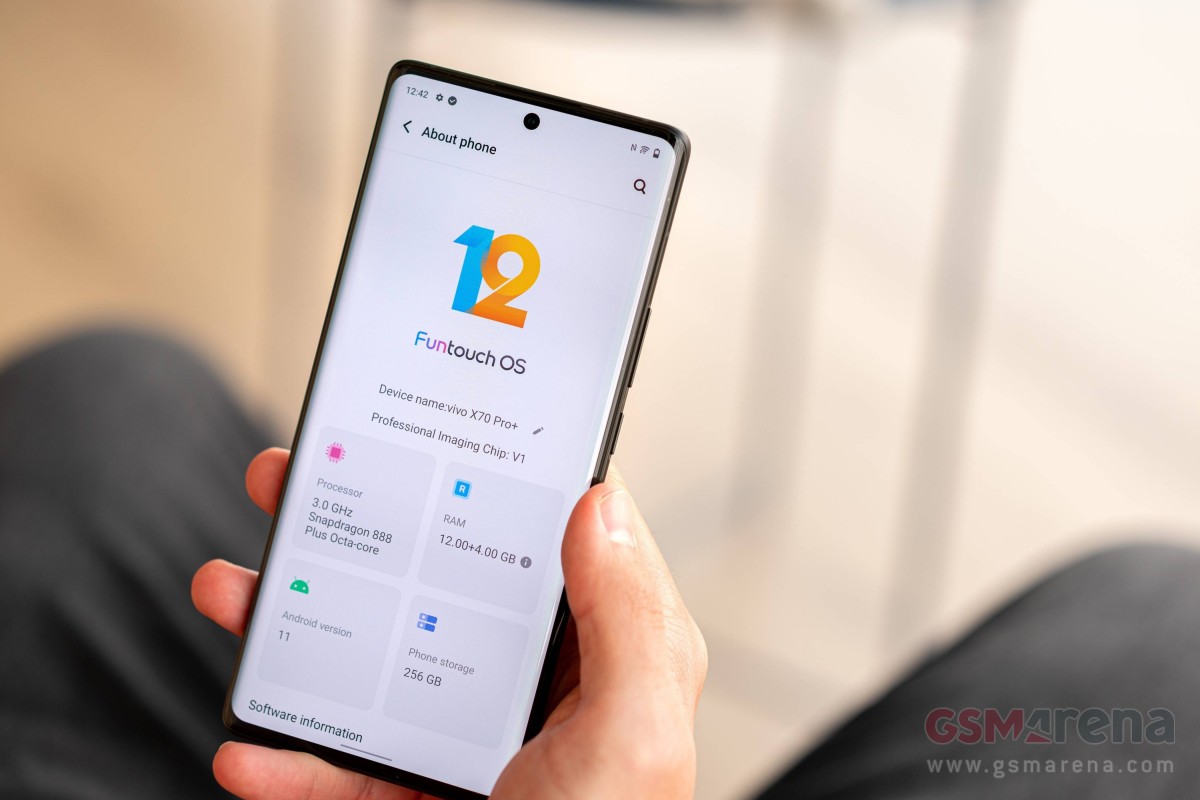 Besides, the battery life could've been better, and the default Camera app could have been made more friendly for one-handed usage. The software on the X70 Pro+ was also half-baked at launch, and the software issues I faced with the X70 Pro+ were something I encountered on the vivo X70 Pro and iQOO Z5 as well, which isn't a surprise since all these phones run Android 11-based Funtouch OS 12 out of the box. But things improved a bit with Android 12.
To conclude, if you are willing to shell out INR80k, you won't really go wrong with the vivo X70 Pro+. That price is justified for what you are getting - a premium design with beefy hardware and an overall nice experience, which compelled me to include it in my list of top 5 phones of 2021.
Tie: Motorola Edge 20 Pro and Oppo Reno6 Pro 5G
It's a tie for the fifth smartphone in the list between the Motorola Edge 20 Pro and Oppo Reno6 Pro 5G. Let's see why.
Motorola Edge 20 Pro
The Motorola Edge 20 Pro is available for INR36,999 ($500/€440) in India at the time of writing this, and that much money gets you Snapdragon 870 SoC, 6.7" FullHD+ 144Hz OLED screen (with proper HRR implementation), clean Android, water-repellent design, and a 4,500 mAh battery with stellar endurance.
For photography, you have a 32MP selfie shooter inside the punch hole, and the versatile camera system on the rear consists of 108MP primary, 16MP ultrawide, and 8MP periscope telephoto units, which take good daylight photos.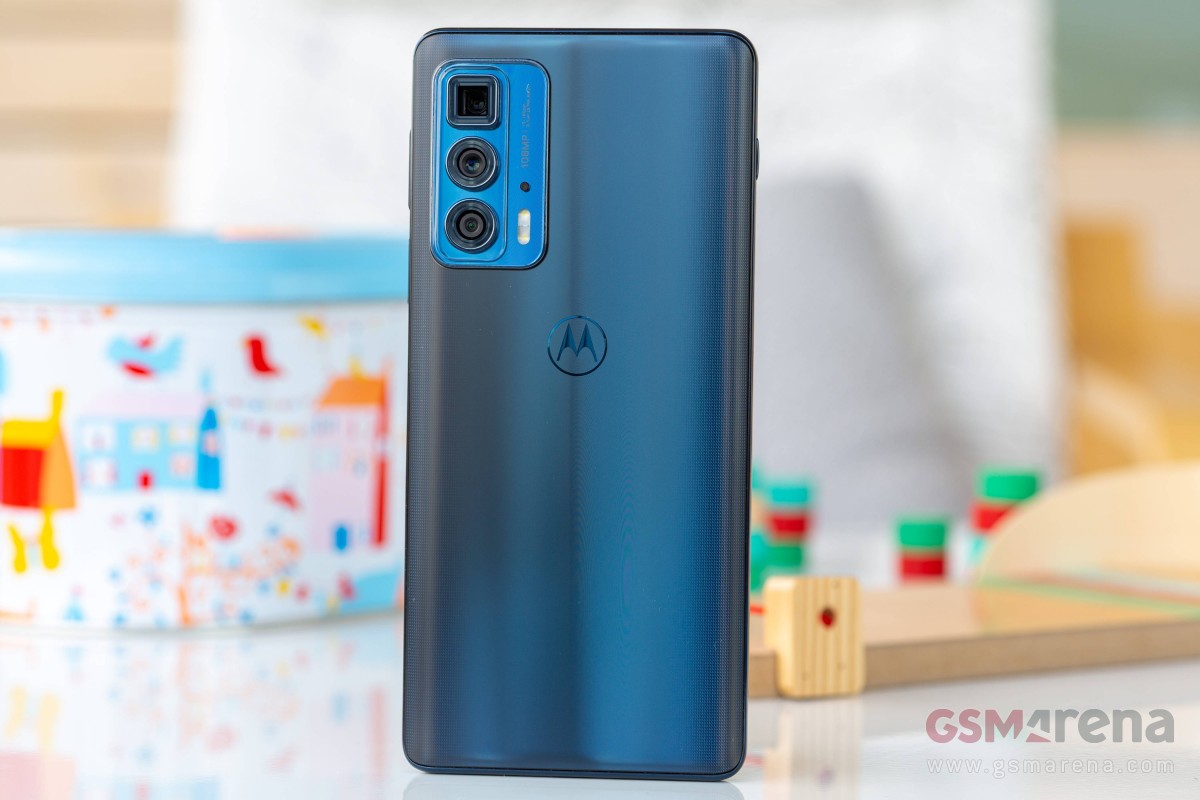 So where's the problem? Well, for starters, it charges at 30W, which could be fast enough for many, but is a deal-breaker for me. At this point, if I'm buying a smartphone, I want it to go up to at least 50W. That's the bare minimum for me.
Besides, the Motorola Edge 20 Pro features a side-mounted fingerprint reader instead of an in-display solution and doesn't come with stereo speakers. The smartphone doesn't have a 3.5mm headphone jack either, but that's something I can ignore.
So if you are fine with the Edge 20 Pro's specs sheet, it is one smartphone that's worth considering.
Oppo Reno6 Pro 5G
Oppo launched two Reno6 Pro 5G phones in 2021 - one with MediaTek's Dimensity 1200 SoC and the other with Qualcomm's Snapdragon 870 chip. I've included the Dimensity 1200 variant in the list that was launched in India. And, honestly speaking, I added it to this list mainly because of its design and aesthetics and the AMOLED screen.
The Aurora color version I received looks gorgeous. It's quite premium, has a nice build, and the back panel made with the Reno Glow process having a soft-touch matte finish offers a great in-hand feel.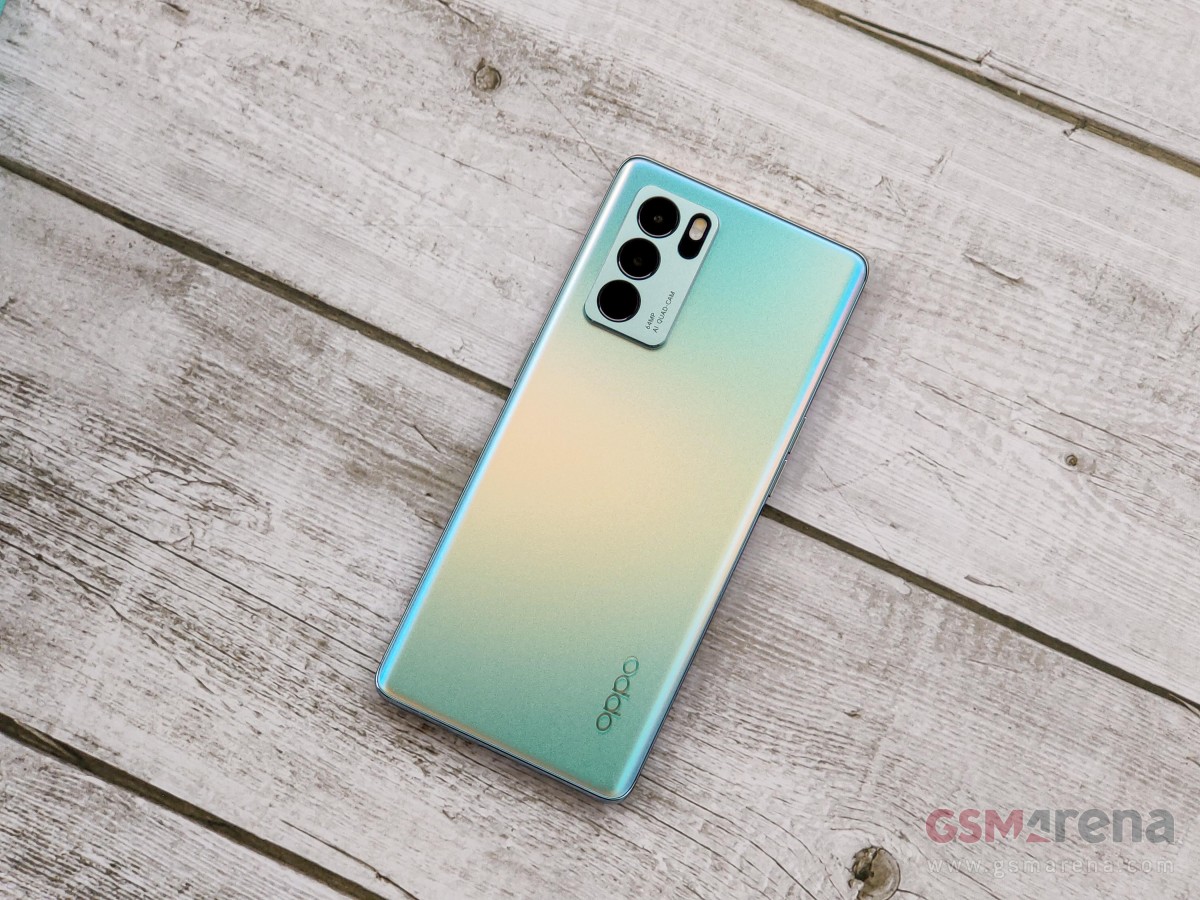 Just look at this beautiful Oppo Reno6 Pro 5G Aurora color version
The 65W bundled adapter filled the 4,500 mAh battery from flat to 100% in about 37 minutes in our tests, and the Dimensity 1200 chip proved dependable - whether it was gaming or browsing the web. However, the performance wasn't as smooth as the Realme X7 Max 5G's, powered by the same chipset.
In fact, if I had to choose between the Reno6 Pro 5G and the more affordable X7 Max 5G, I'd go with the latter simply because I find it to be a better overall package for the price. There's also the OnePlus Nord 2 5G, and this exactly is the reason why I said the Reno6 Pro 5G made it to the list for its design and aesthetics.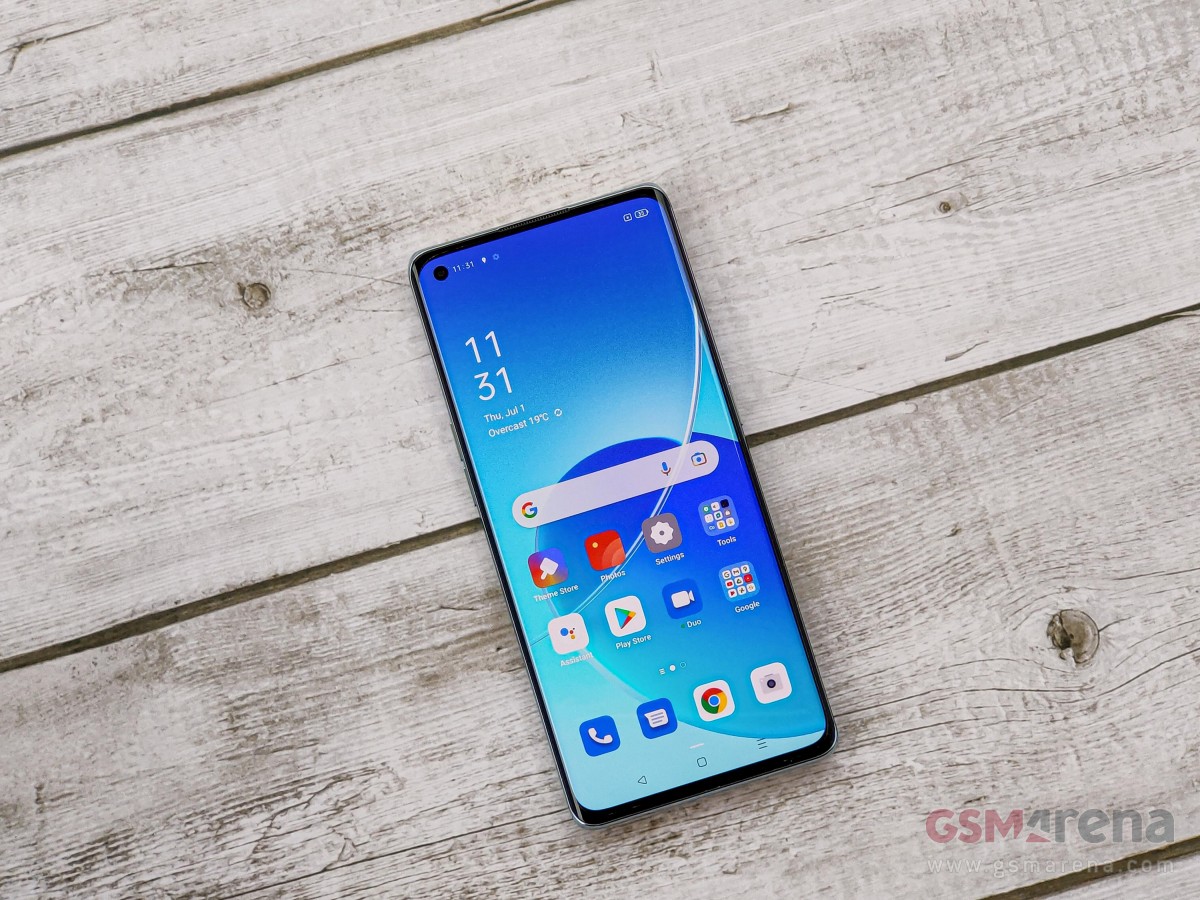 The Reno6 Pro 5G itself isn't a bad phone per se. I enjoyed using it, and the phone's underlying hardware is capable too, but the price tag (at least in India) makes the Reno6 Pro 5G a less exciting option than the Realme and OnePlus phones I mentioned. I actually haven't added the Realme X7 Max 5G here because the X Series is discontinued, and I'm not vouching for the Nord 2 5G since I don't have any personal experience with that phone.
That said, the Reno6 Pro 5G comes in a single 12GB/256GB configuration in India. Perhaps Oppo could've launched a version with lesser RAM/storage to lower the entry barrier, but that hasn't happened so far and likely won't. I hope Oppo will have more competitive pricing for the Reno7 series in India. But until that arrives, the Reno6 Pro 5G remains one of the best smartphones to buy in India if you are someone looking for a gorgeous phone with overall decent performance and don't mind paying extra.
And that's pretty much it, folks. Those are my top phones of 2021. Thanks for reading through! If you, too, got a chance to use any of the smartphones mentioned above, let me know how your experience was in the comments section below and what alternative would you go for. The holiday season is already over, and 2022 has begun, so Happy New Year, get vaccinated when you can, wear a mask, keep sanitizing, and stay safe! There's definitely light at the end of the tunnel.
Related
Beware of these cheapest of the Chinese brands. 1st off they are not balanced. Have many shortcomings. Over heat. Burst batteries like crackers. Plus they put a hole in your pocket sending the money to China. They feel cheap after you hol...
Anonymous
13 Jan 2022
IJE
Samsung Galaxy 4ever
Popular articles
Popular devices
Electric Vehicles