Nokia 6303 classic review: Euro hatch territory
Euro hatch territory
GSMArena team, 8 June 2009.
Gallery is unchanged
If you have been keeping track, you'd know that we aren't really in love with the looks of the S40 gallery. The fact that it is an inherent part of the file manager is probably the main cause of our disappointment.
There are three different views for the gallery: list with details, list and grid. Once you pick a picture you can zoom on it to see more detail. Zooming itself is not the fastest (especially for larger pictures) or the most capable around - it can only zoom in steps, so it is practically of little use.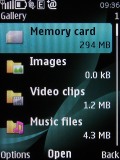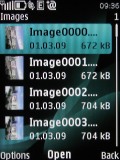 Gallery hasn't changed one bit
Pictures can also be viewed full screen and can be edited with the built-in picture editor. The latter offers a very limited number of options (in contrast to almost every Samsung phone with their suite of editing features), so Nokia 6303 classic users are highly unlikely to take up photo editing on the handset.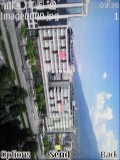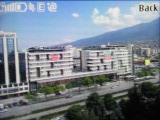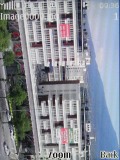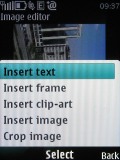 Looking at a single picture in normal and landscape mode • Zooming isn't really a treat
The final extras of the gallery include the available Slideshow and Search option, which is quite convenient for finding a specific file in overflowing folders.
As a whole we aren't exactly delighted with the S40 gallery and we do hope that it will be one of the first things to be improved in future versions of the UI.
Traditional music player
Without doubt, the music player is among the nicest applications of the Nokia 6303 classic. It has decent looks and all-round functionality, including album art, and a fair number of formats are supported. The theme can be set to match that of the rest of the phone, integrating it very well with the rest of the interface.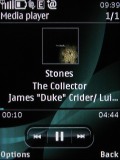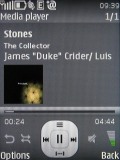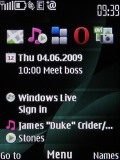 The Nokia 6303 classic music player with the applied theme • built-in theme • on the standby screen
The music player is controlled with the D-pad. Besides all the typical functions, the music player of Nokia 6303 classic also sorts songs by artist, album and genre. The player works with AAC, AAC+, eAAC+, MP3, MP4, WMA, AMR-NB. Naturally A2DP profile is supported, allowing the use of stereo Bluetooth earphones.
There is only one default theme available for the music player. Not counting the five preinstalled themes for the UI. They change the color scheme and background.
The sonic experience gets enhanced by equalizer presets and stereo widening. There are 5 equalizer presets on Nokia 6303 but you can easily create new ones thanks to the two user defined slots available.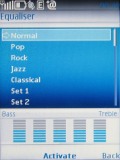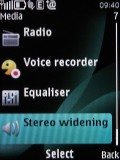 The equalizer preset with two user-defined sets • Stereo widening is available too
As usual, the artist and title of the currently playing song are shown on the homescreen. They appear in the Radio and music area on the homescreen so they need to be active for the info to be displayed.
Audio quality
Even though it is not a music phone, Nokia 6303 classic has pretty good frequency response. It also pulled off excellent total harmonic distortion and intermodulation distortion scores.
The rest of the readings in our audio quality test weren't as impressive but there is nothing too disturbing about them either. We have to admit that they are slightly below average.
Given the acceptable price tag of the device and the fact that we've seen Nokia do far worse, we would call the audio quality of Nokia 6303 classic decent. Here are the results so you can see for yourselves.
| | | | | | | |
| --- | --- | --- | --- | --- | --- | --- |
| Test | Frequency response | Noise level | Dynamic range | THD | IMD + Noise | Stereo crosstalk |
| Nokia 6303 classic | +0.27, -0.08 | -75.9 | 75.9 | 0.0075 | 0.042 | -71.7 |
| Nokia 5310 XpressMusic | +0.29, -1.69 | -94.4 | 92.0 | 0.015 | 0.491 | -73.8 |
| Nokia 5220 XpressMusic | +0.29, -1.64 | -91.7 | 90.3 | 0.012 | 0.612 | -73.1 |
| Nokia N81 | +0.39, -1.13 | -86.6 | 85.8 | 0.041 | 0.040 | -69.9 |
| Nokia N85 | +0.28, -1.19 | -94.4 | 95.4 | 0.305 | 0.701 | -88.1 |
| LG KM900 Arena | +0.09, -1.61 | -91.6 | 91.7 | 0.0017 | 0.101 | -90.4 |
| Samsung M7500 Emporio Armani | +0.86, -6.28 | -80.1 | 80.1 | 0.017 | 0.134 | -73.9 |
| Sony Ericsson W508 | +7.30, -2.18 | -85.9 | 84.7 | 0.0052 | 0.020 | -84.7 |
| Apple iPod Touch 2G | +0.04, -0.05 | -91.4 | 91.5 | 0.0027 | 0.012 | -90.0 |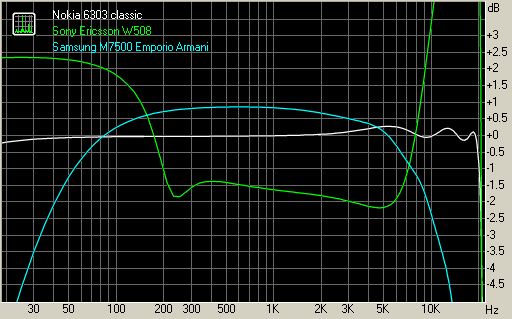 Nokia 6303 classic frequency response graph
You can learn more about the whole testing process here.
FM radio has RDS
An alternative to the preloaded content on Nokia 6303 classic is the FM radio. It resembles the audio player interface and covers all basic functions.
Much like the music player, the FM radio also has the standard theme and the 'Set by Themes' option, which uses the currently selected UI theme.
RDS support is available. RDS info and frequency appear on the homescreen, much like with the music player.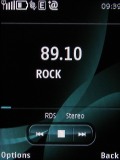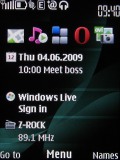 FM radio player interface - RDS is onboard
Video player is minimalist
The video player of Nokia 6303 classic is compatible with 3GP and MP4 formats. Videos can be played in fullscreen mode, as well as fast-forwarded or rewound. The option to hide soft key captions to make better use of the full screen mode also improves the viewing experience. The player works in the background appearing on the active standby tab.
We tried a WMV file but only the audio played. It seems that WMV codec support is not finalized yet.
As much as I have tried in different ways, I cannot set up emails. Perhaps my Talkmobile monthly contract? Also I can't match names with inbox etc numbers, I have to read the message to make sure I reply to the right person :(
Realy good handset , but not a light that just use for torch light.tnk u see u but not like u.