Nokia 6 review: International flavor
International flavor
GSMArena Team, 15 August 2017.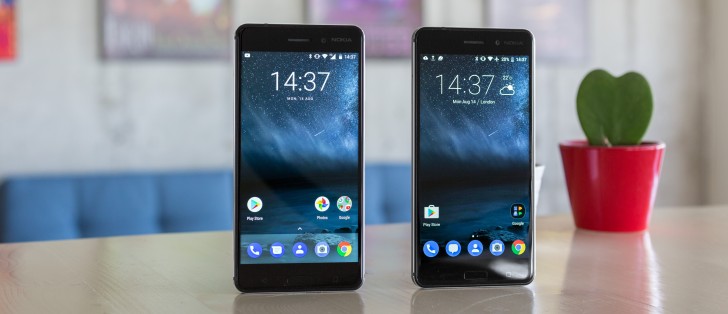 Software
It's the software where the global Nokia 6 differs from the Chinese version in readily observable ways, while also being virtually identical to the other international Nokias, the 3 and 5. They all run Android 7.1.1. Nougat - the global ones from the get go, the Chinese Nokia 6 since a couple of updates ago.
Perhaps one of the best bits about the Nokias is that they come with a promise for timely monthly software updates. So far it's not an empty promise either - we received the review unit on August 7, the July update was there waiting, and once we installed that a notification popped up for the August patch.
Updates aside, it is the Chinese one that runs the most custom UI of the bunch, but even so, it's personalized with a very light touch. Compared to it, the global Nokia 6 delivers a stock look and feel not unlike a Pixel - a Pixel with a certain degree of blue accents in the interface that is. It's a Nokia after all, and the reborn brand needs a few UI elements to make it distinct enough and boost brand awareness.
There's little of that on the lockscreen, though - it displays the standard Nougat notification cards, complete with grouping, expanded view and direct reply. There is a clock as well, but it lacks the weather widget among other customizations exclusive to the Chinese version.
There's a camera shortcut in the bottom right, while the bottom left shows the fingerprint icon - if you have fingerprint recognition enabled, that is. These cannot be changed either. While we're at it, the camera can be launched with a double press of the power button on any of the two phones (but you have to enable that in the settings).
The homescreen is where the Nokia looks like no other. All of the system icons and pre-installed apps are painted in Nokia blue, and they're all circles. It is the Nokia way, clearly, as it's more or less the same on all of the company's phones. We often found ourselves scrambling to find the icon we're looking for, because we couldn't tell them apart by shape or color. Of course, once you get used to what's where, it gets easier. There is no extended theme support - the blue color scheme is the one you get and that's that.
On the other hand, all third-party apps retain their original icons - the launcher doesn't apply any changes to them. That makes them recognizable, but then they look nothing like the bundled ones. You might want to consider having the stock apps on one screen, third-party ones on another, just for style's sake.
Anyway, the Pixel-like app drawer that you pull up from the dock is your only option - you can't tap on an Apps icon to go to a separate app drawer interface with screens that you swipe side to side.
Of course, since there is folder support on the homescreen as well, you can organize everything there and simply forget the Pixel-like swipe up to open the drawer.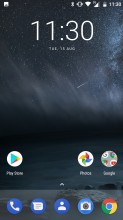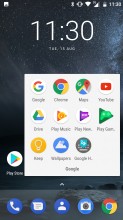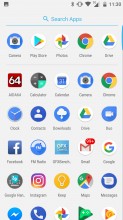 Home screen • Folder view • App drawer
Speaking of gestures, a long press on the home screen toggles edit mode on. You also get access to widgets and wallpapers. The latter can be sourced from the pre-loaded and a little bit obscure Google Wallpapers app, which has the handy option for daily wallpapers. The homescreen setting menu only has a couple of options, but both are interesting.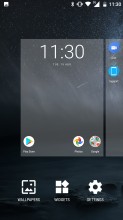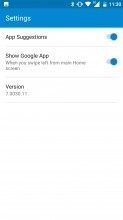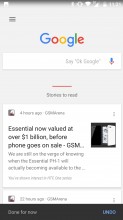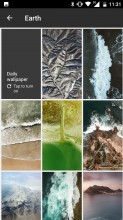 Homescreen editing • Homescreen settings • Google Now panel • Google Wallpapers app
App suggestions is the nifty first row in the app drawer, which is automatically populated with recently used apps. As for the Google App toggle, it is used to enable or disable the Google Now interface, accessible via a right swipe on the homescreen. There's Google Assistant too - the customary long press on the Home button calls it up.
The Nokia 6's notification shade is about as stock as they get, and that's one way it differs from the Chinese 6, which had some customization. A single pull down gets you six small toggles, pull a second time and you get a total of 9 large ones per pane, with multiple panes supported. There's also a brightness slider, but Auto brightness is only accessible through the settings menu.
The task switcher is business as usual - the Android rolodex is present here. The 'clear all' button only appears when you scroll all the way to the top - a bit of a nuisance. There is multi-window multitasking (thanks, Nougat), but the screen is always split 50/50 - you can't resize the windows.
There are a few gestures you can enable on the Nokia 6 but just basic stuff really. There are magnification gestures, pick up to mute and turn to reject call, and the double press of the power button to launch the camera counts as a gesture.
Loudspeaker
The Nokia 6 reuses the earpiece as a second loudspeaker - the left channel in a stereo setup. The bottom firing driver is more powerful, but the two work well together to create the stereo effect.
When it comes to loudness, the Nokia 6 falls in the Good category in our test and sounds clear even with the volume dialed all the way up. There is hardly any difference between the Global and Chinese version in terms of loudness.
| | | | | |
| --- | --- | --- | --- | --- |
| Speakerphone test | Voice, dB | Pink noise/ Music, dB | Ringing phone, dB | Overall score |
| Apple iPhone 6s Plus | 65.8 | 65.1 | 64.6 | Below Average |
| Meizu Pro 6 Plus | 60.6 | 69.5 | 70.3 | Below Average |
| Oppo F3 | 63.1 | 68.7 | 70.4 | Average |
| Sony Xperia XA1 | 61.7 | 69.7 | 71.8 | Average |
| Lenovo K6 Note | 63.2 | 69.5 | 71.0 | Average |
| Samsung Galaxy J7 (2016) | 64.5 | 71.0 | 68.9 | Average |
| Xiaomi Redmi Pro | 68.1 | 71.8 | 69.4 | Good |
| Samsung Galaxy A5 (2017) | 66.4 | 66.2 | 78.0 | Good |
| Nokia 5 | 63.9 | 70.0 | 81.7 | Good |
| Nokia 6 (Global version) | 63.1 | 70.9 | 82.5 | Good |
| Nokia 6 (Chinese version) | 63.0 | 70.2 | 85.2 | Good |
| Xiaomi Redmi Note 4 (S625) | 67.3 | 70.3 | 81.5 | Very Good |
| Samsung Galaxy J7 (2017) | 67.8 | 71.2 | 83.1 | Very Good |
| Meizu M5 Note | 65.1 | 70.7 | 86.8 | Very Good |
| Google Pixel XL | 73.4 | 72.1 | 84.1 | Excellent |
| Huawei Mate 9 | 83.1 | 74.5 | 85.0 | Excellent |
Beenhacktalot
14 Sep 2021
31Z
Great Stuff
Cyberintel
27 Mar 2021
CGH
Hello... Nokia 6 not to my expectation. Recent app button not working. Battery saver not active. I had to download an app via playstore to support those features. Inserting an earpiece. Only one side of the earpiece is working. Fix it well.
Anonymous
26 Jan 2021
Nu6
My own phone doesn't provide calls sounds to my second party, unless I put it on speaker which is also not loud enough at my ens