Nokia C3 review: SNS love
SNS love
GSMArena team, 16 July 2010.
S40 user interface is looking fancy
The C3 runs Nokia's Series 40 user interface but it's been styled to look a lot like Symbian S60 3rd. The dedicated Contacts and Messages buttons nod to the Eseries. Overall, the Nokia C3 UI tries to look above its pay grade.
Not that much has changed – at its core it's still the limited S40 software so don't expect any surprising novelties in the UI section.
The S40 strengths are still valid – simple and easy when it comes to the essential functions, no hanging, no bugs. Simple is not always bad.
The standby screen of the Nokia C3 features the pre-selected wallpaper with the usual status readings, such as signal strength, battery status, ringing profile icon and time occupying the top part of the screen. The fonts are large and readable across the whole interface.
Active standby mode (or Home screen mode, as Nokia call it here) is the default homescreen. It consists of three active rows that can be edited or relocated as users see fit – you can think of them as limited widgets.
Out of the box, the top row is the favorite contacts, followed by the Communities bar (which shows updates from Facebook and Twitter) and at the bottom, the shortcuts bar.
The main menu seems to follow the same easy-on-the-eye concept with its several available view modes.
The major drawback of Series 40 is the lack of multitasking – and we'll never see it implemented. But a lot of the features help work around this problem – like the new Communities app, which pulls updates in the background and Ovi Chat, which is a native app now and loads much faster than J2ME alternatives.
Both apps let you stay online and receive updates even when the app is not active which, as far as messaging is concerned, sorts out the lack of multitasking. And it's not like there are a lot of third-party apps you'd install on an S40 phone.
The upshot of this is that the battery lasts longer and there are no unexpected hang-ups when background-running apps start acting up.
Anyway, the limited choice of third party apps and the lack of a document viewer are undoubtedly big Series 40 flaws. If those are things you need, Nokia would offer you the Symbian platform.
The Nokia C3 doesn't have an accelerometer, but pressing the red receiver key when the phone is locked displays a big digital clock – a very handy way to check the time if you don't have a watch.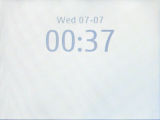 It's not tap-for-time, but it's still handy enough
The phonebook is decent
The phonebook of the Nokia C3 stores up to 1000 contacts – as far as most people are concerned, this is as good as unlimited storage. The phonebook is typical S40 and holds no surprises.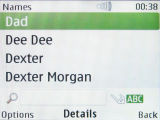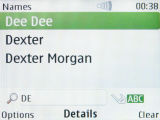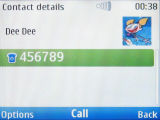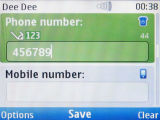 The phonebook can be searched by gradual typing
Each contact can be assigned a variety of fields but the phone numbers are limited to 5. First names are separated from last names, eliminating problems which may occur with synchronization. Custom ringtones and videos can be assigned to each contact.
You can choose between normal and large font in the phonebook. The way contacts are displayed is also user-configurable – a simple list, list of name or numbers and a list with names and contact images.
Setting up quick dial shortcuts or adding contacts as favorite on the Active Standby homescreen gives you quick access to the most used contacts.
Telephony is fine
In-call sound is strong and clear and even though the signal indicator dips to one bar sometimes, it still doesn't drop the call. Vibration strength is not very impressive though.
The Nokia C3 lacks the Voice Clarity enhancement, which is a common feature on S40 phones but it's not that badly missed. During a call, you have the option to record the conversation.
An application to mention here is voice dial: no pre-recording of voice labels is necessary as it is fully speaker independent. Nokia has not included any Smart dialing features though.
We carried out our traditional loudspeaker test to find out Nokia C3 is a Very Good performer. You can find more details about our test, as well as the results of all other tested handsets here.
| | | | | |
| --- | --- | --- | --- | --- |
| Speakerphone test | Voice, dB | Pink noise/ Music, dB | Ringing phone, dB | Overal score |
| Nokia X3 | 65.7 | 66.2 | 66.6 | Below Average |
| Nokia 6303 classic | 67.9 | 65.3 | 72.3 | Average |
| Nokia 6303i classic | 70.2 | 66.6 | 75.7 | Good |
| Nokia C3 | 75.8 | 66.6 | 77.5 | Very Good |
| Nokia 6500 slide | 74.2 | 72.8 | 78.2 | Very Good |
| LG GW300 | 78.6 | 75.7 | 80.7 | Excellent |
I love this phone so much It is the first phone I used to go WhatsApp I love Nokia product
Avaiable, second hand market. Very good phone one of the best.
This mobile is still available in the market ... ??