Nokia E51 review: Connecting business
Connecting business
GSMArena team, 06 December 2007.
The phonebook takes care of all your contacts
You know our opinion of smartphones phonebooks - they are simply spot on. The one on Nokia E51 makes no exception. It will store a virtually unlimited number of contacts and fields, all the available memory potentially usable for contacts. Contacts can be freely ordered by first or last name and can naturally be searched by gradual typing of any of their names.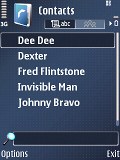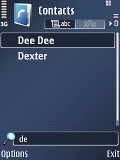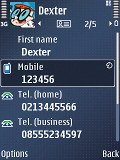 The phonebook completely lives up to the expectations
Editing a contact offers an enormous variety of preset fields and you can replicate each of them as many times as you like. You can also create new fields if you happen to be able to think of one. We personally find it difficult to think of something Nokia has missed here. Personal ringtones and video are also available for assigning. If you prefer you may group your contacts and give a specific ringtone to each group.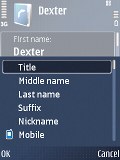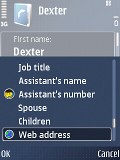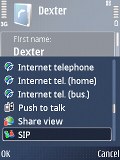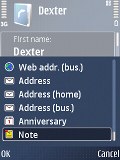 These are only some of the available fields, which can be assigned to a contact
The Call logs application, although not exactly a part of the phonebook is also one of Nokia E51's strengths. It can hold up to 20 call records in each of the tabs for outgoing, received and missed calls. These are all accessed with the Call key from the stand-by menu. If you open the Log application from the main menu, you'll see a detailed list of all your communications for the past 30 days. These include messages, calls and data transfers.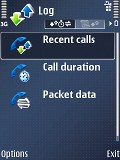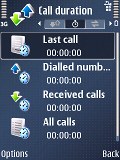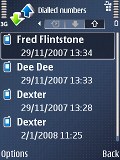 The call log application keeps track of all your communication for the past 30 days
Unlimited goes for the messaging as well
If you are the texting kind, Nokia E51 will give you no reason to grudge. With the very comfortable keypad, typing comes nice and easy and, not before long, you'll be going at full speed with your messages. There are four different message editors - one for each type of available message: SMS, MMS, audio message and e-mail.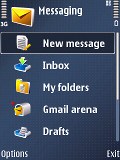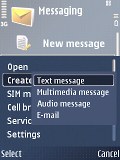 The messaging department • a dialog window for creating a mew message
The SMS editor is the well-know intuitive application for all Symbian S60 smartphones. It has a counter of the characters left to the limit of 160. There is also an indicator in brackets showing the number of separate parts the message will be divided into for sending.
It goes without saying that a delivery report can be activated. The reports pop up on the standby screen when the keypad is unlocked, and are subsequently saved in a separate folder in the messaging sub-menu. When you are exiting the message editor without having sent the message, the editor prompts saving it to the Drafts folder or deleting it.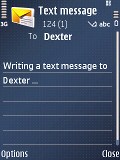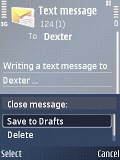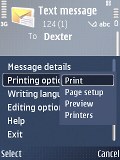 The SMS editor is very intuitive and easy to use • some of the SMS options
The MMS editor is virtually the same as the one we just described, with the added subject line being the only difference at first sight. While creating a MMS, you are allowed to insert image, sound clip, video clip, or a predefined template.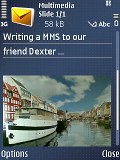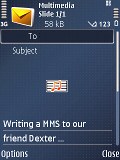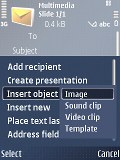 Writing a MMS and some of the MMS options features
Now, the audio message is technically also an MMS but obviously it is more important to people at Nokia and they have created a separate editor for it. The software editor can either record the message right away or use a previously recorded sound clip. Unfortunately, adding text to it is impossible.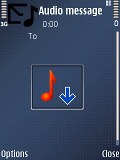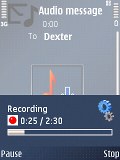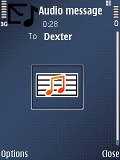 We doubt it the audio message editor will be put to frequent use, especially with no option to add text to it
The email client is the regular one too. It supports POP3, IMAP4, and SMTP protocols. The email client can download headers only, as well as the whole messages. There is also support for attachments, so Nokia E51 can meet almost any requirement as far as emailing goes.
Additionally, there is support for a wide variety of third-party solutions, including Mail for Exchange, Visto Mobile, and Seven Always-on. Business people who need a good mail client will appreciate the E51, while the SU-8W Nokia Wireless Keyboard sure adds value to its messaging capabilities.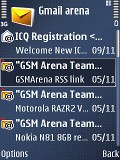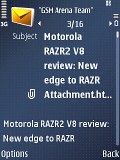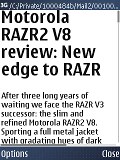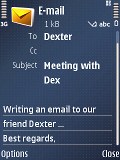 The email client is a great application • Writing Dexter an email
Music player gets low priority in E-series
The music player is one of the few departments where Nokia E51 lacks in both functionality and interface. The music player interface is quite dull, with no option to change its appearance. Controlling it with the D-pad is odd too, as up and down on the D-pad are used for browsing tracks, while the volume is controlled by the left and right, which is not intuitive at all.
| | |
| --- | --- |
| "...Our audio quality test showed that Å51 performs well, managing better marks compared to the Nokia 7500 prism, but still lagging behind the music-centered Nokia N81, to randomly name some of handsets we've compared..." | <#AdRectangle#> |
The supported formats are the usual MP3, AAC, eAAC+ and WMA. The Music library is good enough and sorts songs by artist, album, genre and composer automatically, while searching tracks is done by gradual typing. A convenient feature is Track lists, containing the "Most played tracks", "Recent tracks" and "Recent additions". Downloading tracks via Internet is supported as well.
Upon completing a USB transfer, the phone automatically prompts scanning for new music tracks and, if allowed to do so, adds the new ones to the music library.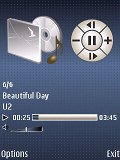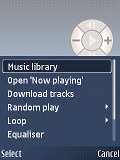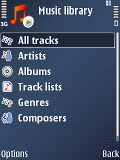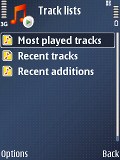 The music player is average but Music library makes up for it
The player comes with five equalizer presets. If it still seems insufficient, you can create new ones in a matter of seconds. When the player gets minimized, the only way to access it in the middle of doing something else is via the task manager window that is invoked upon a long press of the home key (menu key).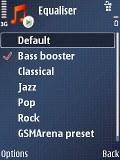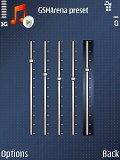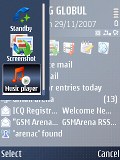 Available equalizer presets and the new one we've just created
Bluetooth supports the A2DP profile, which allows listening to your music on a wireless stereo headset. We had no problem connecting any of the tested headsets.
Audio quality is at its average
Our audio quality test showed that Е51 performs well, managing better marks compared to the Nokia 7500 prism, but still lagging behind the music-centered Nokia N81, to randomly name some of handsets we've compared. Nobody expects stunning music performance in a business phone, so we can safely assume that the overall result is just fine. The first generation of E-series smartphones was even worse. You can find more information about our audio quality test here.
| | | | | | | |
| --- | --- | --- | --- | --- | --- | --- |
| Test | Frequency response | Noise level | Dynamic range | THD | IMD + Noise | Stereo crosstalk |
| Nokia E51 | +0.78, -1.36 | -76.4 | 76.2 | 0.015 | 0.096 | -74.8 |
| Nokia N95 | +1.17, -2.68 | -74.9 | 74.9 | 0.019 | 0.186 | -75.3 |
| Nokia N81 | +0.39, -1.13 | -86.6 | 85.8 | 0.041 | 0.040 | -69.9 |
| LG KU990 Viewty | +0.29, -2.07 | -86.8 | 83.8 | 0.020 | 0.0124 | -86.6 |
| Samsung U600 | +0.41, -1.12 | -89.2 | 86.5 | 0.0040 | 0.019 | -86.9 |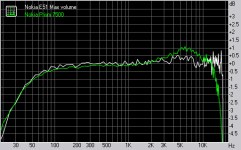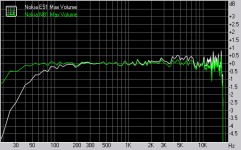 Nokia E51 and Nokia 7500 prism have almost the same frequency response graphs at max volume • Nokia E51 and Nokia N81 compared
""best phone i have ever used"". trying to find another set after my last set broke down.
why it has not been designed to be charged by usb