Nokia Lumia 620 review: Auxiliary troops
Auxiliary troops
GSMArena team, 14 February 2013.
Display
The Nokia Lumia 620 packs a 3.8" ClearBlack LCD (that's first gen) of WVGA resolution (480 x 800 pixels). The pixel density of 246ppi provides excellent sharpness and the image quality is surprisingly good.
Brightness levels are good and make up for the blacks, which are only average, so the overall contrast is excellent for the class. Colors are very punchy and viewing angles are quite decent too. There's a lot of color shifting going on when you increase the viewing angle, but what's on the screen remains legible unless you reach absolute extremes.
Here's a microscopic image of the screen's RGB matrix. The pixel arrangement is pretty standard for an LCD unit.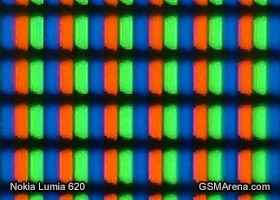 Although we found the blacks and pixel density of the Lumia 620 to be only average we should note that the contrast is very good, particularly for this price range.
Display test
50% brightness
100% brightness
Black, cd/m2
White, cd/m2
Contrast ratio
Black, cd/m2
White, cd/m2
Contrast ratio
Sony Xperia Z
0.70
492
705
Nokia Lumia 620
-
-
-
0.72
762
1068
Oppo Find 5
0.17
176
1123
0.51
565
1107
Sony Xperia S
-
-
-
0.48
495
1038
Samsung I9300 Galaxy S III
0
174
∞
0
330
∞
HTC One X
0.15
200
1375
0.39
550
1410
Nokia Lumia 920
-
-
-
0.48
513
1065
Nexus 4
0.22
314
1447
0.45
608
1341
LG Optimus G
0.14
197
1445
0.33
417
1438
Apple iPhone 5
0.13
200
1490
0.48
640
1320
The smartphone also excelled in our sunlight legibility test, beating much more expensive offerings in the process.
Contrast ratio
Nokia 808 PureView
4.698
Samsung I9300 Galaxy S III
3.419
Samsung Omnia W
3.301
Samsung Galaxy S
3.155
Nokia N9
3.069
Samsung Galaxy Note
2.970
HTC One S
2.901
Samsung Galaxy S II
2.832
Samsung Galaxy S II Plus
2.801
Huawei Ascend P1
2.655
Nokia Lumia 900
2.562
Sony Xperia Z
2.462
Samsung Galaxy S III mini
2.422
Motorola RAZR i
2.366
Apple iPhone 4S
2.269
HTC One X
2.158
Nokia N8
2.144
Oppo Find 5
2.088
Nokia Lumia 620
2.142
Apple iPhone 4
2.016
Sony Ericsson Xperia ray
1.955
Samsung Galaxy Camera
1.938
Sony Xperia V
1.792
Sony Xperia U
1.758
LG Optimus 4X HD
1.691
HTC One V
1.685
LG Optimus Vu
1.680
HTC Desire V
1.646
LG Optimus 3D
1.542
Nokia Asha 302
1.537
Nokia Lumia 610
1.432
Gigabyte GSmart G1355
1.361
HTC Desire C
1.300
LG Optimus L7
1.269
LG Optimus L9
1.227
Meizu MX
1.221
Sony Xperia E dual
1.203
Samsung Galaxy Pocket
1.180
Sony Xperia tipo
1.166
Samsung Galaxy mini 2
1.114
Handling
The Nokia Lumia 620 is comfortable to use and single-handed operation is quite easy. As we said, it could have been thinner, but having all the controls on one side and a small display certainly helps.
We are not particularly excited about the 11mm profile of the Nokia Lumia 620, which makes the smartphone feel a bit bulkier than it should have been, but it's not too bad either way. The ample space below the capacitive keys at the front could have also been put to better use.
As for the 127g of weight, we think Nokia found a good balance between pocketability and a solid feel. Furthermore, the smartphone's curved sides allow it to fit perfectly in-hand.
As an added bonus, the matte black finish really facilitates the grip and we'd take it any day over the glossy lime green version we previously had around.
Pls i just bought lumia 620 but am ginding it very hard in setting My email address so u could start downloading i creating an email using my previous accout but each time i tried loging i,got this msg "incorrect email or password" pls how can i go a...
I like nokia lumia is verygood phone.
I've had my Lumia 620 for almost 3 years and I love it! It feels smooth and cute in my hand, it is not too big - just the right size. It takes excellent pictures. I've had no issues with it at all. The are many more apps now than when I bought it- wh...