Nokia N78 review: Bitter sweet
GSMArena team, 11 June 2008.
Connecting people
Data transfers are a treat with Nokia N78. Every common data transfer medium is supported. USB 2.0 and Bluetooth 2.0 with A2DP just start the count. All kinds of network connectivity are also on board - from GPRS, through EDGE to 3G with HSDPA support - Nokia N78 has it all.
To complete the wireless communication tally, Wi-Fi with UPnP support is also at hand. A nice improvement coming with the FP 2 now allows for quick locating of hidden wireless networks. This was also possible with the previous Nokia handsets but took a lot more time as the WLAN wizard had to be used.
Even the memory card slot, is here and comes in handy if you have a card reader at your disposal. The missing thing with Nokia N78 is the Infrared port but we are not going to pretend that we are even slightly missing it.
Web browser scores a point
Browsing the internet with Nokia N78, like with all Nokia smartphones, is a pleasure. No matter how elaborate the web page, it fits perfectly on the screen and looks almost exactly like on a PC. The virtual mouse cursor earns the browser another point. It is easy to control and generally works great. A mini-map can be activated to help finding your way around large sites where lots of scrolling is required. The zoom level is also adjustable at the expense of only a few key presses.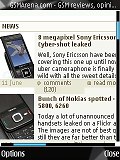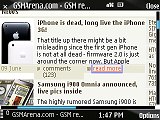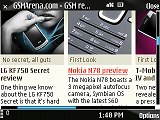 The web browser is really capable
The large amount of RAM is surely one of the best things that could happen to the browser, as it is one of the most RAM-demanding applications indeed. Now, even if you load very heavy web pages and have a few applications running in the background, you are extremely unlikely to run out of RAM. The 2.4" display is not as impressive as the 2.8" screen in Nokia N95 8GB but still makes even the finest prints readable.
Organizer
The time-management skills of Nokia N78 are really top-notch. Just name the application and you can count on it that the handset has it.
We start exploring the rich application package with the calendar. It has three different types of view - monthly, weekly and daily, and four types of events available for setting up - Meeting, Memo, Anniversary and To-do. Every event has its own unique fields, and some of them allow an alarm to be activated at a preset time to act as a reminder.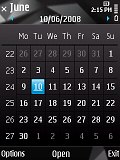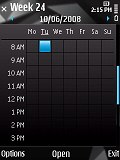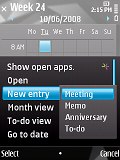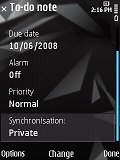 The calendar's month and week view modes • setting up a to-do event
The mobile office is also very well geared, with preinstalled applications able to open Word and Excel and PDF files seamlessly. Unluckily, editing documents is not supported by the included version of the Quickoffice. If you would like editing enabled you will have to purchase the complete application at the Nokia Download center. The final ingredient here is the included ZIP manager, which allows extracting archived files straight on your phone.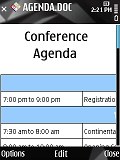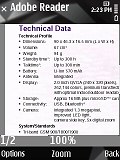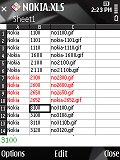 The mobile office handles .doc .xls and .pdf files seamlessly
Some of the other included organizing and time-management applications are a great unit converter, calculator and voice recorder, as well as the Notes application. We are not going to get into detail with them, as their functionality and performance are familiar enough.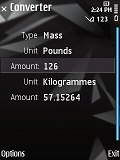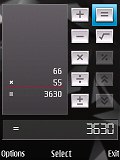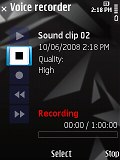 The unit converter, the calculator and the voice recorder
The alarm application allows a huge number of alarms to be set, each with its own name, trigger day and repeat pattern.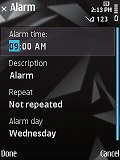 Setting-up an alarm on Nokia N78
Games wanted
If you are a game lover the Nokia N78 preloaded content is only going to bring disappointment. There was no preinstalled game on our unit, although it's an off-the-shelf unit. In addition, when we tried to install the N-gage application we kept getting incompatibility alerts.
On the other hand, there are plenty of third-party games out there so Nokia N78 users can easily download both native and java titles. N-gage support could be added for this model too. We just can't understand if it was that hard for Nokia to put a few just as a taster, it's not an E-series unit after all.
GPS navigation is the pleasant surprise
Like the two N95 editions and the N82, Nokia N78 has a built-in GPS receiver. Having tested all of them it's safe to conclude that Nokia N78 is by far the best performer in the lot. Its receiver is way more sensitive and the slow initial satellite lock problem is completely solved. Only about 30 sec are needed for the N78 to achieve lock upon cold start. You can also activate the built-in A-GPS to reduce this time even further. Have in mind though that data transfer charges apply in this case.
| | |
| --- | --- |
| "...Like the two N95 editions and the N82, Nokia N78 has a built-in GPS receiver. Having tested all of them it's safe to conclude that Nokia N78 is by far the best performer in the lot. Its receiver is way more sensitive and the slow initial satellite lock problem is completely solved. Only about 30 sec are needed for the N78 to achieve lock upon cold start..." | <#AdRectangle#> |
The built-in GPS receiver works with the Nokia Maps application, which is one of the software applications to offer the most detailed maps. Furthermore, it is free and relatively easy to use as far as the most basic functionality is concerned. What's even better, with Nokia N78 it comes with 3 months of free voice-guided navigation. You should bear in mind though, that this is not applicable to every market.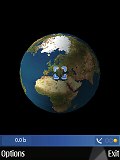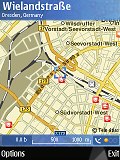 Nokia Maps navigation application has really detailed maps
In case you don't want to use Nokia Maps you can go for a third-party application as there are quite a lot of those available.
Still, we have to admit that the Nokia Maps application itself is not bad at all and has little to complain about. It has very decent looks and easily customizable route planning algorithm. Toll roads and motorways can be avoided and so can tunnels and ferries. The route selection can be set to either fastest or shortest. The app is also usable for pedestrian navigation or you can switch the GPS receiver off and use the phone as an electronic map.
The overall impression of the Nokia N78 GPS functionality is extremely positive, if not the best we have had with a mobile phone. It will hardly leave even the most demanding users disappointed.
Final words
First things first, we have to admit Nokia N78 really has some serious performance to back up that specs sheet. The new and improved interface is real snappy and there are a few nice surprises in store. The time-tested smartphone and multimedia strengths are topped with a capable camera, great GPS receiver and even a FM transmitter.
Our dilemma here is whether to throw another if only at you. All right, we'll just say that "can't have it all" is but a lame excuse.
And no, it's not a matter of personal taste - some things boil down to numbers. Right now Nokia N78 retails at about 30 euro more than what you'd pay for a Nokia N82. If you are not among those mesmerized by the looks of N78, you might end up trading the FM transmitter and better GPS for a 5 megapixel camera with xenon flash and saving a few bucks. Still with prices possibly leveling out, some time from now Nokia N78 might just turn out a better deal than it currently is.