Nokia N82 review: Comes with xenon
Comes with xenon
GSMArena team, 10 December 2007.
Music player
The music player is another good Nokia N82 application. There are no dedicated music keys but controlling it with the D-pad is just as easy and you won't miss them much. A huge number of audio formats including MP3, AAC, eAAC+ and WMA, are supported. The M3U playlists are also managed flawlessly and files are added to the music library by simply choosing the refresh option.
Sorting your songs by artist, album, genre and composer is automatic and searching tracks by gradual typing is also available. Transferring tracks to Nokia N82 can be achieved via Bluetooth, USB or by simply downloading them from the internet. You can also use a card reader for that purpose and transfer them directly to your memory card.
Upon completing a USB transfer, the phone automatically prompts scanning for new music tracks and, if allowed to do so, adds the new ones to the music library.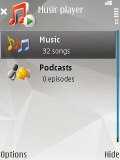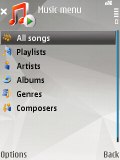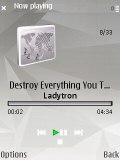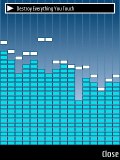 The music player offers various track sorting and some different visualizations
The player comes with five equalizer presets, which is a good count by any means. If it still seems insufficient, you can edit them or create new ones in a matter of seconds.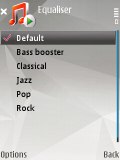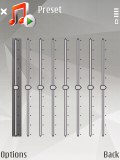 The available equalizer presets o creating a new one is quick and easy
In contrast to Nokia N81 for example, the music player of Nokia N82 can be switched off when it is not needed. This can save some RAM but with this amount of available operating memory this is not that important.
Being one of Nokia's best equipped phones Nokia N82 naturally also includes support for the A2DP Bluetooth profile, which allows listening to your music on a Bluetooth stereo headset. We had no problem connecting any of the tested headphones.
Audio quality
We hoped that the audio quality of Nokia N82 would be closer to that of its N81 sibling rather than the Nokia N95 but, unfortunately, this was not the case. Our audio quality test showed that N82 is virtually the same as Nokia N95 8GB in terms of audio hardware and produces the exact same sound quality. So, even though the 3.5mm standard audio jack provides compatibility with a huge variety of headphones, do not set your hopes too high in terms of audio quality. More information about our audio quality test is available here.
| | | | | | | |
| --- | --- | --- | --- | --- | --- | --- |
| Test | Frequency response | Noise level | Dynamic range | THD | IMD + Noise | Stereo crosstalk |
| Nokia N82 | +1.10, -1.53 | -81.6 | 80.8 | 0.0046 | 0.137 | -69.3 |
| Nokia N95 | +1.17, -2.68 | -74.9 | 74.9 | 0.019 | 0.186 | -75.3 |
| Nokia N81 | +0.39, -1.13 | -86.6 | 85.8 | 0.041 | 0.040 | -69.9 |
| LG KU990 Viewty | +0.29, -2.07 | -86.8 | 83.8 | 0.020 | 0.0124 | -86.6 |
| Samsung U600 | +0.41, -1.12 | -89.2 | 86.5 | 0.0040 | 0.019 | -86.9 |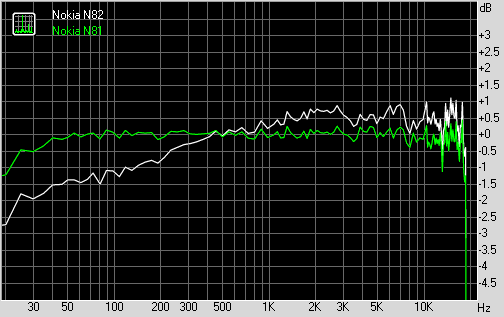 Video player
Nokia N82 features a Real player for playing your video clips. The video player can be displayed in both portrait and landscape mode and can be switched to fullscreen. As you might have guessed, watching a video clip on a screen this large is a really enjoyable experience.
When in full screen, the softkey functions are hidden so that they don't spoil the viewing experience and only pop up when a key is pressed. So, topped with the 2.4" display, it adds up to a decent performance though still behind Nokia N95 8GB standards.
| | |
| --- | --- |
| "...Our audio quality test showed that N82 is virtually the same as Nokia N95 8GB in terms of audio hardware and produces the exact same sound quality. So, do not set your hopes too high..." | <#AdRectangle#> |
The handset also has a Flash player preinstalled but there is nothing much we can say about it. It does a job, no bangs and whistles.
If you get bored with the content on your Nokia N82, you can always turn the radio on for a break. The FM radio can automatically scan and save the available stations in your area. If internet connection is available the Visual radio application can download all the local stations and save them to the handset with their names. We would have preferred RDS support, though not having it isn't really that much of a disappointment.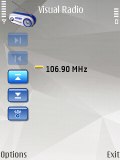 Nokia N82 partially makes up for the lacking RDS with Visual Radio
My all time best phone... Had everything and was solid
Muhammad idrees
15 Jan 2022
CJb
i liked this phone nokia n82