Nokia N95 8GB review: Return of the king
Return of the king
GSMArena team, 23 November 2007.
Phonebook Premium
You know our opinion of Smartphones phonebooks - they are simply great. The one on Nokia N95 8GB makes no exception. It will store a virtually unlimited number of contacts and fields, all the available memory potentially usable for contacts. Good luck trying to use it up. Contacts can be freely ordered by first or last name and can naturally be searched by gradual typing of any of their names.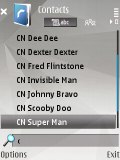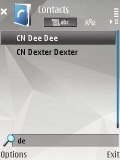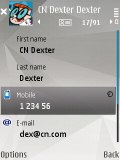 The phonebook completely lives up to the high expectations
Editing a contact offers an enormous variety of preset fields and you can replicate each of them as many times as you like. You can also create new fields if you happen to be able to think of one. We personally find it difficult to think of something Nokia has missed here. Personal ringtones and video are also available for assigning. If you prefer you may group your contacts and give a specific ringtone to each group.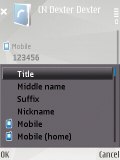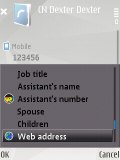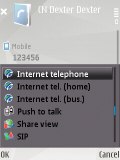 These are only some of the available fields, which can be assigned to a contact
The Call log application, although not exactly a part of the phonebook, is also one of Nokia N95 8GB's strengths. It can hold up to 20 call records in each of the tabs for outgoing, received and missed calls. These are all accessed with the Call key from the stand-by menu. If you enter the Log application from the main menu, you'll see a detailed list of all your network communications for the past 30 days. These include messages, calls and data transfers. The period can be shortened in order to save some space but you are quite unlikely to do that, as even with a huge number of calls the log only takes a few miserly kilobytes of memory space.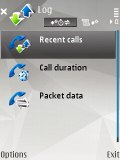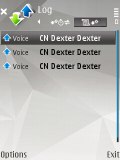 The call log application can track all your communications for the past 30 days
Messaging Unlimited
If you are the texting kind, Nokia N95 8GB will give you no reason to grudge. With the comfortable keypad, typing comes nice and easy and, not before long, you'll be going at full speed with your messages. Besides, in terms of software the phone is performing even better.
There are four different message editors - one for each type of available message: SMS, MMS, audio message and e-mail. The SMS editor is the well know intuitive application for all Symbian S60 smartphones. It has a counter of the characters left to the limit of 160. There is also an indicator in brackets showing the number of separate parts the message will be divided into for sending. It goes without saying that a delivery report can be activated. The reports pop up on the standby screen when the keypad is unlocked, and are subsequently saved in a separate folder in the messaging sub-menu. When you are exiting the message editor without having sent the message, the editor prompts saving it to the Drafts folder or deleting it.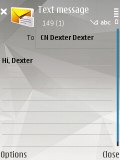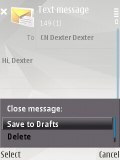 The SMS editor is very intuitive and easy to use • When closing an unsent message, you're prompted to save it to drafts or completely remove it
The MMS editor is virtually the same as the one we just described, with the added subject line being the only difference.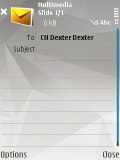 The MMS editor is almost the same as the one for SMS, with an added subject line
Now, the audio message is technically also an MMS but obviously it is more important for people at Nokia and they have created a separate editor for it. The editor can either record the message right away or use a previously recorded sound clip.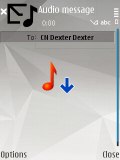 We doubt it the audio message editor will be put to frequent use
The email client won't surprise anyone who has ever used a Symbian powered phone. It can download headers only, as well as the whole messages. There is also support for attachments, so Nokia N95 8GB can meet almost any requirement regarding the user emailing needs.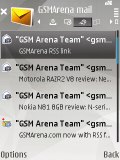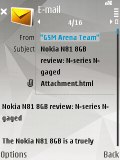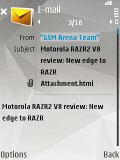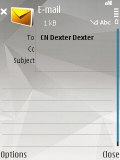 The email client is a great application • Writing Dexter an email
Generally, Nokia N95 8GB, like its predecessor Nokia N95-1, is a truly great device for texting, only losing ground to the top-range QWERTY handsets.
Music player: No innovations
The music player is one of the few departments where Nokia N95 8GB could've been better. Well, the dedicated music keys make a point, but they aren't really that vital. Controlling it with the D-pad is just as easy and doesn't even need sliding the phone open. Don't get us wrong, it's a really nice and easy to use application but nothing unseen in tons of other phones. Typical Nokia, a huge number of audio formats including MP3, AAC, eAAC+ and WMA, are supported. The M3U playlists are also managed flawlessly and files are added to the music library by simply choosing the refresh option. Sorting your songs by artist, album, genre and composer is automatic and searching tracks by gradual typing is also available. Transferring tracks to Nokia N95 8GB can be achieved via Bluetooth, USB or by simply downloading them from the internet. Upon completing a USB transfer, the phone automatically prompts scanning for new music tracks and, if allowed to do so, adds the new ones to the music library.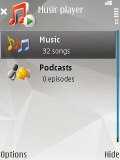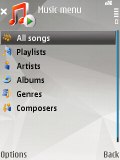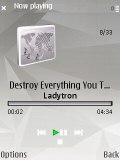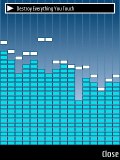 The music player offers seamless playlist management and a few different visualizations
The player comes with five equalizer presets, which is a good count by any means. If it still seems insufficient, you can edit them or create new ones in a matter of seconds. In contrast to Nokia N81, the music player of Nokia N95 8GB can be switched off when it is not needed.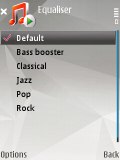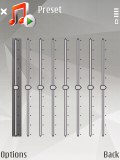 The available equalizer presets • creating a new one
Nokia's best equipped phone naturally also includes support for the A2DP Bluetooth profile, which allows listening to your music on a Bluetooth stereo headset. We had no problem connecting any of the tested headphones.
| | |
| --- | --- |
| "...We weren't very pleased with the audio quality of the original Nokia N95 and we hoped the 8GB version would have really moved forward. Unfortunately, this is not the case. Our audio quality test showed that both N95 versions are identical in terms of hardware and produce almost the same audio quality..." | <#AdRectangle#> |
Audio quality hasn't moved a whisker
We weren't very pleased with the audio quality of the original Nokia N95 and we hoped the 8GB version would have really moved forward. Unfortunately, this is not the case. Our audio quality test showed that both N95 versions are identical in terms of hardware and produce almost the same audio quality. So, even though the 3.5mm standard audio jack provides compatibility with a huge variety of headphones, you should not expect wonders in terms of audio quality. You can find more information about our audio quality test here.
| | | | | | | |
| --- | --- | --- | --- | --- | --- | --- |
| Test | Frequency response | Noise level | Dynamic range | THD | IMD + Noise | Stereo crosstalk |
| Nokia N95 8GB | +1.14, -1.68 | -77.1 | 76.9 | 0.0066 | 0.148 | -68.5 |
| Nokia N95 | +1.17, -2.68 | -74.9 | 74.9 | 0.019 | 0.186 | -75.3 |
| Nokia N81 | +0.39, -1.13 | -86.6 | 85.8 | 0.041 | 0.040 | -69.9 |
| LG KU990 Viewty | +0.29, -2.07 | -86.8 | 83.8 | 0.020 | 0.0124 | -86.6 |
| Samsung U600 | +0.41, -1.12 | -89.2 | 86.5 | 0.0040 | 0.019 | -86.9 |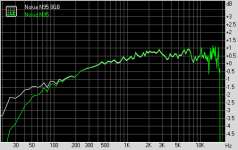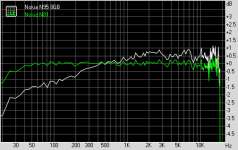 Nokia N95 8GB and Nokia N95 have virtually the same frequency response graphs • The handset is nowhere near Nokia N81's standard
SMILEY LOLA
01 Aug 2021
IbI
Very good picturesand videos needs a better case. Would be cool if it was slightly modified. With printing technology Microsoft word excel and PowerPoint and additional memory...
Anonymous
07 May 2021
U@L
I like it.
Mohammad Ashraf Wani
04 Mar 2020
GXm
I love Nokia n95