Nokia X3 review: Music X-three-M
Music X-three-M
GSMArena team, 28 December 2009.
A brand new gallery
The S40 gallery has never been our favorite, maybe because it was trying to do the job of both a File manager and a media browser. But in this latest incarnation of S40, things have vastly improved.
Entering the Gallery now presents you with three options – Photos, Music & videos and All content. "All content" brings up the good old Gallery. It's meant to serve as a File browser and as such it does quite alright. You can move, copy files and folders, either one by one or in bulk, you can rename them, add new ones and search by gradual typing.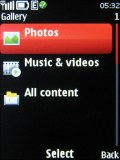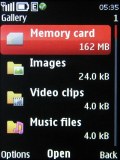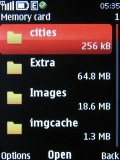 The new Gallery • The All content section of the Gallery
The Music & videos section is not very interesting – it just sends you straight to the Media player in Library view, so it's not really new functionality. The Media player offers nice capabilities to organize songs in different categories and so on. As far as media browsers go, it has pretty much everything covered save perhaps for searching for a song by name (if the file browser can do it, why won't the media player?).
But the major change in the S40 multimedia department is the Photos section of the Gallery. It organizes photos in three ways. The first and simplest is All photos – it arranges all the photos in a 3 by 4 grid of thumbnails.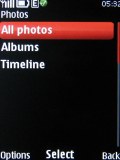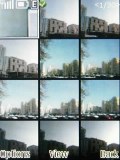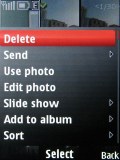 The Photos menu • Viewing all photos • Managing photos
The second is Albums, which lets you create new Albums, add photos to albums and launch slideshows from a specific album, or upload the album to Flickr or Ovi Share.
Each album has a title and a thumbnail of one of its photos. When you choose to add photos to an album, you are presented with all photos and just tag the ones you want.
The last option is Timeline, which groups photos by date. Small boxes at the bottom of the screen mark the days, with the month and date written bellow them. When you select a day, a label above the boxes shows the number of photos for that date.
Viewing a photo has changed a lot too. Opening a photo from a thumbnail is done with a smooth zooming transition. The next change that is immediately apparent is that zooming is now smooth, unlike before when you can only zoom in two steps. Zooming and panning are smooth and fast.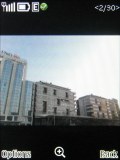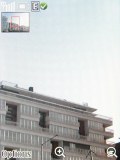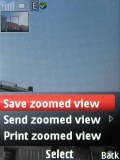 Zooming is smooth and fast • You can use it for quick and dirty cropping
There's an option to "Save zoomed view" (or print, or send it), which works as a quick and dirty way to crop photos. The slideshow option is here as well, with several transition effects.
The zoom and crop trick isn't the only editing option – S40 used to offer only the basic editing tools, but now you can have more fun with it. You get the basic tools such as crop, rotate, flip, auto enhance along with brightness and contrast adjustment and color correction that works for the three primary colors.
You can also add text, clip art, frames, one of twelve effects (B&W, Sepia, Negative, Emboss, Blur, Sharpen and so on) and one of five warping effects (Swirl, Bulge, Stretch, etc.).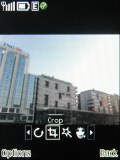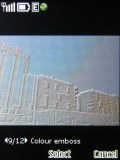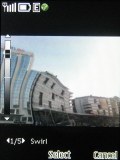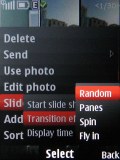 There are extensive editing options • Slideshows are customizable
You get the handy option to save the edited photo in a separate file so you don't lose the original. Photos are edited in their full resolution, unlike early editions of S40, which downsized photos when editing.
The only noticeable omission is the ability to view photos in landscape mode. Given all the advanced functionality, to the option to view photos in landscape orientation seems like a no-brainer. You can't tag photos either (like in the S60 gallery) but that's nothing we can't live without.
Music player rocks
Without doubt, the music player is among the nicest applications on the Nokia X3. It has decent looks and all-round functionality, including album art, and support for a fair number of formats. The theme can be set to match that of the rest of the phone, integrating it very well with the rest of the interface.
The sound through the stereo speakers is crisp and clear. You'd get the urge to unplug the headphones and let the music play out loud more than once. Unfortunately the maximum volume level is just not as high as we'd like (check the Telephony chapter). The D-pad light can pulse to the rhythm of as song, which isn't much but it's fun nonetheless.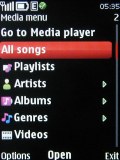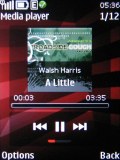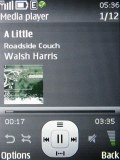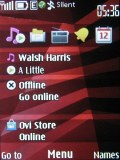 The Nokia X3 music player with the applied theme • default theme • on the standby screen
The music player is controlled with the dedicated music keys or the D-pad. Besides all the typical functions, the music player of the Nokia X3 sorts songs by artist, album and genre. The player works with AAC, AAC+, eAAC+, MP3, MP4, WMA, AMR-NB and naturally the A2DP profile is supported, allowing the use of stereo Bluetooth earphones.
The sonic experience is enhanced by equalizer presets. There are 5 equalizer presets on Nokia X3 but you can easily create new ones thanks to the two user available slots.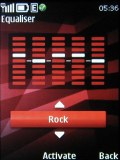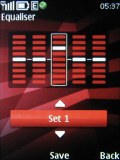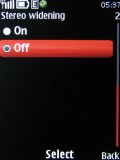 The equalizer preset with two user-defined sets
As usual, the artist and title of the currently playing song are shown on the homescreen. They appear in the Radio and music area on the homescreen so they need to be active for the info to be displayed.
Great audio quality
Nokia X3 performed excellently in every part of our test. The frequency response is great and the distortion levels are kept well under control.
The other readings are also pretty satisfying – stereo crosstalk, noise level and dynamic range are among the best we have seen. Here goes the table and the graph so you can see for yourselves.
| | | | | | | |
| --- | --- | --- | --- | --- | --- | --- |
| Test | Frequency response | Noise level | Dynamic range | THD | IMD + Noise | Stereo crosstalk |
| Nokia X3 | +0.07, -0.44 | -88.3 | 88.3 | 0.0067 | 0.016 | -89.0 |
| Nokia 5230 | +0.03, -0.05 | -86.7 | 86.5 | 0.0033 | 0.016 | -84.0 |
| Nokia 5530 XpressMusic | +0.11, -0.84 | -90.9 | 90.8 | 0.010 | 0.454 | -90.6 |
| Nokia 5630 XpressMusic | +0.13, -0.26 | -94.0 | 94.8 | 0.466 | 0.876 | -97.3 |
| Nokia 5130 XpressMusic | +0.04, -0.16 | -89.9 | 89.0 | 0.0033 | 0.014 | -83.6 |
| Nokia 5220 XpressMusic | +0.29, -1.64 | -91.7 | 90.3 | 0.012 | 0.612 | -73.1 |
| Samsung S5230 Star | +1.02, -2.41 | -88.0 | 87.8 | 0.0045 | 0.222 | -82.3 |
| LG KP500 Cookie | +0.13, -0.32 | -87.5 | 81.9 | 0.125 | 0.150 | -63.0 |
| Apple iPhone 3GS | +0.01, -0.05 | -92.1 | 92.1 | 0.0035 | 0.011 | -95.0 |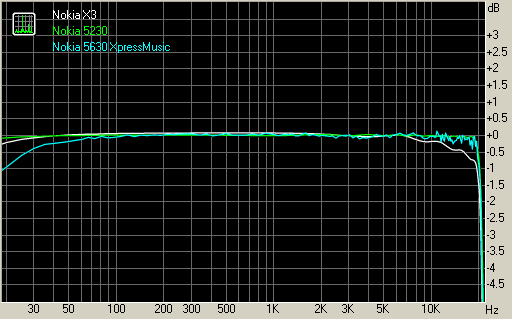 Nokia X3 frequency response graph compared to Nokia 5230 and Nokia 5630 XpressMusic
You can learn more about the whole testing process here.
FM radio has RDS and a built-in antenna
An alternative to the preloaded content on Nokia X3 is the FM radio. It features a built in antenna, so you don't even have to plug in a headset to turn it on. If there is no headset plugged in, the radio plays straight on the stereo speakers, making it a great portable radio. It's important enough to warrant a dedicated shortcut in the main menu.
The radio application has a new look too, not that it changes the functionality much. RDS support is available. RDS info and frequency appear on the homescreen, much like with the music player.
I never experienced any "plastic-on-plastic friction" when using the slider on my Nokia X3. That is very weird, actually.
-Says phone has 5 games pre-installed -Shows 7 games pre-installed in the review GSMArena, what's going on?
Is that model availabile now? I want same phone... fresh peice..