Nokia XR20 teardown video reveals a tough phone that is moderately hard to repair
Peter, 05 August 2021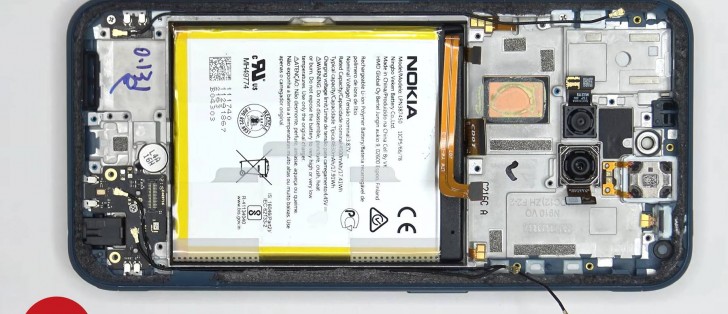 What makes a phone like the Nokia XR20 tough? It starts with the choice of materials. The phone has rubberized sides for a secure grip, it's mid-frame is made out of aluminum, which proved thick enough to resist bending even with all the internals taken out.
The first thing to do if you need to repair an XR20 is to remove the plastic back cover – it may not be glamorous, but it is durable and can be removed easily without cracking (the same can't be said about glass backs). And if you just cracked the glass over the cameras and LED flash, that's easy enough to remove with a bit of heat.
The phone has an IP68 rating for dust and water resistance (up to 1.5m for 60 minutes), so there are rubber gaskets around the USB-C port and the loudspeaker. This model is MIL-STD-810H compliant as well.
PBKreviews gives the Nokia XR20 a repairability score of 6.5/10. While nothing is too difficult to remove on its own, replacing the screen requires removing the back plate, removing the top cover and removing the battery completely, including the pull tab adhesive that was holding it down. Only then can you unplug the flex cable and proceed to remove the screen.
Related
Conntact them through the my device app. You can directly talk to one of them support team and ask for the price to repair your device. If it's to much try to get e better price.
As i m the Nokia user.. i love Nokia but Nokia phones are not updated accordingly to other phones in the market , battery backup issue out dated old processor camera mega pixel is less but quality is not doubt damn good...and slow charging charger th...
Nokia has a major issue about charging point ..everytym defects arrives in charging socket so what about that ,does new Nokia phones has that issue plz mention it.
Popular articles
Popular devices