nubia Red Magic 7 review
GSMArena Team, 1 March 2022.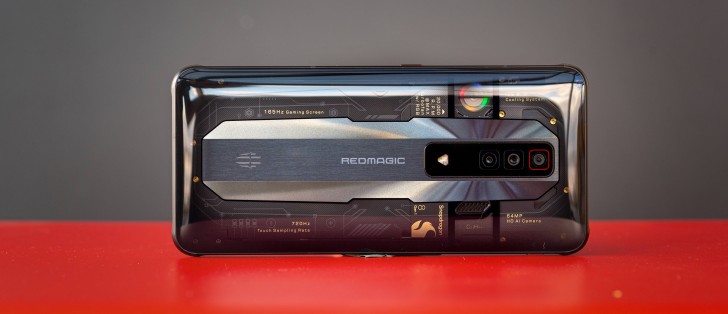 Unobstructed and fast 165Hz AMOLED display
On paper, it appears that the Red Magic 7 uses the same panel as the Red Magic 6S and 65 Pro. We meet the same 6.8-inch AMOLED panel with 1080 x 2400ps resolution and going up to 165Hz refresh rate. One of the fastest in the industry and the 720Hz touch sampling rate using several fingers. The results from our testing also suggest that the Red Magic 7 is recycling the old panel. Not that there's anything wrong with that.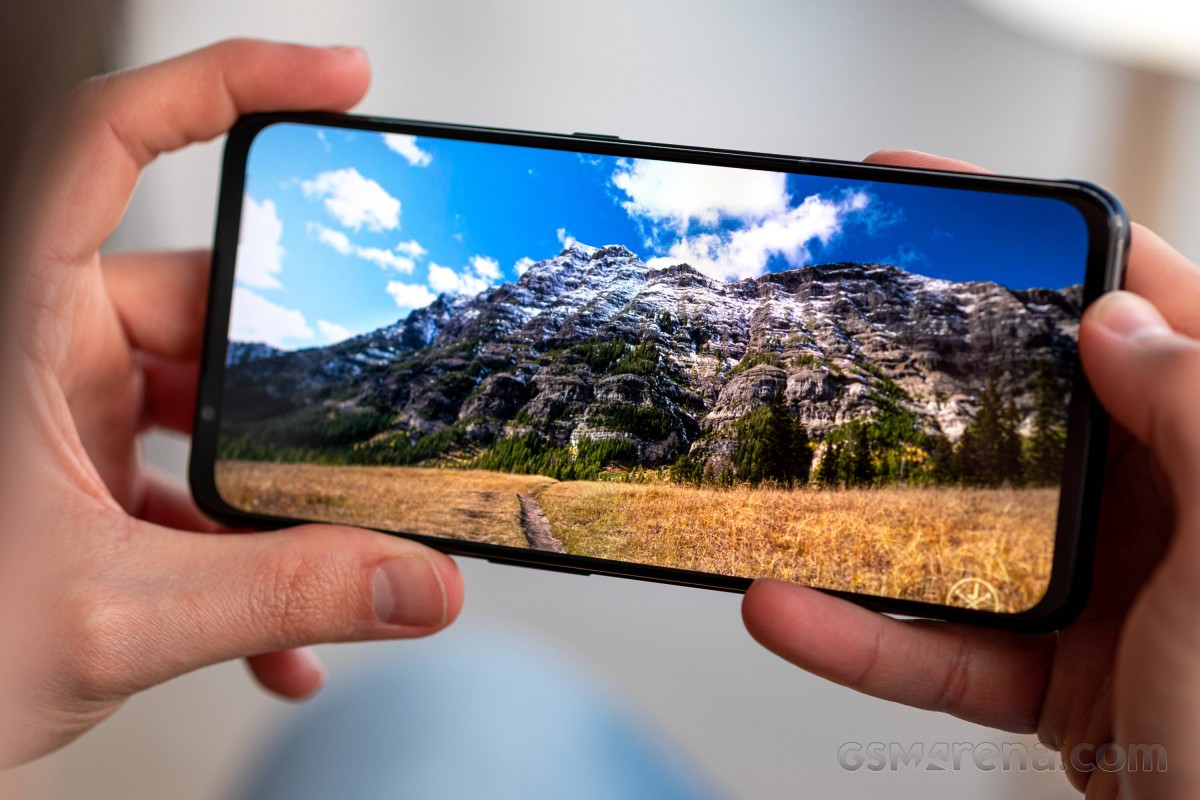 We got up to 527 nits of maximum brightness in manual mode, which is a bit far from the advertised 700 nits but more importantly, we are disappointed to see the automatic boost in brightness absent again. For several generations now, the Red Magic series has been missing the much-needed brightness boost in Auto mode, and as a result, the screen falls short of offering flagship-grade max brightness.
Display test
100% brightness
Black,cd/m2
White,cd/m2
Contrast ratio
ZTE nubia Red Magic 7
0
527
∞
nubia Red Magic 6
0
444
∞
nubia Red Magic 6R
0
439
∞
nubia Red Magic 6R (Max Auto)
0
588
∞
nubia Red Magic 6S Pro
0
529
∞
Asus ROG Phone 5
0
492
∞
Asus ROG Phone 5 (Max Auto)
0
806
∞
Asus ROG Phone 5s Pro
0
511
∞
Asus ROG Phone 5s Pro (Max Auto)
0
840
∞
Xiaomi Black Shark 4
0
498
∞
Xiaomi Black Shark 4 (Max Auto)
0
694
∞
Samsung Galaxy S22 Ultra
0
494
∞
Samsung Galaxy S22 Ultra (Extra brightness)
0
829
∞
Samsung Galaxy S22 Ultra (Max Auto)
0
1266
∞
OnePlus 9 Pro
0
525
∞
OnePlus 9 Pro (Max Auto)
0.038
871
22921:1
Realme GT Neo2
0
498
∞
Realme GT Neo2 (Max Auto)
0
659
∞
It's a mixed bag when it comes to color accuracy, though, as we see a significant improvement over the last generation, yet none of the presets offered an excellent color reproduction. They were all a bit off, with the whites and grays' most prominent issue. They will always appear slightly blue-ish no matter what. Luckily, there's a color temperature wheel so you can adjust it to your liking.
As before, HDR isn't supported on some apps, such as Netflix, for example. The software reports HDR10 compliance, and we found it to work on YouTube, but we couldn't even download Netflix. Perhaps the phone's recent launch is the reason why Netflix still hasn't added the Red Magic 7 to the list of supported devices.
HRR control
The way nubia manages all those hertzes is also a mixed bag. Setting the display's refresh rate to 165Hz would ensure that all system menus and most system apps run smoothly at 165Hz. However, most of the third-party apps we tried were locked at either 60 or 90Hz. Instagram and Chrome, for example, didn't go beyond 60Hz. The good news is that the system recognizes YouTube as a video player and tones down to 60Hz, but the default Gallery is running at 90Hz even when playing a full-screen video.
Battery life
Coming from the Red Magic 6 and 6s series, the vanilla Red Magic 7 downgrades the battery from 5,050 mAh down to 4,500 mAh. A significant decrease that may very much lead to reduced endurance. And the results show for it. The overall endurance rating of 89 hours and we found that 3G talk time and video playback runtimes are mostly to blame here. At least the web browsing score hasn't gone down all that much, which wasn't so great, to begin with.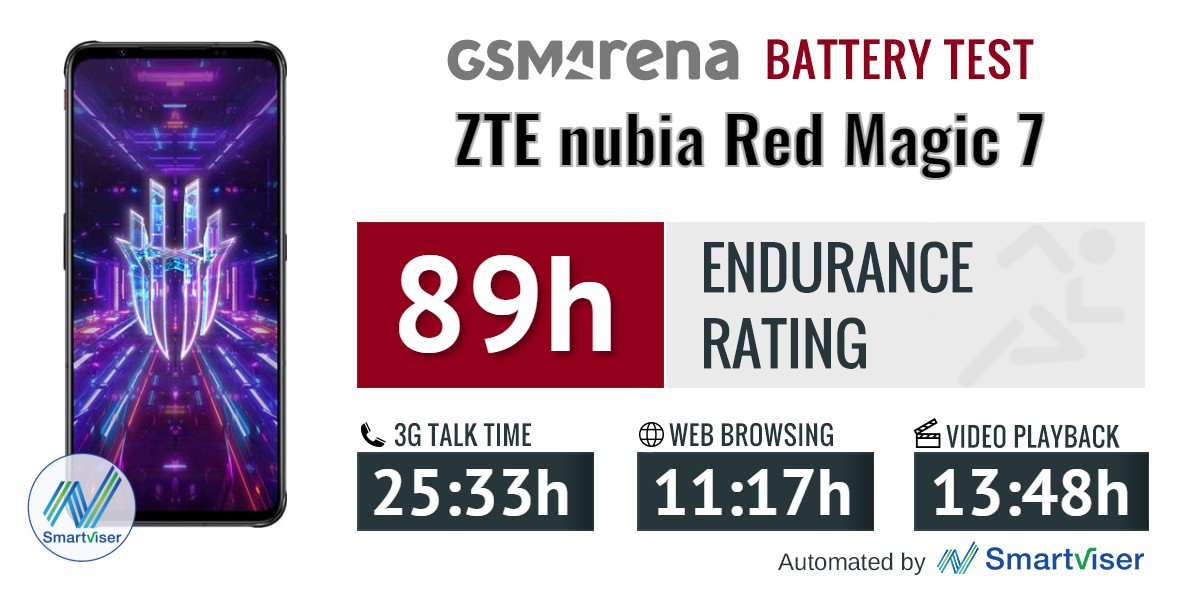 Our battery tests were automated thanks to SmartViser, using its viSerDevice app. The endurance rating denotes how long the battery charge will last you if you use the device for an hour of telephony, web browsing, and video playback daily. More details can be found here.
No matter how you look at it, the endurance of the Red Magic 7 isn't satisfactory, even when taking into account the gaming-centric nature of the device. It's important to note that the web browsing test ran at 90Hz - that's the maximum refresh rate we could force.
Video test carried out in 60Hz refresh rate mode. Web browsing test done at the display's highest refresh rate whenever possible. Refer to the respective reviews for specifics. To adjust the endurance rating formula to match your own usage patterns check out our all-time battery test results chart where you can also find all phones we've tested.
Charging speed
This year's global variant comes with a proper 65W charger, and as before, it's compliant with the USB Power Delivery standard. And perhaps due to the smaller battery, the Red Magic 7 charges faster than its predecessors even though they all support up to 65W charging. In the first 30 minutes, the charger replenished 99% of the battery, but it took extra eight minutes to reach the fully charged status.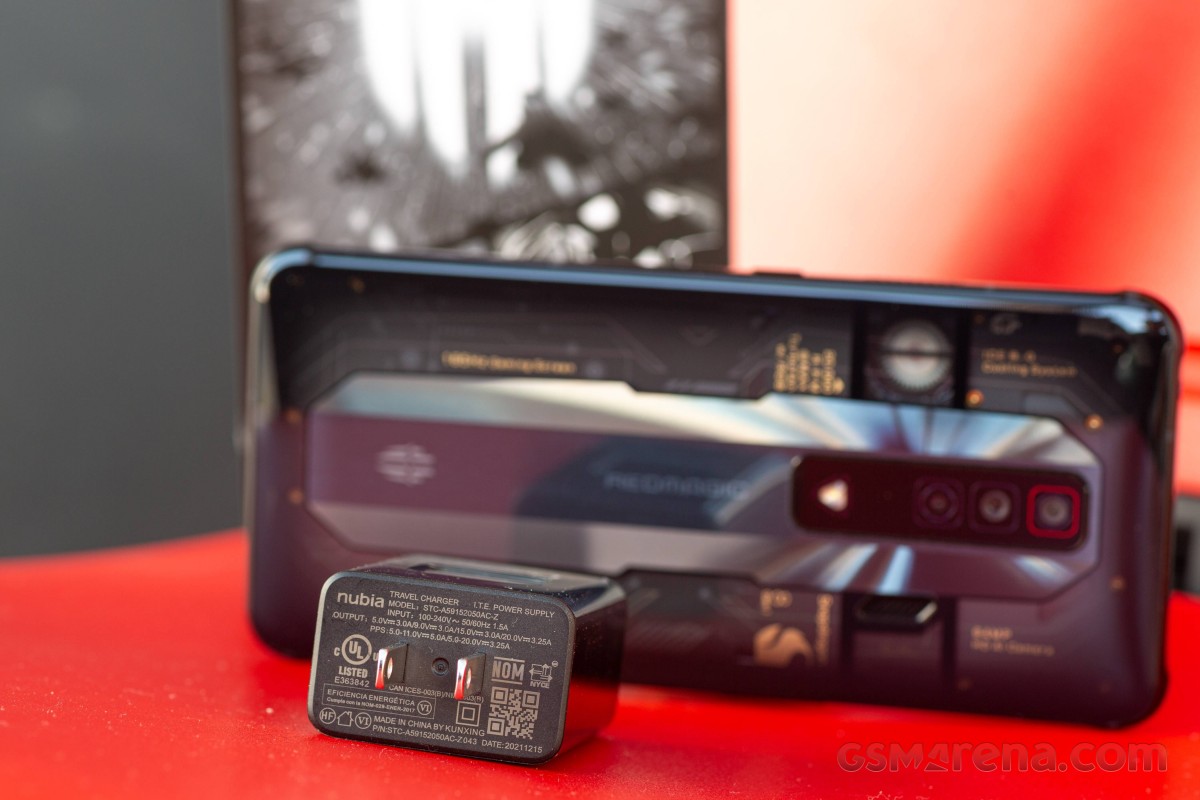 As before, nubia utilizes Red Magic 7's cooling fan to reduce the heat when charging the handset and potentially improve charging performance. However, we didn't notice any difference in either direction when switching on the fan. We only noticed a slight decrease in surface temperatures but not to a significant degree.
30min charging test (from 0%)
Higher is better
Xiaomi Black Shark 4
100%
ZTE nubia Red Magic 7
99%
OnePlus 9 Pro
99%
nubia Red Magic 6S Pro (66W)
75%
Asus ROG Phone 5s Pro
71%
Asus ROG Phone 5
70%
nubia Red Magic 6
63%
nubia Red Magic 6R
62%
nubia Red Magic 6S Pro (30W)
49%
Time to full charge (from 0%)
Lower is better
Xiaomi Black Shark 4
0:19h
OnePlus 9 Pro
0:32h
ZTE nubia Red Magic 7
0:38h
nubia Red Magic 6S Pro (66W)
0:53h
nubia Red Magic 6R
0:58h
nubia Red Magic 6
1:01h
Asus ROG Phone 5s Pro
1:03h
Asus ROG Phone 5
1:05h
nubia Red Magic 6S Pro (30W)
1:50h
Speaker
As always, Red Magic 7's speakers are excellent. The usual setup is at hand - a bottom-firing speaker and one at the top of the display doubling as an earpiece. The balance is good and the maximum loudness has been rated "Excellent". At -22.7 LUFS, this is one of the loudest smartphones we've held.
And the sound quality is pretty nice too as long as you don't blast the speakers. Keeping them within moderate volumes will ensure there's no distortion in the highs and you will still get deep lows for that fuller sound.
Use the Playback controls to listen to the phone sample recordings (best use headphones). We measure the average loudness of the speakers in LUFS. A lower absolute value means a louder sound. A look at the frequency response chart will tell you how far off the ideal "0db" flat line is the reproduction of the bass, treble, and mid frequencies. You can add more phones to compare how they differ. The scores and ratings are not comparable with our older loudspeaker test. Learn more about how we test here.
Pls unlock max refresh rate on mlbb
Funny when people keep asking for pubg 90fps. It was the pubg dev's fault who didn't update their game, lol