O2 launches its 5G network in six UK cities, plan costs are unchanged
Peter, 17 October 2019
UK carrier O2 has activated its 5G network and announced a number of new plans if you want to try the next generation of wireless connectivity – the good news is that you won't have to pay any premium, the 5G plans cost exactly the same as the 4G plans. An Unlimited plan is available if you plan to download massive amounts of data quickly.
O2's 5G network is available in six cities: Belfast, Cardiff, Edinburgh, London, Slough and Leeds. The first cells are concentrated in busy locations like city centers, football stadiums, metro stations and so on.
Here are the 5G custom plans you can sign up for:

The plan is to cover 20 cities by the end of this year and 50 cities by summer next year. O2 is investing £2 million a day to build out its network with hardware from Ericsson and Nokia.
O2 has partnered with MelodyVR and buying a 5G-enabled phone will get you a 12 months subscription to the VR music service – you can watch live events ranging from concerts The O2 arena to small studio performances. Since phone VR is dead, O2 will give you a free Oculus Go headset.

The 5G phones currently offered by O2 are the Samsung Galaxy S10 5G, Galaxy Note10+ 5G, Galaxy A90 5G and Xiaomi Mi Mix 5G. You need to pick certain plans to be eligible for the free MelodyVR subscription and Oculus Go headset, follow the Source link for more details.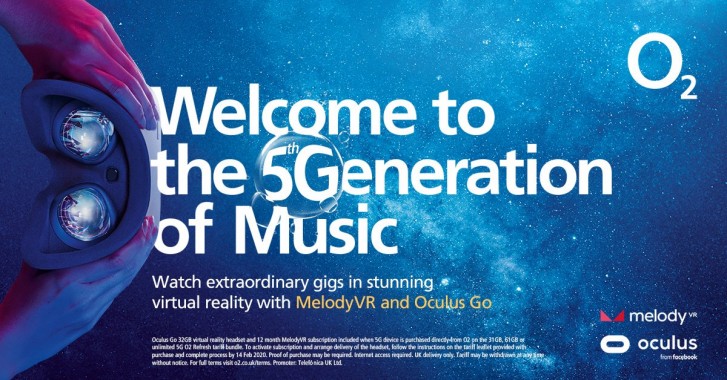 While Apple doesn't have a 5G phone yet, O2 wanted to include it in some way. So, if you get an iPhone 11, 11 Pro or 11 Pro Max now, you will receive an extra £100 when you trade it in next year for a 2020 iPhone model (Apple is expected to launch a 5G phone).
Follow the Source link for more details on the plans O2 is offering. There are separate press releases for each of the 6 launch cities, there you will find which locations have 5G coverage so you can try it out.
Related
Typo: obvs meant "average price" would be more useful
Just to say you're using "cheapest" and "average speed". Perhaps average speed would be more useful.
The cheapest home broadbrand in UK I believe is 15.90 and gets a 12 month contract that gets you unlimited broadband only. No TV and no UK landline. Bare in mind that the UKs national average home broadband download speed is 18 mbs. So what u get and...
Popular articles
Popular devices