OnePlus 5 is the fastest selling OnePlus device
Ricky, 20 June 2017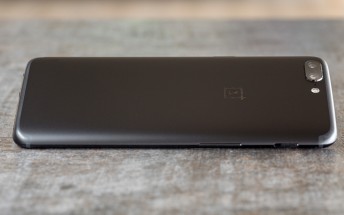 Amid all the excitement over today's OnePlus 5 announcement, Carl Pei, Co-founder of OnePlus tweeted that the OnePlus 5 is the company's fastest selling device ever.
🔥🔥🔥The first numbers are in, the OnePlus 5 is our fastest selling device ever!🔥🔥🔥

— Carl Pei (@getpeid) June 20, 2017
Although the phone doesn't officially go on sale until June 27, OnePlus held an early sale both online and at pop-up shops that opened in various cities around the world such as New York City, where the queue went all the way around the city block.
About an hour after the opening of the #OnePlus5 NYC pop-up and the line is still stretching almost all the way around the block @getpeid pic.twitter.com/3M5D9vwtUD

— Bryan Ma (@bryanbma) June 21, 2017
If you were following the live-event, you'd know there was a code you could enter on the OnePlus website to place a pre-order for the device. Seeing as both the 6GB and 8GB models are out of stock for the pre-sale, we might as well tell you the code was "Clearer Photos".
Surely, OnePlus had set a certain number of devices aside for the pre-sale while we expect there to be more units for when the OnePlus 5 officially goes on sale on June 27.
Check out our full review of the OnePlus 5 here.
Have you ordered the OnePlus 5? Do you have plans to grab the 6GB or 8GB model?
Related
Almost every phone has dual sim, but no dual sim+sd slot. Yea you said it yourself...The latest/fastest CPU is all you (think you) wanted, so they could have put even smaller battery, removed the 3.5mm jack...wouldn't matter. People like you will b...
Overpriced phone don't make it premium, especially without good customer service record.
Yes, I bought one, and Yes I am exited. I was waiting for this phone for a long time. I would like to mention that not everyone is looking for IP rating or bigger battery or some other things this phone doesn't have (OIS, Wireless charging). Did You ...