OnePlus 5T review
GSMArena team, 20 November 2017.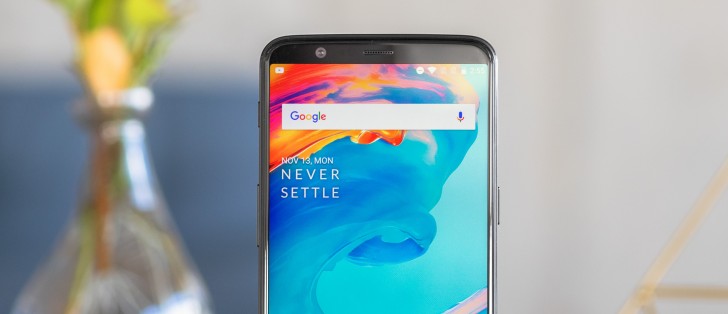 OxygenOS is still based on Android 7.1.1 for the OnePlus 5T
OnePlus 5 launched while Android was still in its Nougat phase, but now in mid-November, we expected some Oreo on the 5T. Well, no. OnePlus promised an open beta of the next OS version in December, with the official ROM rolling out in early 2018 so all is not lost.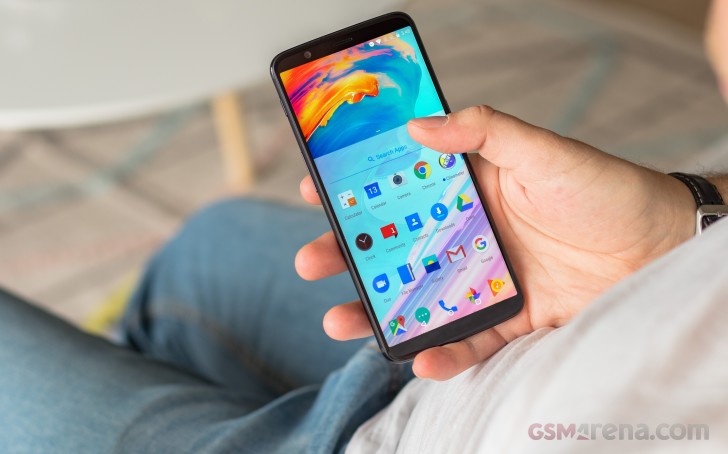 OnePlus' proprietary layer is present of course, and we've come to enjoy OxygenOS - it feels a lot like stock Android, but boosts functionality. Additionally, a lot like Xiaomi's MIUI, OxygenOS has a very active community of users and devs constantly at work on new features.
OnePlus was very active in promoting facial recognition for unlocking the 5T, and we met it with a fair bit of skepticism - after all, there's been a feature along those lines built into Android since Ice Cream Sandwich. Historically, it either didn't work very well, or wasn't secure enough.
In fact, we never would have thought about using it, had it not been the 5T. Once prompted, it turned out it's still very much present on most devices, though not necessarily easy to find - it's basically the Trusted face option in the Smart unlock settings menu.
However, OnePlus has tweaked it slightly, improving its usability. For one, the default behavior requires you to wake the phone, then present your face for recognition, then swipe to unlock - the 5T skips the last step for a noticeable increase in unlock speed, compared to, say, the Pixel 2.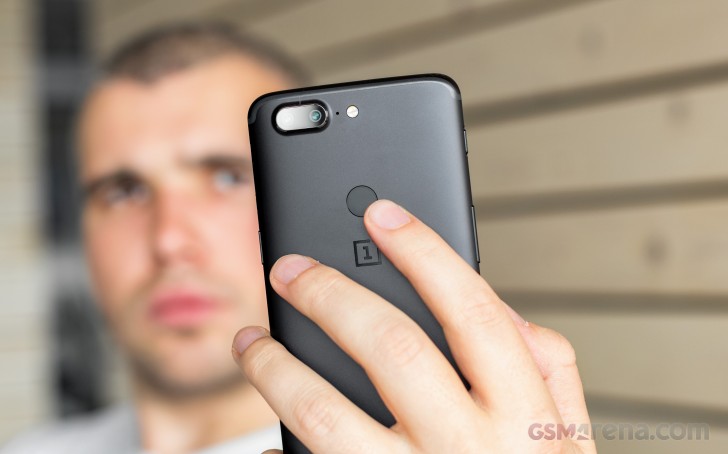 Additionally, the 5T requires you to have at least one eye open, so someone wouldn't unlock your phone while you're asleep just by pointing it at your face. Both the Pixel 2 and the LG V30 were happy to unlock with both eyes closed. Of course, none of this is to say that face unlock is overly secure, no - convenience is its middle name. Oh, and it also works in the dark, albeit a little slower - it takes an extra fraction of a second to light up the screen and illuminate your face.
We gather OnePlus bothered giving it an extra thought because the tall screen pushed the fingerprint sensor to the back of the phone. Rear mounted fingeprint sensors have this annoying trait - you can't use them with the phone lying on its back. So, in those cases double tap to wake and let face recognition unlock the phone for you.
Speaking of fingerprint readers, just because the one of the OP5T had to move to the back, it doesn't mean it's gotten any slower than on the OP5 - it's as fast as they come. The setup process relies on the standard manager interface to get it up and running. It does seem to require a few extra taps than usual, but that's a one-time thing and far less important than the speed of recognition.
While the screen is still off, there are also quite a few gestures to enjoy. Double tap to wake we mentioned, but as before, you can also draw letters or symbols on the screen to do stuff. For instance, draw < or > for previous/next track, or || (two finger swipe) to pause.
The letters O and V could be used to launch apps on the 3T, and OP5 brought three more - S, M, and W, but there aren't any new ones on the 5T. Not that you'd need that many. You can assign any app to them, or use them to turn on the flashlight, or go straight to the selfie cam. Beyond that, there is also flip to mute and a three-finger swipe down gesture to capture a screenshot.
The lockscreen itself is the usual affair. Missed notifications show up here, naturally with Nougat's grouping and expansion capabilities. Swiping left or right will fire up the dialer or the camera.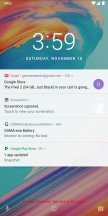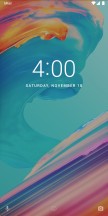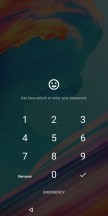 The lockscreen: A bunch of notifications • No notifications • You won't be seeing this too often
The Oxygen launcher is incredibly clean and very close to vanilla Android. There are, however, a few notable upgrades. For instance, the launcher has a feature called Shelf, which is in place of your leftmost homescreen. Here you can see the weather, your most used apps, and frequent contacts. You can also add widgets and change the header image. You can disable or enable Shelf at will.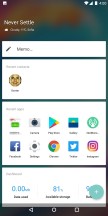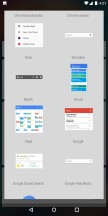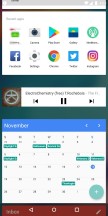 Shelf • Adding a widget • Bottom of the Shelf
The notification shade is another stock Android affair. You can lower it with a single swipe from anywhere in the UI (that's a setting though, and it's off by default) and an additional swipe will reveal the entire list of quick toggles. You can also use two fingers to bring down the whole thing in a single motion. The brightness slider is complemented by an Auto switch, and we really wish Google would finally build this into stock Android.
You can also hand pick the icons that show up in the status bar.
The app switcher has a neat card interface that allows you to select the app you need by swiping up or down. You can close apps by swiping left or right, or use the 'kill all' to get rid of them all. A padlock icon in the top right corner of each card lets you select ones to spare.
A screen-pinning feature lets you lock the view on one particular app, and you can set it up so the phone locks itself when you unpin it.
Multi-window is another feature, native to Android now (since 7.0 Nougat), and you get it on the OnePlus 5T too. The split is 50/50 or something like 30/70 with the larger window on top or on the bottom.
What used to be 'Deep clear' has now been renamed to 'Advanced optimization' - it does sound more advanced indeed. The basic principle is the same - it will aggressively restrict background activity aiming to improve battery life.
OnePlus has always put great emphasis on customizability. Like the previous model, this is woven throughout the device from hardware all the way to software. For example, the launcher lets you remap and rearrange the nav bar controls - the Menu and App Switcher keys can be reversed, plus you can assign custom actions upon double-tap and hold.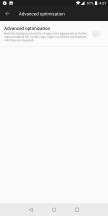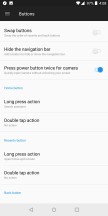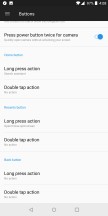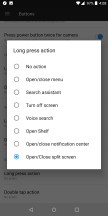 Advanced optimization • Lots of customization options for the various inputs
OnePlus didn't leave out its iconic three-way mode slider either. As already mentioned, it now toggles between three Alert modes - silent, do not disturb and ring. Each mode actually has some additional configuration that can be applied. For Ring, there is currently only a vibration toggle, but if you go under Do Not Disturb, you can really fine-tune who and what can and can't get to you. You can also select the pattern of your vibration.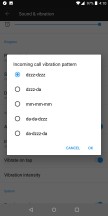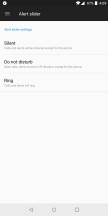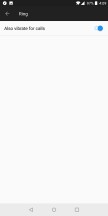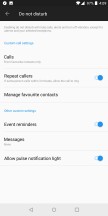 Still no ZB-BZ :/ • Alert slider settings
Finally, the launcher also has quite a few style customization options. There is the simple Dark mode toggle - it should probably be your first choice, since AMOLED power consumption decreases as UI gets darker. There are some other trivial options, like wallpapers and a few less than standard ones, like changing the style of the Google Search widget, tinkering with the icon size or even selecting a different icon pack.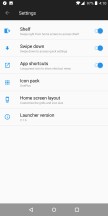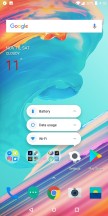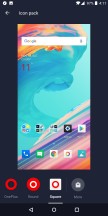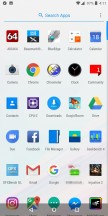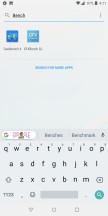 Homescreen settings • Long press for menu • Icon sets • App drawer • Simple search
Truthseeker
15 Feb 2023
7t}
I bought oneplus 5T in Feb 2018, still is working fine with no issues. Great phone. I read thru the review; none if the negative points hv impacted me.
Agree Best phone I ever owned, now it's time to switch to Nord 2. It's on the way
Great phone. Nearly 3 and half years still going great. One plus really need to prove on camara dept. Camera is not even good in 9 series. IQoo has much better camera despite priced lower.