OnePlus Buds Z2 review
Ricky, 16 January 2022
Introduction and unboxing
OnePlus introduces the Buds Z2, a successor to the brand's OnePlus Buds Z. For the most part, the design and overall look of the buds is the same as the Buds Z, but with overall enhancements throughout the product including larger drivers and improved battery life. These new Buds are rated for up to 38 hours of battery life in the best-case scenario.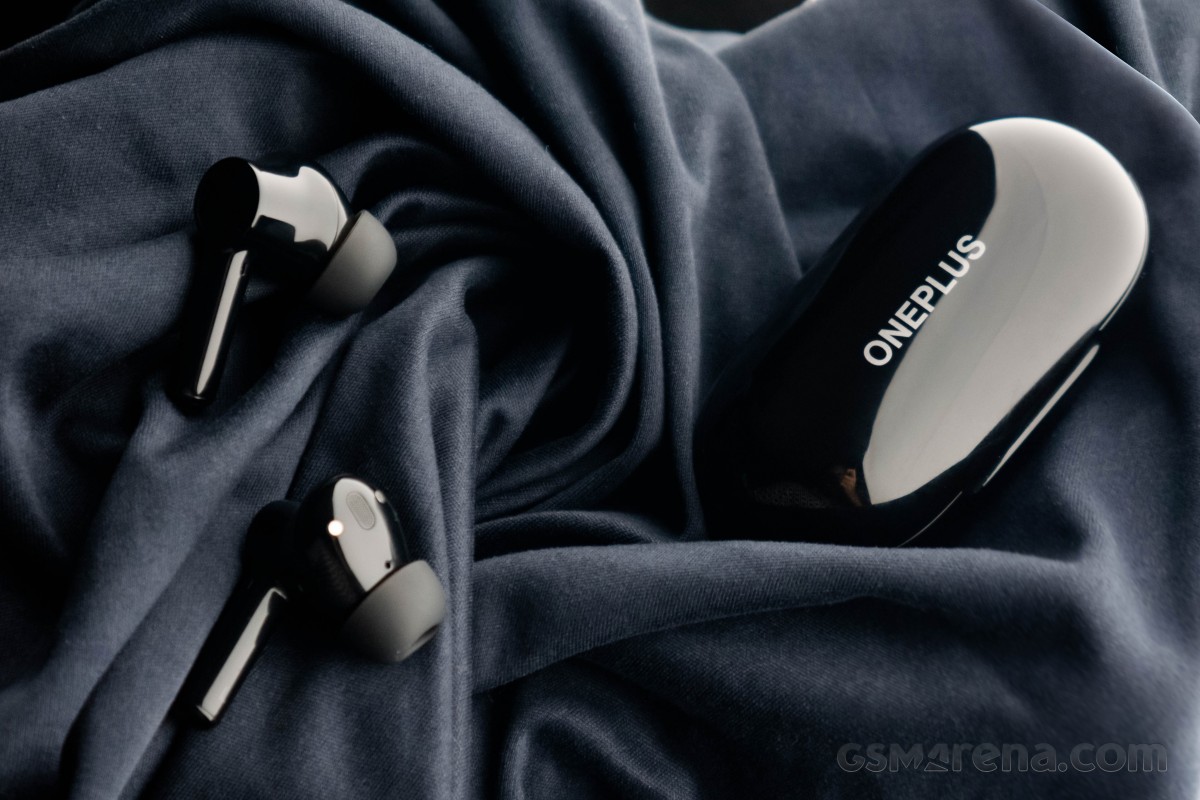 Like the OnePlus Buds Pro, the OnePlus Buds Z2 have an in-ear fit and both use the same 11mm drivers. The Buds Z2 now feature active noise cancellation and pass-through sound, features normally seen on TWS buds at higher price points.
The bodies of the Buds Z2 are made entirely of glossy plastic and offer IP55 water resistance (in addition to nano-coating) while the charging case is rated for IPX4. They come in either Obsidian Black or Pearl White and the CD pattern makes its appearance here as spiritual successors to the OnePlus Bullets earbuds.
OnePlus Buds Z2 specs and features:
Dimensions and weight:Buds: (33 x 22.4 x 21.8 mm), 5g (each); Charging case: (73.2 x 37 x 29 mm), 42g (without Buds)
Construction: Glossy plastic, silicone ear tips (3 sizes), IPX4 (charging case only) and IP55 water and sweat resistance (buds only)
Hardware: 11mm dynamic drivers (emphasis on bass), triple microphones (per earbud); proximity sensor (in-ear detection); touch controls li>
Charging and battery life: Rated for 5 hours (ANC) or 7 hours (w/o ANC) on a charge; up to 27 hours total listening time with ANC or 38 hours without ANC; Charges via USB-C port; 10-minute charge yields total of 5 hours of listening time
Connectivity: Bluetooth 5.2; Voice assistant via touch control.
Miscellaneous: Active noise cancellation between 24 and 40dB; Android Fast Pair
The OnePlus Buds Z2 promise great sound quality and the triple microphones should make for clear-sounding calls. We'll be putting these and other features to the test and we'll compare the Z2 to their direct competitors, the Google Pixel Buds A-Series.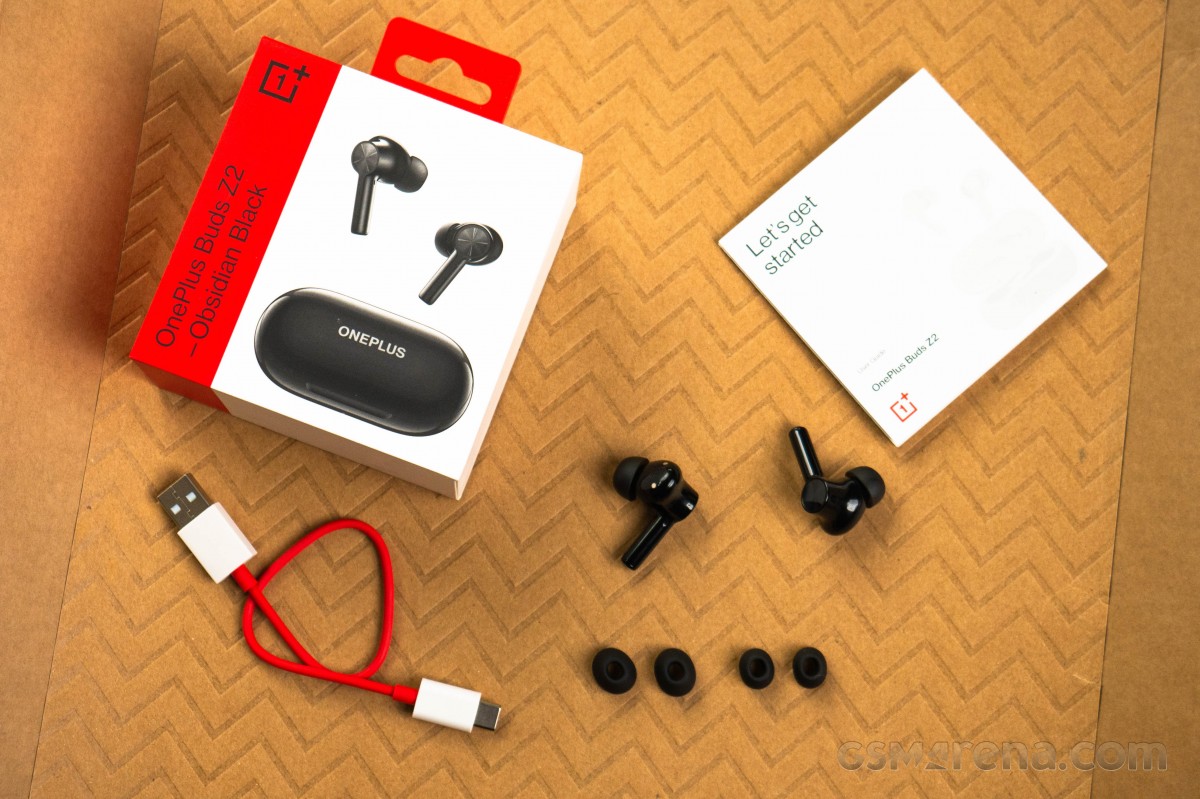 The OnePlus Buds Z2 include three pairs of silicone ear tips (small, medium, or large) and a short USB-C to USB-A charging cable. There's also a helpful quick start guide in the package that shows how to pair and reset the Buds Z2.
Design and comfort
The design of the OnePlus Buds Z2 are reminiscent of the OnePlus Bullets. It has the same chunky shape that unexplainably works for some people's ears (myself included) complete with the CD pattern synonymous with older-generation Bullets and the previous-gen Buds Z.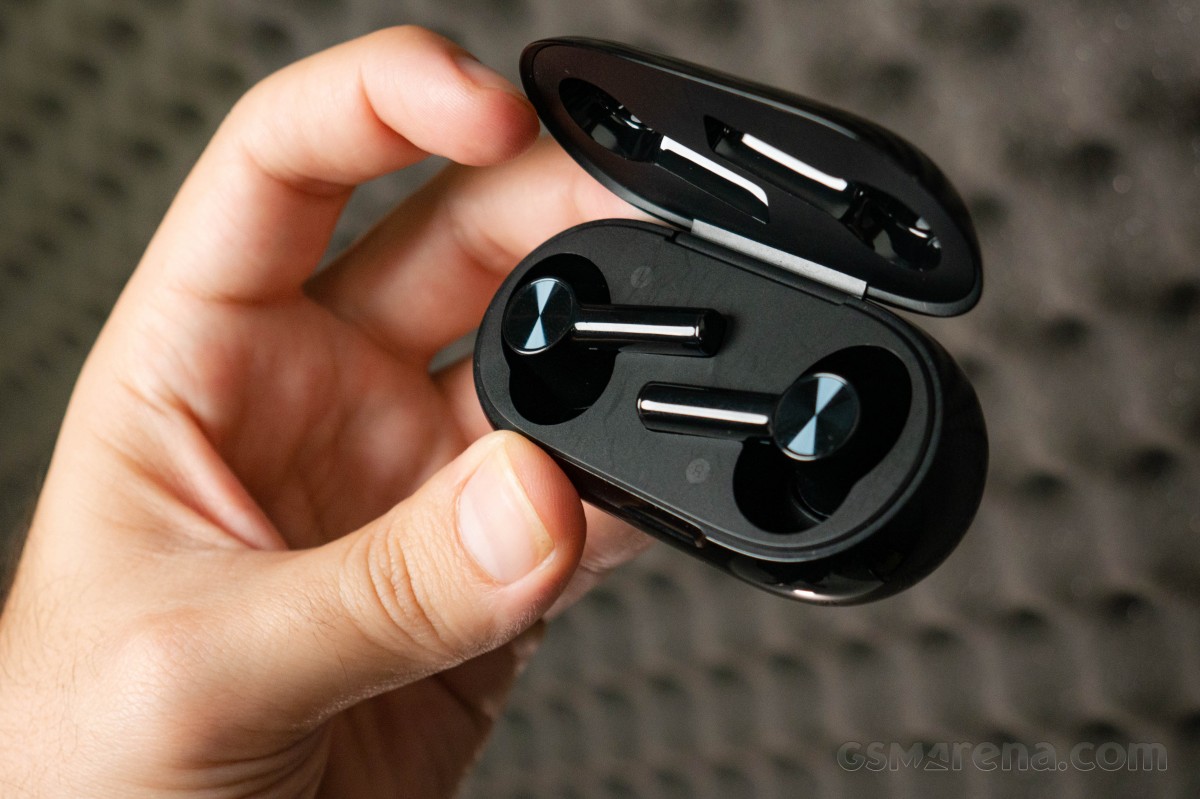 OnePlus managed to put more hardwareinto these buds while reducing the length of the stems by 15%. Each Z2 bud measures 33x 22.4 x 21.8mm while the case stands at 73.15 x 36.8 x 29.1mm. Each bud weighs 4.5g with the case adding 40.5g. The charging case is just a couple of millimeters taller and wider than its predecessor while still very compact and easy to carry. The charging case is shaped like a large pill with a flat bottom and is pleasant to hold.
There's a battery LED indicator at the front. Around the back, there's a pairing button and a USB-C charging port.
The hinge feels sturdy and solid. The lid doesn't feel flimsy, nor does it wiggle around when carrying it. Though everything else is glossy plastic, the inside of the lid is where some of the trims are decorated with a matte finish.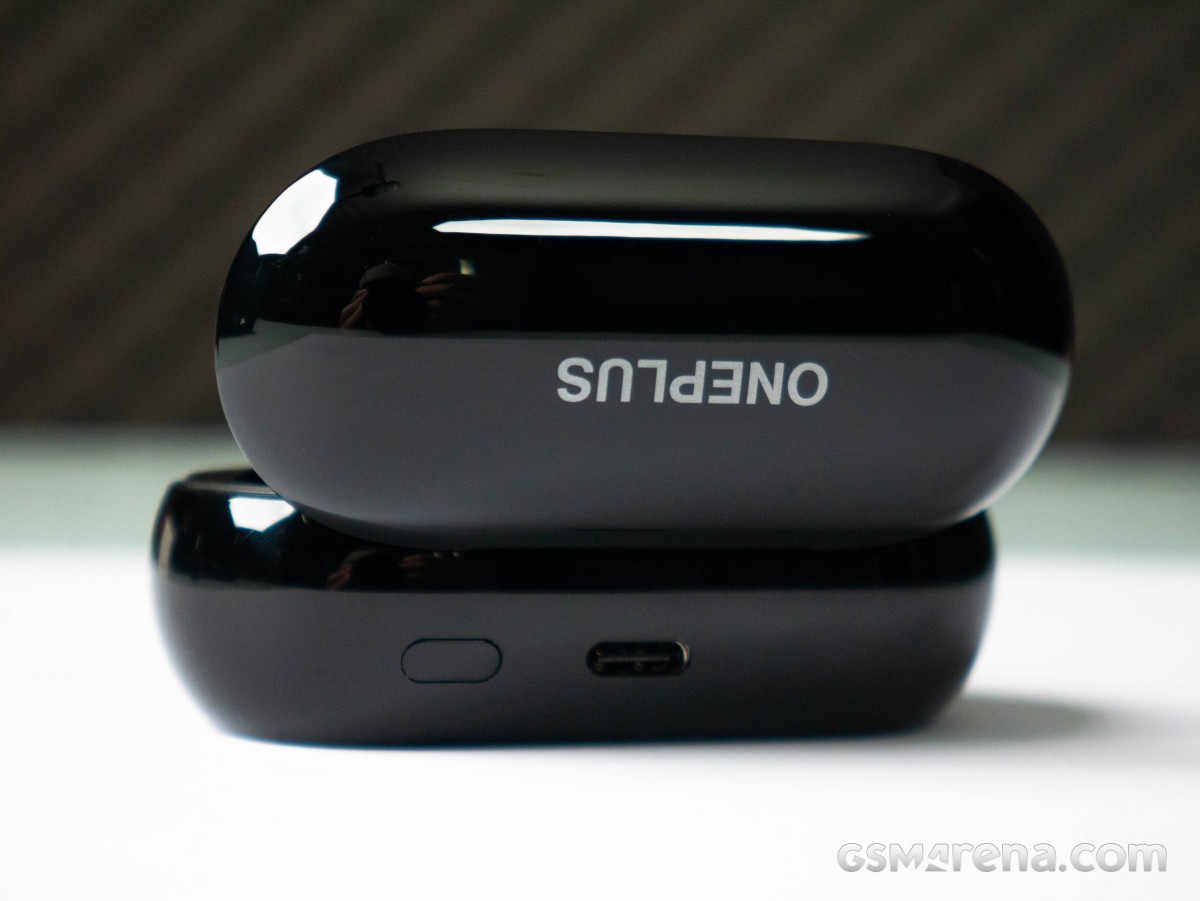 The Buds Z2 themselves are rated IP55 for water and sweat resistance, while the charging case is IPX4 splash resistant.
Coming from the OnePlus Buds Pro, I have to say that the size of the OnePlus Buds Z2 is compact and more manageable for my ears. The main body of the Bud that sits on the ear is smaller and easier to wear for extended listening sessions. Keep in mind that everyone's ears are different, and this may not be the case for you.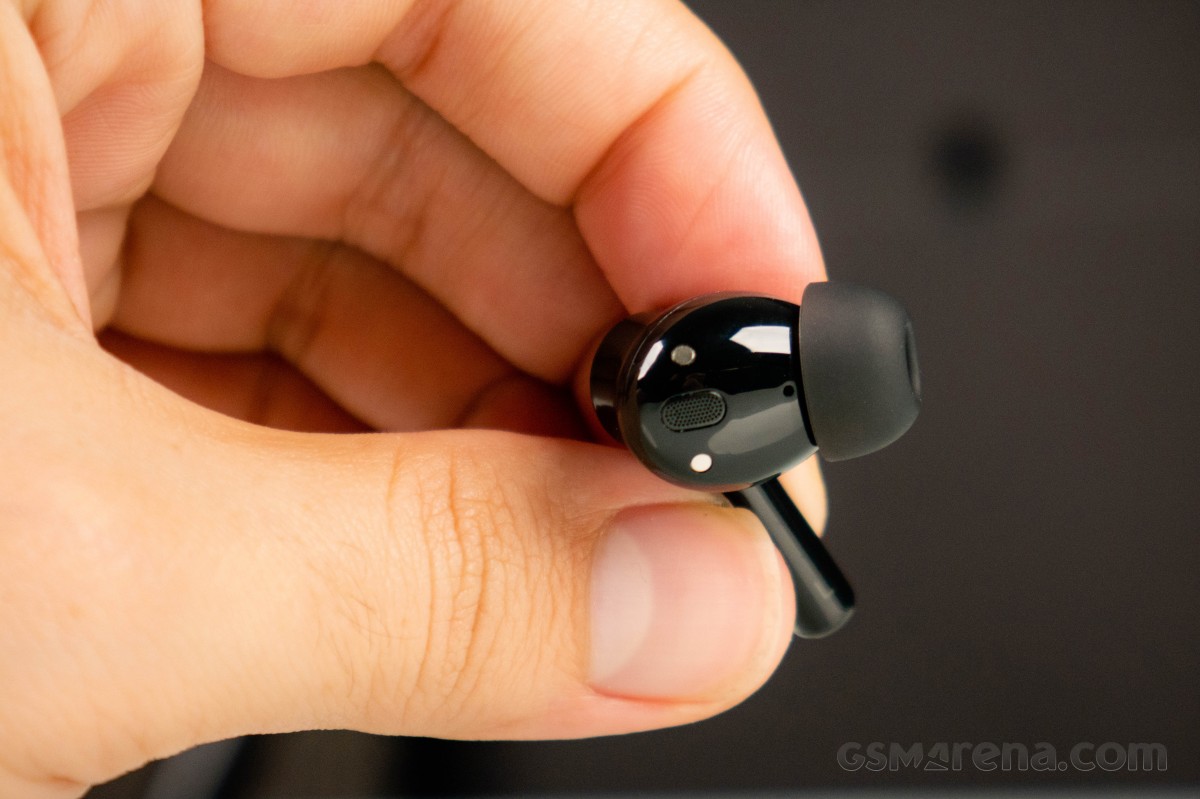 The OnePlus Buds Z2 are no problem to wear when staying busy for hours at a time. They are lightweight enough that you'd even forget you're wearing them. I found that the most comfortable way to wear them is by inserting them into the ear and then slightly turning the stems forward to point towards the mouth.
They do stay in the ear quite well. I tested this during a sweat-inducing yoga session and the OnePlus Buds Z2 didn't budge. I can't comment on high-impact workouts like running, though.
They are comfortable to travel with thanks to the charging case's compact size and portability. Plus, the noise cancellation works decently when flying. More on that in the Performance section below.
Software and features
The OnePlus Buds Z2 feature the Hey Melody app that's compatible for both Android and iOS. If you are using a OnePlus phone, the integration is built-into the OnePlus' firmware. There are also a few features that you'll only find if you are pairing the Buds Z2 to a OnePlus smartphone.
If you aren't using a OnePlus phone, the Hey Melody app will let you perform firmware updates, change the touch controls, perform an earbud fit test, and toggle through the noise cancellation/sound transparency settings. However if you need an equalizer or an option to adjust the bass levels you need to be using a OnePlus device.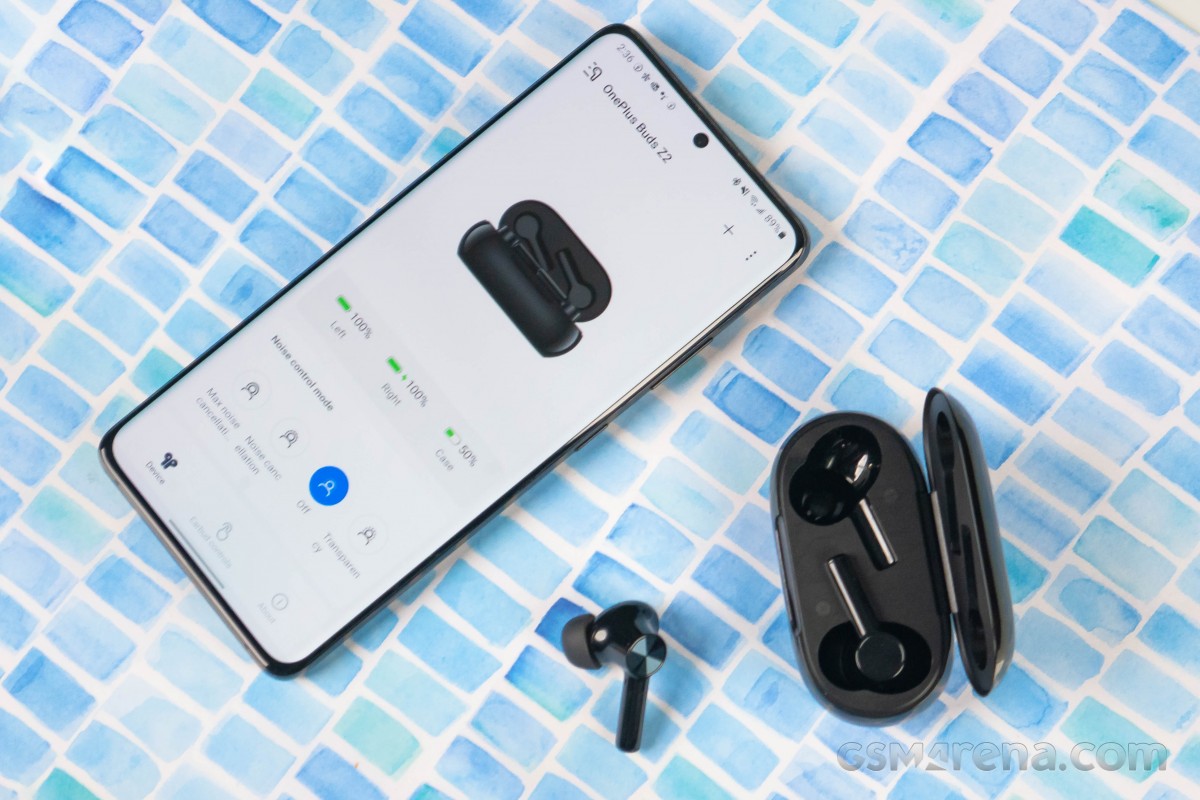 You can ring an earbud if you can't find it. Of course, keep in mind this means the bud should be connected to your device and it needs to have a charge to stay connected. The Buds aren't trackable if they are inside the case and closed. The built-in Find my device feature will only show you the last place the Buds were connected.
Quick Switch for alternating between two devices is a great feature. It can be achieved by holding a bud for three seconds. The Buds will disconnect from a connected device and reconnect to the previouspaired device, whether it be a phone, tablet, or a computer.
Performance
Sound
The earbuds' sound okay. Output is mostly good with powerful bass and loud mid-ranges. Bass booms strongly, which will resonate (hah) well with the average listener.
Treble, however, sounds blown out and borderline unpleasant. The Buds are tuned to crank up the higher range of the EQ that's otherwise lost due to compression, thus giving the illusion that the sound is clear. This is most apparent in "esses" of the vocalists and high-pitched instruments like violins and cymbals. The Buds sound like they are tuned for loudness over well-balanced sound.
Transparency mode
When you remove an earbud, presumably to talk to someone or hear your surroundings, the remaining bud that's in your other ear will automatically switch to transparency mode.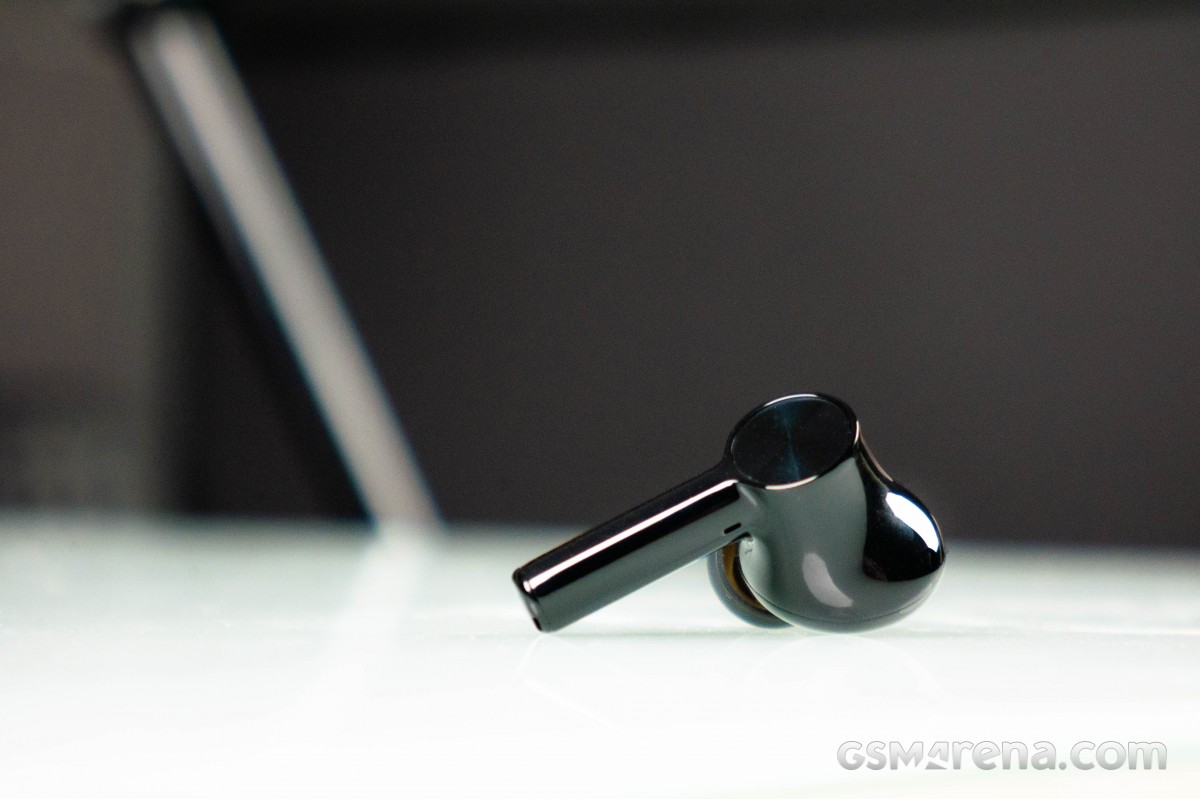 Transparency mode works well. It does what it's supposed to do – funnel outside sound into the ears. It does something interesting when there's wind - it will stop feeding sound through the mics temporarily until the wind stops. It then resumes Transparency mode.
Noise cancellation
The Hey Melody app lets you choose between a regular and "Max" noise cancellation level. I found that the regular mode performed better than "Max" with the roar of the jet engines. The latter produced a high-pitched frequency that could have resulted from aggressive noise cancellation.
In any case, noise cancellation was quite decent. Sound came through clearly and comfortably around the 45% volume level. 50% was enough to drown out whatever noise was left, and any noise that was left was easy to forget about after a few minutes.
Battery
In total, the OnePlus Buds Z2 are rated for 38-hours of total listening time with ANC turned off. The Buds themselves can last up to 7 hours on a single charge or up to 5 hours with ANC enabled. Each bud carries a 40mAh battery while the charging case packs a 520 mAh pack.
The Buds support OnePlus "Flash Charging" which is defined as a 10-minute charge yielding about 5 hours of listening time. This claim comes with a disclaimer: in addition to requiring 7.5W of current via USB, the 5 hours of listening consists of 2 hours from the Buds plus 3 hours from the charging case. This means the claim only applies when charging the case with the Buds inside it.
Compared to Google Pixel Buds-A
The OnePlus Buds Z2 are priced twice as high as the original Buds Z, but the added features make it a worthy competitor to the Google Pixel Buds A-Series, which cost the same.
The Buds Z2 are far more comfortable and secure in my experience. The Pixel Buds' funky fit isn't secure in my ear and the stabilizing arcs don't even make contact with the conchs of my ears.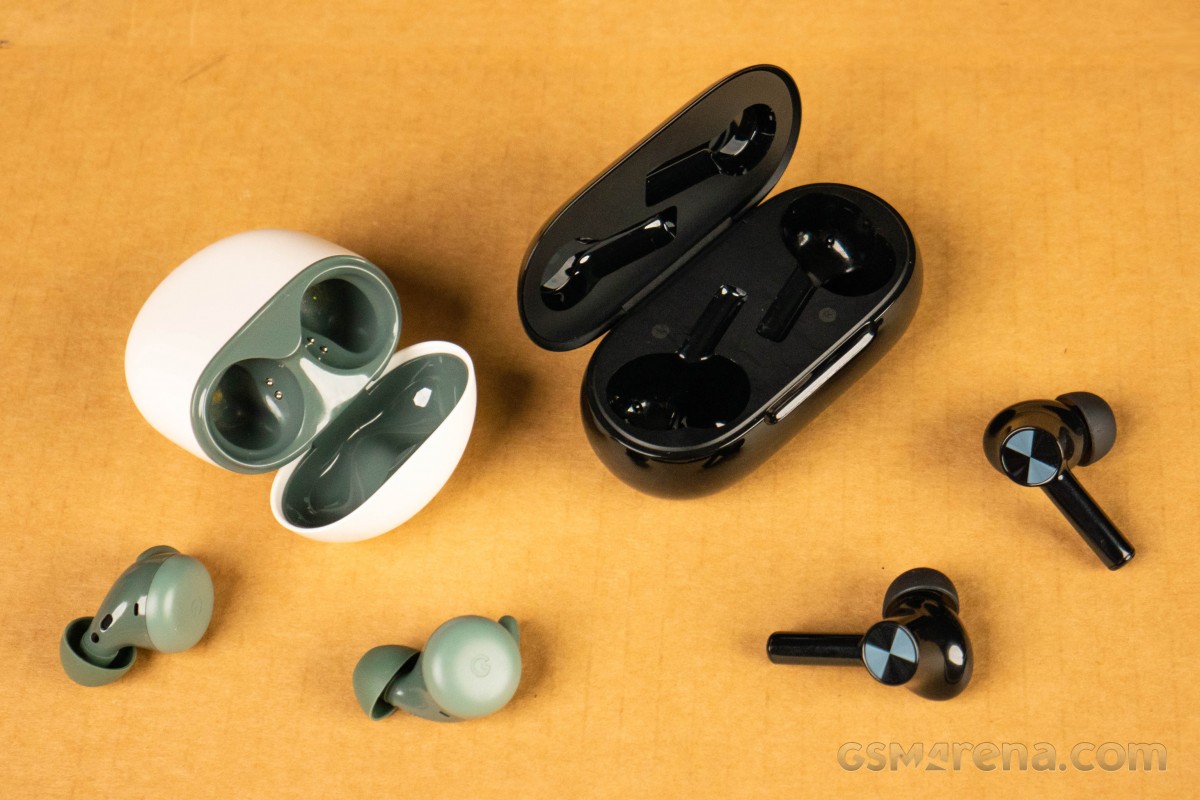 The feature sets are quite different between the two pairs of Buds. Although they have similar touch controls, the Google Pixel Buds A-Series don't have any kind of noise-cancelling or pass-through audio functions.
The Buds Z2 have basic interaction with Google Assistant via a double or triple tap of whichever earbuds you program for Voice Assistant. The Pixel Buds A-Series will offer the most comprehensive integration with Google Assistant. The ability to quickly and conveniently press-hold to talk to Google Assistant, listen and respond to messages, and make phone calls from a tap or wake phrase is great.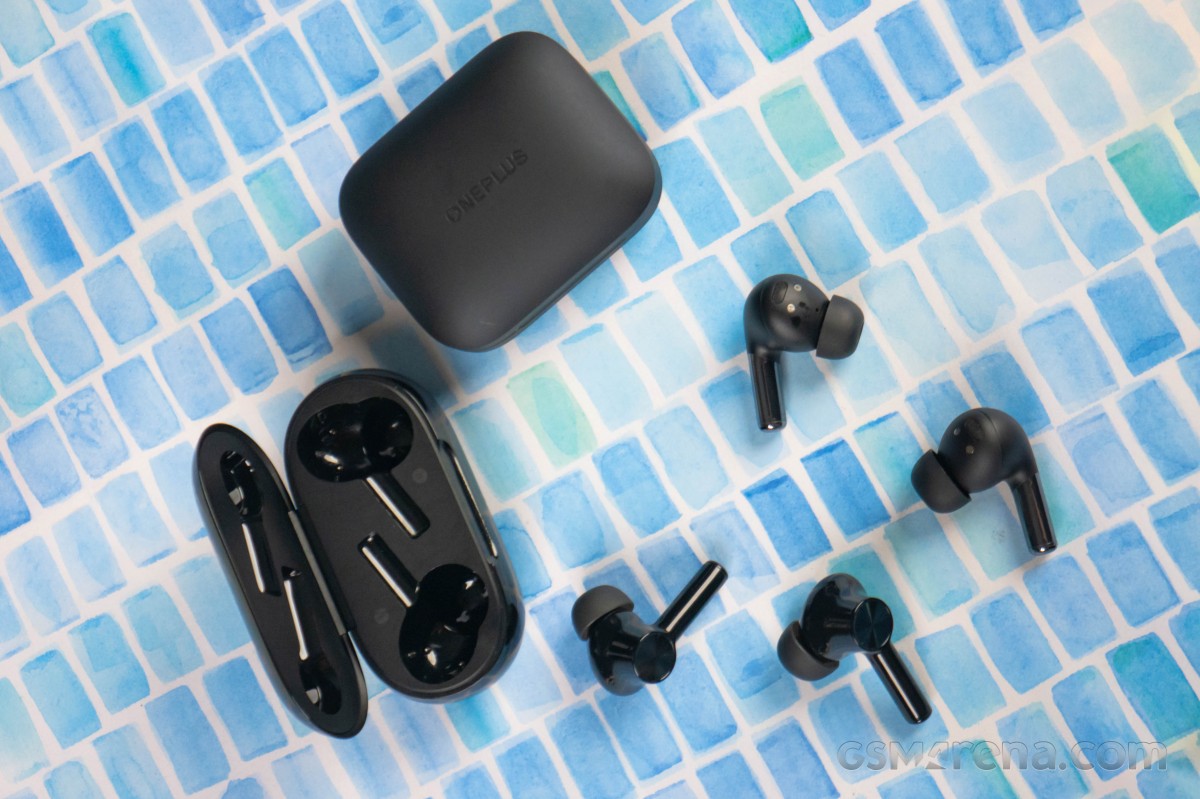 OnePlus Buds Pro (top) versus OnePlus Buds Z2 (bottom)
Then there's the matter that the Google Pixel Buds-A sound better. Although both have comparable drivers, the Buds Z2 peak too high in the upper range, giving the illsion of full-sounding range. In comparison sound is more balanced on the Pixel Buds-A.
As for comfort, the OnePlus Buds Z2 are significantly more comfortable than the Pixel Buds A-Series in my personal experience. Although the Pixel Buds have an interesting and unique design with the silicone arc stabilizers, they don't work for all ear shapes.
Conclusion
The OnePlus Buds Z2 are an attractive pair of true-wireless earbuds for $99. Active Noise Cancellation and passthrough audio are popular features and it's nice to see them arrive to this price point.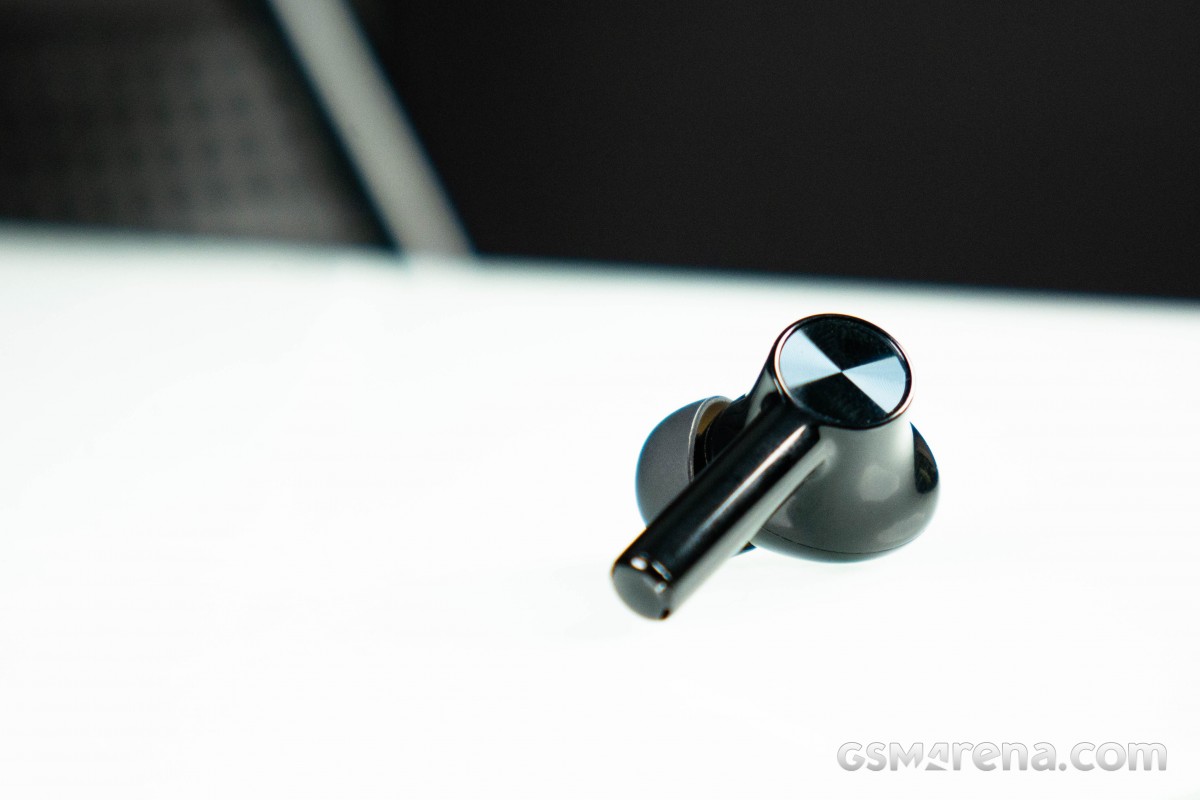 The case's compact size and the Buds' comfort make them a pleasure to carry and wear, but their sound tuning could be better. Bass can drown out vocals and high range sound overpowers music, although you can certainly make the buds sound better if you know your way around EQ settings on your device.
Pros
Small, compact case
ANC and passthrough sound is nice at this price point
Great battery life
Powerful Buds
Hey Melody is simple and straightforward
Cons
Sound quality is tuned for loudness
Related
Anonymous
15 Mar 2022
m9D
£79 on OnePlus store, but £65 on Amazon. Well worth using Amazon, as you also get free one day delivery of you have prime
oneplus buds z2 - support olny oneplus mobile or all android mobile , then using any app in android mobiles.
Anonymous
18 Jan 2022
YTc
What about the mic quality?
Popular articles
Popular devices
Electric Vehicles