OnePlus Nord 2 5G review
GSMArena Team, 22 July 2021.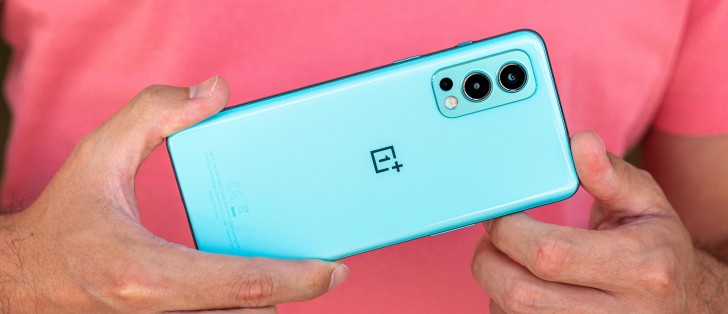 Design, build quality, handling
You've already seen the OnePlus Nord 2 5G even if you haven't really seen it. That's because it looks like any dual-glass smartphone out there. And if it weren't for the different camera island, it would have been identical to the first Nord.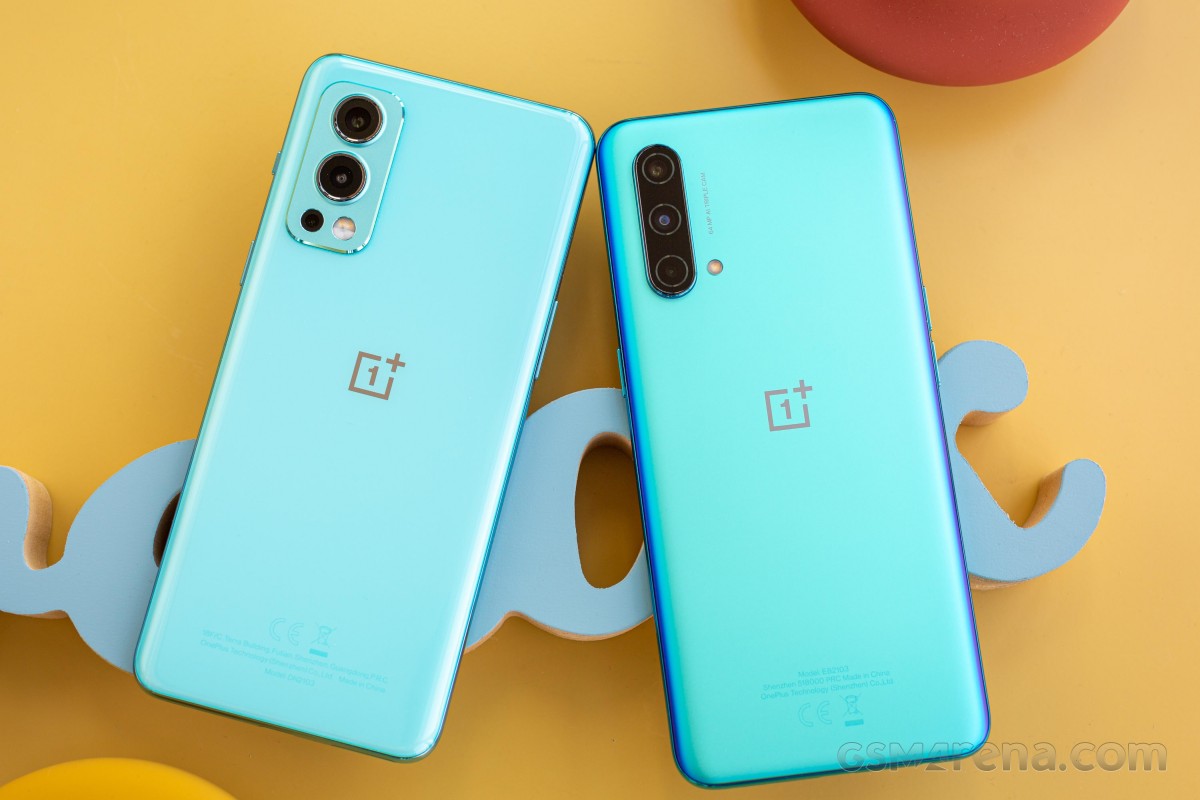 Nord 2 vs Nord CE
Indeed, the Nord 2 is of the same size and weight as the first Nord. Its shape is also identical to the Nord, and plenty other smartphones - its front glass is flat, the rear piece has curved long sides, the plastic frame is curved, too.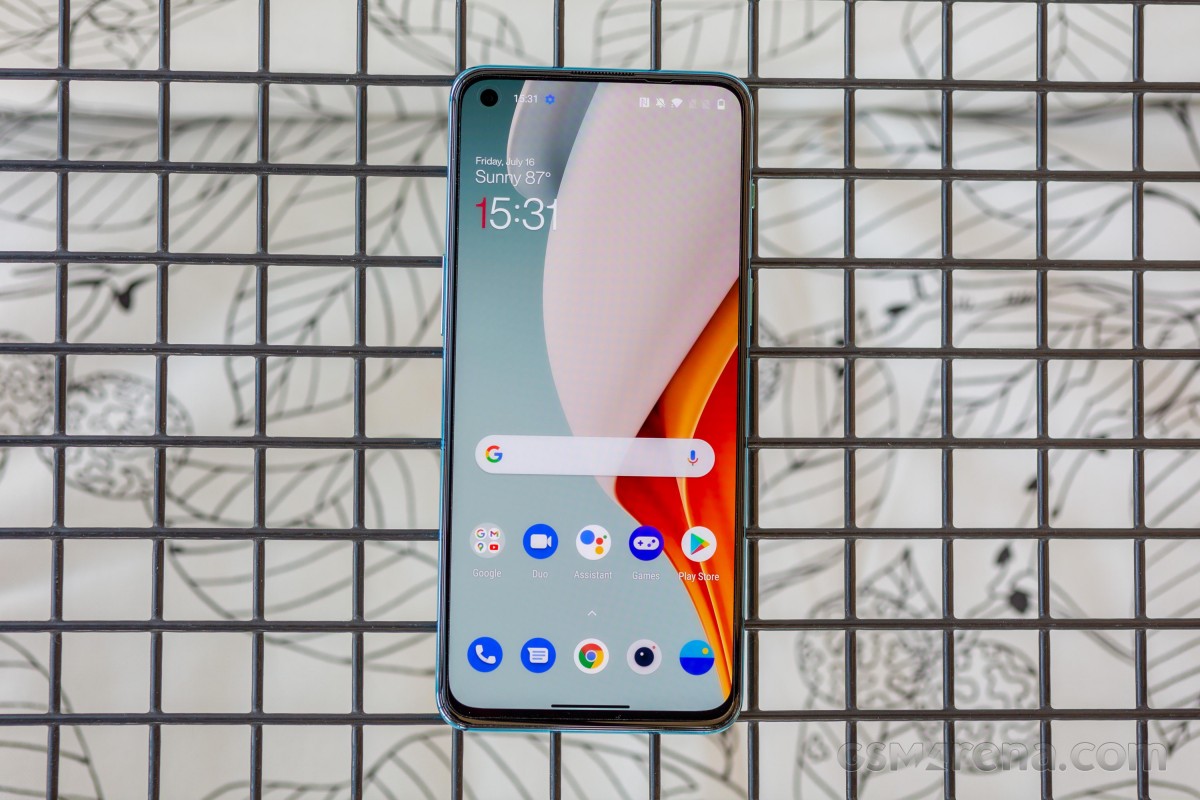 The Nord 2 is of a pretty solid build - it has a duo of Gorilla Glass 5 panels and a plastic frame. The internal chassis is made of aluminum and you can see and feel it jutting out at the back enveloping the cameras.
The OnePlus Nord 2 is offered in three different versions - Gray Sierra, Blue Haze, Green Wood - and each of these have a different finish on the rear panel. The Gray Sierra offers a matte back notable for its fingerprint and smudge resistance.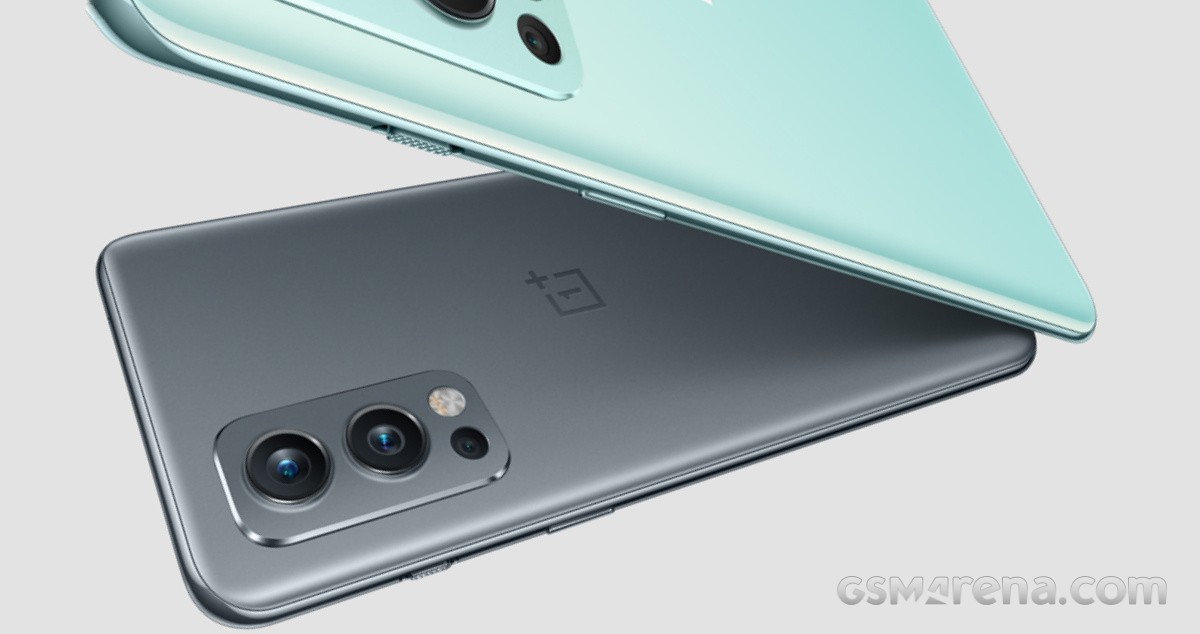 OnePlus Nord 2 in Gray Sierra
Ours is the Blue Haze - a lovely hue with porcelain-like glossy finish and a tribute to the original Nord's Blue Marble. Fingerprints and smudges stick, but they are barely visible due to this fresh minty milk color. Cleaning the smudges is easy - a swipe with a cloth or shirt is enough.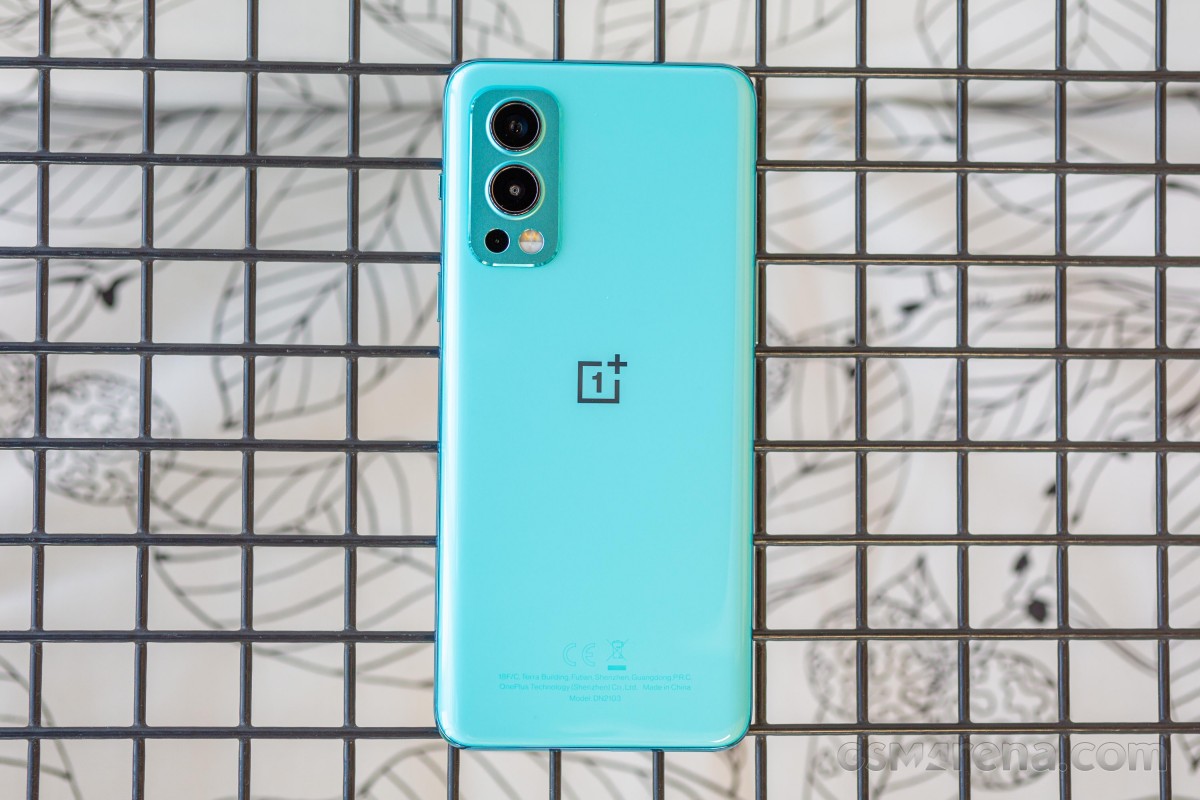 OnePlus Nord 2 in Blue Haze
Finally, there is also a somewhat limited Green Wood version with faux leather on the back. We have no info whether this pattern is achieved by carvings on the glass or by switching to a plastic panel. The European markets won't be getting this version, though.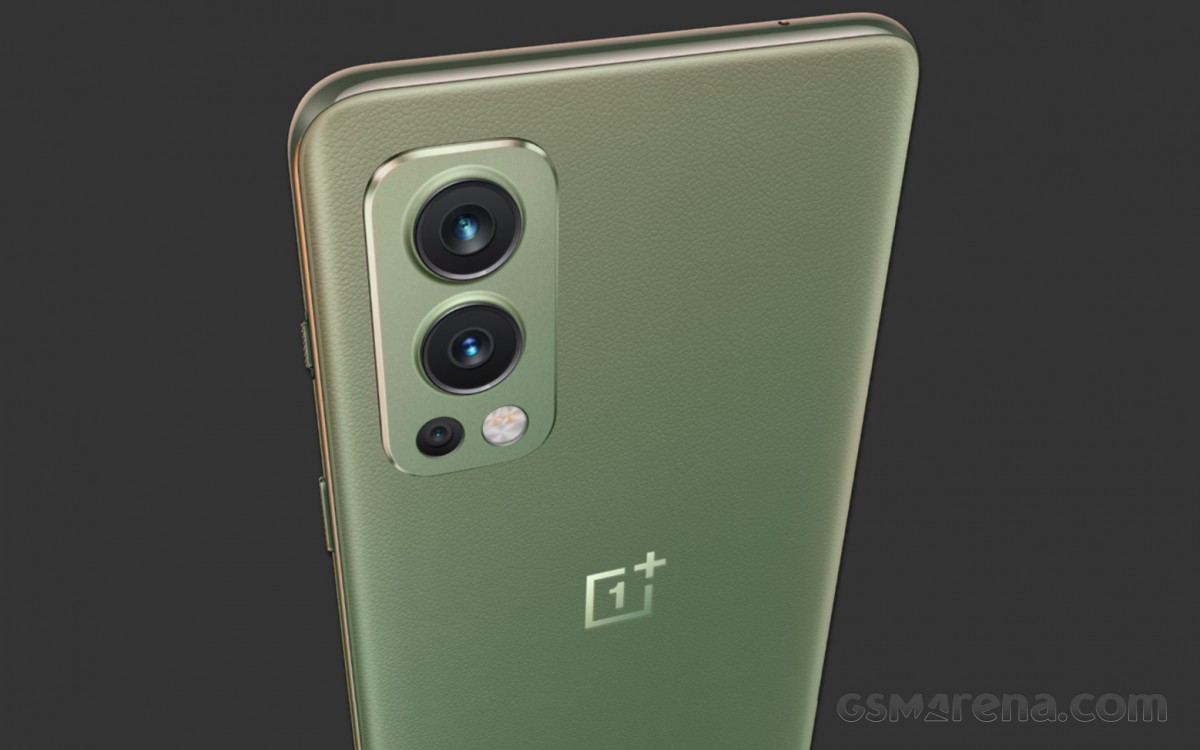 OnePlus Nord 2 in Green Wood
The OnePlus Nord 2 is not water sealed, at least officially. We can confirm it is waterproofed and should be fine in light rain and water splashes. But giving the Nord 2 enough protection to survive water doesn't mean you should swim with it. What you can take from this is a piece of mind the Nord 2 will be alright outside in good or bad weather.
Now, let's see this Nord 2 in detail. The front is what you will be looking at the most, and are thrilled that OnePlus decided on retiring the ultrawide selfie and leaving only the 32MP primary cam. This way, it has shrunk the pill-shaped cutout to a regular punch-hole, which is not an eyesore, and we can live fine with its size.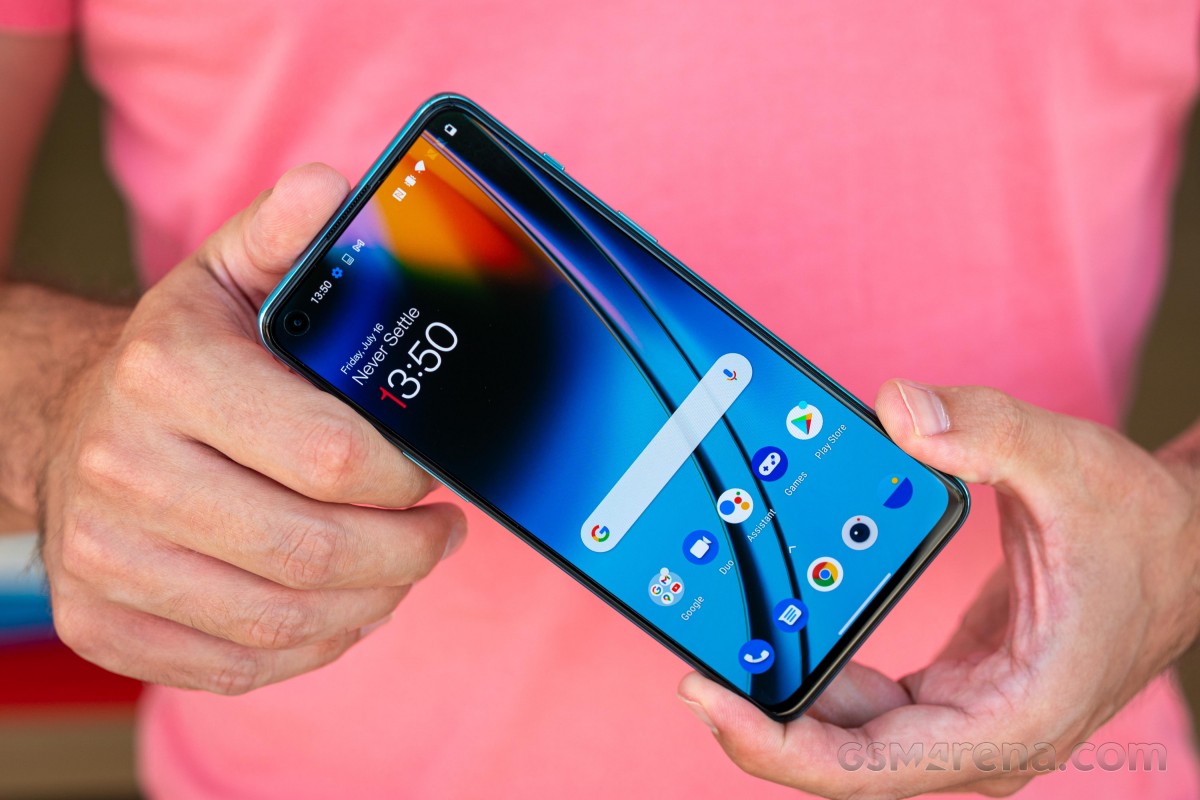 Other than that, it seems the panel hasn't changed much - it's the same 6.43" Fluid AMOLED with extended 1080p resolution, 90Hz refresh, and HDR10+ support. The screen bezels are reasonably thin with a more prominent but not unusually thick chin.
There is an under-display fingerprint sensor, and it's incredibly fast and accurate. But it doesn't activate as the rest of the bunch as it's not always on by default. You either need to hit the power key beforehand or enable the Ambient Display feature - no matter if it's Show-on-pick-up, power-saving, scheduled, or always-on. We were a bit surprised by this, but we put the Ambient Display on pick up, and that solved our issue.
OnePlus Nord 2 features two speakers - the first one is front-facing as it also doubles as your earpiece and sits behind the grille above the screen. The other one is bottom-firing and is next to the USB-C port. The two are nicely balanced, even if the bottom one has a bit punchier.
The entire front is covered by a flat Gorilla Glass 5. The rear is also a Gorilla Glass 5, but with these trendy curves on its longer sides. We are big fans of the Blue Haze version we have here, so let's look at it for a bit.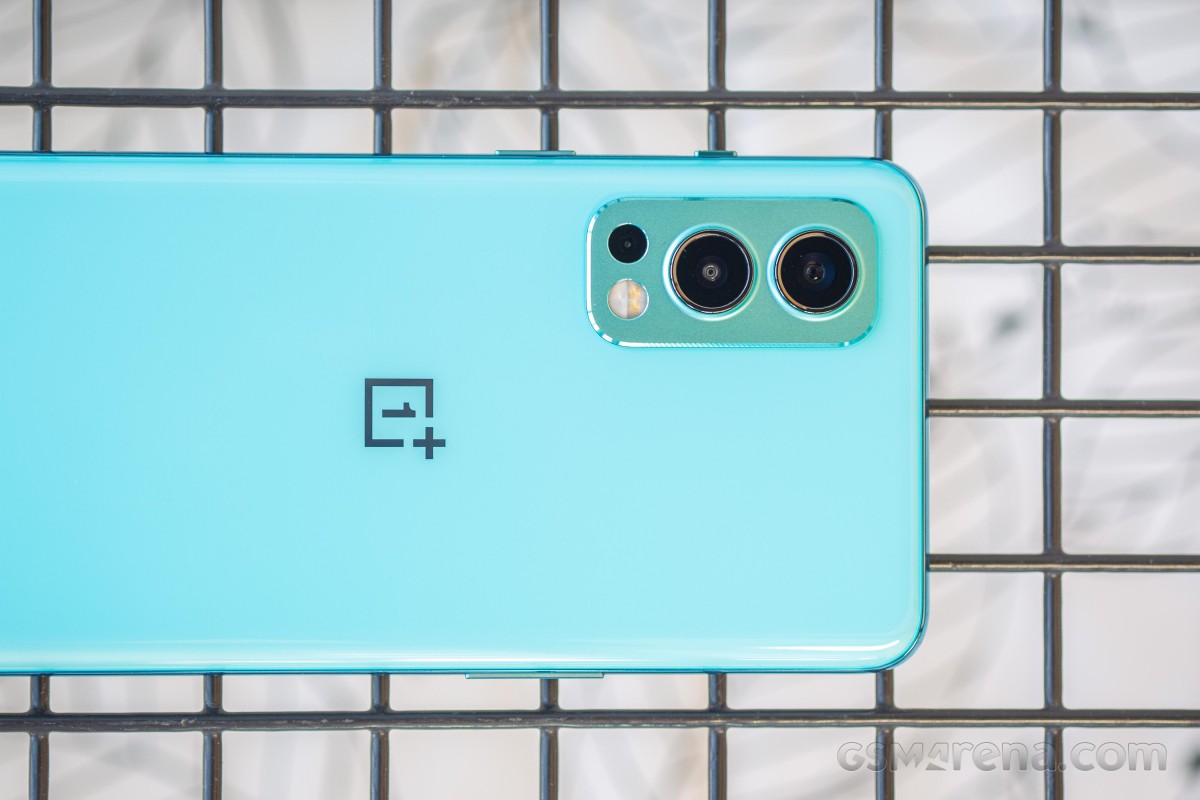 It's sure is mesmerizing. And we like the camera island - its brushed aluminum is of the two-step kind - jutting out metal and then rings. The piece is painted in a similar minty color. Here you can spot the main 50MP camera, followed by the 8MP ultrawide shooter, there are also a 2MP depth sensor and a dual-tone LED flash.
The frame is just as glossy as the back, a bit curved, too. Smudges aren't visible on the frame, thanks to the clever paint, though they are still there.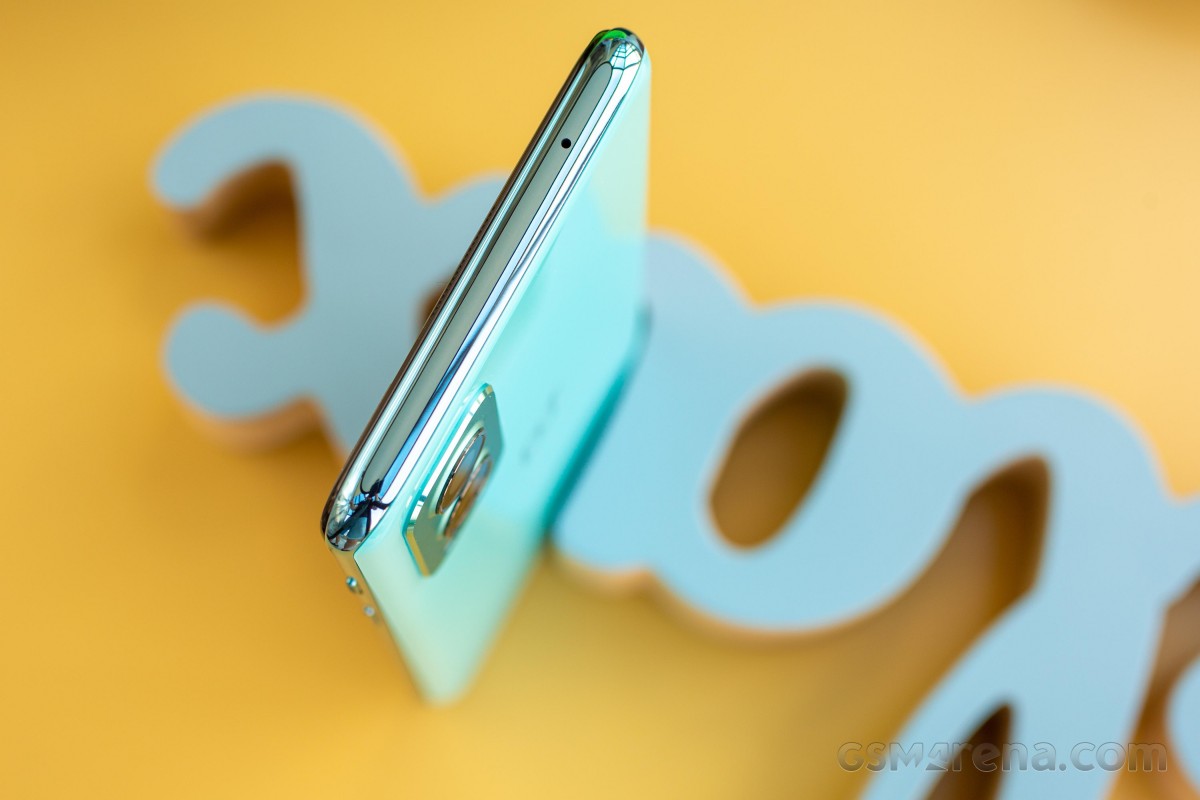 The volume key is on the left, sitting alone. The three-step silencer (sound, vibrate and mute positions) and the power/lock key are on the right.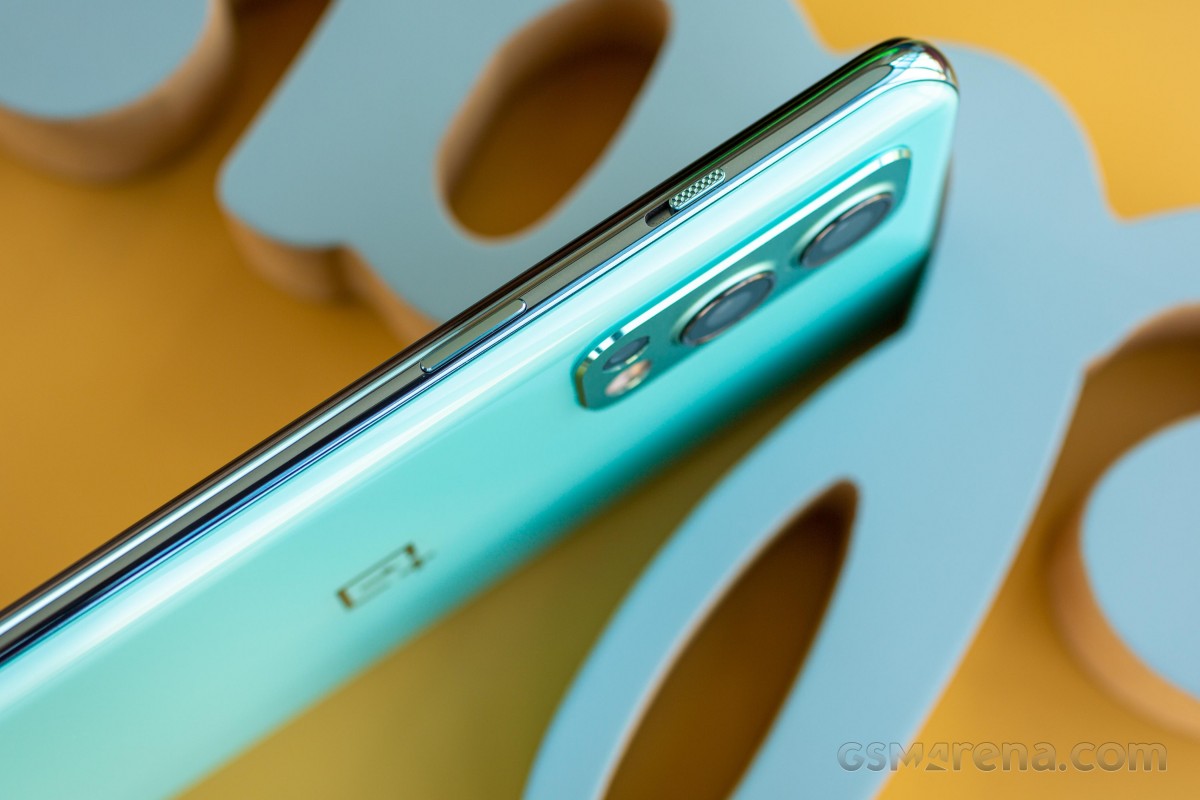 The top houses a secondary mic. The primary one and your mouthpiece is at the bottom, along with the dual-SIM tray, the USB-C port and one of the speakers.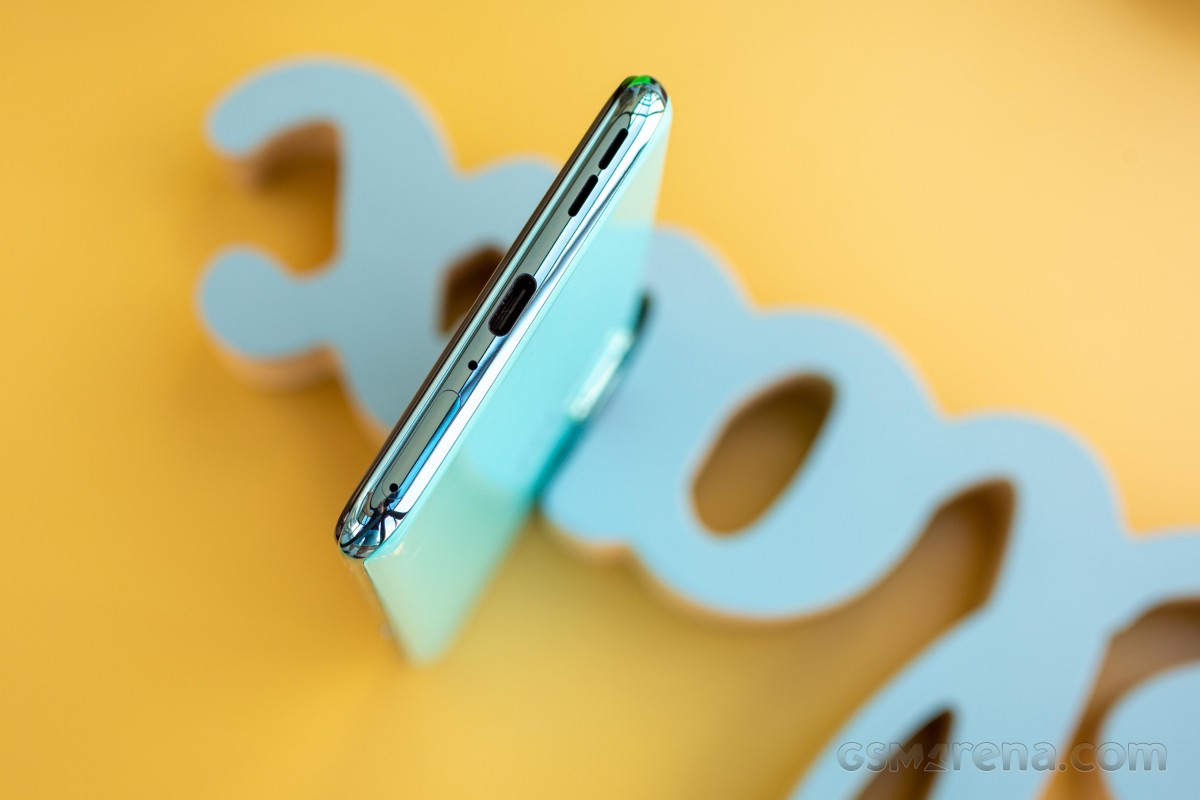 The OnePlus Nord 2 is not just a goody to look at; it's also one balanced smartphone to handle. With a 6.43" display, it is pocketable enough and easy to work with by requiring fewer finger gymnastics. And even if our unit is the glossy one, it has a good enough grip to be considered safe in hand in most cases. Sure, there are stickier phones, but there are a lot slipperier, too.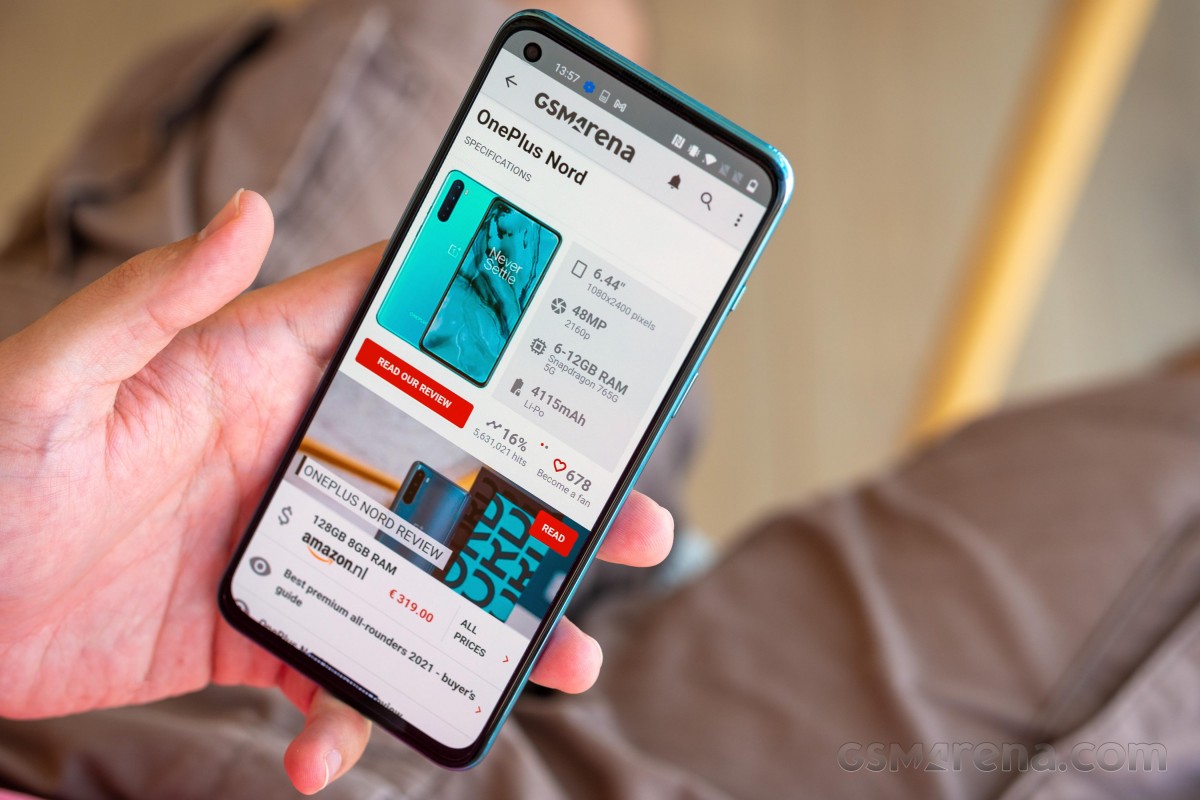 We'd say the OnePlus Nord 2 strikes a great balance between size, looks, build and grip - something we rarely see these days. It could have been flawless if it were IP-rated properly, but it is what it is.
I had this phone. Problem is which was not solved at least up to A12 update (because I got rid of that phone before update) that AI toogle for videos wasn't saved so it was default on off always. With AI on it was recording decent videos.
This phone or Note 10 pro...? Thanks...