Oppo F11 Pro Avengers Edition Hands-on
Michail, 09 May 2019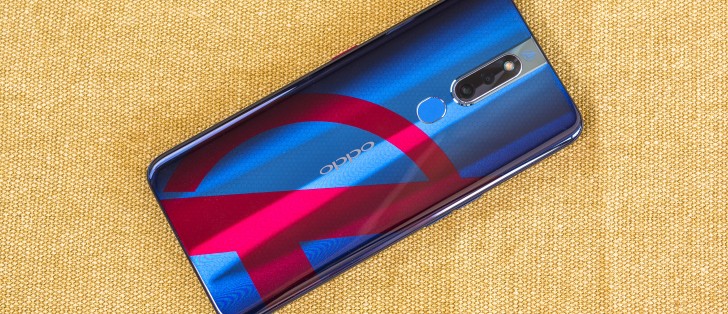 Limited edition phones are meant to commemorate special occasions. It's a chance to offer consumers a unique take on the rectangular slabs we call smartphones. We've seen several automotive-themed partnerships in the past, as well as some movie-inspired collaborations. Last year OnePlus brought an Avengers Infinity War Edition OnePlus 6 and this year Oppo is treating us to the End Game version with its F11 Pro.
Before we delve deeper, let's get the obvious stuff out the way. The Oppo F11 Pro Avengers Edition is just a spec'd out, better looking F11 Pro. You're getting the top of the line 6GB RAM+128GB version here alongside a hexagon pattern with a blue finish. Oppo calls this Space Blue and the red accents complement the whole Captain America appearance. We dig the look, and the phone is definitely an eye-catcher.
Unboxing
It wouldn't be a limited edition phone without premium packaging and Oppo has certainly delivered. Just picking up the box you immediately notice its sheer weight and the sleek Avengers branding. We're happy to see that the branding is not overused but is rather toned down and has just enough to catch your interest without screaming "movie edition phone" at you.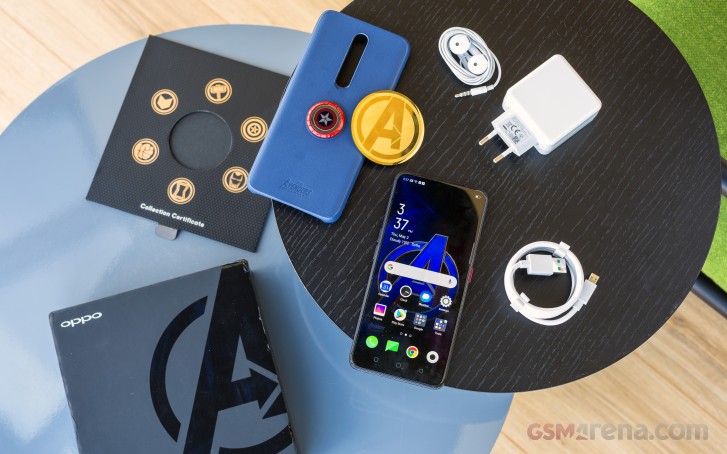 Once you pop the top lid off, you're immediately greeted with a special Avengers collection certificate, featuring the logos of the six main characters - Thor, Captain America, Iron Man, Black Widow, the Hulk, and Hawkeye. In the middle of it all is a gold collector's badge featuring the Avengers logo. You can take it out to admire its beauty or leave intact if you're the collector type.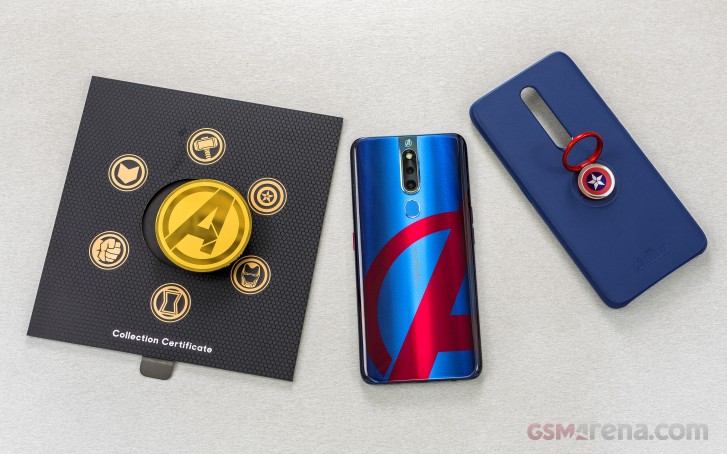 Dig deeper, and you'll find more goodies, headlined by a Captain America themed case. It's made out of faux leather on the back with a softer Alcantara-like material on the inside. Of course, there's Avengers branding on the back and even a built-in ring holder resembling Captain America's shield. As with other similar ring attachments, you can lift the outer ring and put your finger through it for some for extra grip. Alternatively, it's also a nice kickstand for watching videos on a table.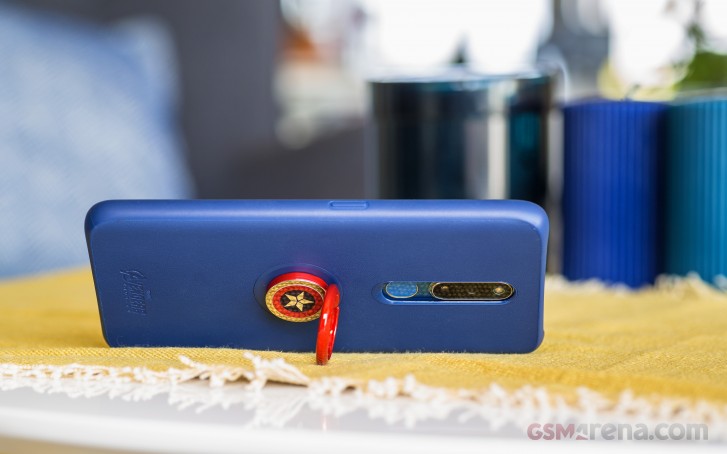 The rest of the accessories are pretty standard. You're getting Oppo's 20W VOOC fast charger, which would have been super nice if it wasn't paired a dated microUSB cable. Rounding out the package is a pair of wired earbuds, SIM ejection tool, and the usual reading materials.
Design
Looking at the front of the F11 Pro Avengers edition, you wouldn't guess its a special phone. It features the same 6.5-inch IPS screen from the regular version with minimal bezels thanks to the motorized 16MP selfie camera. It's still a pleasure to watch videos that take up the whole screen without any obstructions.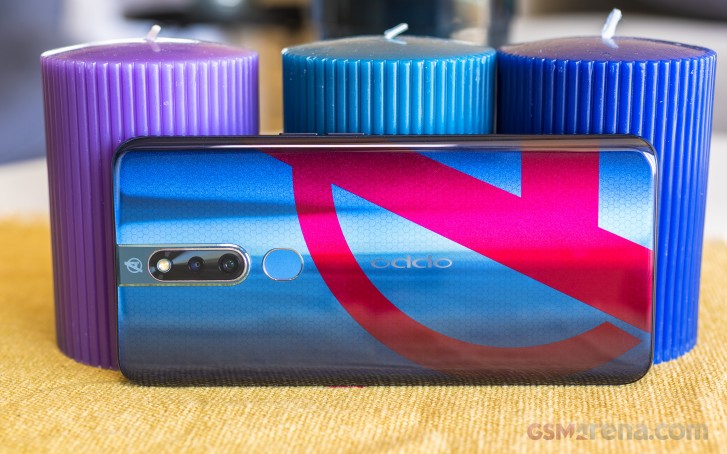 Turn the phone around, and you immediately notice the unique blue color scheme and red Avengers logo. Look a little closer, and the hexagon pattern also comes out as does the small Avengers logo above the cameras.
Software-wise, the device features Oppo's custom Color OS 6 on top of Android 9. If you were expecting any special themes or an icon pack, you're out of luck. The only visual change is the special Avengers wallpaper which is pre-installed on the home and lock screens. The phone runs just as good as the regular F11 Pro, breezing through system menus and everyday tasks like switching through apps, watching videos and the occasional gaming session.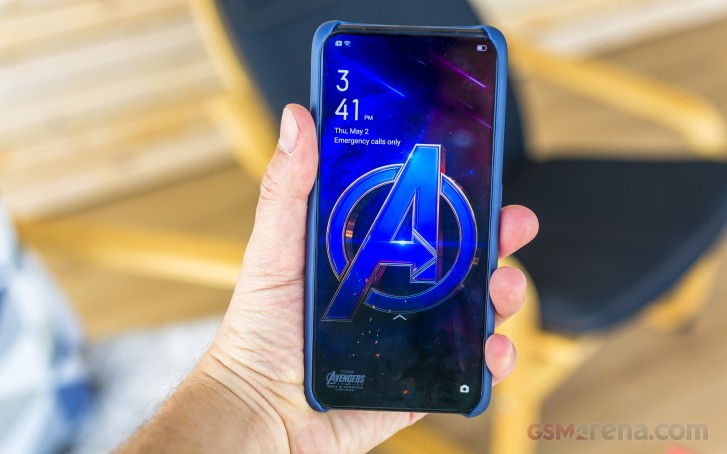 While the device features a plastic build it certainly doesn't feel cheap thanks to its solid heft and nice gradient back. Oppo really perfected this look with its F and R series, solidifying itself as one of the better manufacturers in terms of design.
Battery life should be more than adequate thanks to the large 4,000 mAh cell. In our time with the standard F11 Pro it managed to score a 109-hour endurance rating, positioning it amongst the best in its class. The included 20W VOOC charger should help you go from 0 to 40% in just 30 minutes. The phone also packs a 3.5mm headphone jack, which audio heads will appreciate. The device comes with 128GB storage, and if that's not enough, there's also a microSD slot.
Conclusion
Aside from its upscaled packaging and flashier design the Avengers edition Oppo F11 Pro is not that much different from the regular version. For some that would render it pointless but that's not who this phone is made for. True Marvel fans and those who appreciate limited edition collectibles will surely see the phone and its contents in a different light.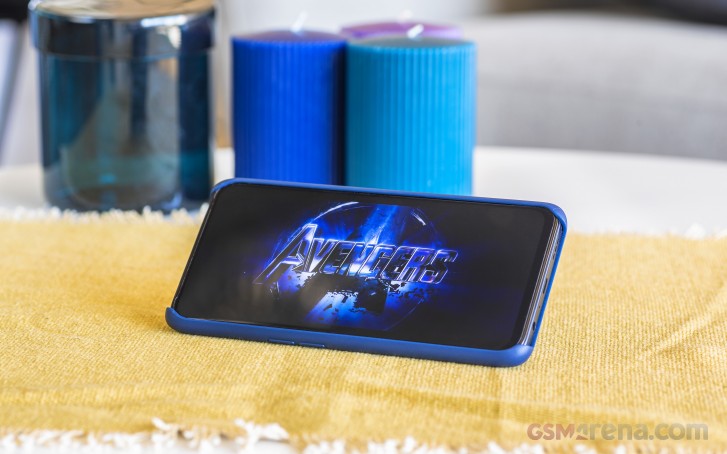 It goes with the territory that limited edition phones are hard to acquire and the F11 Pro Avengers Edition is no different. It saw a limited release run in India and Malaysia selling out in a matter of hours. Oppo did mention that it plans to restock it at some point but only as an offline exclusive in even more limited quantities.
As for pricing, the phone cost $360, which is $40 more than the regular F11 Pro. Whether that's a fair deal depends on your praise of limited edition items and attachment to the Marvel universe. While Oppo could have added some exclusive software tweaks, the overall package is quite nice and offers the added value you look for in a limited edition bundle.
Related
Avengers Endgame is a great movie wheras this phone is terrible just like other Oppo and Vivo phones.
Yeah right, no one gives a damn
I'm the biggest fan of sci-fi movies, but I don't like superhero movies.. It was nice to see some superhero movies, but now all sci-fi movies are only about that. Whenever I see a commercial for the Avengers, it's like seeing a movie for kids.. ...
Popular articles
Popular devices