Oppo F11 Pro selfie camera motor can be used 100 times a day for 6 years
18 March 2019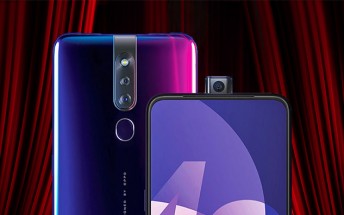 Pop-up selfie cameras have found a home in the smartphone lineups of Oppo and vivo, but as they are relatively new, people may be worried about their durability. Oppo says it's a non-issue as the Oppo F11 Pro can be used 100 times each day for 6 years straight.
That means that even the hands of obsessive selfie-takers, the F11 Pro will be retired of old age rather than mechanical failure of the front camera. And if you use the rear fingerprint reader instead of face unlock, the usable life is even longer.
This info comes by way of the tweet below, which shows the Oppo F11 Pro performing music with its camera. No, the camera doesnít make a sound, what youíre hearing is the preset sounds the F11 Pro can play when its selfie cam extends.
Us: It can be used up to 100 times a day for 6 years 😏

New #OPPOF11Pro users:
🤳↕️↕️↕️↕️↕️↕️↕️↕️↕️ pic.twitter.com/yDCrFZ7qrG

ó OPPO (@oppo) March 18, 2019
So, this isnít like those videos of printers, HDDs and floppy disks playing music, but itís still a pretty fun video.
Related