Oppo F3 review: Selfielicious
Selfielicious
GSMArena team, 11 May 2017.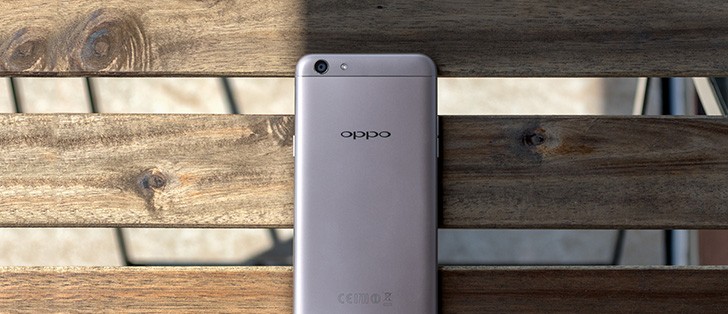 Telephony
Oppo F3's phone app is simple but functional. The dialer supports smart dial, or you can go to the Contacts tab to do a regular search. You can screen unwanted calls by putting specific numbers in a blacklist. However, you need to head to the Settings menu for more options.
You can't switch between the dialer and contacts tabs by swiping left and right. You have to tap the icons on the bottom, too- not overly convenient.
Messaging
The phone comes with a simple Messaging app for SMS and MMS. It supports threaded customization, but that's about it - no themes, and nothing other than the phone number-based blocking that the dialer app uses.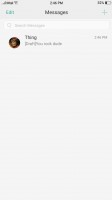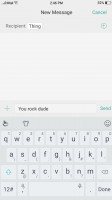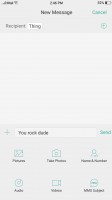 The Messaging app • Writing to the Thing • Attaching multimedia
You can attach multimedia for MMS messages - photos, videos, location, calendar events and so on. Hangouts is preinstalled, it offers more advanced options and has instant messaging support built in. The app can be tasked with your SMS and MMS communications as well.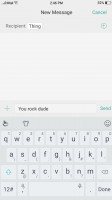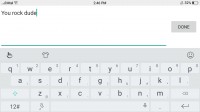 TouchPal keyboard in portrait and landscape
The default keyboard is "TouchPal for Oppo," which does support themes (there are even two styles of emoji). You can also customize its size (both vertically and horizontally) and change the size of the suggested words. The number row is easy to enable too. Emoji prediction is available if you need help selecting the miniature picture that best describes your thoughts.
It's a feature-rich keyboard, but, of course, if it's not to your liking, you can always install a different one.
Loudspeaker
The Oppo F3 has a single bottom-facing loudspeaker. It only scored an Average rating in our loudness tests. This comes pretty close to the loudness we measured on the F3 Plus. We wouldn't really count on either of these phones at a loud party.
| | | | | |
| --- | --- | --- | --- | --- |
| Speakerphone test | Voice, dB | Pink noise/ Music, dB | Ringing phone, dB | Overall score |
| Oppo F3 Plus | 62.3 | 69.8 | 70.0 | Average |
| Oppo F3 | 63.1 | 68.7 | 70.4 | Average |
| Lenovo K6 Note | 63.2 | 69.5 | 71.0 | Average |
| Samsung Galaxy J7 (2016) | 64.5 | 71.0 | 68.9 | Average |
| Xiaomi Redmi Note 4 | 64.2 | 67.2 | 76.9 | Good |
| Xiaomi Redmi Pro | 68.1 | 71.8 | 69.4 | Good |
| Meizu MX6 | 65.7 | 71.7 | 72.5 | Good |
| Oppo R9s | 64.3 | 71.5 | 76.1 | Good |
| Huawei Honor 6X | 68.4 | 67.0 | 79.1 | Good |
| Nokia 6 (Chinese version) | 63.0 | 70.2 | 85.2 | Good |
| vivo V5 | 62.6 | 73.1 | 83.4 | Very Good |
| vivo V5 Plus | 65.8 | 73.5 | 80.8 | Very Good |
| Meizu M5 Note | 65.1 | 70.7 | 86.8 | Very Good |
| ZTE Axon 7 | 66.4 | 72.2 | 84.1 | Very Good |
| Lenovo P2 | 67.6 | 72.1 | 86.7 | Very Good |
Pre-installed apps
The Oppo F3 has the complete Google app package, but it also comes with alternatives to many of the apps. We already saw several of those - the Theme Store, the Phone and Messages apps - and now it's time to meet the others.
Security Center, powered by Avast, offers Virus scans, Permission management as well as memory cleanup. Just hit the Quick scan button to see if the app thinks your phone needs a tune-up.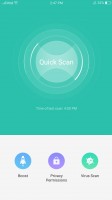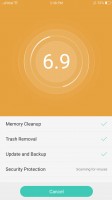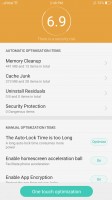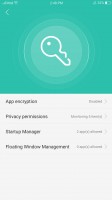 The Security Center • Cleaning up the storage • Encrypting apps • Scanning for viruses
The Weather app pulls data from AccuWeather and manages to fit plenty of information on a single screen.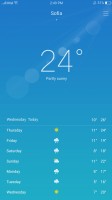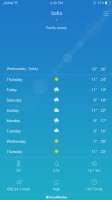 The Weather app is powered by AccuWeather
Oppo pre-installed the free version of WPS Office. It can create Word, Excel, and PowerPoint files and it offers a nice selection of templates to get you going. Note that some templates are paid, and you'll occasionally see banners for the premium version of the app.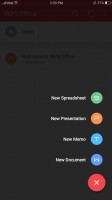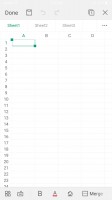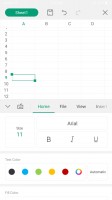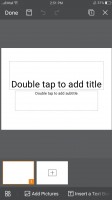 Free WPS Office reminds you there's a paid version • Spreadsheet • Font options• Presentation
One thing the Oppo F3 has that the iPhone doesn't is a file manager. It organizes files into categories and natively supports ZIPs. The File safe option allows you to lock certain files with a fingerprint/pattern for safe keeping.
There's an option to move files without a cable - the phone creates a Wi-Fi hotspot, and you connect to it over FTP. That's a techy solution that can be cool, but not the easiest to work with - cloud storage integration would have been simpler.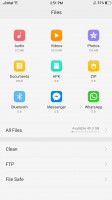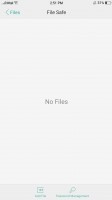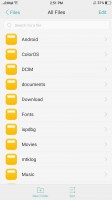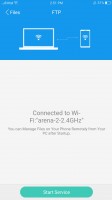 File manager • Encrypting files • All files • Sharing files over FTP
You can easily guess the purpose of the Backup and Restore app but its feature list doesn't end there - it can clone your old phone's contents, simplifying the migration to your new Oppo phone. For backups, it will make a copy of System data, Applications, and Personal data.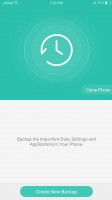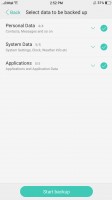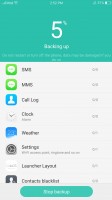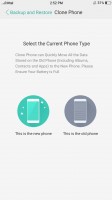 The Backup and Restore app can also move your data to a new phone
Continuing the trend of odd software omissions, the Oppo F3 has yet another one compared to the F3 Plus. The company's own calendar app isn't pre-loaded this time around. Instead, you get Google Calendar.
Been using this since June 2017 and still working fine but some of the apps cannot be install since its not updated anymore. I drop this already many times even drop in the toilet bowl (clean of course lol).
I'm using this phone since Oct 2017 and it is still working but only the problem is battery n the speed and also some apps are not supporting now ....but often dropping the phone the display is very durable, no scratches no broken glass ...nothi...
Anonymous
01 Jun 2020
UNA
I would like to ask if you have broke oppo f3 phone or a display IC for oppo f3 phone. Thank you