Oppo Find 5 review: Oppo-lent screen
Oppo-lent screen
GSMArena team, 6 February 2013.
Gallery and file browser
The Gallery on the Oppo Find 5 is a custom job, with less features than the vanilla app. The default view is a grid of folders, with a name and number of images for each folder labeled underneath. You can hide folders you don't want.
You can't filter apps by location, time, people or tags like you would in the stock app. There's no web album integration either (so, no "Make available offline" option).
Images inside folders are arranged on a rectangular grid and you have two options - launch camera and start a slideshow. You can select multiple images (folders too) and then Share and Delete options become available.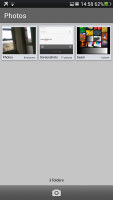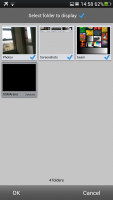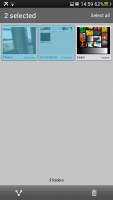 The Gallery app • hiding unwanted folders • multi-select
When viewing an individual image, you can swipe left and right to navigate between images. You can zoom out to a strip of images (3 at a time), which makes browsing faster.
The available features here are pretty standard - set image as wallpaper/contact image, share it delete it or get a menu with more functions. Those include rotation, cropping, renaming and viewing details. The details offer more info than most other galleries, including EXIF info (things like focal length, aperture, ISO, shutter speed, etc.).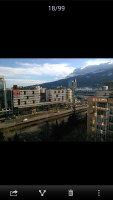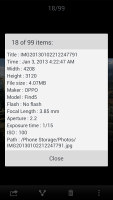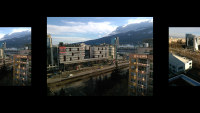 Viewing a single image and its metadata • browsing images
There's a more advanced editor too. Light adjustments let you bring out the shadows or the highlights, you can apply effects, color styles, red eye correction, straightening, sharpening and face glow (which detects faces automatically). Most of these options have a slider that lets you fine-tune the intensity of the effect.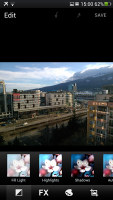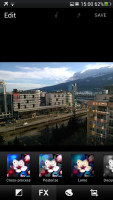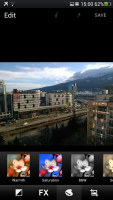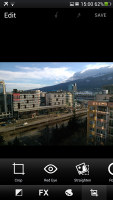 A more capable image editor is available too
The phone comes with a capable file manager out of the box. Its interface is laid out over two tabs, the first one organizes files by category, while the second is a traditional folder browser.
Files and folders can be copied, moved, deleted, renamed and compressed to ZIP (and ZIP files can be extracted). Batch operations are supported. The folder browser has list and grid views and you can change the sorting method. The system can be encrypted and password protected too.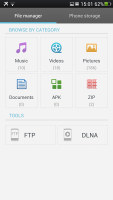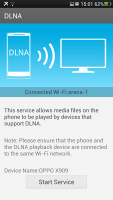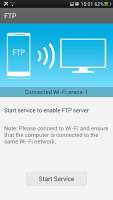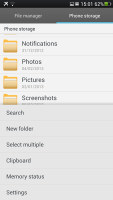 The file browser has built-in DLNA and FTP servers
The file browser also has built in DLNA and FTP servers, which makes it easy to access multimedia and general files on another device.
Music player with Dolby Mobile and Dirac
The Find 5 comes with a bespoke music player that Oppo loaded with some impressive sound tech. There's both Dolby Mobile and Dirac HD sound enhancements available.
The UI is pretty straightforward - your music library is organized into a list of all music, a list of artists, folders and playlists. A cool feature is the small file filter, which will keep out non-music audio files (e.g. some SatNav apps have pre-recorded words for voice-guided navigation).
The Now playing interface is split into two - the current playlist and the album art/music controls screen. You can swipe between the two. By default the player will look for lyrics and display them over the album art. You can add album art if it's not available (but the player won't look for it automatically).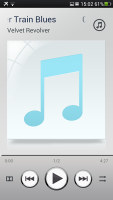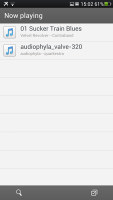 Now playing interface • current playlist
There's a playback mode button (normal, shuffle, repeat track) and a toggle for audio enhancement. That cycles through Off, Dolby and Dirac.
Dolby Mobile effects include Surround sound (headphones only), Natural bass and Treble, along with an equalizer with multiple presets including a custom one. Dirac has no options, it's either on or off.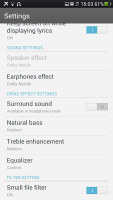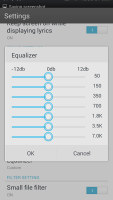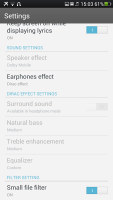 Dolby Mobile settings • the equalizer • Dirac
By the way, the music player successfully played a 16-bit FLAC file (24-bit didn't work).
While the player is on, the lockscreen features the album art and track info for the current song along with the basic playback controls. The notification area also lets you control the playback via an expandable notification.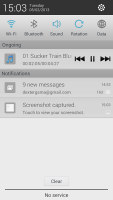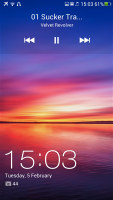 The Music app has both normal and expandable notifications
Google Play Music is preloaded on the Oppo Find 5 if you prefer that.
Video player with basic codec support
The video player is pretty basic - it supports MP4 files (along with a few old containers like ASF), but no AVI or MKV. It has no problems playing 1080p videos in the supported formats, which is good, but you are always likely to need a 3rd party alternative to avoid the converting.
The interface for video selection is pretty basic too - a list of all available files.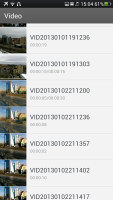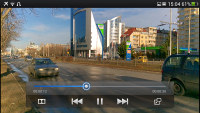 The minimalist interface of the video player is preserved
The video player has the exact same audio enhancing capabilities as the music player - Dolby and Dirac.
The player supports subtitles too, but there's only an on/off toggle here, you can't manually pick the subtitle file (so it would have to have the same name as the video file to work.
A feature that seems lifted right off the Samsung Galaxy flagships is the pop-up player. It's a small floating window that lets you have other apps working underneath. You can move it around to get it out of the way, but there's no resize option.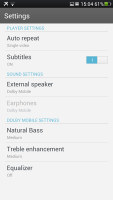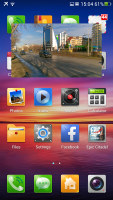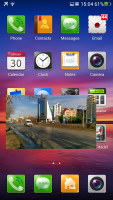 Dolby and Dirac settings • the pop-up play feature
If you want to play the video on your TV, you can activate the Wi-Fi Display function, but you'll need a compatible HDMI dongle. There's no MHL TV-Out.
Audio quality is reasonably loud and decently clean
The Oppo Find 5 did pretty well in our audio quality test, showing good volume levels in both parts and nicely clean output.
When you use the smartphone with an active external amplifier you get good scores just about every where. The frequency response was spot-on for the most part of the audible range, but the extreme treble frequencies, where it deviates a bit. The volume levels were well above average, though.
The increase in stereo crosstalk when you plug in a pair of headphones, but the good news is none of the other readings are affected. Volume levels remain very good too, so it's a solid overall performance that should easily please everyone but the most demanding audiophiles.
And here go the results so you can see for yourselves.
| | | | | | | |
| --- | --- | --- | --- | --- | --- | --- |
| Test | Frequency response | Noise level | Dynamic range | THD | IMD + Noise | Stereo crosstalk |
| Oppo Find 5 | +0.34, -0.90 | -82.0 | 81.9 | 0.0072 | 0.020 | -81.4 |
| Oppo Find 5 (headphones attached) | +0.34, -0.89 | -82.1 | 81.9 | 0.0058 | 0.048 | -47.1 |
| Sony Xperia T | +0.11, -0.10 | -86.1 | 87.8 | 0.023 | 0.023 | -84.1 |
| Sony Xperia T (headphones attached) | +0.43, -0.11 | -86.1 | 87.5 | 0.140 | 0.260 | -62.7 |
| LG Optimus 4X HD | +0.02, -0.52 | -74.8 | 74.8 | 0.345 | 0.318 | -81.6 |
| LG Optimus 4X HD (headphones attached) | +0.03, -0.51 | -70.1 | 69.9 | 0.815 | 0.811 | -64.5 |
| Samsung I9300 Galaxy S III | +0.03, -0.05 | -90.3 | 90.3 | 0.012 | 0.018 | -92.6 |
| Samsung I9300 Galaxy S III (headphones attached) | +0.11, -0.04 | -90.2 | 90.2 | 0.0092 | 0.090 | -53.1 |
| HTC One X | +0.02, -0.08 | -82.1 | 82.1 | 0.137 | 0.393 | -80.7 |
| HTC One X (headphones attached) | +0.10, -0.10 | -80.6 | 80.6 | 0.174 | 0.459 | -60.8 |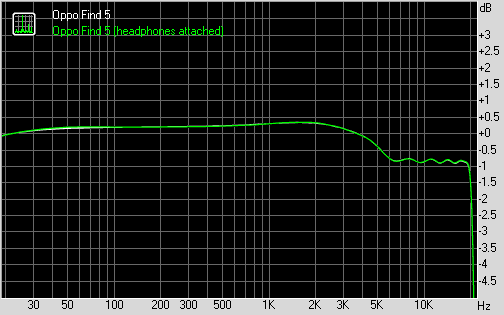 Oppo Find 5 frequency response
You can learn more about the whole testing process here.
Oppo Reno 5pro is bed mobile Google dailar is very bed sarvice Call Recoding announcement disgusting
Totally hang mobile phone plz take it home
Anant Pradhan
14 Jun 2015
vGc
Find 5 Mini bcz its have advanced function.......