Oppo R11 review: Selfie master
Selfie master
GSMArena Team, 15 July 2017.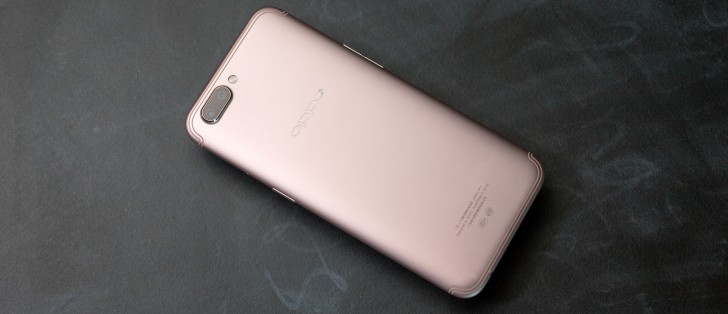 Performance
Oppo R11 is the first smartphone to feature the Snapdragon 660 chipset. The new chip by Qualcomm offers a powerful octa-core processor housing the company's custom Kryo 260 cores - four of those cores are ticking at 2.2GHz, and the other four are at 1.8GHz. Oppo says the new CPU will offer 20% performance bump over the Snapdragon 653 found inside the Oppo F3 Plus.
There is a new Adreno 512 GPU which should offer 30% performance increase over the 510 GPU inside the Snapdragon 653 platform.
Oppo R11 has 4 gigabytes of RAM, while its Plus version will pack 6 gigs.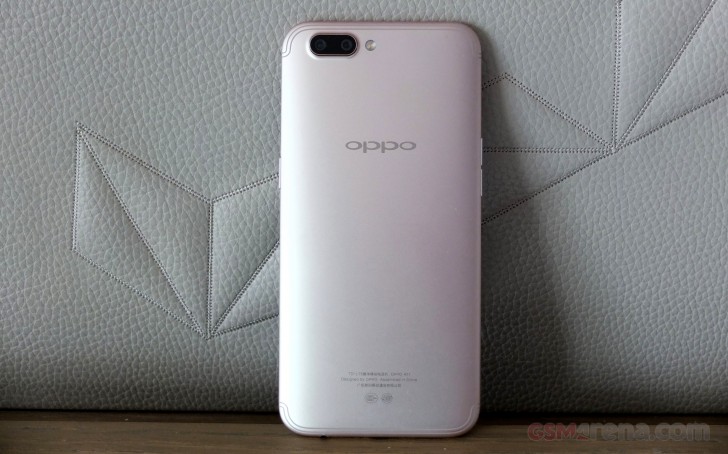 Indeed, Geekbenching the Oppo R11 revealed a noticeable performance increase when processor tasks are concerned, both multi-core and single-core. It did better than the F3 Plus featuring the previous S653 chip, and not that far from the results of the flagship Snapdragon 835 inside the Mi 6.
Note: You can hover with your mouse on the benchmark results for details on the tested devices.
GeekBench 4.1 (multi-core)
Higher is better
Xiaomi Mi 6
6719
Samsung Galaxy S8
6656
OnePlus 5
6604
Oppo R11
5777
Oppo F3 Plus
4695
Sony Xperia XA1
3611
Huawei P10 lite
3344
Oppo F3
2798
GeekBench 4.1 (single-core)
Higher is better
Samsung Galaxy S8
1991
OnePlus 5
1932
Xiaomi Mi 6
1929
Oppo R11
1596
Oppo F3 Plus
1438
Sony Xperia XA1
887
Huawei P10 lite
834
Oppo F3
764
There is at least a 30% jump in the graphics performance as promised, and the Adreno 512 easily takes the spot of our favorite GPU for the upper mid-range class.
GFX 3.1 Manhattan (onscreen)
Higher is better
OnePlus 3T
33
Huawei P10
30
Samsung Galaxy S8
23
Oppo R11
15
Sony Xperia XA1
15
Oppo F3 Plus
11
Xiaomi Redmi Note 3 (S650)
9
Xiaomi Redmi Note 4 (S625)
6.2
Huawei P10 lite
5
Oppo F3
4.5
Meizu M5 Note
3.6
GFX 3.1 Car scene (onscreen)
Higher is better
OnePlus 3T
20
Huawei P10
16
Samsung Galaxy S8
13
Oppo R11
8.6
Sony Xperia XA1
7.9
Oppo F3 Plus
6
Xiaomi Redmi Note 3 (S650)
5.5
Xiaomi Redmi Note 4 (S625)
3.4
Huawei P10 lite
3
Oppo F3
2.4
Meizu M5 Note
1.9
Basemark X
Higher is better
OnePlus 5
38844
Xiaomi Mi 6
38541
OnePlus 3T
36958
Oppo R11
20350
Oppo F3 Plus
16695
Xiaomi Redmi Note 3 (S650)
14717
Xiaomi Redmi Note 4 (S625)
10446
Sony Xperia XA1
9714
Huawei P10 lite
7588
Oppo F3
6148
Meizu M5 Note
5276
Basemark ES 3.1 / Metal
Higher is better
OnePlus 5
796
Huawei P10
716
OnePlus 3T
641
Oppo R11
345
Oppo F3 Plus
261
Sony Xperia XA1
191
Huawei P10 lite
145
Finally, we come to the compound tests, which we deem the most important measures for a smartphone's performance. Here the Oppo R11 proves to be almost flagship-grade. Sure, it isn't as good as the latest Galaxies and the Mi 6 with the Snapdragon 835, but it's very close to the still flagship-grade S820 platform. That's quite an achievement for a mid-ranger.
AnTuTu 6
Higher is better
OnePlus 5
180331
Xiaomi Mi 6
177326
Samsung Galaxy S8
174435
OnePlus 3T
165097
Huawei P10
126629
Oppo R11
118677
Oppo F3 Plus
91458
Xiaomi Redmi Note 3 (S650)
76186
Xiaomi Redmi Note 4 (S625)
61616
Huawei P10 lite
60895
Sony Xperia XA1
60707
Oppo F3
53008
Meizu M5 Note
47806
Basemark OS 2.0
Higher is better
OnePlus 5
3601
Xiaomi Mi 6
3547
Samsung Galaxy S8
3376
Huawei P10
2910
OnePlus 3T
2678
Oppo R11
2386
Oppo F3 Plus
1890
Xiaomi Redmi Note 3 (S650)
1426
Sony Xperia XA1
1351
Huawei P10 lite
1284
Oppo F3
1085
Xiaomi Redmi Note 4 (S625)
1050
Oppo R11 and its Snapdragon 660 are easily leading the upper mid-range class in terms of performance. Qualcomm did a wonderful job with the 660 chip, while Oppo did the smart thing of adopting it first. This gives Oppo a big edge over the current crop of mid-rangers and makes the R11 an easy pick when performance is concerned.
The S660 is manufactured at the 14nm process and is quite energy-efficient. We can also appreciate how cool the R11 remains on the outside after going through various benchmarks for the better part of an hour.
Killer phone one of the best smartphone
AnonD-646111
31 Jul 2017
D0H
Is wish if this specs would be in my phone -3D 5.5" inch super amoled display Corning gorilla glass 5 1080P screen resolution -Snapdragon 660 64GB 4GB DDR4 Ram -Dual sim + Sd card support -Volte -Nfc -12mp dual rear camera f1.7 with kis ...
mr. debasish barman
25 Jul 2017
9xN
it was a great device till now,,,, but back side was funny look ,,need to inprove that