Realme 2 Pro review
GSMArena team, 27 Sept 2018.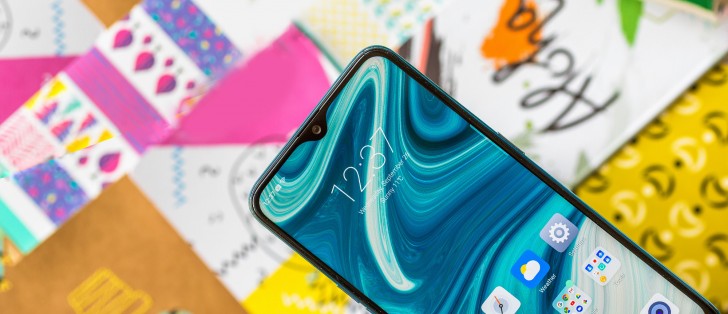 Color OS 5.2 and Android Oreo 8.1
The Realme 2 Pro runs on ColorOS 5.2, based on Android 8.1 Oreo. The Chinese maker hasn't really extended any effort to customize the UI to differentiate the India-targeted Realme sub-brand. Instead, Oppo fans will find a familiar sight and should feel right at home.
The launcher benefits from a so-called AI engine with real-time translation, fast Face Unlock, navigation gestures, and split-screen multi-tasking. Introduced with v5.0 were also new app shortcuts (long tap), new security features including safe, and better gaming mode.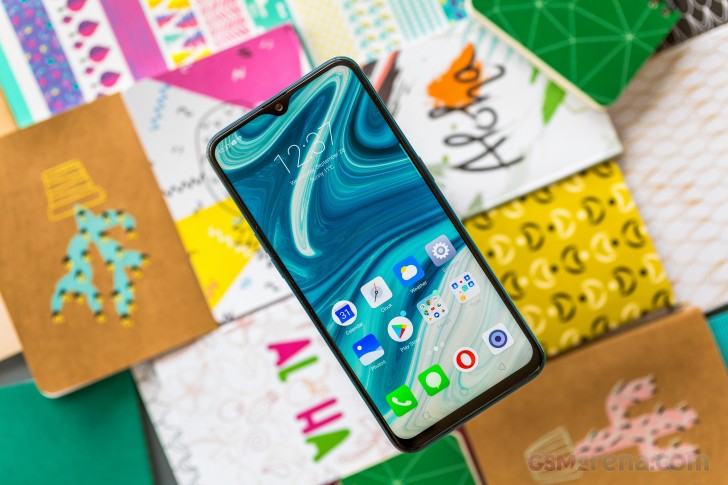 ColorOS customizations run deep, as usual, making it far off from the standard Google-developed mobile experience. The Realme 2 Pro has all Google services pre-installed, so you are ready to start your complete Android experience right out of the box.
The so-called AI builds on-device user behavior models for faster app startups and better resource management. It also uses this behavior to show relevant information on the left-most homescreen pane - calendar appointments, quick shortcuts, weather, world clock, package tracking, flight info, among others. You can configure those, or just leave them to the "AI".
The user interface is very familiar. There's no app drawer on the default launcher. Instead, every app you install appears onto the homescreen.
The fingerprint sensor is always-on, and it's fast and accurate. You can also set up face unlock in addition to fingerprint security - it's equally fast as the Realme 2 Pro wakes up the moment you pick it up.
The face recognition is indeed blazing fast, faster than on the iPhone X. It relies on 120 recognition points and supposedly can't be fooled by a picture. Surely, this implementation is not as secure as Apple's Face ID, but it's there, and it's user-friendly.
Oddly, our Realme 2 Pro came without a Theme Store.
The notification shade features notifications, quick toggles, and a brightness scrubber. The task switcher reminds of Apple's, though it has an End All button. And split screen is available for all compatible apps.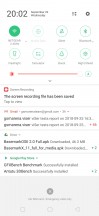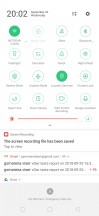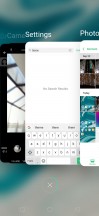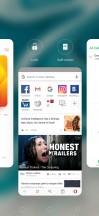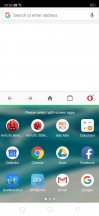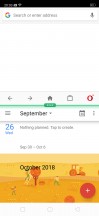 Notifications • Toggles • Task Switcher • Split screen • Split screen • Split screen
The Full-Screen Gesture model is available for the Realme 2 Pro. When enabled, Full-Screen Gesture navigation positions three small lines at the bottom of the UI. Swiping up from the middle one acts as a home button but if you stop the gestures mid-way - you'll summon the task switcher (like on the iPhone X). Swiping on the left or right ones acts as Back. You can change one of those to open the recent apps manager if you like.
You can hide those lines since they are only visual aids. And if you don't like these controls, there is a standard Android navigation bar to fall back to as well.
Clone apps and file safe functions are on board, as well as real-time translation thanks to an improved voice assistant.
There is a Phone Manager quite similar to what Huawei and Xiaomi have on their phones under the same name. It handles memory cleaner functions, app permissions and encryption, and virus scan, among other things.
Oppo provides multimedia apps of all sorts - Gallery, Music, Video, but it lacks FM radio.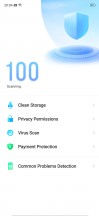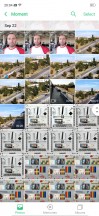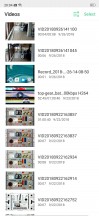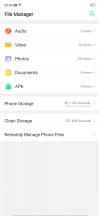 Phone Manager • Gallery • Videos • Files
An improved Game Space allows you to handpick which notifications to pass through when you are playing with friends. There are also different performance modes and an option to lock the brightness only for certain games.
Performance
The Realme 2 Pro is employing the Snapdragon 660 with AI chip by Qualcomm, which is a real treat for a budget phone. It packs an octa-core Kryo 260 CPU in a 4x2.0GHz + 4x1.8GHz configuration. The Adreno 512 GPU should be a fine performer for 1080p screens, while our Realme 2 Pro also packs the whopping 8 gigs of RAM.
If you know your chipsets, you would also spot that the high-performance cores are clocked at 1.95GHz instead of the regular 2.2GHz. This is still within the official CPU specs but it's worth keeping this in mind when analyzing the results below.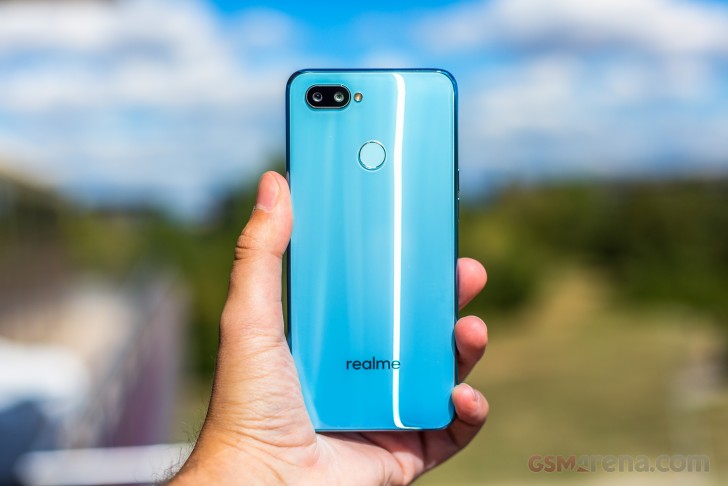 As usual, we'll start our benchmark tests with Geekbench. You can see that the difference in clock speed takes its toll on the Realme 2 Pro numbers when compared to what we're seeing from other Snapdragon 660 phones such as the Xiaomi Mi A2 and the Meizu 15. Of course, in real life use cases, this marginal difference would be impossible to spot.
A single of those Kryo 260 cores is on par with the rest of the S660 phones (V11, Meizu 15), and also close to what the Helio P60' A73 can do (Oppo F9, Realme 1). It is only bested by the 2.4GHz A73 one inside the Honor Play's Kirin 970. And it's a huge improvement over the Realme 2's A53 core. The Kryo 260 is still proving to be one of the better CPUs to have in charge of your daily Android operations.
GeekBench 4.1 (single-core)
Higher is better
Honor Play
1899
Meizu 15
1620
Xiaomi Mi A2
1617
Oppo F7
1531
Oppo Realme 1
1511
Oppo F9 (F9 Pro)
1497
Oppo Realme 2 Pro
1462
vivo V11
1457
Xiaomi Mi A2 Lite
881
Xiaomi Mi A1
877
Xiaomi Redmi 5 Plus
874
Xiaomi Redmi 5 Plus
874
Sony Xperia XA2 Plus
839
Oppo Realme 2
790
Xiaomi Redmi 5
766
Multi-core operations are an easy task for the Realme 2 Pro. It does as well as the other S660 and Helio P60 phones and only the Kirin chip in the Honor Play can beat it, but not by much.
GeekBench 4.1 (multi-core)
Higher is better
Honor Play
6696
Oppo F7
5901
Meizu 15
5877
Oppo Realme 1
5741
Oppo F9 (F9 Pro)
5673
vivo V11
5535
Oppo Realme 2 Pro
5531
Xiaomi Mi A2
4625
Xiaomi Mi A2 Lite
4388
Xiaomi Redmi 5 Plus
4309
Xiaomi Redmi 5 Plus
4309
Xiaomi Mi A1
4292
Sony Xperia XA2 Plus
4144
Xiaomi Redmi 5
4018
Oppo Realme 2
3881
The Adreno 512 GPU is a solid performer - and in this price range it's the best GPU you can get in a 1080p smartphone. If you decide to spend a little bit more cash, the Honor Play will double the frames the Realme can handle.
GFX 3.1 Manhattan (onscreen)
Higher is better
Honor Play
36
Meizu 15
15
Xiaomi Mi A2
14
Xiaomi Redmi 5
13
Oppo Realme 1
12
Oppo Realme 2 Pro
12
vivo V11
12
Oppo Realme 2
12
Oppo F9 (F9 Pro)
11
Oppo F7
11
Sony Xperia XA2 Plus
9.1
Xiaomi Mi A1
6.3
Xiaomi Redmi 5 Plus
6.2
Xiaomi Redmi 5 Plus
6.2
Xiaomi Mi A2 Lite
6.1
GFX 3.1 Car scene (onscreen)
Higher is better
Honor Play
21
Meizu 15
9.2
Xiaomi Mi A2
8.6
Oppo Realme 1
7.5
vivo V11
7.4
Oppo Realme 2 Pro
7.2
Xiaomi Redmi 5
6.8
Oppo F7
6.7
Oppo F9 (F9 Pro)
6.5
Oppo Realme 2
6.3
Sony Xperia XA2 Plus
5.1
Xiaomi Mi A1
3.5
Xiaomi Redmi 5 Plus
3.4
Xiaomi Mi A2 Lite
3.4
Xiaomi Redmi 5 Plus
3.4
Over at the compound AnTuTu test the Realme 2 Pro shows some real muscle and is on par with its peers. The Honor Play is obviously faster, but it's a little bit more expensive.
AnTuTu 7
Higher is better
Honor Play
204876
Oppo F7
139414
Oppo Realme 1
138524
Oppo Realme 2 Pro
132958
Xiaomi Mi A2
130927
Meizu 15
125444
Sony Xperia XA2 Plus
86374
Xiaomi Mi A2 Lite
77964
Oppo Realme 2
75434
The Realme 2 Pro is the fastest Realme to date and a huge improvement over the Realme 2. It is a very dependable performer thanks to its Snapdragon 660 chip. It's as great for gaming as it is for daily operations and browsing the social media. The Android OS and is Color OS launched are fast and fluid and we saw no lag even when using Split Screen.
We didn't notice any hot spots around the Realme 2 Pro even when running those benchmarks for longer durations and there was no throttling at all.
Overall, the Realme 2 Pro offers great performance for the class and nobody should be experiencing hiccups of any kind whatever the tasks at hand.
Same using it since its launch in 2018. No issues yet. Still works fast . Overall excellent.
awesome mobile using since 2018 no issues yet mobile like marble dropped and thrown many times