Oppo Reno6 Pro 5G hands-on review
GSMArena Team, 22 August 2021.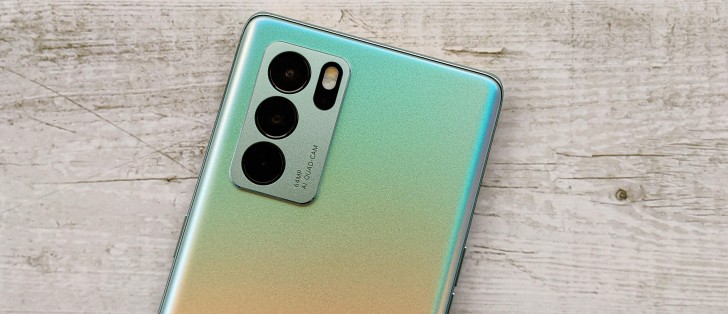 Design and ergonomics
The design has remained largely the same over the last couple of Reno generations, starting with the Reno4. We asked Oppo about when should we expect a major design overhaul and the response was that designers are constantly trying to make the chassis feel more premium and slimmer. And those efforts will carry over to the future Reno7 generation. In other words, the Reno7 will come with same looks too.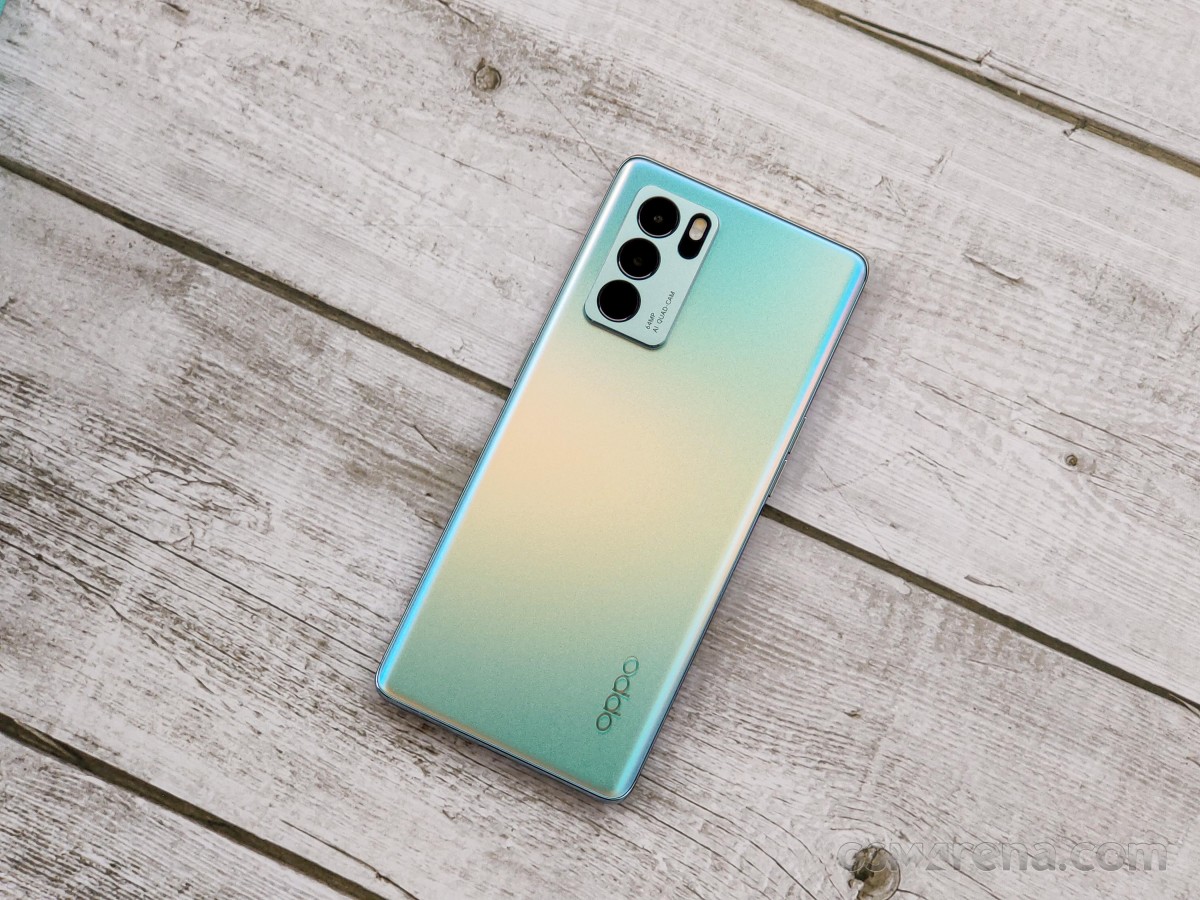 That doesn't mean we don't like the Reno6 Pro 5G's build, though. It follows the usual glass sandwich trend with a metal frame holding things together. The front has Gorilla Glass 5 protection layer while the back settles for regular glass. Well, regular might be an understatement because Oppo has once again used its Reno Glow process for those distinctive color gradients and soft-touch matte feel.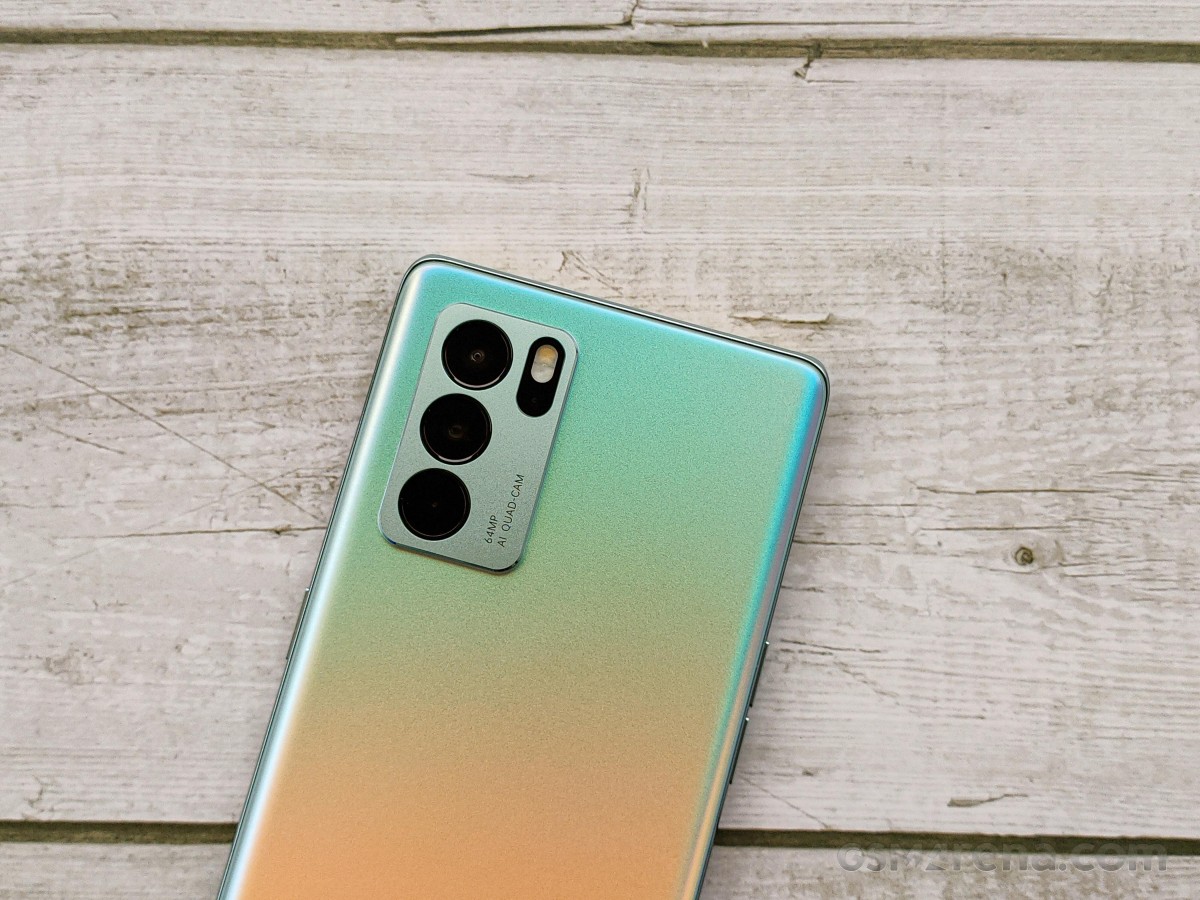 We got the Aurora variant with us and it's gorgeous. Colors shift at different angles while the top side of the frame glows in the dark. This one might be useful when looking for your phone in a pitch black room. The rest of the frame has a glossy finish serving as an accent to the matte glass back.
The camera island remains almost untouched with the vertical camera stack. The LED flash has been moved right next to the macro shooter and the bump has transitioned into a boxier overall look.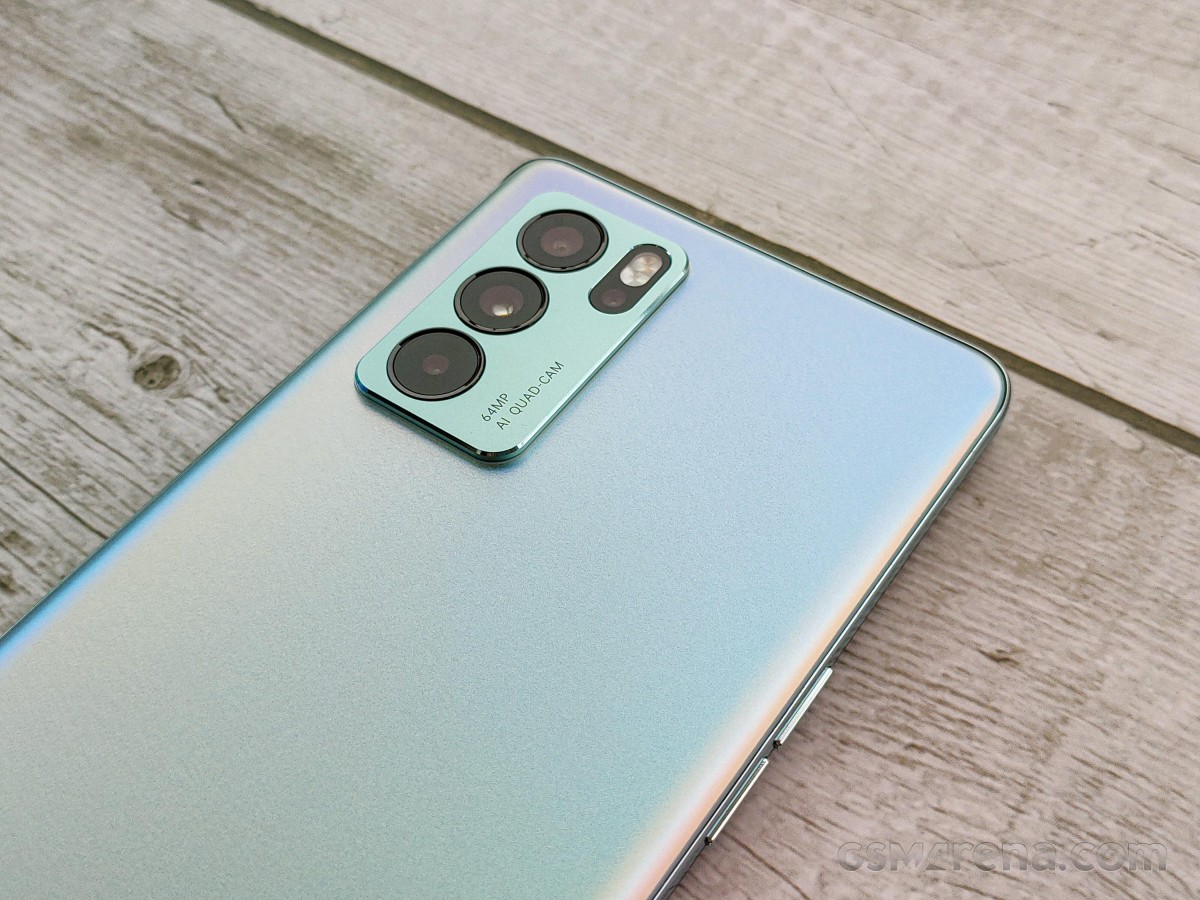 Dimensions and weight are almost identical to the Reno5 Pro 5G with the newer version being 4 grams heavier (now 177g) and is now taller and narrower. We are talking about a difference within a millimeter, though.
The front flaunts a 6.55-inch OLED with curved sides and a punch-hole front-facing camera design in the upper-left corner.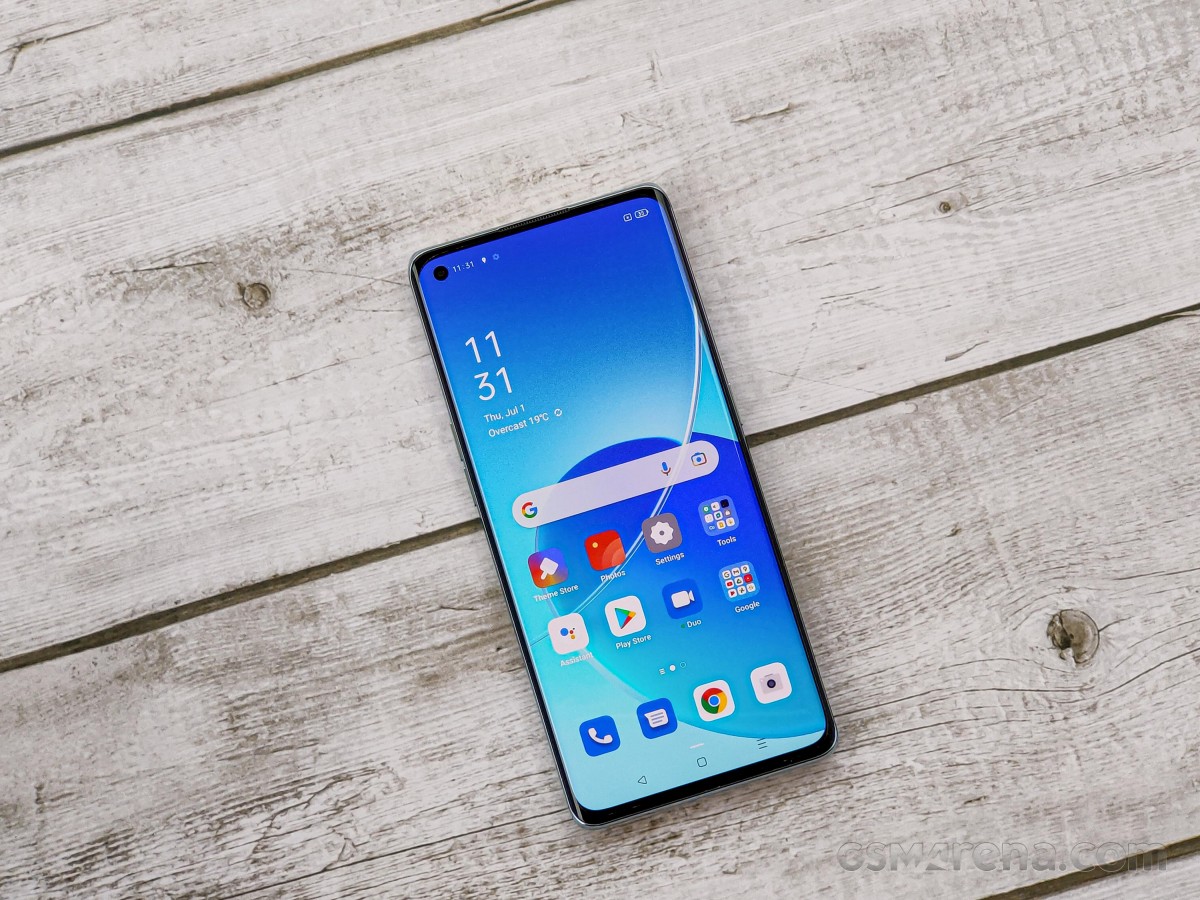 Ergonomics are good with a few small exceptions. A slightly curvier back panel would have gone a long way for the grip and the placement of the under-display fingerprint reader is rather sub-optimal. It's too close to the bottom bezel making it a bit hard to reach comfortably.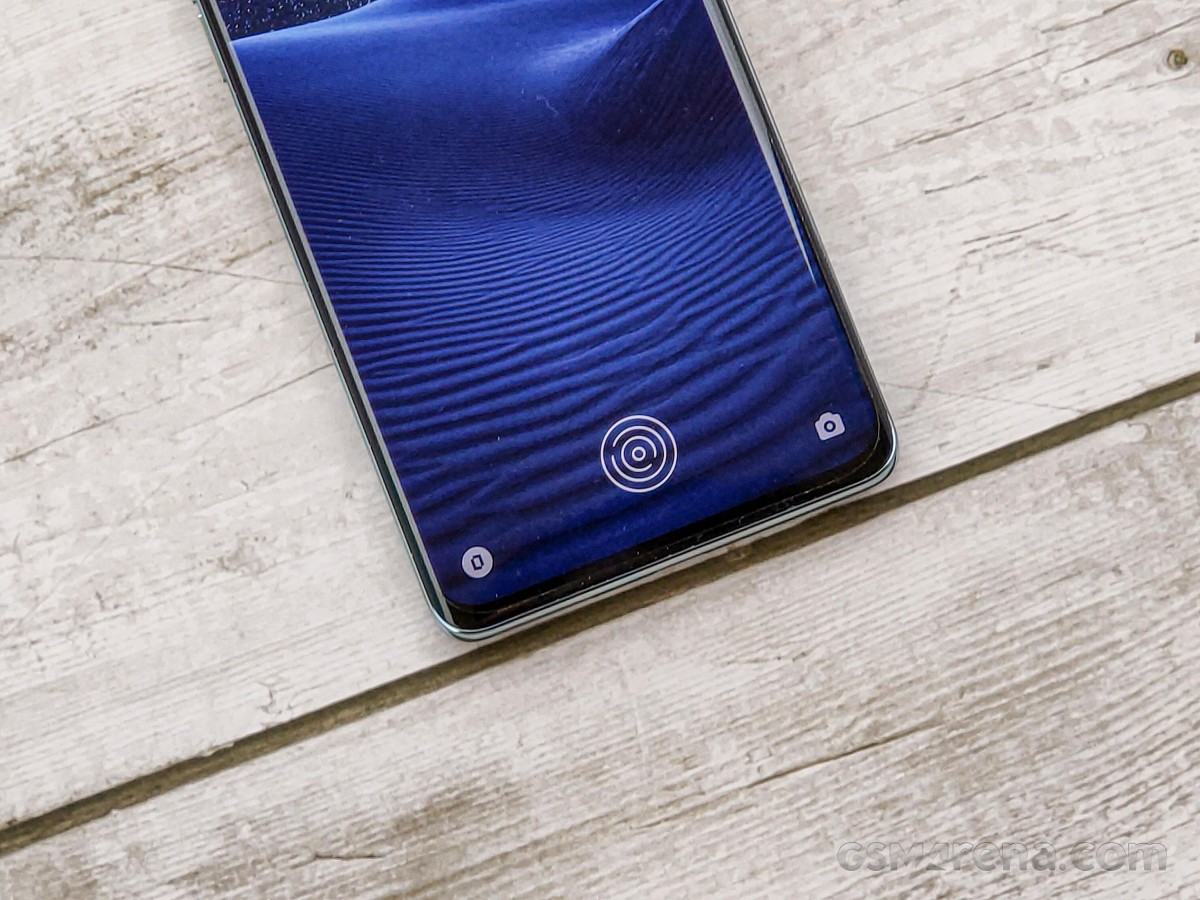 Hardware overview
Despite its impressive specs, the Reno5 Pro 5G's display feels a bit old already. Cheaper phones like the Realme X7 Max 5G and the Poco F3 GT offer just as bright 120Hz panels and even Oppo's sister company, OnePlus, has a Nord 2 to offer that has a 90Hz display but costs considerably less.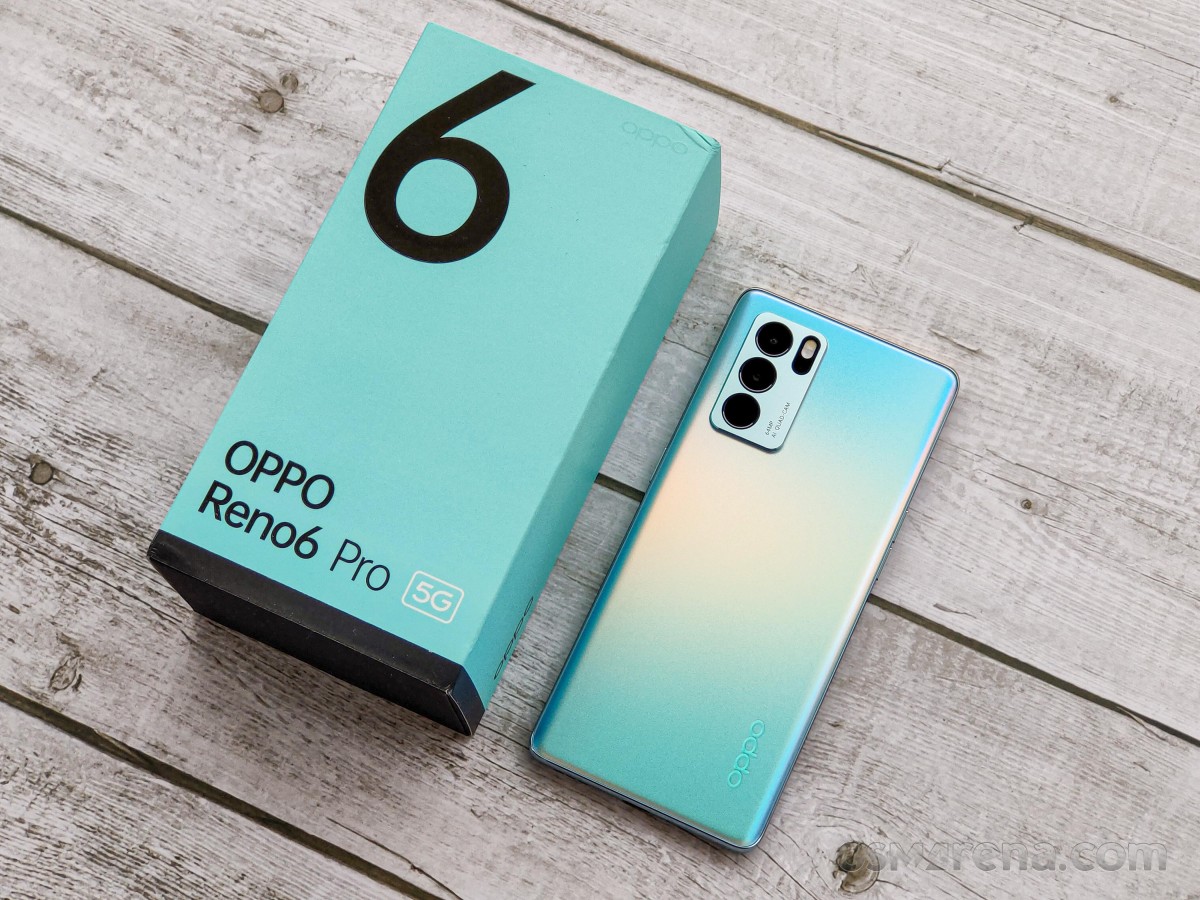 Since the phone uses supposedly the same 6.5-inch OLED panel ever since Reno4 Pro 5G, we are inclined to believe the advertised brightness levels. In manual mode, the panel can go up to 500 nits, beyond 800 nits in Max Auto and 1100 peak brightness, which is probably measured on a small white spot on the screen and is applicable to when viewing HDR10+ content. Our earlier review findings confirm these results.
The Dimensity 1200 SoC is MediaTek's latest and greatest packing an octa-core CPU working in a 1x Cortex-A78 @3.0 GHz, 3x Cortex-A78 @2.8 GHz and 4x 2.0 GHz Cortex-A55 configuration. The graphically intensive tasks are taken care by the Mali-G77 MC9 GPU. Here are some preliminary benchmarks, not that we haven't tested this chipset before.
GeekBench 5 (multi-core)
Higher is better
vivo X60 Pro
3490
Oppo Reno5 Pro 5G
3091
OnePlus Nord 2
2792
Realme GT Master
2773
Oppo Reno6 Pro 5G
2621
Realme X7 Max 5G
2614
Poco X3 GT
2310
Oppo Reno4 Pro 5G
1805
GeekBench 5 (single-core)
Higher is better
vivo X60 Pro
1034
Realme X7 Max 5G
967
OnePlus Nord 2
814
Oppo Reno6 Pro 5G
813
Realme GT Master
791
Oppo Reno5 Pro 5G
712
Poco X3 GT
693
Oppo Reno4 Pro 5G
615
AnTuTu 8
Higher is better
vivo X60 Pro
639612
Realme X7 Max 5G
605819
Oppo Reno6 Pro 5G
524692
OnePlus Nord 2
512164
Poco X3 GT
506800
Realme GT Master
488456
Oppo Reno5 Pro 5G
435166
Oppo Reno4 Pro 5G
317139
GFX Manhattan ES 3.1 (offscreen 1080p)
Higher is better
vivo X60 Pro
96
Realme X7 Max 5G
86
Oppo Reno6 Pro 5G
81
OnePlus Nord 2
75
Oppo Reno5 Pro 5G
74
Poco X3 GT
74
Oppo Reno4 Pro 5G
37
GFX Manhattan ES 3.1 (onscreen)
Higher is better
vivo X60 Pro
86
Realme X7 Max 5G
79
Poco X3 GT
68
Oppo Reno6 Pro 5G
61
Oppo Reno5 Pro 5G
57
OnePlus Nord 2
57
Oppo Reno4 Pro 5G
31
GFX Car Chase ES 3.1 (offscreen 1080p)
Higher is better
vivo X60 Pro
59
Realme X7 Max 5G
50
Oppo Reno6 Pro 5G
48
OnePlus Nord 2
46
Poco X3 GT
44
Oppo Reno5 Pro 5G
43
Realme GT Master
33
Oppo Reno4 Pro 5G
21
GFX Car Chase ES 3.1 (onscreen)
Higher is better
vivo X60 Pro
51
Realme X7 Max 5G
44
Oppo Reno6 Pro 5G
42
OnePlus Nord 2
38
Poco X3 GT
38
Oppo Reno5 Pro 5G
36
Realme GT Master
29
Oppo Reno4 Pro 5G
18
3DMark Wild Life Vulkan 1.1 (offscreen 1440p)
Higher is better
Oppo Reno6 Pro 5G
4236
OnePlus Nord 2
4224
Realme X7 Max 5G
4216
vivo X60 Pro
4203
Poco X3 GT
3991
Oppo Reno5 Pro 5G
2713
Oppo Reno4 Pro 5G
1668
As you can see, the chip is no match for the Snapdragon 870 powering the Reno6 Pro+ 5G but it's still ahead of its other Dimensity siblings and mid-range Snapdragon chipsets. It's also based on the 6nm process, suggesting better thermals and energy-efficiency than the rest of the 7nm Dimensity chips.
While the handset is offered in two memory variants in China, the company decided to bring just the beefier 12GB/256GB version. And the international iterations settle for UFS 2.1 storage instead of 3.1. This raises the entry barrier significantly and makes the device the most expensive Dimensity 1200-powered phone on the Indian market.
Just like the screen, the cameras didn't receive much love this time around as well. The familiar 64MP main camera with f/1.7 aperture is heading the department along with an 8MP f/2.2 ultrawide camera and 2MP f/2.4 macro one. There's also the 2MP depth sensor with questionable usability. The punch-hole houses a 32MP sensor with f/2.4 lens.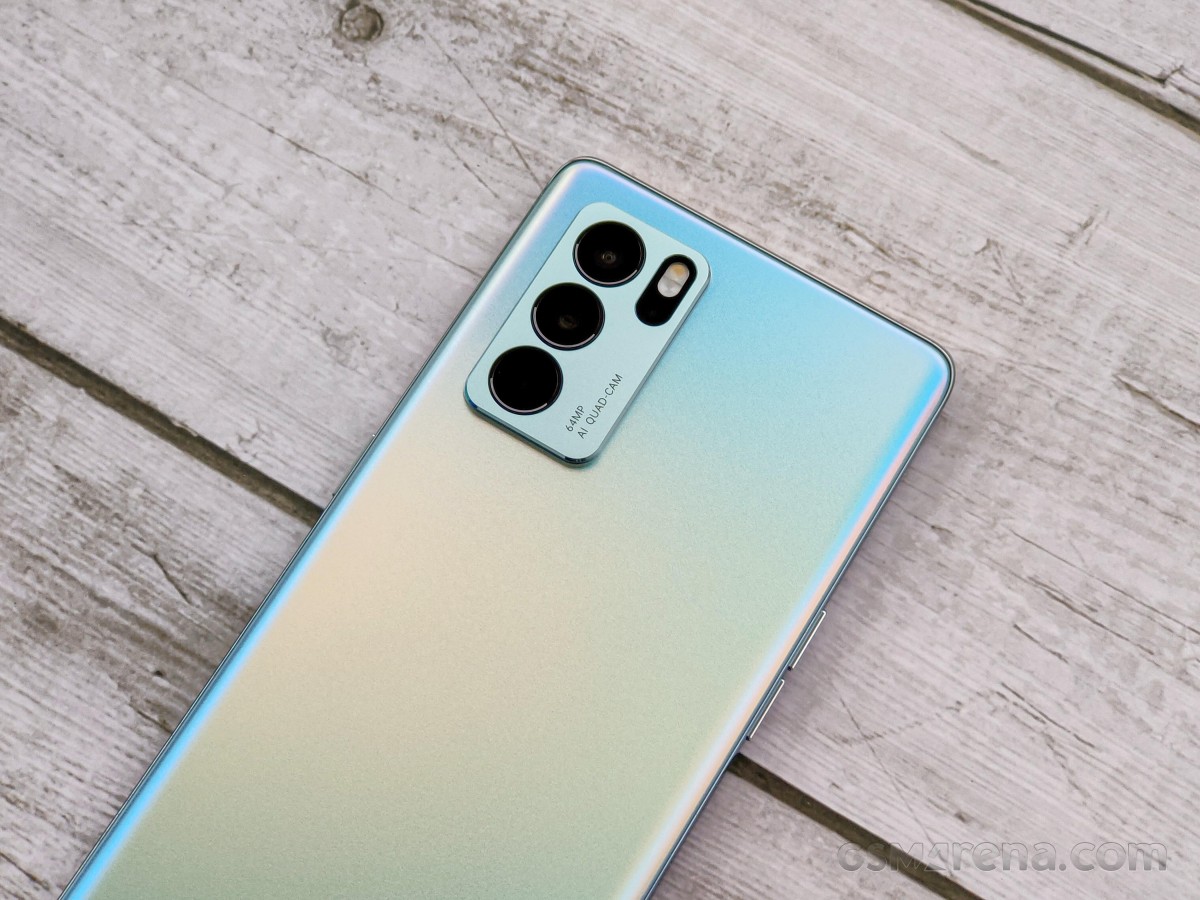 Small bump in the battery capacity is in order. Now 150 mAh more, the 4,500 mAh battery should still be enough for a day away from the plug. That hasn't affected the charging times all that much, though, as the device still fills up absurdly fast. Oppo advertises 31 minutes to a full charge but in our experience, a full 100% charge takes about 37 minutes. We were at the 90% mark in 30min.
After purchase, within a few days found out, that many functions do not even work. For instance: - Create groups of the contacts. - Backup OPPO in cloud (HeyTap Cloud). - Device's own E-mail app is missing. But mandatory use of Gma...
Oppo Reno 6 Pro 2021 year camera not OİS ?! Are you Ok???