Interview: Oppo's Tasleem Arif talks Reno Glow, rollable phones, and future plans
Sagar, 11 July 2021
Oppo will introduce the Reno6 series in India next week, and ahead of the launch, we spoke with Mr. Tasleem Arif - Vice President and R&D Head of Oppo India - to learn more about the Reno Glow design used for the making of the Reno6 Pro 5G, rollable smartphones, and the company's future plans. You can read the interview below for all the details.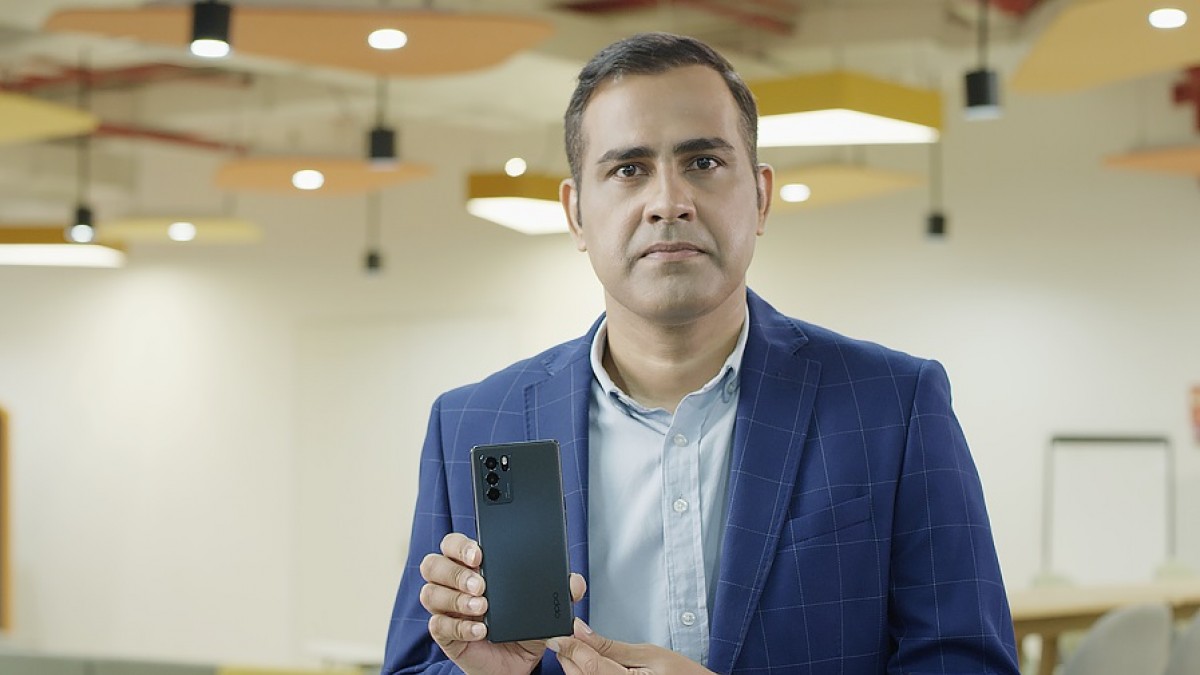 Mr. Tasleem Arif - Vice President and R&D Head of Oppo India
What were the key challenges needed to be overcome during the development of the Reno Glow?
Oppo's exclusive Reno Glow effect has been a central part of the overall design of the Reno series and has evolved together with the series through each iteration. The Reno Glow design was first introduced on the Reno5 Pro 5G, where it brought a subtle sparkling finish to the anti-glare glass thanks to Oppo's unique etching technique. On the brand new Reno6 series, the Oppo exclusive Reno Glow effect has been improved to make it even brighter and more sparkling.
Now, for the first time on the most awaited Reno6 series, all available colors in the series come decorated with the sparkling Reno Glow effect, including Aurora and Stellar Black color finishes. Through a manufacturing process that takes more than 14-hours, the glass back cover of the phone is created to achieve two seemingly paradoxical properties of the Oppo exclusive Reno Glow effect – matte texture and shiny appearance.
The complete manufacturing process involves around 50 complex steps, including glass cutting, 3D forming, ion exchange, etching and more. Among these steps, etching is one of the most crucial in creating the desired properties of the Oppo exclusive Reno Glow. Multiple variables need to be controlled during the process, such as the angle, temperature, and duration in which the glass is immersed into the proprietary etching solution.
Meanwhile, most steps in the manufacturing process need to be conducted in a fully dust-free space, with manual checks performed on each piece of glass between every step to guarantee the high quality of the glass back cover. For example, to check for complete and uniform coverage of the coating, the glass is sprayed with a mist solution and examined to see how droplets gather on the surface. If the coating has been applied correctly, the water droplets appear fine on the surface.
Why did you decide to introduce the Glow with the Reno6 series rather than a flagship from, say, the Find X family?
Innovation has been the key to Oppo's growth story and our Reno Series has been a testimony of our innovation first approach. The Reno series is known for the rich and long legacy of mastering innovation with industry-first features. The Reno series has always been a firm favorite among millions of our users globally.
Since the introduction of the innovative Reno Glow process on the Reno5 Pro 5G, the unique design language that the Oppo Reno series has been consistently maturing allows the series to establish a special niche among consumers. With the Reno6 series too, we have tried to create the same premium design that the series is known for. Through the upcoming Reno6 series devices, we aim at attaining leadership in the premium device category.
Does the new finish have an impact on durability - either being more or less resistant to scratches or breaking?
Reno Glow not only gives the phone its premium feel and spectacular appearance, but also helps provide the Reno series with the comfortable, carefree feeling that it has come to be known for, with the fingerprint and stain-resistance properties enabled by Reno Glow on all Reno6 Series products. Thin and lightweight are another two properties that all Reno smartphones offer. On the Reno6 series, Oppo has aimed to find an optimal weight-to-thickness balance that better suits users' habits better. With over 20 patents filed globally, Oppo's exclusive Reno Glow process is central to the design appeal of the Reno6 series as it creates a subtle shimmering effect to the anti-glare glass while making it fingerprint-resistant.
Previously, Oppo was very keen on experimenting with bold designs with moving parts such as those with the Find X or the Oppo N series way back in the day. Were those discontinued due to inefficient internal space use, durability concerns, manufacturing costs, or something else entirely? Is that a closed chapter for you, or can we expect to see more of those in the future?
At Oppo, our belief is that for a design to be exceptional, it must satisfy three different levels of criteria. The first and most fundamental of these is that the design should attract people – through appealing colors and unique shapes or forms. Second, the design needs to satisfy user needs when it comes to providing a comfortable user experience across the lifetime of the product. And finally, once those two conditions are met, the design needs to then deliver additional value to its owners – one that makes them feel excited each time they interact with the product, and feel empowered by the value brought by the brand.
A thin, light and premium body is a staple feature on all products in Reno6 series. To assure these, Oppo has continually optimized the use of components and their layout within the device to achieve a thickness and weight to better handheld experience and overall user experience. The result of all these improvements is a series of devices that can be easily held with just one hand, can fit comfortably into a pocket, and can be used for long periods without feeling tiresome. Based on technology research and consumer surveys, Oppo has identified a range of 7.0-8.0mm as the optimal thickness for delivering a better user experience on smartphones. Meanwhile, a weight of around 175g is seen as an ideal heft, giving the user a sense of high quality and durability when they hold it in their hand, without over-burdening them by being too heavy or causing them to drop the phone accidentally.
For Oppo, a smartphone is no longer just a tool. Instead, it has become a companion for people, helping us record every single moment of our daily lives. It is more like a friend, who is young, imaginative and passionate about life. Therefore, we want to empower our products with emotions, thus enabling users to express themselves in a natural and true way.
With the inclusion of OnePlus under the Oppo brand, can we expect to see the Glow finishes on OnePlus phones?
Our current focus right now is on making our customers experience the marvel of Reno glow on our most awaited Reno6 series. We will keep you posted on any further developments.
To what extent do you think people care about design when picking their next phone? With almost everybody using cases these days, do you think it's a bit sad that all of these exciting developments are a bit wasted when most people don't get to see them much?
Smartphones are more than just a projection of our personalities; it's an extension of what we represent and what we want to convey. Hence, the design of the smartphone plays a huge role in zeroing down on the one to buy. And we have seen a lot of ongoing experiments been done in terms of look and feel, with all kinds of materials and finishes to ensure the design of the smartphone catches the eye. Over the years, we have designed and developed some great looking smartphones that seamlessly combine humanity and technology together.
It is true that technical features and functionality play an essential role in how people perceive a smartphone, but design – from the color, material, finish, and shape – a phenomenal design is capable of creating a refreshing first impression towards the product, as well as a lasting bond, between the user and their phone.
Many levels of design have always been the guiding force behind our approach to the popular Reno series of smartphones, combining innovative technology with trendy designs to refresh the experience for consumers with each generation. "Slim", "light", "shiny", and "gradient" are all design identifiers that immediately bring to mind the Reno series.
Looking into the future, Oppo is furthering its efforts to consistently improve the Reno Glow process, introducing more creative visual appeal to the foundation of its matte and sparkling appearance. Together with all these upgrades, the design language of the Reno series will continue to be passed on to the next generations of devices, incorporating more innovative advancements to the core design features to create a better user experience through design.
Finally, but certainly not least important, another hot design trend - how's the development of Oppo foldable phones coming along? Can we expect to see something in the market this year?
Our human-centric approach to innovation has produced some amazing achievements in the past year. The Oppo X 2021 rollable concept handset demonstrates our cutting edge exploration towards a more intuitive & user-friendly interactive experience. With Oppo X 2021, we have already made significant progress in rollable technology. As a concept technology, it has gained a lot of appreciation from tech experts and enthusiasts across the world. Our exploration and thinking in these future technologies is a continuous process. Stay tuned with us for further development on Oppo X 2021.
Also, where do you stand on the vertical fold, horizontal fold, and rollable phone debate - got any favorites that you believe will benefit users more than the others?
Compared with foldable displays with fixed sizes, rollable displays are infinitely adjustable between their minimum and maximum sizes, opening up more possibilities for productivity, entertainment, and daily use.
Rollable device technologies will be the trends of tomorrow. The rollable screen is an amazing concept also because it gives the user the freedom to choose what screen size they want and not depend only on 1 or 2 sizes. This means users need to only tap a video and the phone to automatically adjust the screen size to suit the aspect ratio, providing a full screen viewing experience at all times. Alternatively, when reading an e-book or editing a document, the larger size provides a more pleasant reading experience. Meanwhile, message pop-ups that appear while playing a game can also present the full message without interrupting the game screen.
Oppo introduced the 125W flash charge technology last year. When can we expect it to arrive in India and other markets?
Oppo always strives to deliver newly upgraded technologies and products to its customers as soon as possible. However, we have the highest standards for all our products and will only launch them when they are completely ready. We will share updates when we have a timeline for commercial use.
Is there anything you would like to tell our readers?
Oppo Reno6 Pro and Reno6 will launch in India with two distinct color variants, Aurora, and Stellar Black. Both of these feature a humanistic design for a smooth and immersive experience while offering a premium design and appeal.
Both the devices process technology that uses crystal drilling technique to create millions of pyramid-shaped crystal structures at a microscopic level with Diamond Spectrum body which is the combination of five core elements. The new Aurora color could shine a million colors while holding in different angles. The overall texture of the material has been improved (roughness of the surface decreased) by 30% to give the glass a smoother, cooler, and more delicate touch. On a hot summer's day, users will be able to feel cool and refreshed when they hold the phone in their hands.
Aurora, which is created using an upgraded version of the Oppo-exclusive Diamond Spectrum process that sits beneath the Reno Glow on the back cover of the phone. Thanks to its special properties unique to this color - the Diamond Spectrum, it creates an ever changing color effect when viewed at different angles and in different light, which is further enhanced by the crystal-clear shine of the Reno Glow effect. Black has been a fan favorite and the Oppo-exclusive Reno Glow effect makes it premium and the design savant which is loved by the consumers.
Related
Exactly. Day and night compared to Xiaomi's interview that was published just now
Anonymous
13 Jul 2021
7kk
I might have, if u gave any sources/info/leaks/rumours, etc. Sure the Pro+ would be expensive and close to 47k, but the regular Pro would in all likelihood be priced similarly to last year (~36k) since it's only a spec bump, nothing else (unless...
Anonymous
13 Jul 2021
7kk
So true, the Find X was the best example (it only lacked the 3.5mm jack). I still want to buy one but can't find a good price in India. At least Sony is continuing with bezels, and Asus with flip camera (not sure how much longer tho given this...
Popular articles
Popular devices
Electric Vehicles