Oppo's 65W SuperVOOC is official, also introduces 30W Wireless VOOC Flash Charge
Yordan, 18 September 2019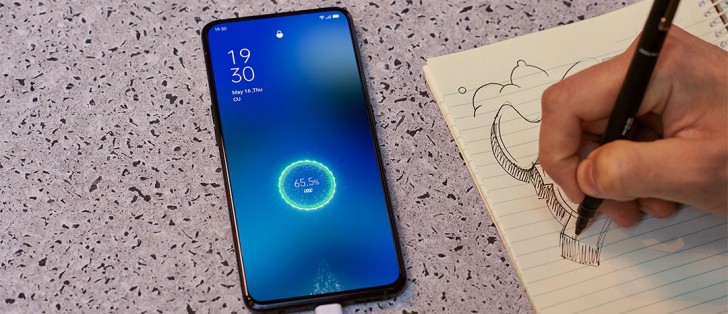 Oppo revealed yesterday the upcoming Reno Ace flagship tops up its battery in under 30 minutes with a fast-charging standard, able to reach 65W rates. Now the whole technology is official under the name 65W SuperVOOC Fast Charge 2.0, along with two more - 30W Wireless VOOC Flash Charge and VOOC Flash Charge 4.0.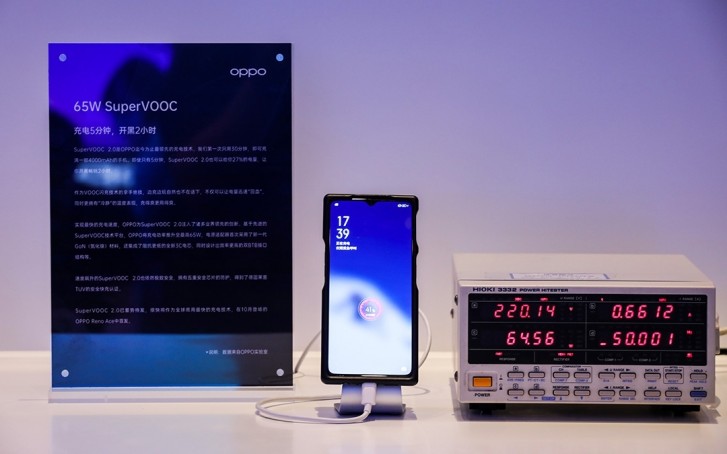 The SuperVOOC 2.0 is a follow-up of the stupid-fast SuperVOOC, introduced last year with the Oppo Find X Lamborghini Edition. It will officially hit the market with the Reno Ace on October 10. The Chinese company says the 4,000 mAh battery of the device will fully charge in just 30 minutes.
It can also charge up to 27% in just five minutes, which would be a great deal when you're waiting for your coffee, for example.
In order to reach such speeds, Oppo adopted the Gallium Nitride (GaN) semiconductors that shorten charging time and reduce adapter size. There are five safety protection measures throughout the adapter, wire, and handset, to ensure maximum safety.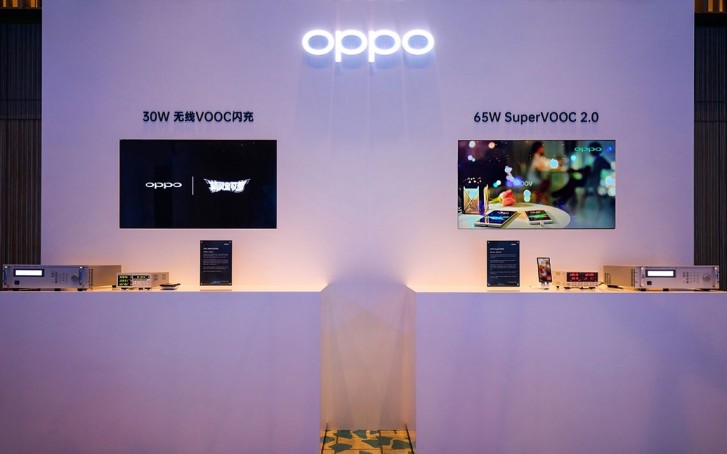 The 30W Wireless VOOC Flash Charge will top up a 4,000 mAh power cell within 80 minutes. It is compatible with the Qi standard, so even devices that cannot receive more than 5W or 10W can use the technology, albeit limited. To avoid massive overheating, Oppo said it adopted "several hardware designs, HDVC and a foreign object detection function".
The VOOC 4.0 will also reach 30W and the company calls it "the next generation Flash Charge solution for all". Compared with VOOC 3.0, it will be 12% faster - 67% in 30 minutes and 100% in 73 minutes, measured on a 4,000 battery. Thanks to an optimized VFC algorithm, the charging time for the final 10% of battery capacity is reduced.
Related
Just out of curiosity what phone do you use? Maybe your manufacturer doesn't allow you to use the entire battery capacity and when it's empty it's actually 10% or something like that. Tesla does this for their car batteries. They allow you to dischar...
Note9 User
19 Sep 2019
nET
I replied to your comment yesterday but it's been deleted, maybe because it included the Samsung link, so here it is again without the link. I'm sure the advice for your device battery will be similar: How can I optimise and extend the battery...
Popular articles
Popular devices
Electric Vehicles