Oppo's Camp Guard shooter shows the best of Snapdragon 8 Gen 2's ray tracing
Yordan, 16 November 2022
Qualcomm just introduced the Snapdragon 8 Gen 2, and one of the key talking points was the chip's capabilities for hardware-accelerated ray tracing. Today, Oppo gave us an insight into how the feature would look on a smartphone.
The company developed a first-person shooter game called "Camp Guard" that demonstrates the ray tracing capabilities on a smartphone, which can be seen in the neat promo video below.
Ray tracing enables far more realistic graphics, as it boosts the physical accuracy of reflections and shadows, bringing games closer to reality. Oppo started working on the effects and visuals back in 2020 and eventually decided to share its findings with Qualcomm. The two companies optimized the PhysRay Engine 2.0 drivers so textures appear smoothly on a smartphone. The result is running Camp Guard at 720p 60 fps for thirty minutes on a room temperature device, powered by the Snapdragon 8 Gen 2.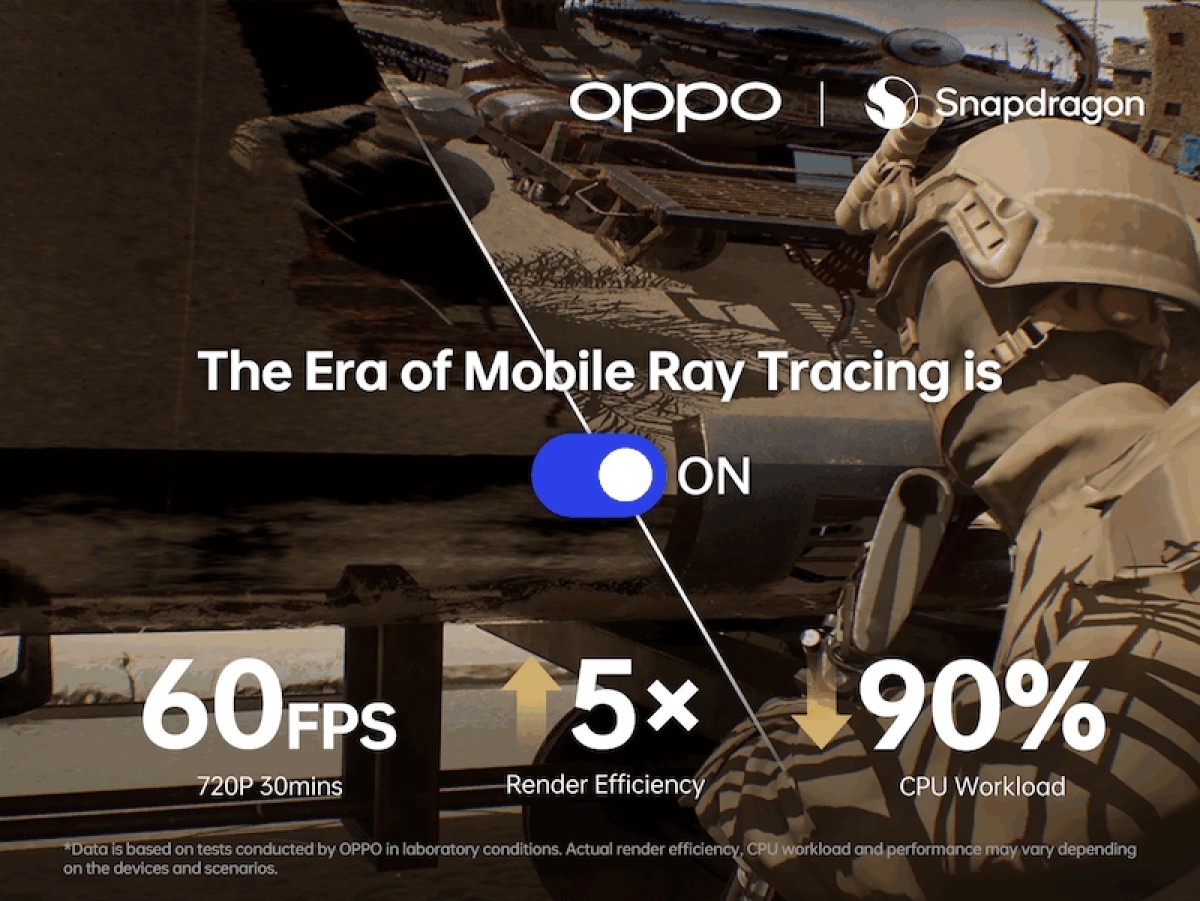 We can see in the live demo that the soldier's reflection appears on the oil tanker, something that wasn't achievable until now on mobile phones - only PCs and gaming consoles. The shadow also changes according to an angle, instead of being a fixed geometric figure.
Objects that aren't in front of the screen can also be rendered, thanks to the Physically-Based Rendering textures, where even bullets interact with the light, making the graphics even more realistic. We can also see refraction in water, ripples, and multiple sources of light in different directions.
Oppo's PhysRay Engine is fully available to game developers and creators, which should pave the way for more realistic mobile games in the future. One smartphone that will have the engine is the upcoming Oppo Find X, which was confirmed to run the Snapdragon 8 Gen 2 once it arrives in 2023.
Related
Anonymous
17 Nov 2022
U@K
Wow!! Really amazing the kind of RT they showed, now if only it gets implemented and runs at 60fps maybe with some AI/DL upscaling, that'd be just awesome!
Anonymous
16 Nov 2022
PWD
There are already a few titles in the App Store that are as demanding as Genshin Impact
Popular articles
Popular devices
Electric Vehicles