Our OnePlus 7 video review is up
Vlad, 17 July 2019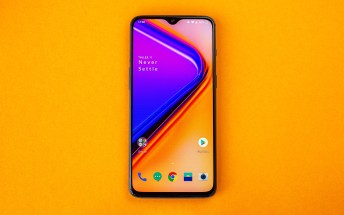 With all the hype, and all of the coverage and attention that the OnePlus 7 Pro got, you might have missed the fact that the Chinese company also launched the non-Pro OnePlus 7 alongside it. This is strangely not officially for sale in the US, but it is yet another value flagship from the brand, and thus sticks much more to the proven OnePlus formula than the 7 Pro, which took things up a notch (while getting rid of the notch in the process).
The OnePlus 7, then, should be familiar as a concept to anyone who's ever purchased a OnePlus device before, or was at least interested in doing the deed. It's cheaper than its higher-end sibling, but it does pack some important upgrades compared to its predecessor, the OnePlus 6T from last year, even if the design is eerily similar.
This is thus the OnePlus 6TT - or if Apple was the company naming it, the OnePlus 6Ts. You may have already read our in-depth review of the OnePlus 7 - if not, make sure you go through it - but now the time has come for us to put our thoughts about it in video form.
The video review embedded above is fresh out of the oven and covers all of the essentials you may be interested in: we go through the phone's design, build, screen, battery life, software, performance, and camera quality.
Related
Thanks for the video review. More people need to know about this phone. Hopefully OnePlus decides to bring the next non-pro version to North America.
Absolutely not impressive at all.
I miss the old cool Oneplus, now its just Realme or Redmi to pick... :<