Pixel 5 gets mediocre 120 points in DxOMark test
Peter, 30 October 2020
Google Pixel 5's main camera uses the Sony IMX363 – the same sensor that the Pixel 3 and 4 used. And it's lacking the Pixel Neural Core as apparently the Snapdragon 765G has enough processing power to handle the Google algorithms that are behind the success of the Pixel cameras.
Still, there's only so much that can be done given the old hardware and lack of a third camera – there's no zoom camera this time (last year, it was the ultra wide cam that was MIA). DxOMark gave the phone an overall score of 120, an improvement over the previous generation but not enough to get it out of the mid-field.
The Photo score of 129 is middle of the road performance, with the camera getting praise for producing photos with nice detail and texture, pleasant colors and accurate autofocus. However, low light performance was just okay and there's noise visible even in daylight photos.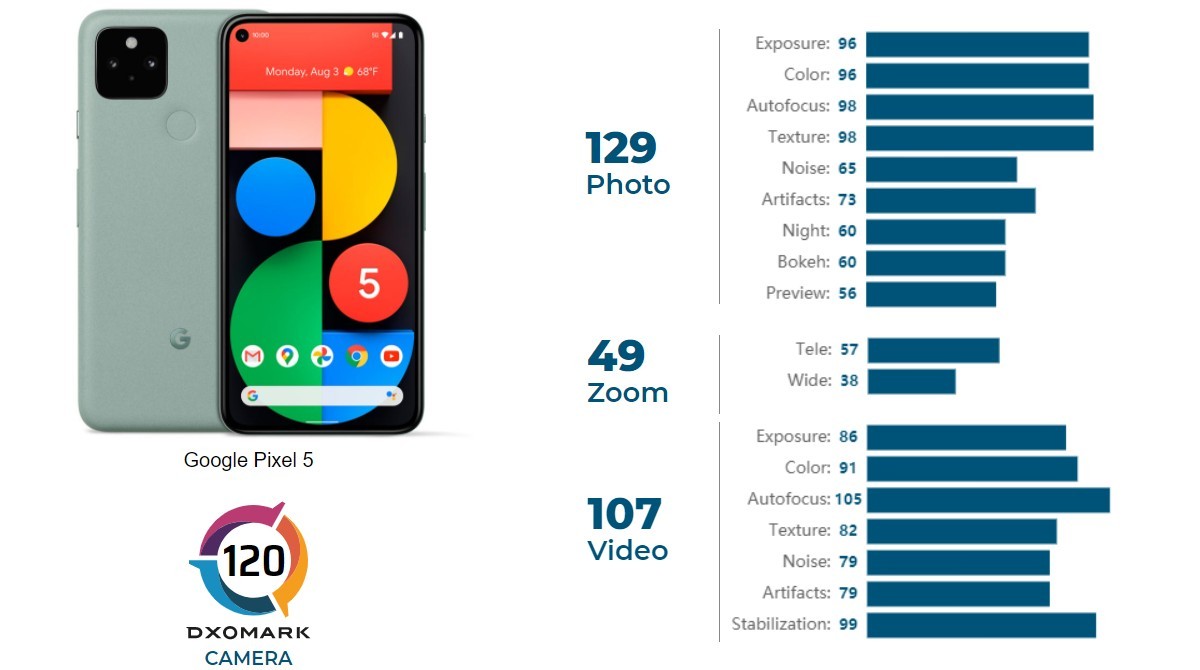 The Pixel 5 got 49 points on the zoom test, below what the Pixel 4 achieved (understandable, that one had an actual telephoto cam). This hurts the overall photo score and going past 2x magnification is not recommended. Note that the "zoom test" also includes the ultrawide camera to cover the whole zoom range, but that has its own issues - it isn't as wide as competition and fits noticeably less in the frame.
The video camera earned a score of 107. It was praised for its autofocus performance and the stabilization in 4K 30 and 60 fps videos. Videos turn out better in good light than at night and the noise that plagued the still camera is visible here too.
You can read DxOMark's full review for more details on how the Pixel 5 performed during testing with the new camera review protocol.
Related
NOTHING on the DxOmark web site is of any use to anyone that is interested in making great photographs (rather than seeing who has bragging rights due to their equipment).
Most news regarding this device on this site are extremely biased against it. 120 medicre? What? 765 underperformer... What? Get real.
Anonymous
04 Nov 2020
kc2
Gsmarena: pkease wake up. 120 dxomark score is very good for a phone without a telepoto camera which costs $700. Dxomark just published that the $1300 Samsung note 20 ultra got also a 120 score eventhough it has many cameras. We want ...
Popular articles
Popular devices
Electric Vehicles