Poco M3 review
GSMArena Team, 14 December 2020.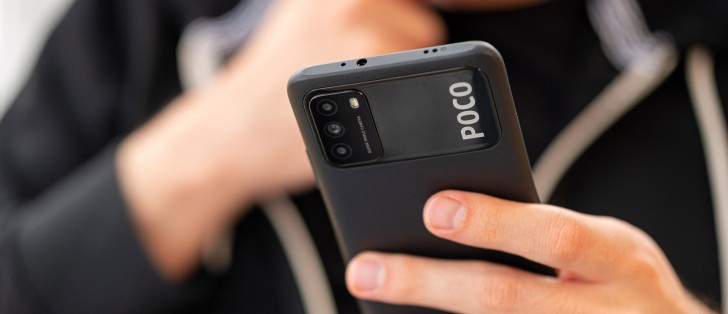 Android 10 and MIUI 12
The Poco M3 boots MIUI 12 out of the box. The launcher is based on Android 10 and has a streamlined interface with cool animations, new privacy options, floating windows, a dedicated Control Center, Super Wallpapers, and a brand-new app drawer, among other features.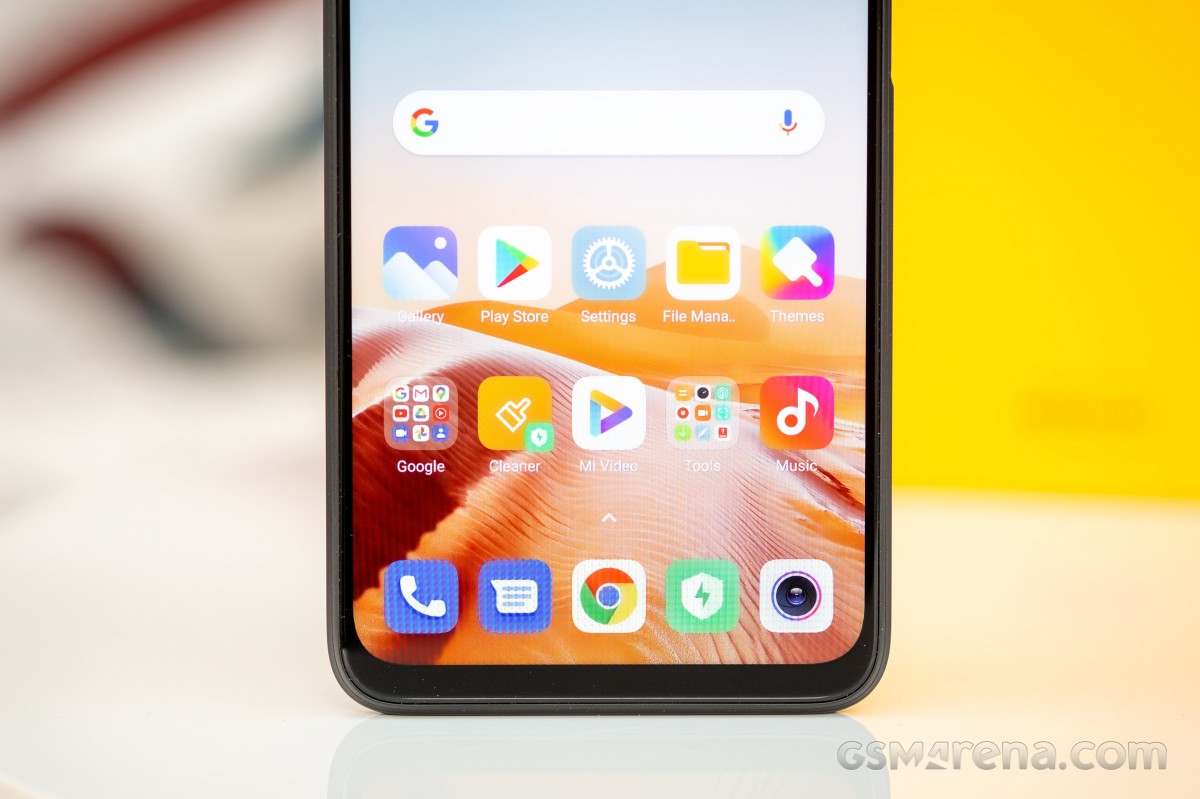 Overall, MIUI 12 is not a massive overhaul over MIUI 11, but more of a refresh with new looks here and there, new cooler animations, and a couple of new features though it's up to you whether you'll use them or not.
You unlock the screen via the fast side-mounted fingerprint scanner. The reader is easy to set up, fast, and superbly accurate - it is on par with the best in business. One issue with side-mounted fingerprint scanners is that you often get misreadings when you are fidgeting with the phone or when reaching for it in your pocket because your fingers or palm are almost always in contact with the side frame. Xiaomi has an easy fix for that - you can choose between Touch or Press recognition method. By choosing Press the fingerprint scanner will start reading only if you press the power button.
2D Face Unlock is available, too, but it is far less secure than the fingerprint option.
The homescreens are business as usual - they are populated with shortcuts, folders, and widgets. The leftmost pane, if enabled, is called Google Feed.
MIUI 12 offers an app drawer by default, and it automatically organizes your apps into categories. The first is All, meaning it contains all apps. Then follow Communication, Entertainment, Photography, Tools, New, and Business. You can edit these categories or even disable them altogether. You can't disable the App Drawer, at least not in the MIUI version made for Poco.
An interesting feature introduced with MIUI 12 is the Notification shade split - a swipe downwards opens either the Notifications or the Quick Toggles. Similarly to how the iPhones do, you open them in the same fashion - pull down from the left part of the screen for the Notifications, or pull down from the right for the Control Center.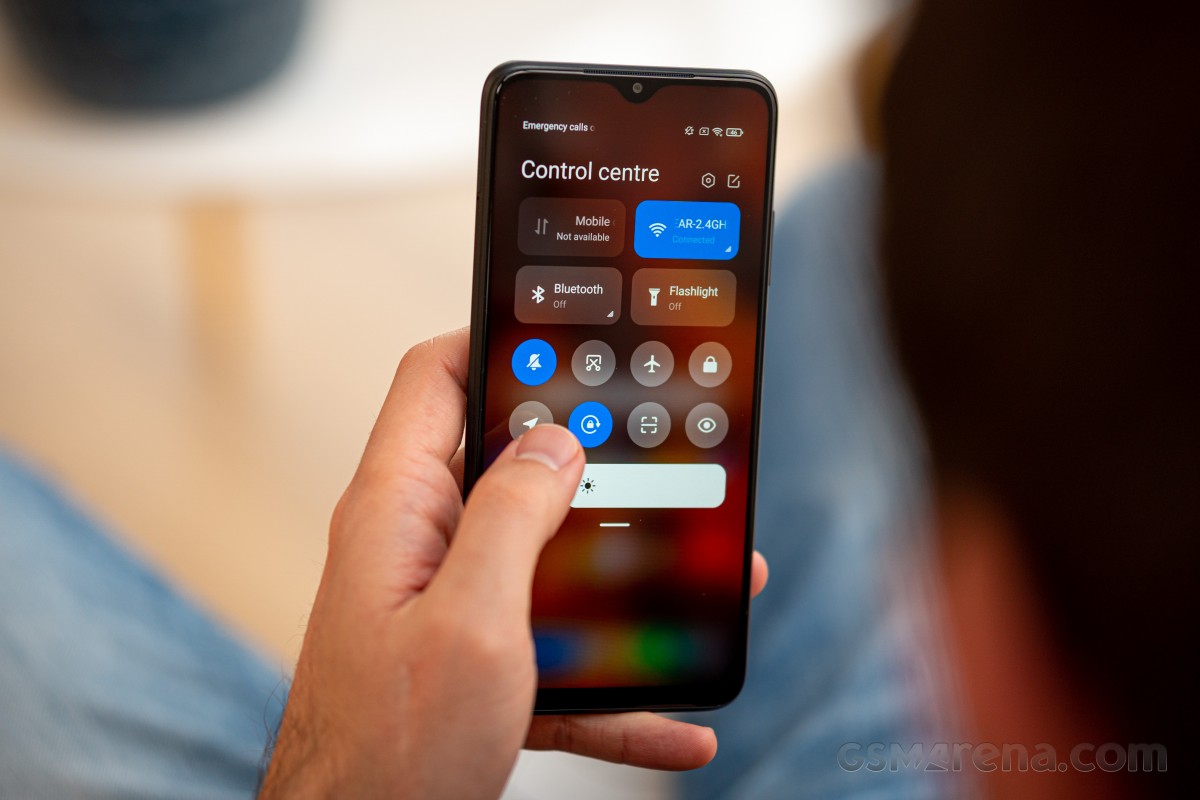 If you are not fond of this new split - you can disable the Control Centre for a more stock Android experience.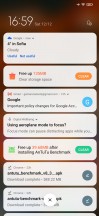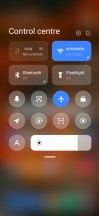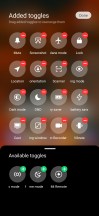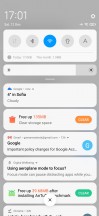 Notification Center • Control Center • Control Center • The old Notification Shade
The task switcher has not changed much. It shows all of your recent apps in two columns. Tap and hold on a card for the split-screen/floating shortcut, or just swipe it left or right to close it. There is a new Floating Windows button next to the Split Screen, an option introduced by MIUI 12. You can put some apps in a floating state above everything else. You can only have one floating window at a time, though.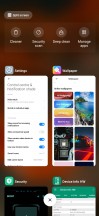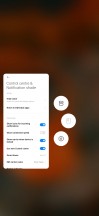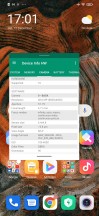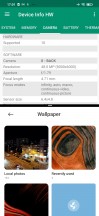 Task Switcher • Floating Windows • Floating app • Split screen
Themes are a huge part of MIUI, and they are available on MIUI 12, too. You can download new ones from the Themes store, and they can change wallpapers, ringtones, system icons, system fonts, and even the always-on display style.
Xiaomi enhanced MIUI 12 with a couple of additional privacy options. When sharing stuff, like photos and videos, you can opt to remove the embedded location and/or other metadata (incl. device info) and thus protect your privacy better. Neat.
MIUI also offers a Security app. It can scan your phone for malware, manage your blacklist, manage or restrict your data usage, configure battery behavior, and free up some RAM. It can also manage your installed apps' permissions and allow you to define the battery behavior of selected apps and apply restrictions only to the apps you choose.
MIUI 12 packs proprietary apps for Gallery, Music, and Video player. In some regions, the music and video apps include paid streaming options. Mi Remote for the IR blaster is available, too. In China, a new Mi AI assistant is part of MIUI 12, replacing the Google Assistant.
MIUI 12 also enhances the Notes app with even more Task checklists and subtask options.
FM radio app is available, too.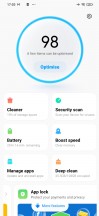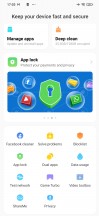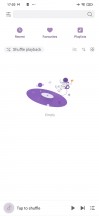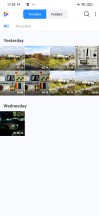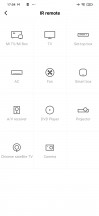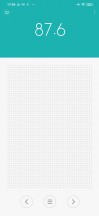 Security • Security • Music • Video • Mi Remote • FM radio
MIUI 12 supports Dark Mode, too, and you can even force it on wallpapers or restrict its application on incompatible individual apps.
Ads are baked into some system apps - this is usually done to lower the phone's cost. We saw ads most often in the Security and Themes app, as well as part of the embedded virus scanner which pops up every time you install an app.
Performance and benchmarks
The Poco M3 is powered by the 2020's Snapdragon 662 chipset based on the 11nm manufacturing process. The SoC employs an octa-core CPU consisting of 4x Kryo 260 Gold cores clocked at 2.0 GHz and 4x Kryo 260 Silver cores running at 1.8 GHz. The Gold cores are based on the Cortex-A73 design, while the Silver derivatives are based on the energy-efficient Cortex-A53 cores.
The GPU inside this Snapdragon 662 is Adreno 610.
The SoC holds 4GB of RAM and 64GB UFC 2.0 internal storage. There is also version with 4GB RAM and 128GB UFS 2.1 storage. Both models offer microSD expansion.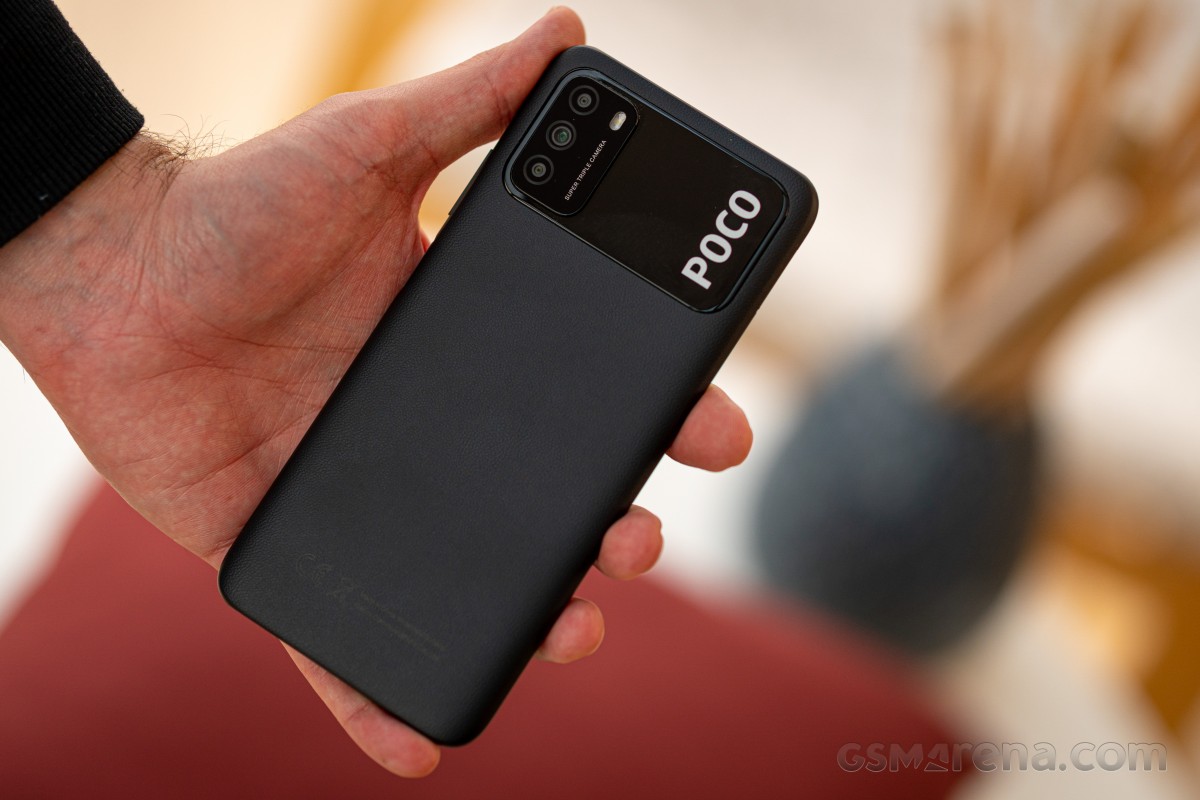 And here is how the Poco M3 stacks against competing handsets with different SoCs.
The multi-core processor performance is up to par for this class.
GeekBench 5 (multi-core)
Higher is better
Realme 7 Pro
1811
Realme 7 5G
1794
Redmi Note 9S
1785
Realme 7
1681
Sony Xperia 10 II
1413
Motorola Moto G9 Play
1402
Poco M3
1398
Xiaomi Redmi 9 (Prime)
1325
Realme 7i
1318
Redmi Note 9
1292
Samsung Galaxy A21s
1100
Unfortunately, the single-core CPU performance is quite sluggish. And you can feel that when using the Android OS for mundane tasks like scrolling homescreens or switching between apps - there is a noticeable lag, the phone does stutter here and there.
GeekBench 5 (single-core)
Higher is better
Realme 7 5G
598
Realme 7 Pro
576
Redmi Note 9S
570
Realme 7
536
Xiaomi Redmi 9 (Prime)
362
Redmi Note 9
361
Sony Xperia 10 II
315
Motorola Moto G9 Play
314
Realme 7i
312
Poco M3
308
Samsung Galaxy A21s
184
The high screen resolution sure sounds like a premium feature for this class, but it takes a toll on gaming. In fact, if you can't lower a game's resolution down to 720p, it will be impossible to have a smooth experience. We aren't saying gaming is a no-go; you just need to adjust your expectation and game settings accordingly.
GFX Manhattan ES 3.1 (offscreen 1080p)
Higher is better
Realme 7 5G
35
Realme 7
34
Realme 7 Pro
30
Redmi Note 9S
30
Poco M3
13
Realme 7i
13
Sony Xperia 10 II
13
Motorola Moto G9 Play
13
Samsung Galaxy A21s
9.4
GFX Car Chase ES 3.1 (offscreen 1080p)
Higher is better
Realme 7
20
Realme 7 5G
20
Realme 7 Pro
18
Redmi Note 9S
18
Poco M3
7.2
Sony Xperia 10 II
7.1
Realme 7i
7
Motorola Moto G9 Play
7
Samsung Galaxy A21s
6
The onscreen benchmarks show the superiority of phones with 720p screens like the Realme 7i, Galaxy A21s, and Moto G9 Play over the Poco M3.
GFX Manhattan ES 3.1 (onscreen)
Higher is better
Realme 7 5G
31
Realme 7
28
Redmi Note 9S
26
Motorola Moto G9 Play
26
Realme 7i
25
Realme 7 Pro
25
Samsung Galaxy A21s
19
Poco M3
11
Sony Xperia 10 II
10
GFX Car Chase ES 3.1 (onscreen)
Higher is better
Realme 7
17
Realme 7 5G
17
Redmi Note 9S
15
Realme 7 Pro
14
Realme 7i
13
Motorola Moto G9 Play
13
Samsung Galaxy A21s
11
Poco M3
5.9
Sony Xperia 10 II
5.6
Finally, let's look at the AnTuTu combined score. It's not bad at all, all things considered.
AnTuTu 8
Higher is better
Realme 7 5G
318535
Realme 7
292828
Realme 7 Pro
278414
Redmi Note 9S
254000
Xiaomi Redmi 9 (Prime)
201829
Redmi Note 9
200414
Sony Xperia 10 II
196545
Poco M3
177904
Realme 7i
172933
Motorola Moto G9 Play
170064
Samsung Galaxy A21s
107157
The Poco M3 is not the fastest of phones; this should be obvious. It is no slouch either as it is up to the task, be it an office app of gaming, provided you've adjusted the graphics settings and your expectations for speed.
You can see the phone lag and stutter here and there, but it's not a deal-breaker (like Cyberpunk 2077 on a vanilla Xbox One). You are buying a €140 phone with a high-res screen, and such things are to be expected and something you've accepted at the time of purchase.
The good news is that the phone does not get hot under load, and it won't drop its performance further when you are playing a game or using it with demanding apps. It always gives its maximum. It's just not a mid-range-smooth experience, but the Poco M3 isn't a mid-range phone, is it?
Anonymous
30 Oct 2022
uv1
Ir blaster is missing
How can the bricked phone of poco m3 be fixed?, mine has gone comatose
Anonymous
04 Oct 2022
sBS
It can be fixed now