Polaroid's new Selfie smartphone faces legal trouble with Oppo
09 January, 2015

Following the hustle and bustle taking place at CES 2015, Polaroid somehow managed to slip through the cracks with its latest Selfie smartphone. The Polaroid Selfie rocks a familiar hardware design, which features a rotating 13MP camera.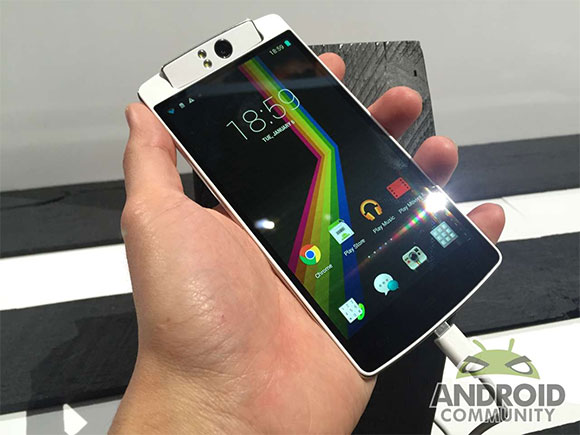 Image source: AndroidAuthority.com
The phone is built around a 5.5" IPS display of 720p resolution and under the hood has an octa-core CPU in a likely MediaTek chipset, 2GB of RAM and runs Android 5.0 Lollipop. Internal storage is 16GB, but there's no microSD card slot for further expansion.
That's all we have regarding specifications of the Polaroid Selfie. However, because of the phone's design which is an obvious Oppo N1 rip-off, the company might face issues with the creator of the original rotating camera phone.
Here's the Oppo statement regarding the matter in full.
It was recently reported that the Polaroid Selfie smartphone released at the CES 2015 has a remarkably similar design to the patented rotating camera phone OPPO N1. However, OPPO has not licensed the design of the rotating camera to any third parties, nor has us done that in any OEM way. We will continue to keep track of the event and reserves the right to take further legal action.

OPPO is committed to delivering our customers with the most delightful electronic experience that is full of surprises through meticulous designs and smart technology. OPPO holds strong respect to intellectual properties and any innovation of technology and design. Sustainable innovation sits at the core of our business, and has made OPPO being a mostly talked new brand in the mobile industry.

OPPO does not stop here with the rotating camera on N1. An upgraded model, the N3, was launched in late 2014 featuring a motorised rotating 'selfie' camera, which could rotate for 206 degrees and makes new shooting modes like auto panaroma possible. Perfect for hands free selfies!
Related