Quad-core shootout: Four of a kind
Four of a kind
GSMArena team, 27 July 2012.
Buckle up people, because this is going to get rough. When the world's four most powerful smartphones are about to go ballistic, it is the right time to take this website's name literally. The stage is set for the four titans of the Android world: the Samsung Galaxy S III, the HTC One X, the Meizu MX 4-core and the LG Optimus 4X HD. The four horsemen of the apocalypse to anyone unfortunate enough to be their competition.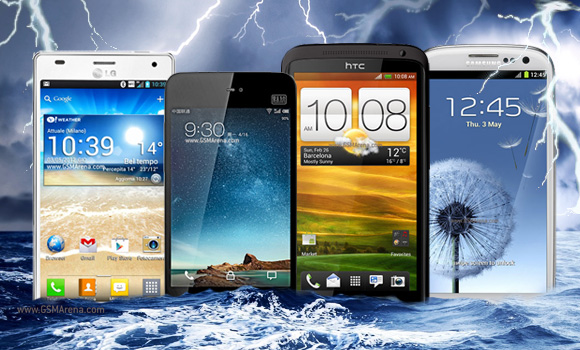 We've seen and tested them all, and even had two of them in a thrilling head to head. This time around though, we have the full set. For an even more exciting twist, there's a cocky upstart against the Android establishment. And they're all after the ultimate prize.
With great power comes great responsibility and these phones not only represent themselves and their manufacturers. It's a battle of the chipsets too. Inside the Samsung Galaxy S III and Meizu MX Quad Core beats the same Exynos 4212 Quad chipset, while the HTC One X and the LG Optimus 4X HD are powered by the Nvidia Tegra 3 with not four, but five cores (an extra underclocked, power-saving core).
So, in the end this not only an individual challenge but in a way a team competition as well. And there is room for only one winner. Here's what we'll be throwing at the quad-core contenders in this epic shootout.
We'll begin with a general overview of the user interface of each of the smartphones to get a sense of their personality. And that's just a mild warm-up before a series of benchmarks and stress tests. This isn't just about what the two different chipset architectures are capable of, but also whether these droids make the most of them.
We'll be testing processors, graphics and web browsers, in search of the ultimate Android phone of the season. Stills and Full-HD video are also on the list. With an all-in mentality, these smartphones are great cameraphones too. So, we'll be looking at how they perform and, ultimately, which one gets on top.
Anything else? Sure. Some display and battery scores will be thrown in the mix to see how those handle everyday smartphone tasks. Processing power is important, but don't tell the whole story.
So, there we are. Four great phones and only one goal - outrun and outsmart. Money is no object here. We are dealt with a four-of-a-kind and we're going to play it. Let the tests begin.
Update 12 September: We updated the HTC One X and the LG Optimus 4X HD to Android 4.0.4 and redid all the tests. Find the new benchmark results on pages 6 and 7. The new video samples from the LG smartphone are on page 9.
uttam bhuyan
28 Feb 2015
YT8
Dear sir I habe one lgp880 mobile phone I used from 2year and found exchlent.very good sir your lg phone.but one problem sir my phone is broken and damage touchpad.so I want change my touchpad but no found any dealer my mobile phone's touchpad.I req...
AnonD-304997
10 Sep 2014
IV8
HTC ONE X suffers from the dreaded wifi hardware fault. Common problem. HTC tries to make their phones slim and light, unfortunately at the cost of build quality.
Android Man
29 Mar 2014
mqM
totally agree have the G2 it rocks, nothing HTC will bring out, will come close, with there ultrcrap camera.