Qualcomm announces 4nm Snapdragon W5 and W5+ Gen 1 SoC for wearables
Enrique, 19 July 2022
After its teasers SoC last week, Qualcomm is announcing two new wearable chipsets today. To succeed the Snapdragon Wear 4100+ platform, Qualcomm announces the Snapdragon W5 Gen 1 and the W5+ Gen 1. Both SoCs are built on the 4nm process and represent a drastic improvement to Qualcomm's offering for wearables.
Qualcomm touts that its new wearable chipsets will offer up to 2X the performance using half as much power compared to the Snapdragon Wear 4100+ Platform. In typical scenarios, the W5+ can provide up to 50% longer battery life by taking up 30% less space than previous generations. Qualcomm has worked closely with Google over the past several quarters to optimize Wear OS for the new SoC.
The main difference between the Snapdragon W5 and W5+ Gen 1 is that the non-Plus model skips out on the AON Co-Processor. It intends to equip segment-specific wearables with the Snapdragon W5 Gen 1 as they won't require the extra power-saving capabilities. This includes wearables for China, Kids, Seniors, Health, and Enterprise segments.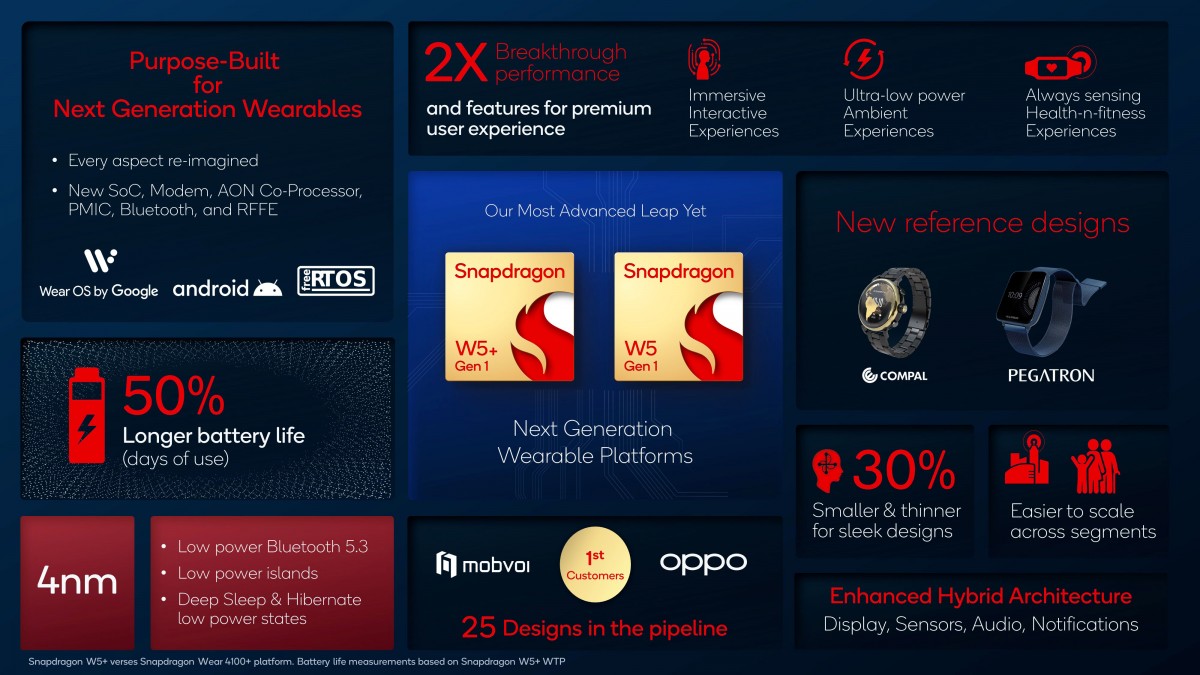 The W5+ Gen 1 is made up of four Cortex A53 cores and one Cortex M55 efficiency core at 250 MHz. Graphics are handled by the A702 GPU clocked at 1 GHz (significant boost from the 4100+'s 320 MHz A504 GPU) and memory has been updated to support LPDDR4 at 2133 Mhz. A new Machine Learning unit U55 has been added here as well.
The W5+'s new co-processor can handle more tasks in the background while using less power. All the wearable's sensing is handled by the AON (always on) Co-Processor (22nm) and with the W5+ Gen 1, speech processing, audio playback, and notifications are all able to be handed off to the co-processor now. The AON chip will also enable low-power Bluetooth 5.3, Wi-Fi, GNSS, and adds support for new power states like Deep Sleep and Hibernate. LTE is also getting a low-power mode with an update modem.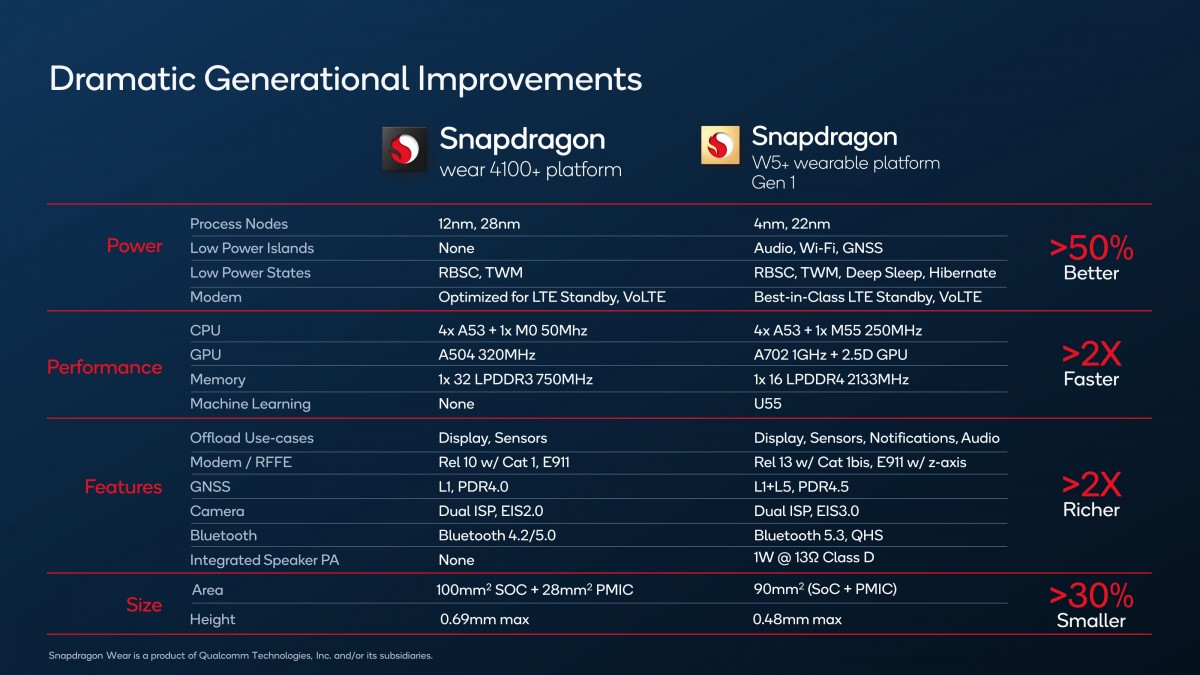 Qualcomm announces it has partnered with Compel and Pegatron to create reference smartwatches with the Snapdragon W5+ on board to help partners develop products faster.
Mobvoi and Oppo will be the first OEMs to launch wearables with Qualcomm's new SoC and the chipmaker says 25 smartwatch designs are currently in the pipeline. Oppo is expected to make an announcement sometime in August for the Oppo Watch 3.
Related
A702 is not good enough for you?
So uninspiring, a 4nm refresh of 4100 and 4100+. Atleast put an A510 on there.
Maybe... Someday... Some decades later... Or never lol. That system is only a test platform for Wear OS. So you can sit and wait while you get old. Still to be tested the Wear OS with W5+ battery life... Samsung 7 nm only last one day unless y...
Popular articles
Popular devices
Electric Vehicles