Qualcomm unveils 11nm Snapdragon 665, 8nm Snapdragon 730 and 730G with improved graphics
Vlad, 09 April 2019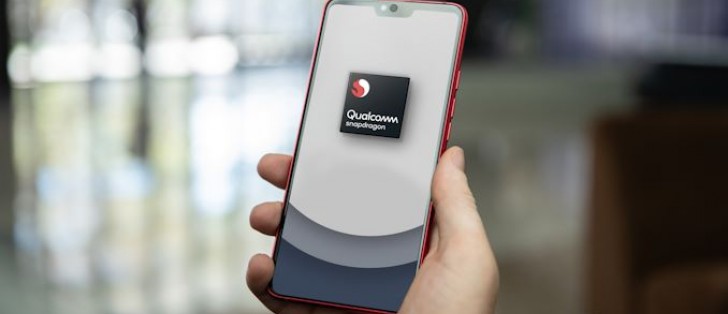 Today Qualcomm took the wraps off its two newest mobile chipsets: the Snapdragon 665 and the Snapdragon 730 (which also gets a 730G bin, with 15% better graphics).
Snapdragon 665
The Snapdragon 665 seems to be intended as the successor to the Snapdragon 660. Compared to that, it's made on a smaller 11nm LPP process, which means it should bring some battery life improvements to the table as well as some cost reduction.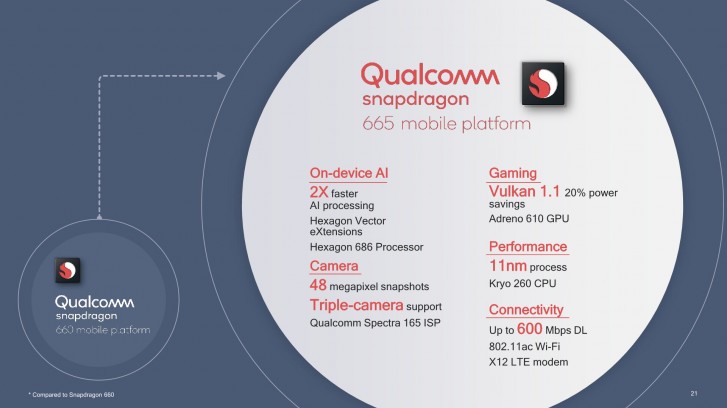 Like its predecessor, the 665 has four Kryo 260 cores, based off of the ARM Cortex-A73 microarchitecture, but these only go up to 2GHz compared to 2.2 GHz in the 660. The four low-power Kryo 260 cores (based on Cortex-A53) are still clocked at 1.8GHz.
A big improvement should arrive in the graphics department, with the new Adreno 610 GPU, and Hexagon 686 DSP. The Snapdragon 665 employs the Spectra 165 ISP, which supports up to a 48 MP single main camera, or 16 MP dual snappers, or even triple setups (whereas the 660 topped out at 24 MP single). Those are all the differences.
Snapdragon 730 and 730G
Compared to the 710, which it is probably replacing, the Snapdragon 730 upgrades the two 'big' CPU cores from Kryo 360 (based on ARM Cortex-A75) to Kryo 470 (Cortex-A76), while keeping the same maximum clock speed of 2.2 GHz. The six 'small' power-efficient cores are still based on Cortex-A55, but they go up to 1.8GHz now, 100MHz more than before. All of this should translate into a substantial 35% leap in CPU performance.
Also new in the 730 are the Adreno 618 GPU (which promises 25% increased performance), Hexagon 688 DSP, and Spectra 350 ISP, the latter of which enables up to a 36 MP single main camera or a 22 MP dual setup and 960fps 720p slo-mo video capture, as well as 4K HDR video Portrait mode. The new ISP can do computer vision acceleration too, and the new DSP includes Qualcomm's Tensor Accelerator units for machine learning inferencing - these have so far been features relegated to the top tier 8xx line of Snapdragon SoCs, but not anymore.
The Snapdragon 730 is made on Samsung's 8nm LPP process, which at the moment is the second best there is - and since this is still a mid-range chipset, that's quite impressive. The new process should yield some battery life improvements compared to the Snapdragon 710 which was made on a 10nm process, but we'll have to wait for shipping devices to really judge that.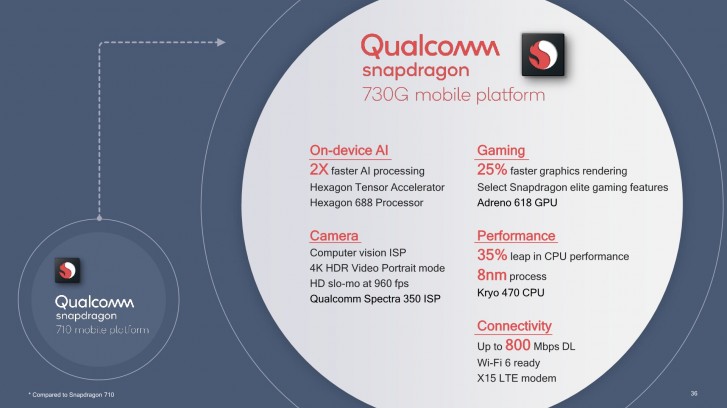 There will also be a Snapdragon 730G, which promises 15% better graphics performance compared to the 730, due to the use of higher clock speeds. All of the new chipsets are stated to be available in commercial devices in mid-2019.
Related
Yup. Even Realme (Oppo) still struggles on selling the 5/5s because of Redmi Note 8. microUSB is a step back though on Realme devices.
It really is one of the best smartphones u can buy for that price tag. If anybody has a budget I would definitely recommend XIAOMI in most cases for its excellent price to performance ratio
Popular articles
Popular devices
Electric Vehicles