Qualcomm unveils tons of stuff: faster Wi-Fi, new VR platform, AI, audio and other tech
Peter, 21 February 2018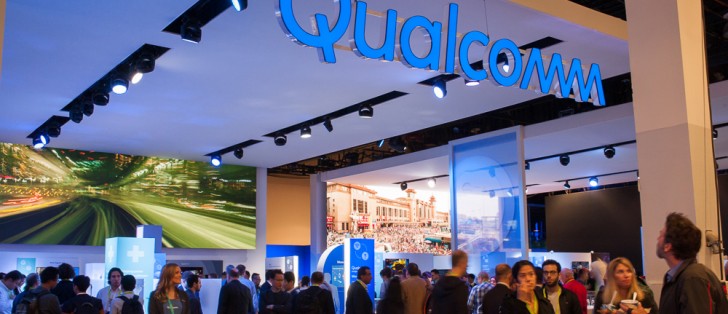 Qualcomm unleashed a pack of announcements that paint a fast, wireless picture of the future of digital tech.
Wi-Fi 802.11ax
It introduced the first integrated 802.11ax solution for smartphones and computers. An advancement over Wi-Fi ac, it will double the network speed while using up to 67% less power.
The module, named WCN3998, features 2x2 antennas and implements a pre-standard implementation (the Wi-Fi Alliance is still tweaking details). It will work with pre-draft 11ax access points due to hit the market later this year and in early 2019.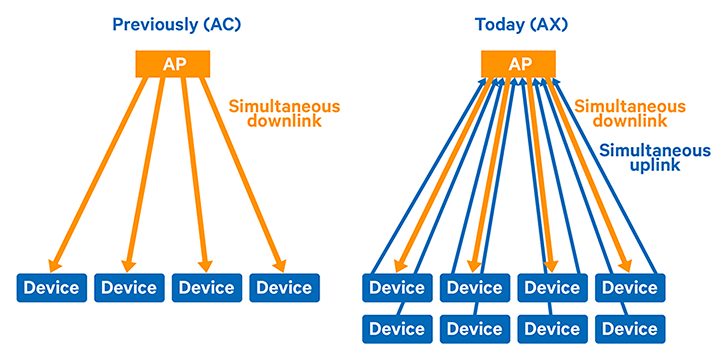 Qualcomm's new module also supports 11ac Wave-2 – an upcoming refinement of the current Wi-Fi ac standard. And it anticipates changes to the Bluetooth Low Energy standard that can improve battery consumption by up to 75%.
Qualcomm ran a trial of the Wi-Fi Alliance Certified Vantage program on KDDI's public Wi-Fi network (in collaboration with HTC and Sharp). This tech will allow Wi-Fi and carrier network to co-exist with minimal interference, which will boost the network speeds for everyone.
VR
Oculus, Vive and others are building stand-alone VR headsets powered by mobile chipsets and they'll want to pay attention to this one – Qualcomm unveiled a new VR Reference Design based on the Snapdragon 845. The platform is capable of running to 2,400 x 2,400px displays at 120fps.

Besides the new Adreno 630 GPU (30% faster graphics than the previous platform), the new Adreno Foveation tech can track eyes and render at a higher resolution the part of the screen you're looking at. Also, the chip supports 6 DoF tracking and SLAM for a roomscale experience (all this processing is done efficiently on the Hexagon DSP and the Adreno GPU).
AI
Qualcomm will also accelerate artificial intelligence applications with its new AI engine. It's a software thing that will work on the Snapdragon 845, but also the 835, 660 and even the old 820.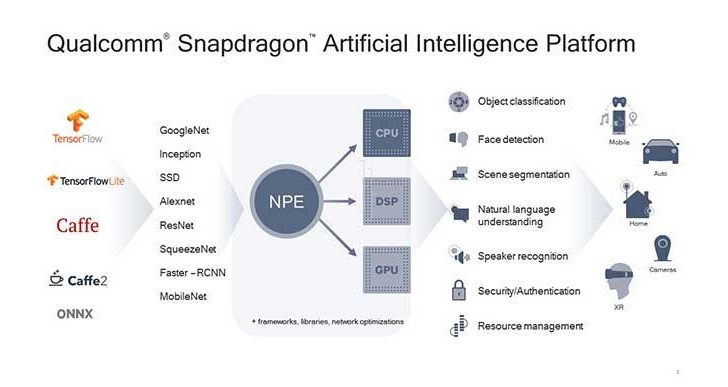 Based on the chipset used, the platform Neural Processing Engine will work on either the Hexagon vector processor, the GPU or the CPU. The system supports Android Oreo's Neural Networks API.
Audio
Snapdragon 845 supports Qualcomm's Broadcast Audio, which can stream music wirelessly from one device to multiple speakers or headsets with "near-perfect synchronization". This relies on Bluetooth so depending on the reception, it may simplify multi-room audio solutions for some.
Qualcomm also unveiled the QCC5100 SoC for truly wireless headphones. The new chip is a tiny 4 x 4mm package and will reduce power consumption by up to 65%. It supports Broadcast Audio (as do some older chips in the QCC range).
PC
Qualcomm partnered with Microsoft, Asus, HP and Lenovo to expand the selection of Always Connected PCs. These 4G LTE-enabled computers will find a home on multiple networks around the world, you can see the partner carriers here.
The company also wants to expand the selection of Snapdragon-powered Windows 10 PCs (which are Always Connected, of course). Starting this quarter, you'll be able to snag one from the Microsoft Stores and others.
Misc
While Qualcomm is developing 5G New Radio modems for phones, it also wants to cater to self-driving vehicles. The C-V2X platform will offer high-bandwidth, low-latency communication between vehicles. This will be done over the 5.9GHz spectrum, which is allocated for the Intelligent Transport System. Commercial deployment is expected in 2020.

Related
Lol, no it doesn't. Also, ohm is a unit of resistance, not current. If it's meant to resemble anything, it's probably meant to be a wave. You know, an electromagnetic one, something to do with electronic communication.
Anonymous
22 Feb 2018
vxs
You just noticed this now?? It resembles a current (Ohms) like from a standard electrical icon.
Anonymous
22 Feb 2018
nE$
anyone else notice how the last 2 Ms in the qualcomm logo are technically capitalised (and joined together)? it's probably to make it look like a signal or something(?)
Popular articles
Popular devices
Electric Vehicles