Realme 10 Pro review
GSMArena Team, 12 December 2022.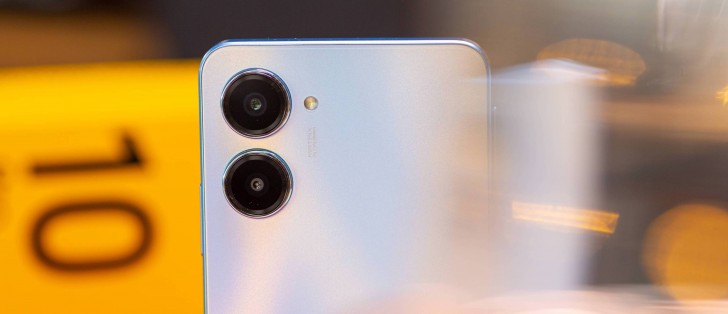 Proper LCD panel
The Realme 10 Pro is built around a 6.72-inch IPS LCD panel with a standard 1080 x 2400px resolution and runs at 120Hz. Since it's an IPS display, there are no HDR capabilities, but Widevine L1 is supported and thus, Netflix streaming in 1080p is possible.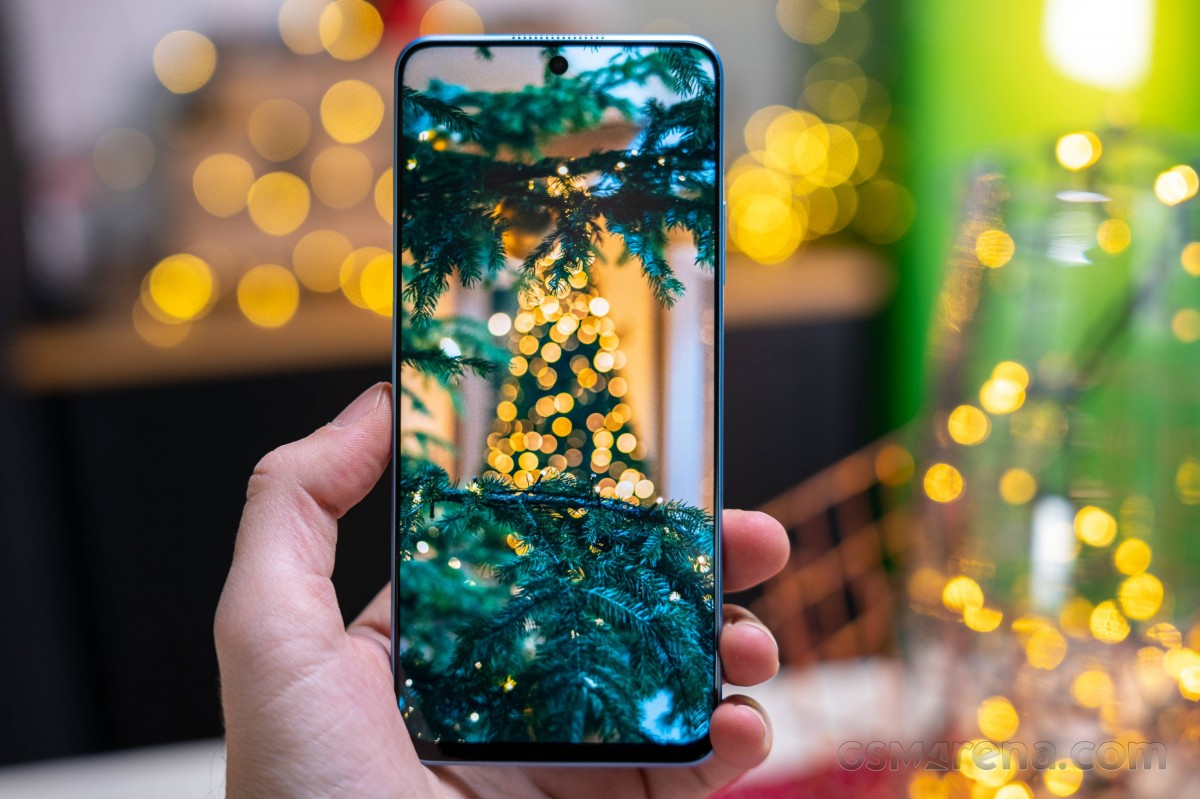 Even though Realme used a high-quality IPS LCD panel, it's still at a disadvantage compared to some rivals offering far superior OLED screens. You won't be getting those deep blacks, but at least backlight bleeding is almost non-existent. There's just a little hue around the selfie camera but that's only noticeable on a bright or white background.
In our testing, the display did pretty well. Realme advertises 680 nits of maximum brightness in Auto mode, but we only got up to 619 nits, while in manual mode, that value is 590 nits. We will give Realme the benefit of the doubt and it's highly likely that the non-commercial unit we got is just a lemon.
Display test
100% brightness
Black,cd/m2
White,cd/m2
Contrast ratio
Realme 10 Pro+
0
484
∞
Realme 10 Pro+ (Max Auto)
0
809
∞
Realme 10 Pro (Max Auto)
0.53
619
1168:1
Realme 10 Pro
0.47
590
1255:1
Realme 9 Pro+
0
433
∞
Realme 9 Pro+ (Max Auito)
0
613
∞
Realme 9 Pro
0.288
461
1601:1
Realme 9 Pro (Max Auto)
0.385
567
1473:1
Xiaomi Redmi Note 11 Pro+ 5G
0
479
∞
Xiaomi Redmi Note 11 Pro+ 5G (Max Auto)
0
760
∞
Poco X4 GT (Max Auto)
0.496
600
1210:1
Poco X4 GT
0.395
470
1190:1
Google Pixel 6a
0
505
∞
Google Pixel 6a (Max Auto)
0
876
∞
Samsung Galaxy A53 5G
0
427
∞
Samsung Galaxy A53 5G (Max Auto)
0
830
∞
OnePlus Nord 2T
0
449
∞
OnePlus Nord 2T (Max Auto)
0
636
∞
Either way, outdoor use is mostly comfortable and you can easily browse or text on a bright sunny day.
Color accuracy, on the other hand, is abysmal as there's no escaping the blue-ish and purple-ish, whites and grays. Even in the so-called Natural color preset, the whites and grays are straight-up purple. There's a color temperature slider if you want to go for a warmer hue, but it still doesn't fix the color inaccuracy.
HRR control
The HRR control is pretty simple - if you don't touch the display, the system will tone down to 60Hz. Video player apps such as YouTube and Netflix will run at 60Hz by default. That's in Automatic mode and there's also the 60Hz and 120Hz modes, which are pretty self-explanatory.
We tried a couple of third-party apps and all system menus and didn't find an app that didn't utilize the maximum 120Hz refresh rate, including Chrome, which can often misbehave with HRR displays.
Battery life
Battery life is, as usual, excellent. The Snapdragon 695 SoC plays well with the 5,000 mAh cell and as we expected, the overall endurance score isn't too far from Realme 9 Pro's. After all, they both share largely the same hardware. The most notable difference is in the video playback time and although still impressive, the 10 Pro falls behind the 9 Pro in this regard.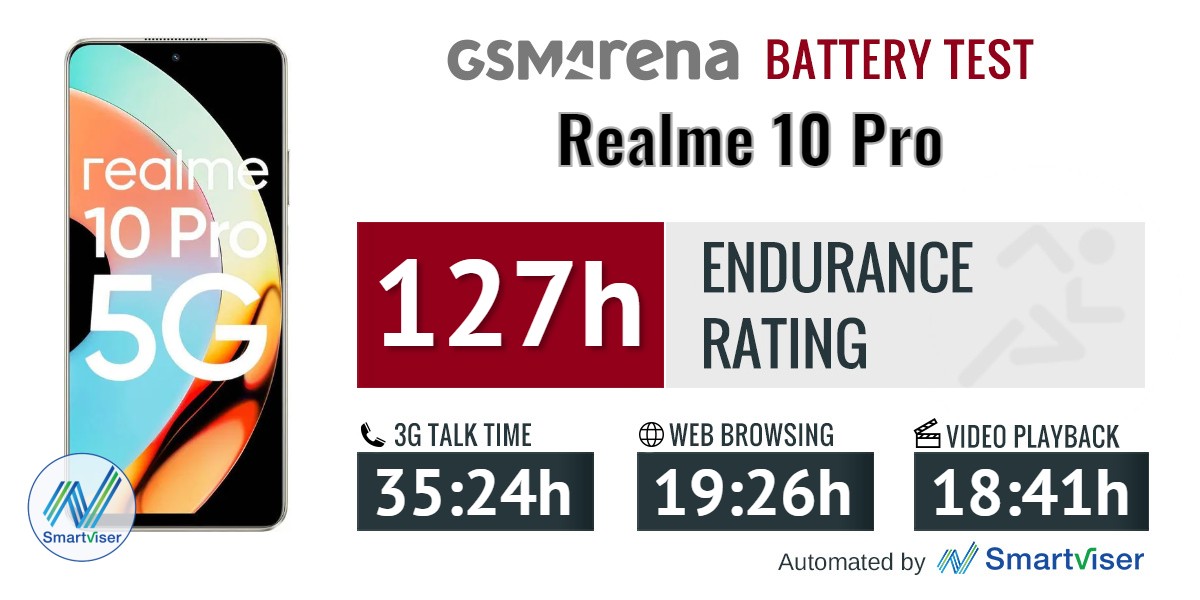 Our battery tests were automated thanks to SmartViser, using its viSerDevice app. The endurance rating denotes how long the battery charge will last you if you use the device for an hour of telephony, web browsing, and video playback daily. More details can be found here.
Compared to its rivals, the Realme 10 Pro edges out with a slightly better overall endurance score.
Video test carried out in 60Hz refresh rate mode. Web browsing test done at the display's highest refresh rate whenever possible. Refer to the respective reviews for specifics. To adjust the endurance rating formula to match your own usage patterns check out our all-time battery test results chart, where you can also find all phones we've tested.
Charging speed
Just like the Realme 9 Pro, the 10 Pro features the same 5,000 mAh cell that supports 33W DartCharge with the provided 33W-rated charger, it's no surprise that the results from the charging test are almost identical. In the first 30 minutes, the phone replenished 54% of its battery capacity while a full charge took about 1 hour and 12 minutes.
30min charging test (from 0%)
Higher is better
Xiaomi Redmi Note 11 Pro+ 5G
100%
Xiaomi Redmi Note 11 Pro+ 5G (Boost OFF)
100%
OnePlus Nord 2T
99%
Realme 10 Pro+
86%
Realme 9 Pro+
77%
Poco X4 GT
75%
Realme 10 Pro
54%
Realme 9 Pro
52%
Samsung Galaxy A53 5G
45%
Google Pixel 6a
42%
Time to full charge (from 0%)
Lower is better
Xiaomi Redmi Note 11 Pro+ 5G
0:16h
Xiaomi Redmi Note 11 Pro+ 5G (Boost OFF)
0:22h
OnePlus Nord 2T
0:32h
Realme 10 Pro+
0:41h
Realme 9 Pro+
0:49h
Poco X4 GT
0:57h
Realme 10 Pro
1:12h
Realme 9 Pro
1:14h
Samsung Galaxy A53 5G
1:24h
Google Pixel 6a
1:51h
Although that's far from impressive given today's fast charging standards, the Realme 10 Pro stacks well against its competitors, offering just about average charging speed. Still faster than its Motorola and Samsung peers.
Speakers
This time around, Realme managed to fit a set of stereo speakers into the budget. As usual, the main one is at the bottom side of the frame, while the secondary acts as an earpiece as well. But we have some good news and some bad ones.
The good news is that the setup can get pretty loud, reaching -24.4 LUFS. The bad news is that the speakers are quite imbalanced. The top one is so quiet that the other one completely takes over.
Sound quality is also unimpressive. Tracks sound a bit too flat due to the lack of bass and mids, while the highs start to ring at higher volume levels. We noticed that the distortion mainly comes from the top speaker.
Use the Playback controls to listen to the phone sample recordings (best use headphones). We measure the average loudness of the speakers in LUFS. A lower absolute value means a louder sound. A look at the frequency response chart will tell you how far off the ideal "0db" flat line is the reproduction of the bass, treble, and mid frequencies. You can add more phones to compare how they differ. The scores and ratings are not comparable with our older loudspeaker test. Learn more about how we test here.
How to downgrade/rollback all updates and go back to the factory version? My realme 10 Pro is updated to build: RMX3660_11_A.42 Want to do this because updates make phones worse and companies make phones obsolete through updates so that peo...
I Just buy this at 9 9 sale under 200$ suddenly it status become worthed for its offer
Anonymous
02 Aug 2023
nw}
And have eyestrain / headaches , screen burn and poor battery performance if you don't activate dark mode . No thank you. lcd my dear old friends why does nobody's like you anymore, its not your fault your black aren't as deep, ...