Realme 10 Pro+ review
GSMArena Team, 8 December 2022.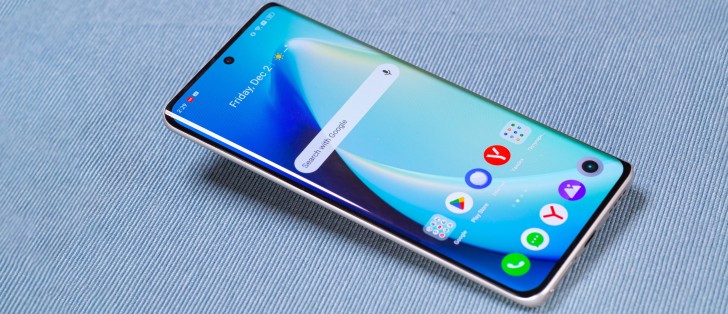 Display
The Realme 10 Pro+ comes with a larger 6.7-inch AMOLED display and plenty of updates over the Realme 9 Pro+ screen. The resolution remains 1080p+ with 394ppi density. The cutout is now centered around the top, and the tempered glass is curved instead of flat.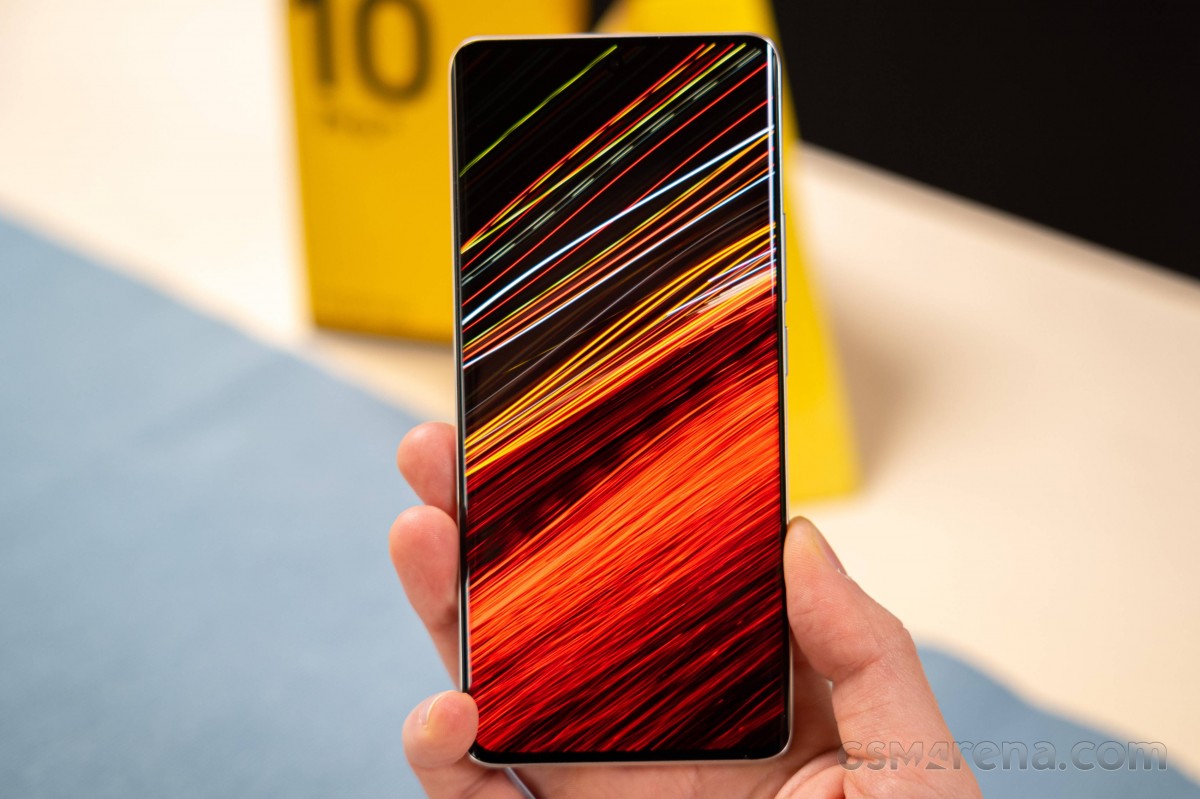 The new AMOLED offers a faster 120Hz refresh rate, and thanks to the native 10-bit color depth, it can show over 1 billion colors. The 360Hz touch response will be appreciated by gamers, while the HDR10+ certification will come in handy when streaming videos.
This AMOLED also supports automatic 2160Hz high-frequency dimming. That's the highest PWM in the industry (S22 Ultra uses 480Hz), which should reduce strain on the eyes when using the screen at brightness lower than 90 nits.
Finally, Realme promises 800nits maximum brightness, up from 600 nits on the 9 Pro+.
When using the brightness slider, we captured 484 nits of maximum brightness, up from 433 nits on the 9 Pro+. In Auto Brightness mode, though, we captured 809nits - what Realme had promised in its press materials. We cannot test the promised peak brightness of 1,000 nits, but the display seems capable of achieving it, as well.
The minimum brightness at point white is just 1.9 nit.
Display test
100% brightness
Black,cd/m2
White,cd/m2
Contrast ratio
Realme 10 Pro+
0
484
∞
Realme 10 Pro+ (Max Auto)
0
809
∞
Realme 9 Pro+
0
433
∞
Realme 9 Pro+ (Max Auito)
0
613
∞
Realme 9 Pro
0.288
461
1601:1
Realme 9 Pro (Max Auto)
0.385
567
1473:1
Realme 10
0
427
∞
Realme 10 (Max Auto)
0
610
∞
Xiaomi Redmi Note 11 Pro+ 5G
0
479
∞
Xiaomi Redmi Note 11 Pro+ 5G (Max Auto)
0
760
∞
Xiaomi Redmi Note 11 Pro 5G
0
470
∞
Xiaomi Redmi Note 11 Pro 5G (Max Auto)
0
746
∞
OnePlus Nord 2T
0
449
∞
OnePlus Nord 2T (Max Auto)
0
636
∞
Samsung Galaxy A53 5G
0
427
∞
Samsung Galaxy A53 5G (Max Auto)
0
830
∞
Motorola Edge 30 Neo
0
489
∞
Motorola Edge 30 Neo (Max Auto)
0
1004
∞
Poco F4
0
530
∞
Poco F4 (Max Auto)
0
1003
∞
Color accuracy
The Realme 10 Pro+ has three color options in Settings - Vivid that corresponds to DCI-P3 color space, Natural - sRGB color space, and Pro mode where you can choose between Cinematic (warmer P3) and Brilliant (widest color available) options. Each of these modes offers a color temperature slider.
The default Vivid mode offers good accuracy towards P3 targets; the white and grays were the only notable deviations with a slightly bluish tinge. The Cinematic Pro mode, on the other hand, has an outstanding accuracy to P3 with an average deltaE of 1.2.
The Standard mode with sRGB targets also offers excellent accuracy with an average deltaE of 1.6.
Refresh rate
The Realme 10 Pro+ supports Auto, High (120Hz) and Standard (60Hz) options.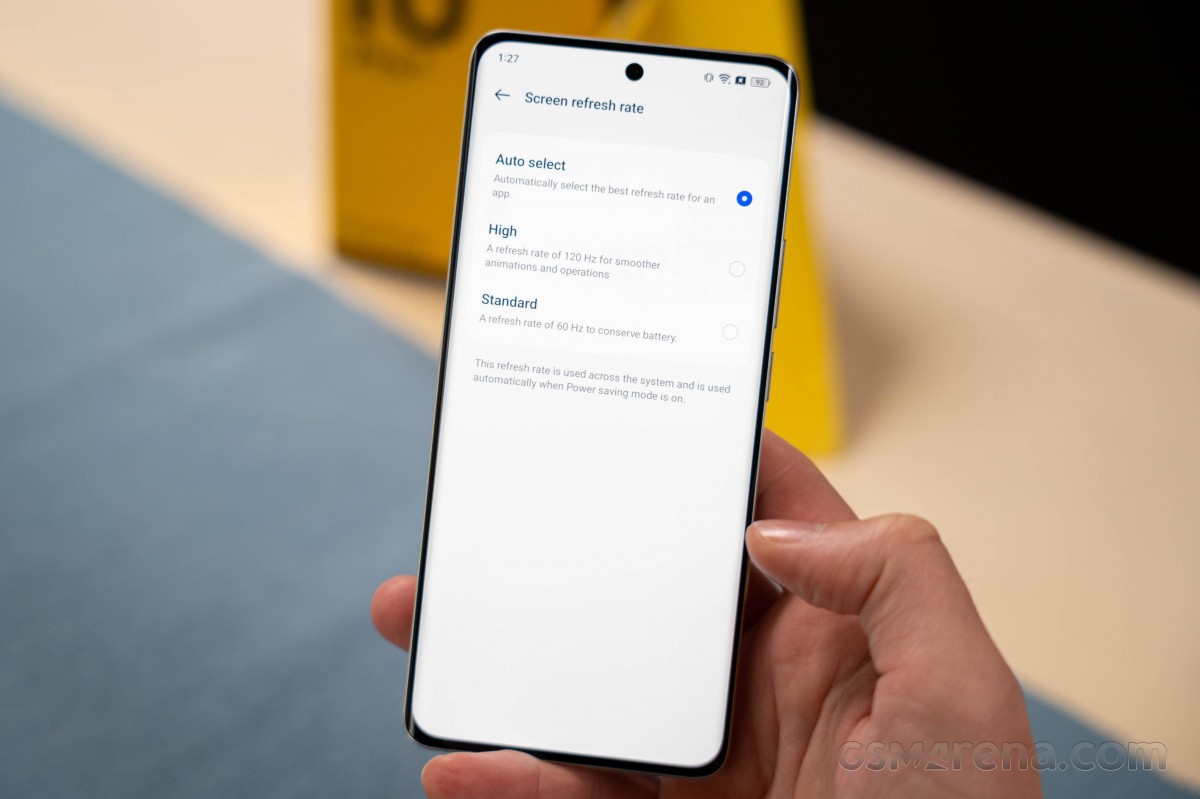 Choosing either High or Auto will do the same - offer 120Hz through the Realme interface and revert back to 60Hz when the image is static.
Video playback is always done at 60Hz, and gaming is always done at 60Hz, but you may be lucky and find some apps that run their (non-game) interface at 120Hz.
HDR and streaming
The Realme 10 Pro+ officially supports HDR10+, and it supports Widenvile L1 DRM. Most apps but Netflix allow Full HD HDR10 streaming. Netflix is yet to certify the phone it appears, but if you sideload it, you will be able to get 1080p SDR stream.
Other enhancements
The Realme Display settings offer HyperVision mode, which includes two things - Video Color Boost and Video HDR Boost. The first one tries to widen the color gamut in SDR content and increases the battery consumption. It is available in a limited selection of apps.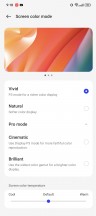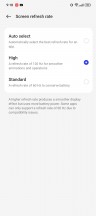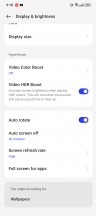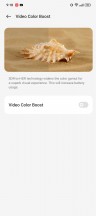 Color settings • Refresh rate options • HyperVision • HyperVision
The Video HDR Boost increases the brightness when playing HDR videos and improves the overall HDR experience. It also increases power consumption, of course.
Battery life
The Realme 10 Pro+ is powered by a 5,000mAh battery - that is 500mAh more than the Realme 9 Pro+ cell and on par with many other Realme and Redmi phones. The new 10 Pro+ model features a new and improved display, as well as an updated chipset with more tricks in the back albeit it's manufactured on the same 6nm process. The improved Android 13 and Realme UI 4.0 should help, too.
We've completed our battery life test, and the Realme 10 Pro+ aced it. It scored a 149h endurance rating, improving over the Realme 9 Pro+ significantly on all scenarios - calls, web, videos, and even standby!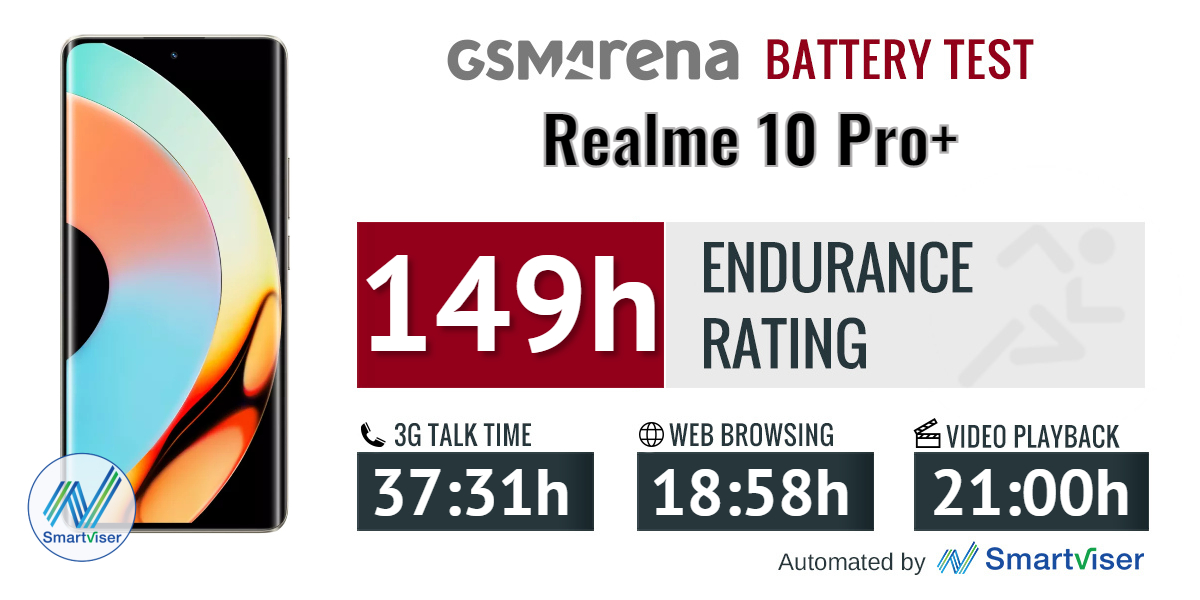 Our battery tests were automated thanks to SmartViser, using its viSerDevice app. The endurance rating denotes how long the battery charge will last you if you use the device for an hour of telephony, web browsing, and video playback daily. More details can be found here.
There are different standby settings as part of Realme UI, but as usual - we opted for the default Balanced one.
All test results shown are achieved under the highest screen refresh rate mode. You can adjust the endurance rating formula manually so it matches better your own usage in our all-time battery test results chart where you can also find all phones we've tested.
Charging speed
The Realme 10 Pro+ supports 67W SuperVOOC wired charging, up from 60W on the Realme 9 Pro+. Naturally, the phone ships with the said power adapter and proper cable, so you are covered right out of the box.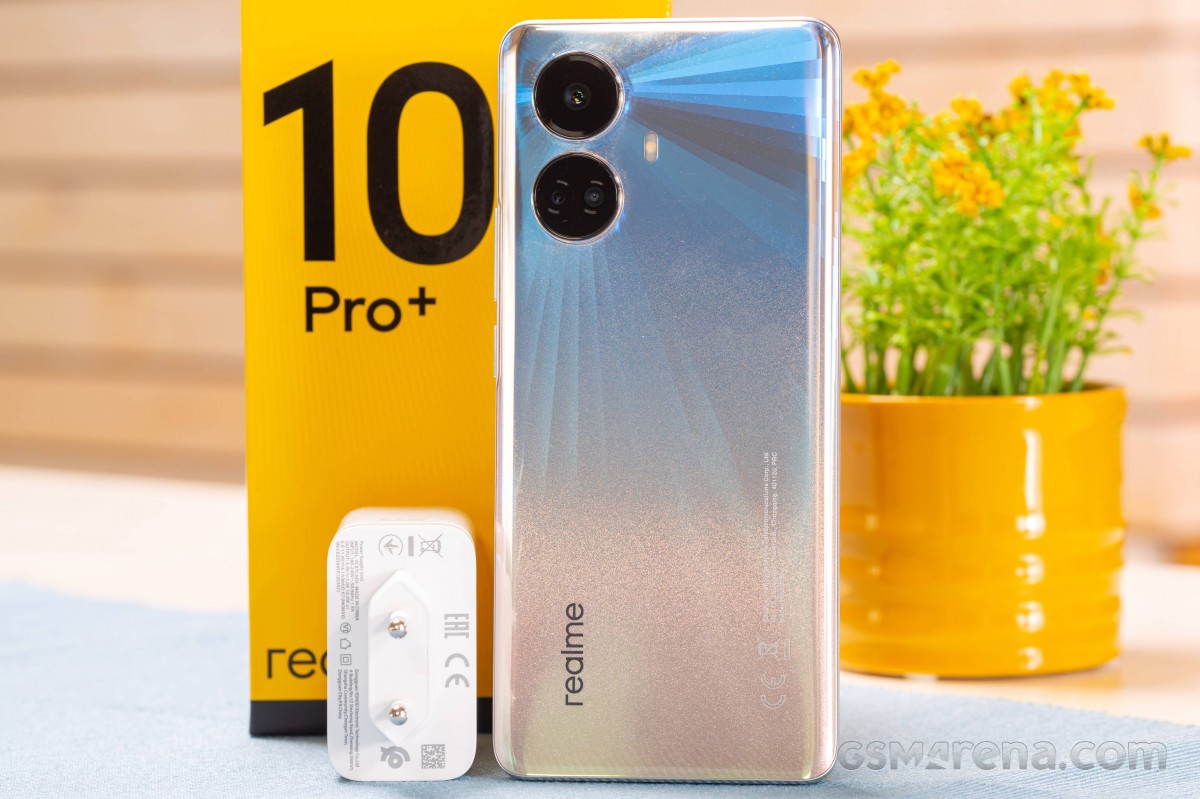 Realme advertises a 50% charge in 17 minutes, and we put that to the test, of course.
So, we've captured 53% charge in just 15 minutes - even faster than what Realme has promised. Then we got an 86% charge at the 30min mark.
30min charging test (from 0%)
Higher is better
Xiaomi Redmi Note 11 Pro+ 5G
100%
OnePlus Nord 2T
99%
Motorola Edge 30 Neo
92%
Poco F4
92%
Realme 10 Pro+
86%
Realme 9 Pro+
77%
Xiaomi Redmi Note 11 Pro 5G
74%
Realme 9 Pro
52%
Realme 10
48%
Samsung Galaxy A53 5G
45%
A full charge is achieved in 41 minutes, though sometimes it takes another 5-9mins for the phone to show Charged.
Time to full charge (from 0%)
Lower is better
Xiaomi Redmi Note 11 Pro+ 5G
0:16h
OnePlus Nord 2T
0:32h
Poco F4
0:38h
Motorola Edge 30 Neo
0:40h
Realme 10 Pro+
0:41h
Xiaomi Redmi Note 11 Pro 5G
0:45h
Realme 9 Pro+
0:49h
Realme 9 Pro
1:14h
Realme 10
1:16h
Samsung Galaxy A53 5G
1:24h
The Realme 10 Pro+ supports Optimized Night Charging, and it's turned out by default. It recharges 80% of your battery, and the last 20% is filled up just before you wake up.
Speakers
The Realme 10 Pro+, just like the 9 Pro+, offers stereo speakers. The setup is of the usual hybrid type - the top speaker also doubles as an earpiece and has two sound outlets - one front-facing and one at the top of the phone.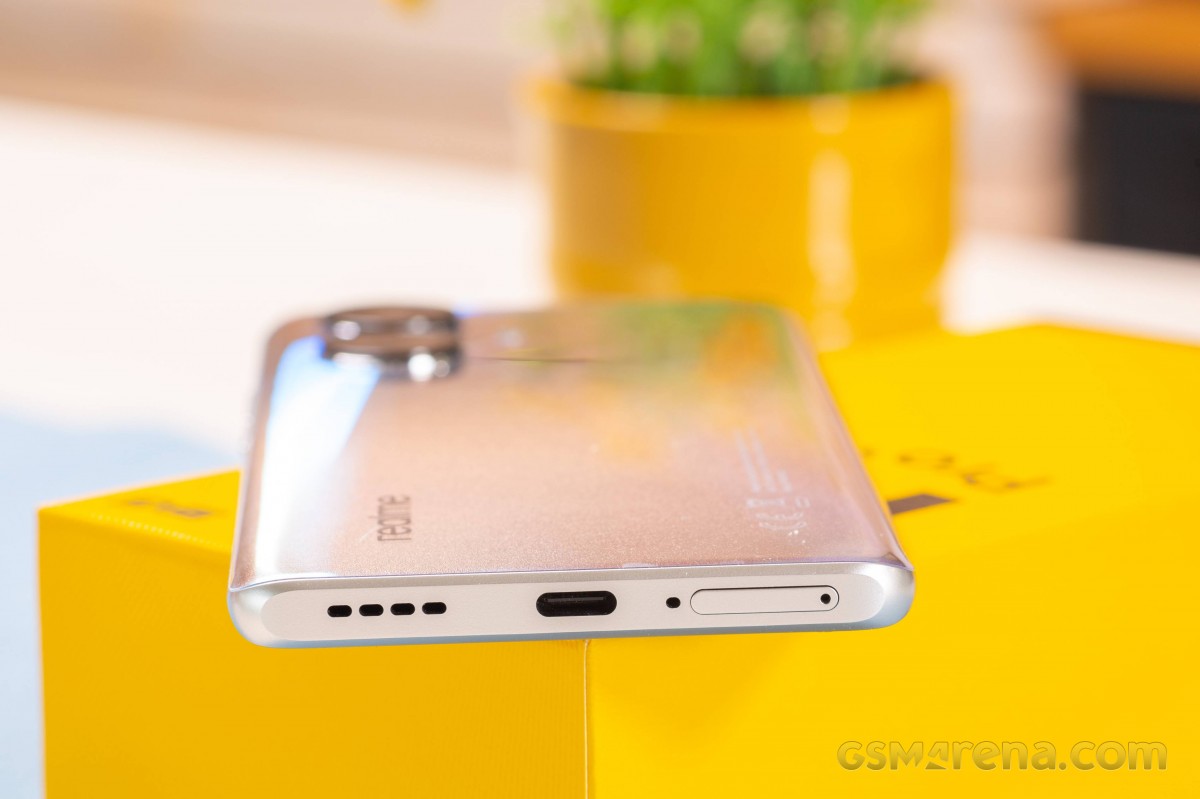 The two speakers turned out well-balanced and offered similar audio quality. The bottom one is louder, but because of the positioning and the total of three sound outlets, when watching movies, playing games or just listening to music, the balance is great.
Realme says the 10 Pro+ can boost up to 200% with the last possible volume setting. The sound does become louder thanks to a massive boost in the high frequency, but it also kills the low and mid-tones, and this can literally make your ears ring. Without the boost, the sound seems, well, richer.
So, we've tested with both settings and got Very Good loudness on both - -25.4 LUFS for 100% and -23.1 LUFS for 200%. The 200% one is a notch below our Excellent mark.
As we've already mentioned, listening at 200% is not a pleasurable experience, and that's why we'd stick to 100% for this test.
While the loudness is indeed Very Good, we'd described the audio quality as good - there is almost no bass, but the vocals are alright, and the high frequency is okay, too.
Use the Playback controls to listen to the phone sample recordings (best use headphones). We measure the average loudness of the speakers in LUFS. A lower absolute value means a louder sound. A look at the frequency response chart will tell you how far off the ideal "0db" flat line is the reproduction of the bass, treble, and mid frequencies. You can add more phones to compare how they differ. The scores and ratings are not comparable with our older loudspeaker test. Learn more about how we test here.
Anonymous
04 Nov 2023
KZK
Maybe you got a defective one. I've played genshin impact on this phone and the performance is good.
Anonymous
12 Aug 2023
Dkx
It's a big phone at a small price. It's a super fast amazing colour display with beautiful stereophonic sound system phone and true 5 g phone recognised by jio service provider conjumes less data. I love this very much.
Anonymous
02 Jul 2023
y6V
You probably get a defect one, I have the phone and it works perfectly fine, sorry for your loss...