Realme 6 review
GSMArena team, 1 April 2020.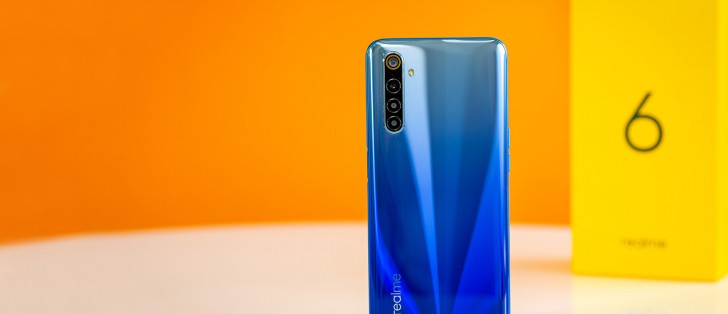 Design and handling
The Realme 6 looks a lot like the Realme 5 - it's shiny and dazzling, just in a bit different way. The phone is plastic alright, and that's easy to tell, but nobody in their right mind would expect glass, metal, or ceramic. But plastic or not, the 6 is a looker for sure.
Our Comet Blue version has an all glossy and slightly curved back, but the layers of paint and polish are what makes it an instant eye-grabber. While the paint job transitions from dark towards light blue, there is this singular point at the bottom where the light is refracted like laser beams towards the top. It's quite impossible to describe, so here comes a picture.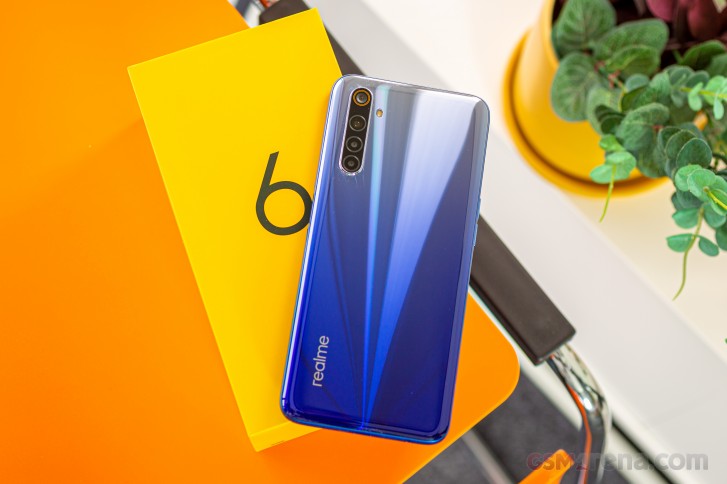 Once again Realme has done an amazing job in designing a special paint for its budget phones. It's quite impressive how Realme raises the bar of what's possible with each new generation, be it a flagship or budget series.
And while we are looking at this stunning back, we should mention the obvious camera hump - it houses four cameras - an 8MP ultrawide, a 64MP primary, a 2MP depth sensor, and a 2MP macro shooter. A single LED flash is outside this arrangement.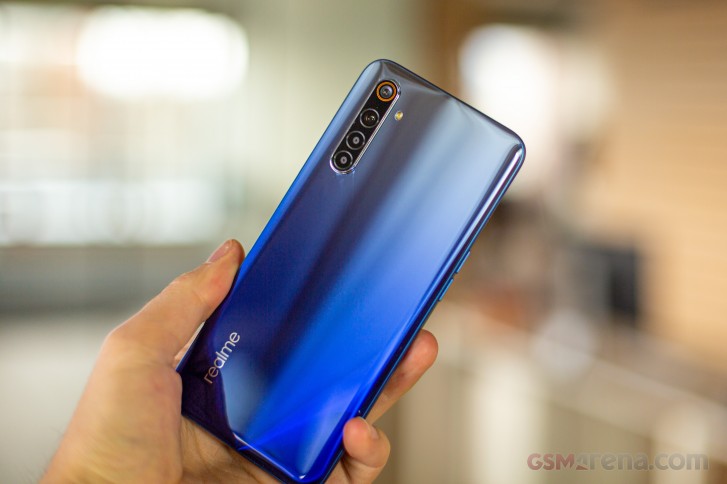 The camera bump is big enough to make the Realme 6 wobble on your desk, but the bundled silicone case will help you solve this if it bothers you.
The large 6.5" LCD screen with 90Hz refresh rate is probably the Realme 6's highlight feature and it's properly protected with a flat piece of Gorilla Glass 3. There is a punch hole for the 16MP selfie camera on the left, but sacrificing pixels for selfies is still pretty unavoidable, gimmicks excluded.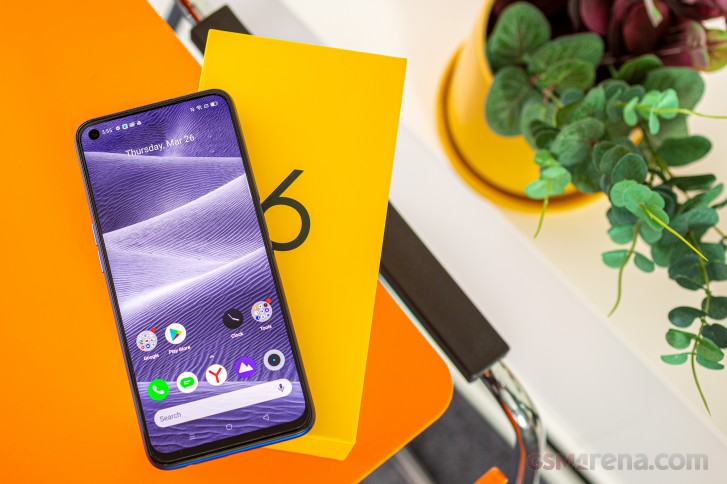 Luckily, the earpiece is quite thin and discretely etched within the screen enclosure, so no pixels had to die for it.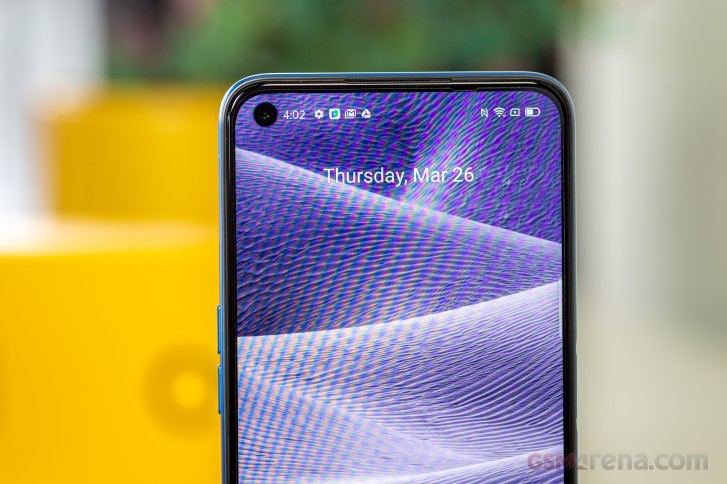 The plastic frame has matte finish, which is good for grip, but it has no chamfers to enhance it. Still, the frame feels sturdy and helps the phone feel secure in hand.
On the right side of the frame sits one very thin power/lock key, which surface also hosts the fingerprint reader. The scanner is fast and accurate, but since its surface is quite slim - sometimes you will need to touch it a second time.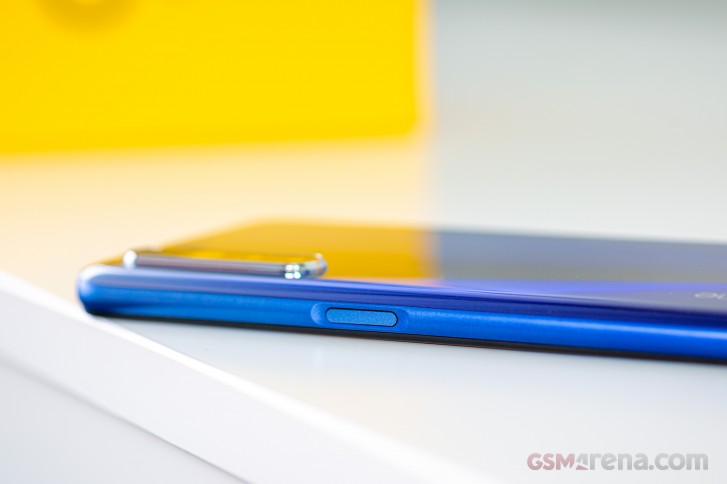 The Realme 6's essentials are at the bottom - the USB-C port is here, the speaker, the audio jack, and, of course, the mouthpiece.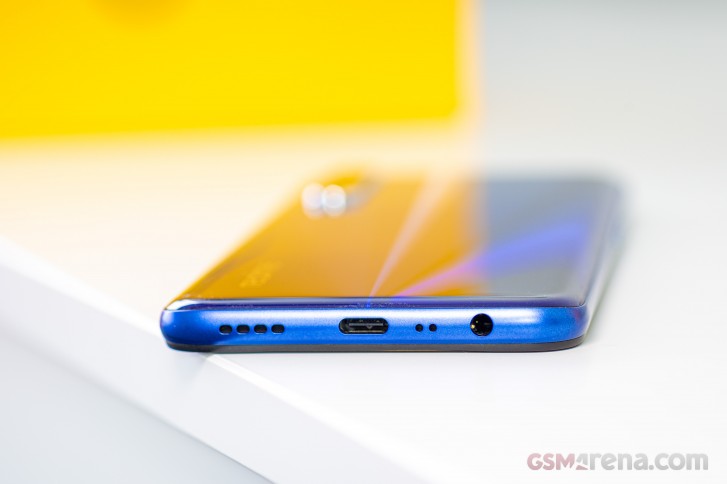 The phone has our favorite tri-card slot, on its left side, and it can use two SIMs and a microSD card at the same time.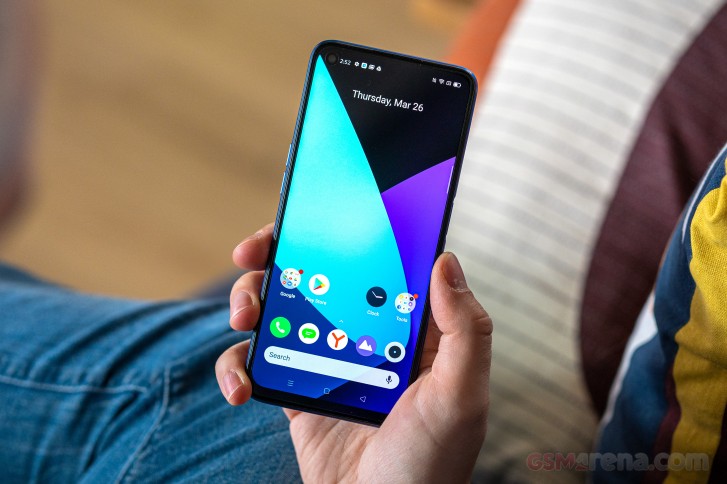 The Realme 6 is of similar footprint as the Realme 5 and weighs 191g - not that heavy for a 6.5-incher, on the contrary. It fits well in hand and in pockets, thanks to its slim profile, provides enough grip to be used safely even without its case, and above all - has an excellent design for a budget phone.
Realme6 is Soo bad for mobile legend game I'm Soo disappointed don't buy this phone
Have realme 6 speed disl number
I bought this Realme 6 before 2months back the phone is perfect but the camera vedio recording is worst vedio recording is full of blur so please guys don't buy this phone Realme 6