Realme 6, 6i and C3 arrive in Europe and are available for pre-order, shipping starts in April
Peter, 31 March 2020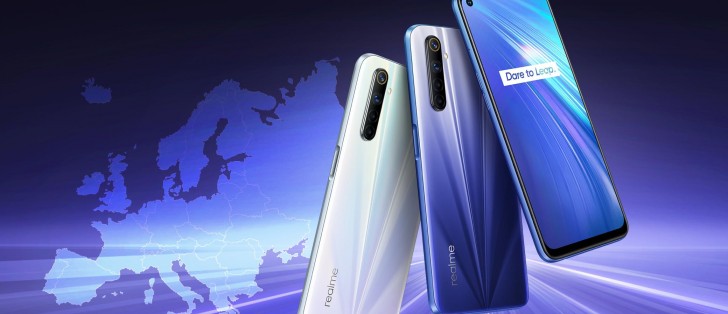 Three new Realme phones have entered Europe - they are available for pre-order now and will begin shipping in April. Besides Realme.com, you will also be able to find the phones on Amazon.
We start with the Realme 6, which will be available from April 6 and starts at €230 for the 4/64GB version. You can have more storage, the 4/128GB phone is €270, more RAM too - the top-specced model with 8GB of RAM and 128GB storage is €300.
Prices vary slightly by country - Spaniards, for example, will pay only €220 for the base Realme 6. By the way, we have a hands-on review of the phone if you want to know more about it.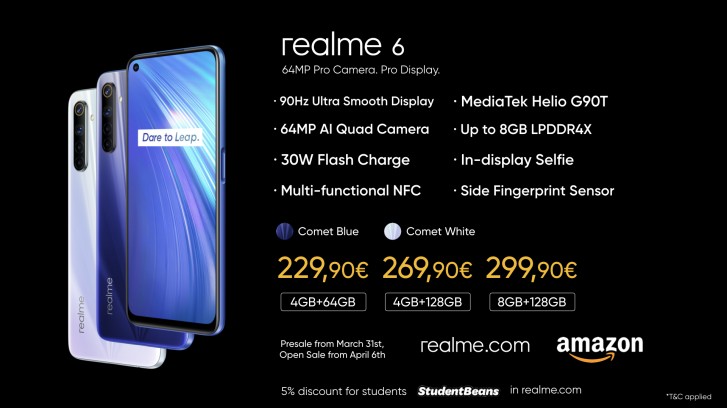 The Realme 6i gets a single variant - one with 4GB of RAM and 128GB storage - which costs €200. Again, you can find it for less, this time the Spanish price is €20 lower. The 6i is currently being reviewed, so expect a detailed account of its strengths and weaknesses soon.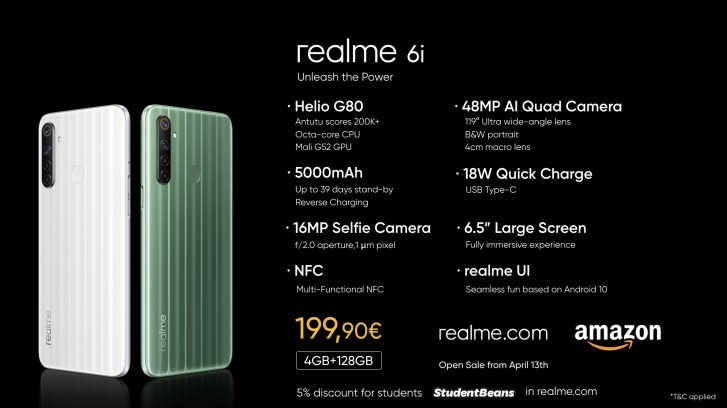 Next up is the Realme C3 (the triple camera version). This one is €160 in some regions of Europe (with 3GB of RAM adn and 64GB storage) and €140 in Spain.
The 6i and C3 are coming a week after the Realme 6, arriving in stores on April 13.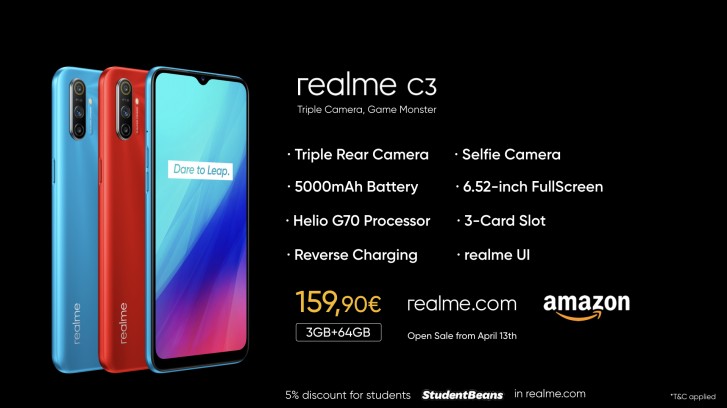 By the way, if you are a student, you can grab a 5% discount on Realme phones thanks to StudentBeans.
Unlike Spain, Italy gets no discounts. That's still better than the UK where the Realme 6 is £220 and the 6i is £190 (the C3 isn't available on the official site yet). Russia only got the C3 for RUB 10,000, which is a steep discount compared to the euro price but the phone has less storage, 32GB.
The Realme 6 Pro is nowhere to be found on the Old Continent.
Related
You can always import Xiaomi, or RealMe global version of phones from f.e. Aliexpress site, for way less price. But, there is a catch, in every EU country the low is dfferente, so in the end, if you pay RealMe 6, 150 euros on Aliexpress with shippin...
Anonymous
31 Mar 2020
XmW
its okay, in Asia they're on par with the likes of Apple and Samsung...
Popular articles
Popular devices
Electric Vehicles