Realme 7 5G review
GSMArena Team, 25 November 2020.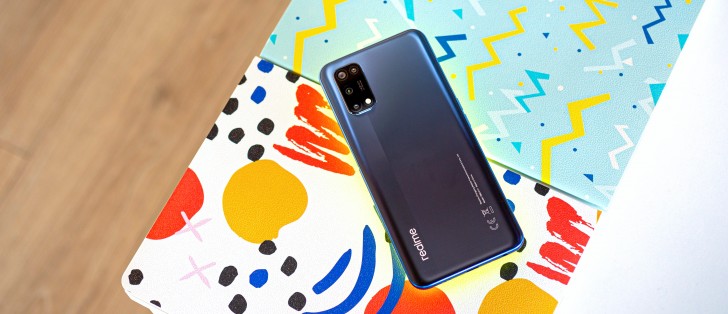 Design, build, handling, controls and connectivity
Design-wise, the Realme 7 5G is actually pretty similar to its vanilla Realme 7 sibling. In fact, the pair are quite similar in dimensions, as well. The Realme 7 5G is about as tall and just a tiny bit narrower and thinner, measuring 162.2 x 75.1 x 9.1mm, with a weight of 195 grams.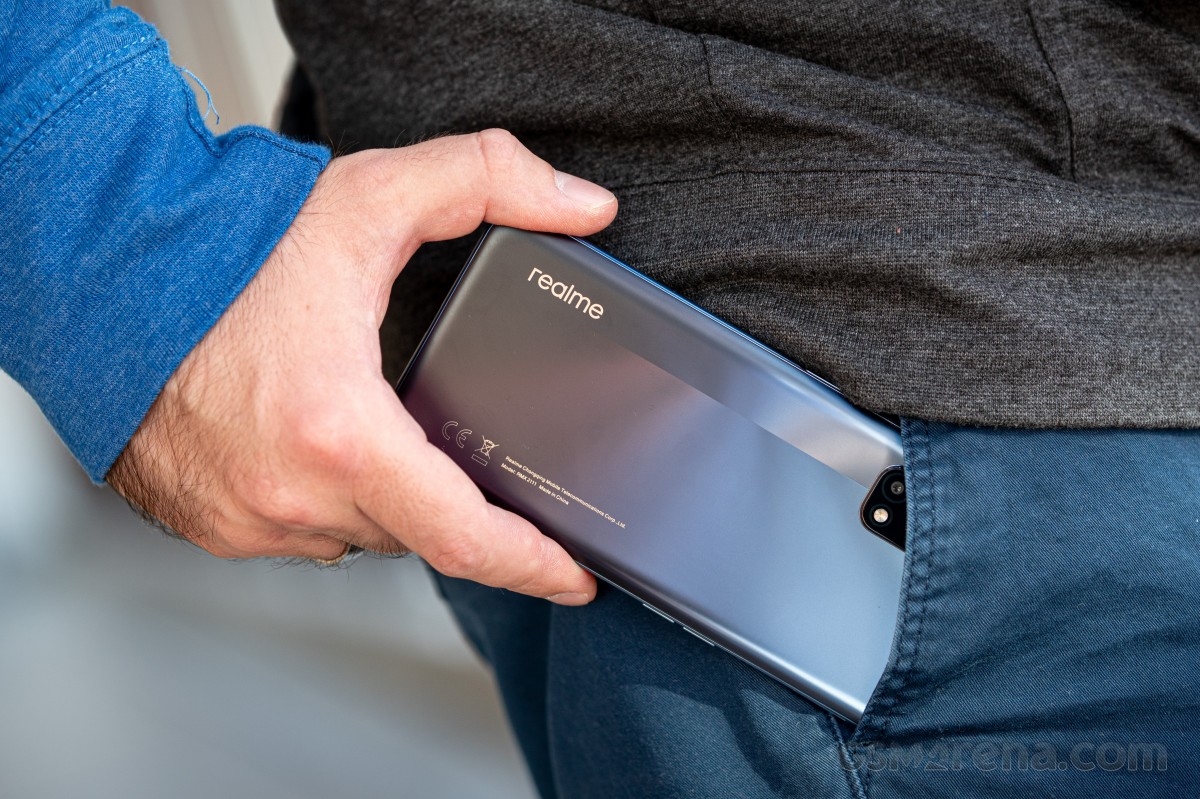 The rear panel of the Realme 7 5G shares a familiar and recognizable design. It is defined by a vertical split and two different color hues on either side. It's an eye-catching look that Realme claims to be inspired by a mirror. The surface itself actually isn't all that reflective. It feels silky and smooth, almost premium in a way. Realme says the back features something it calls an "AG matter coating with classic CD textures."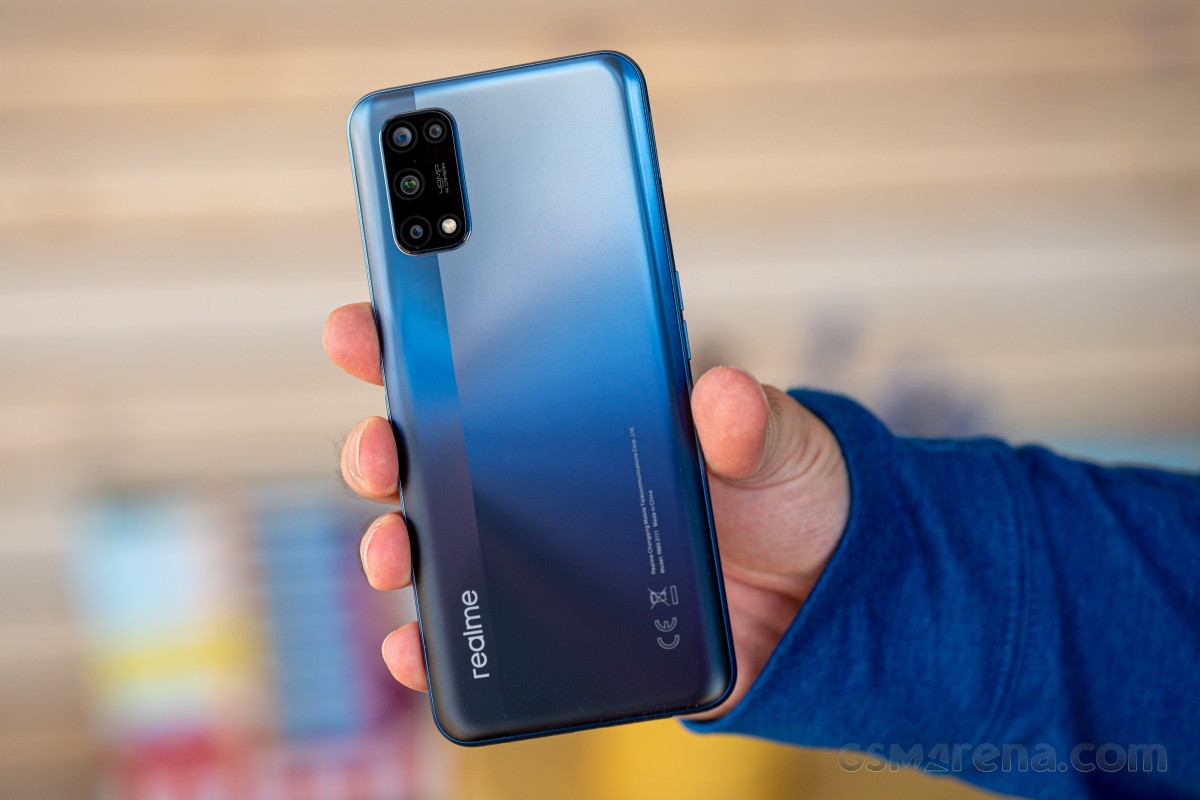 Realme clearly has both the looks and feel down, but it is worth noting that the back of the Realme 7 5G is a fingerprint magnet and is quite slippery. A case is definitely recommended, even if a bit unfortunate since you are covering up the nice design.
Like its siblings, the Realme 7 5G employs a typical "sandwich" three-piece design. The middle frame is not fancy or flashy in any way, but it does look interesting since it also features a gradient in its color. Going from light at the top of the phone to dark at the bottom. It is made of plastic but still feels nice and provides plenty of structural integrity. There is no flex to speak of. We also appreciate the chamfers on both sides of the frame since they provide a vital boost to the phone's overall grip.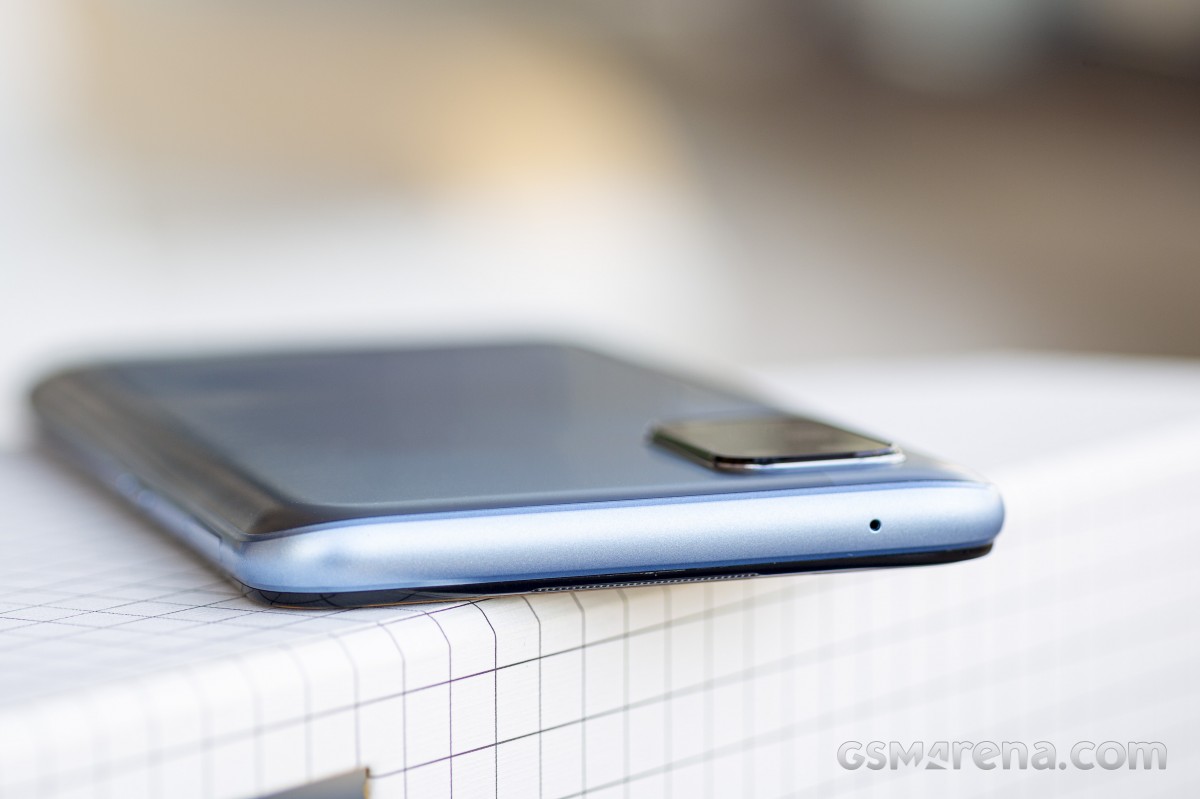 Flipping the Realme 7 5G around reveals a 6.5-inch display - the same diagonal you get on the vanilla Realme 7. However, with its smaller overall body proportions, the Realme 7 5G manages an impressive 90.5% screen to body ratio, compared to the 83.4% of the vanilla. That makes for a more elegant look.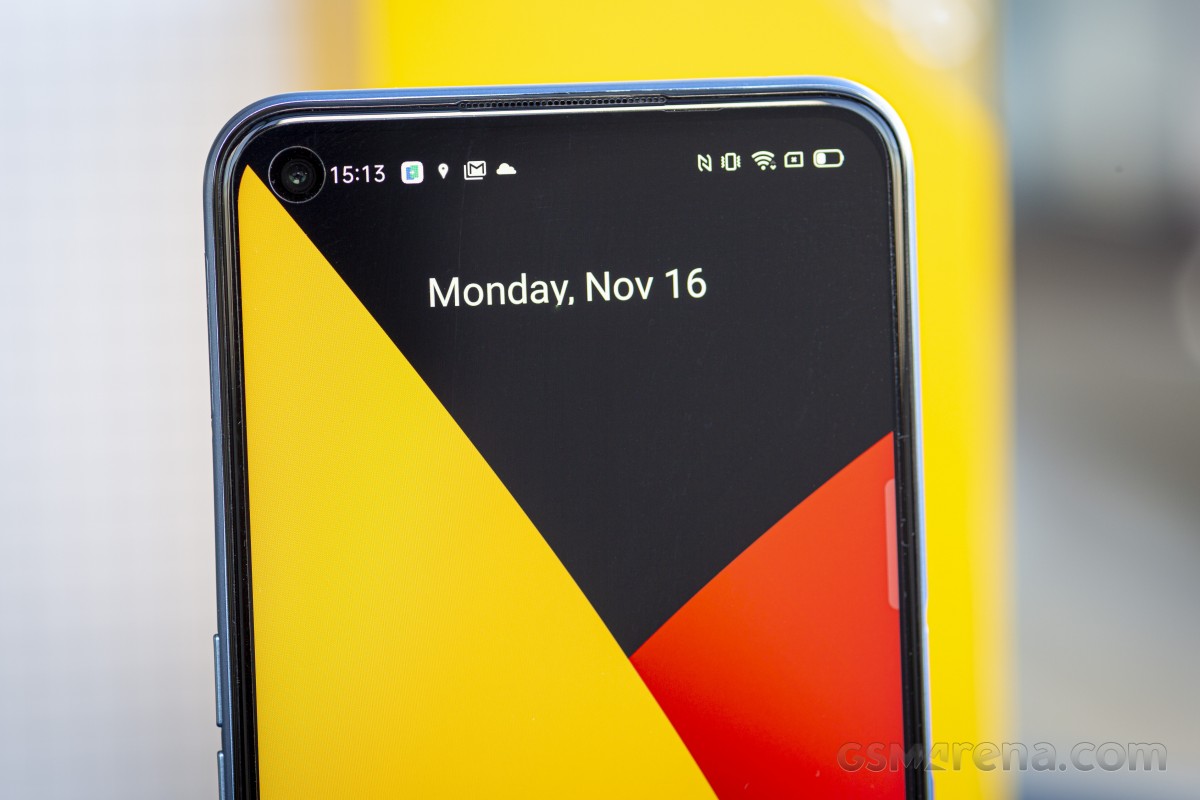 The punch-hole for the 16MP selfie camera is on the bigger side and a bit of a distraction. It's just par for the course with most of Realme's current designs. On a positive note, the entire front is covered with a Corning Gorilla Glass layer. Its protective qualities are not officially disclosed, but it still offers some extra peace of mind.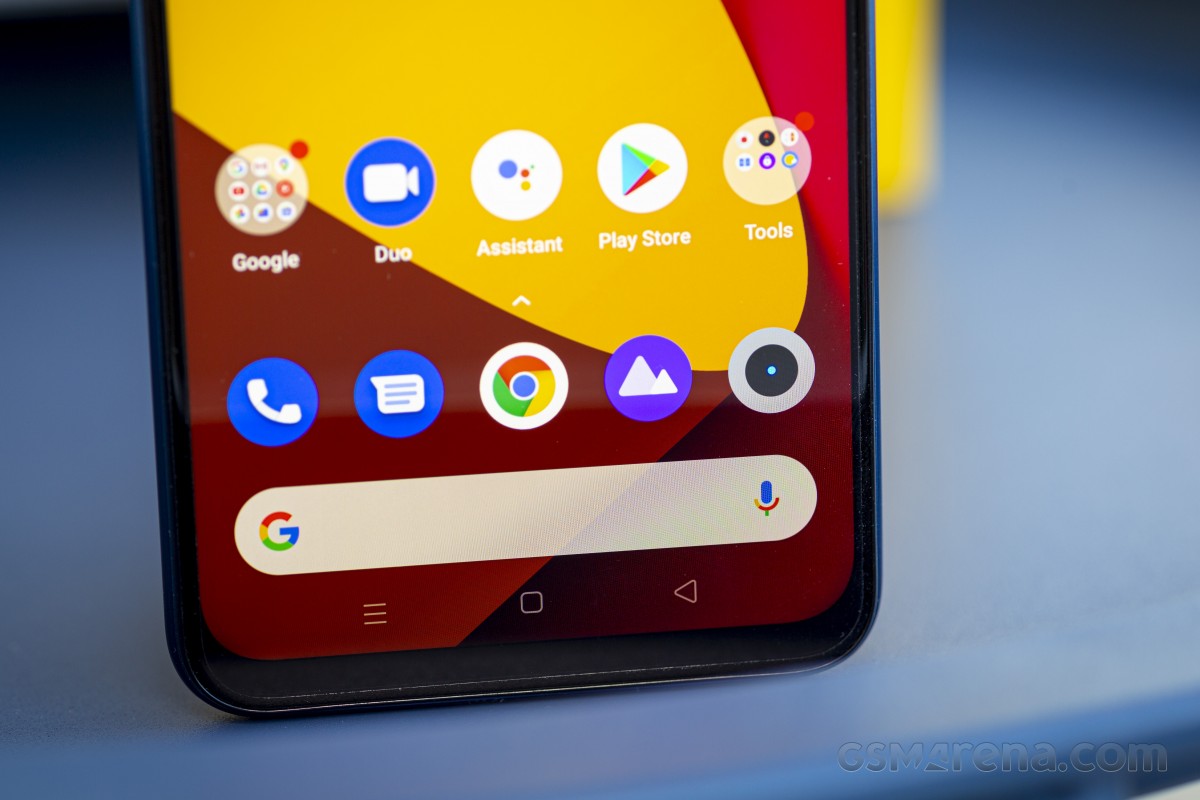 Overall, the Realme 7 5G feels very solid and well-built. We have no complaints about manufacturing quality.
Controls and connectivity
There are literally no surprises in terms of controls and their layout. On the bottom side - a single speaker, alongside a 3.5mm jack, the primary microphone, and a USB Type-C port. Naturally, only limited to USB 2.0 in terms of data transfer speeds. USB Host is supported. So is the proprietary 30W Dash Charge, as well as 15W PD.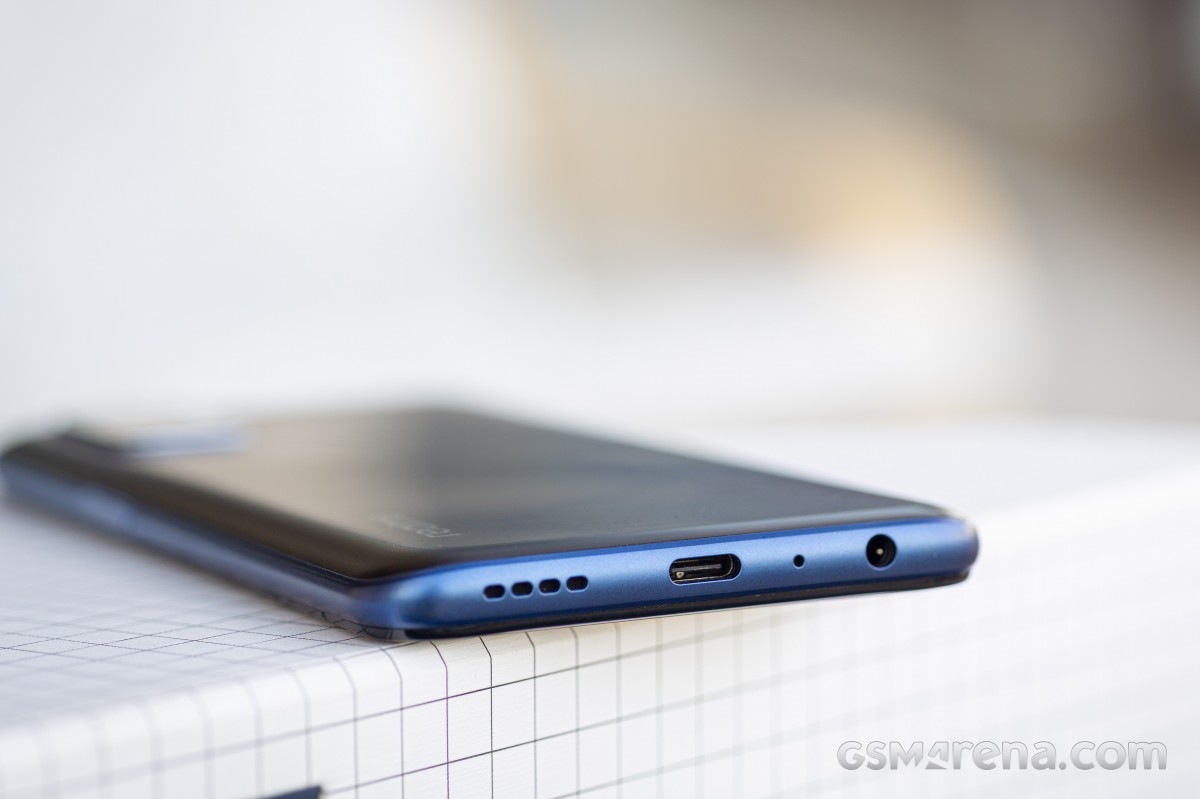 The top bezel of the Realme 7 5G only has a secondary noise-cancelling microphone. The earpiece is nestled above the display on the front. There is no notification LED.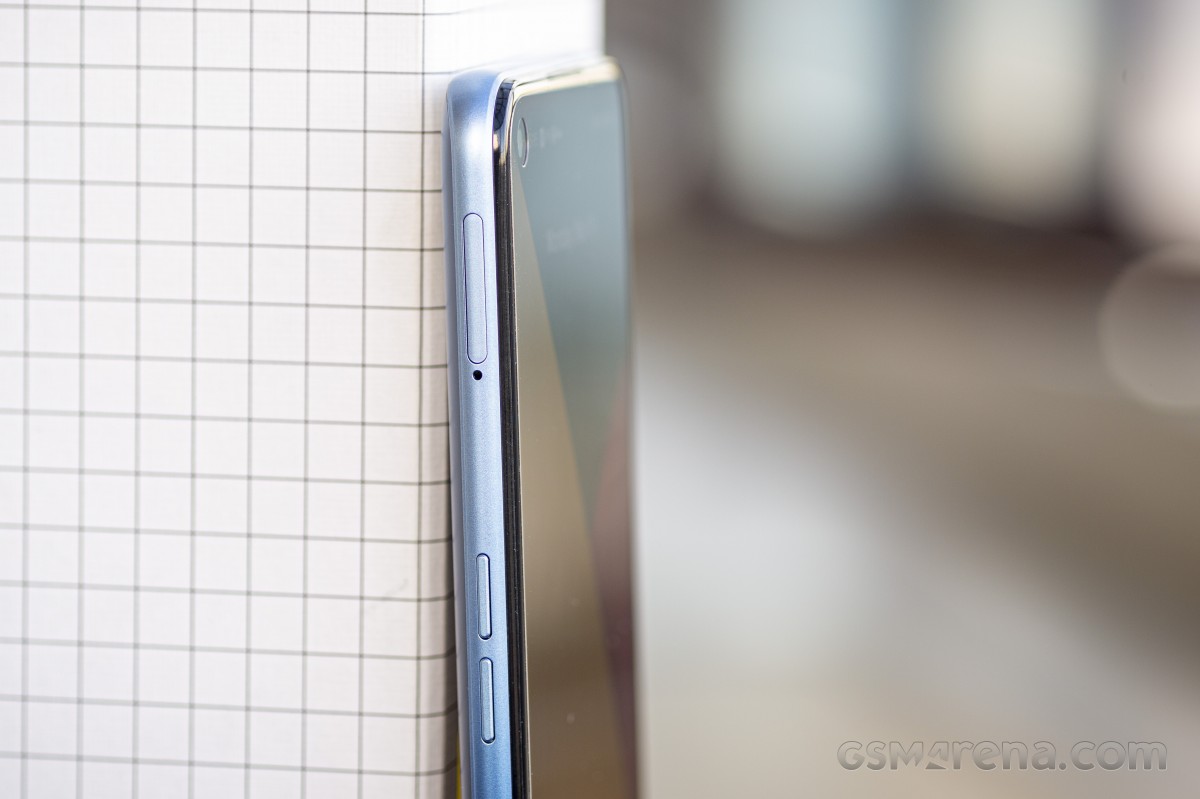 The right bezel houses a power button and capacitive fingerprint reader combo. The reader is really snappy and reliable, as we have come to expect from traditional capacitive modules.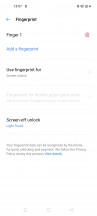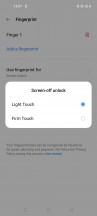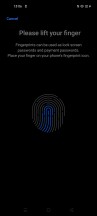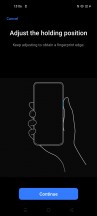 Fingerprint setup and settings
By default, the fingerprint is always-on, but you can also switch this behavior to have the reader only trigger after pressing the button if that is what you prefer. We also appreciate the concaved design of the button.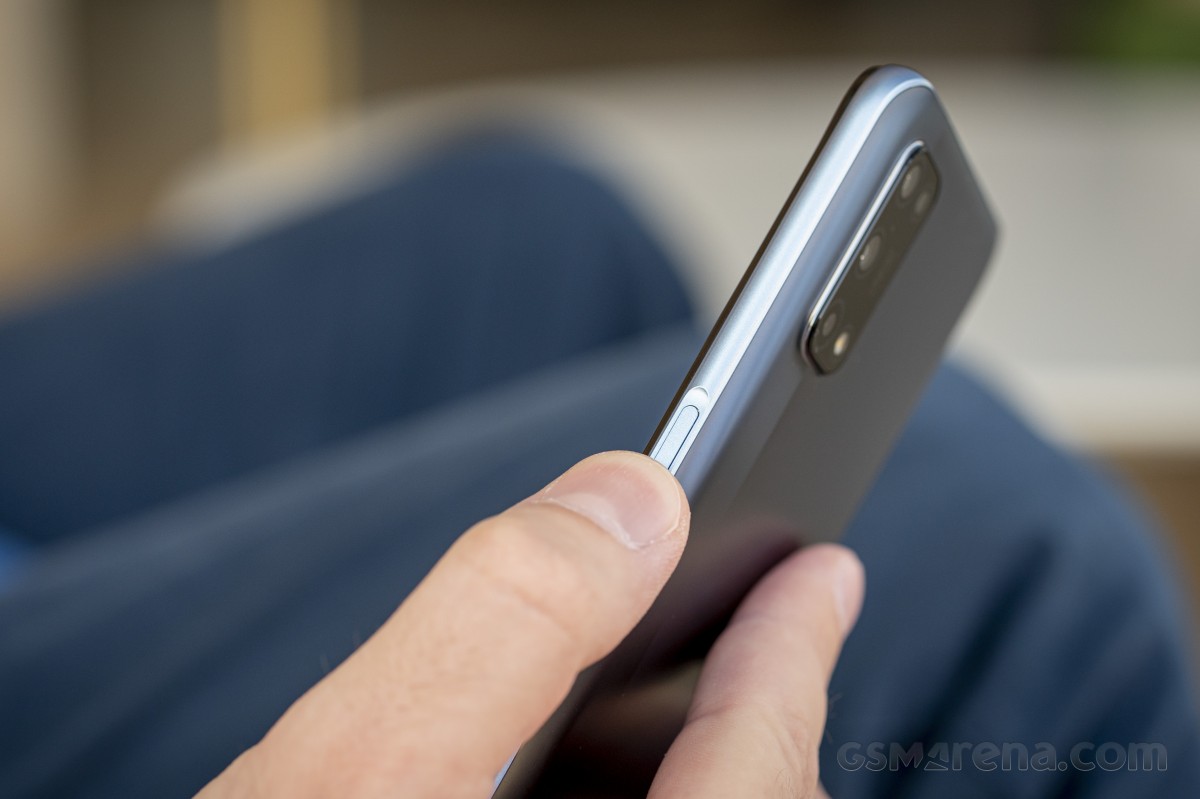 Finally, on the left side, we have two volume keys and a SIM tray. The volume keys work well enough but feel a bit mushy to the press. These could be better.
The SIM tray on the Realme 7 5G has a total of two nano-SIM slots. You can use either of both for 5G simultaneously.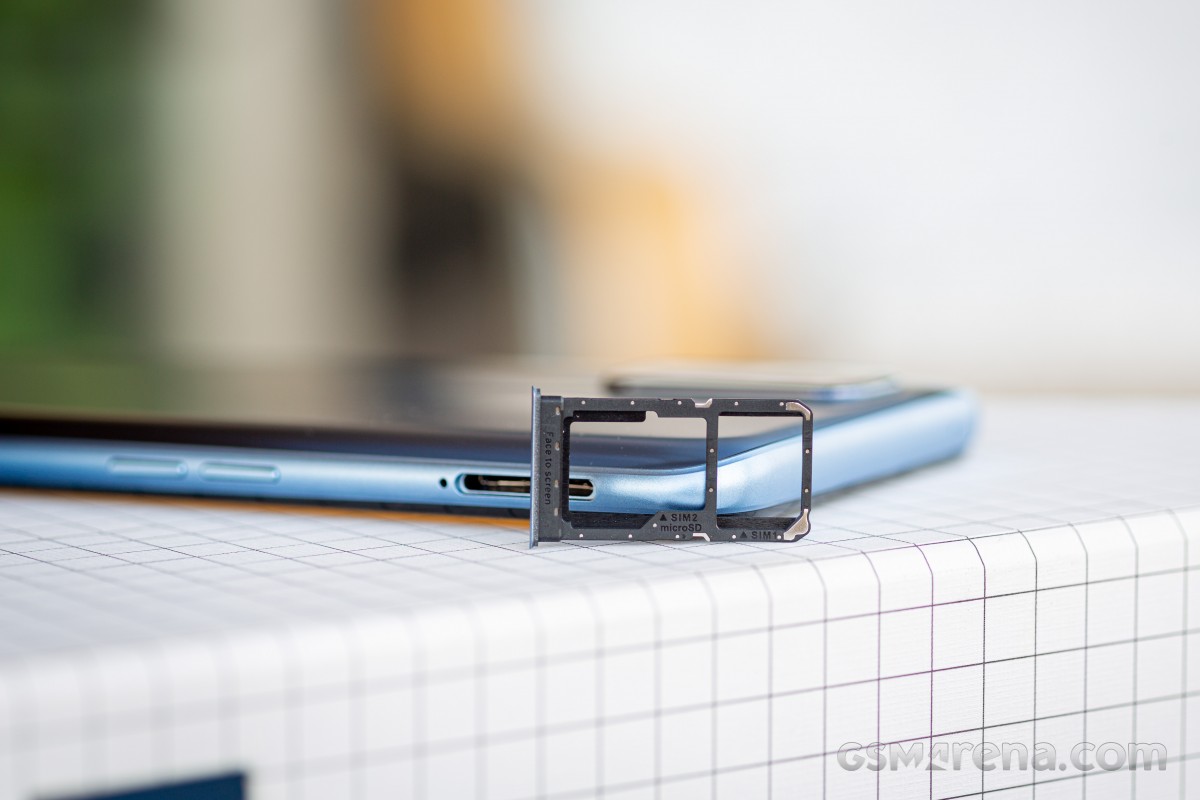 Unfortunately, there is no dedicated microSD card slot. Instead, you will have to give up one of your SIM cards for extra storage.
Connectivity
Seeing how the Realme 7 5G is being aggressively marketed for its 5G connectivity, we would be remiss if we didn't elaborate a bit on its overall connectivity. As per Realme's own claims, the 7 5G is: "the first phone supporting 5G+5G DSDS in the price range in Europe". It has 5G+5G DSDS capabilities, which means that you can use two 5G standby connections simultaneously on a fairly-extensive list of 12 bands (n1, n3, n5, n7, n8, n20, n28, n38, n40, n41, n77, n78). The Realme 7 5G and the Dimensity 800U also support 5G-CA(2CC 5G Carrier Aggregation) for improved speed and connection stability. Of course, you also get a fallback to 4G, 3G, and 2G from the same modem.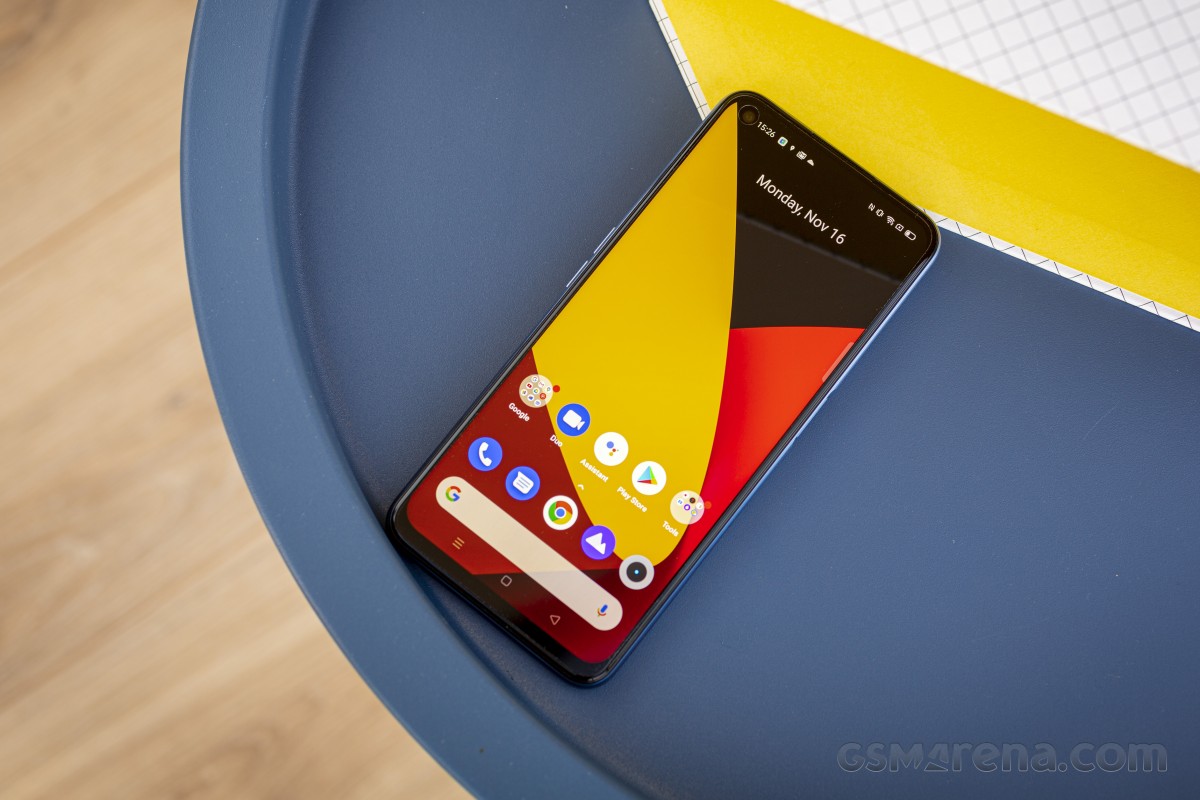 In terms of local connectivity, the Realme 7 5G has the basics covered, like Dual-band Wi-Fi ac and Bluetooth 5.1. There is also GPS, with A-GPS, Glonass, Beidou, and Galileo support. NFC is added to the mix, as well. The sensors on board the Realme 7 5G include: Magnetic Induction Sensor, Light Sensor, Proximity Sensor, Gyro-meter, and Acceleration Sensor.
That Moto and some other model Motos will be Unusable in the USA after 3G sunset on Feb 22 ... It is not certified here for volte, evil carriers kicking it off network.
It almost certainly doesn't. BUT it has TMO band 41 5g ... ATT doesn't even offer 5G to all subscribers, only those with 5G eligible plans. Also none of these dual sim phones work on Cricket or Metro PCS at all anymore ... Blacklisted. ...
Anonymous
01 Jul 2021
rJ{
Poco x3 pro is the best