Realme 8s 5G review
GSMArena Team, 18 October 2021.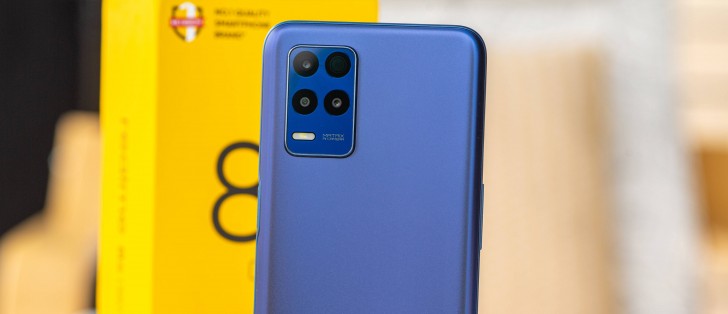 Display
The Realme 8s 5G is equipped with a 6.5-inch IPS display. On paper, it looks very similar to the one in the Realme 8 5G, including its 1080 x 2400-pixel resolution (20:9), which works out to about 405 ppi of density. Also, the 90Hz refresh rate and advertised 600 nits of peak brightness. Initially, we thought that the two shared the same panel, though, upon closer inspection, that might not be the case.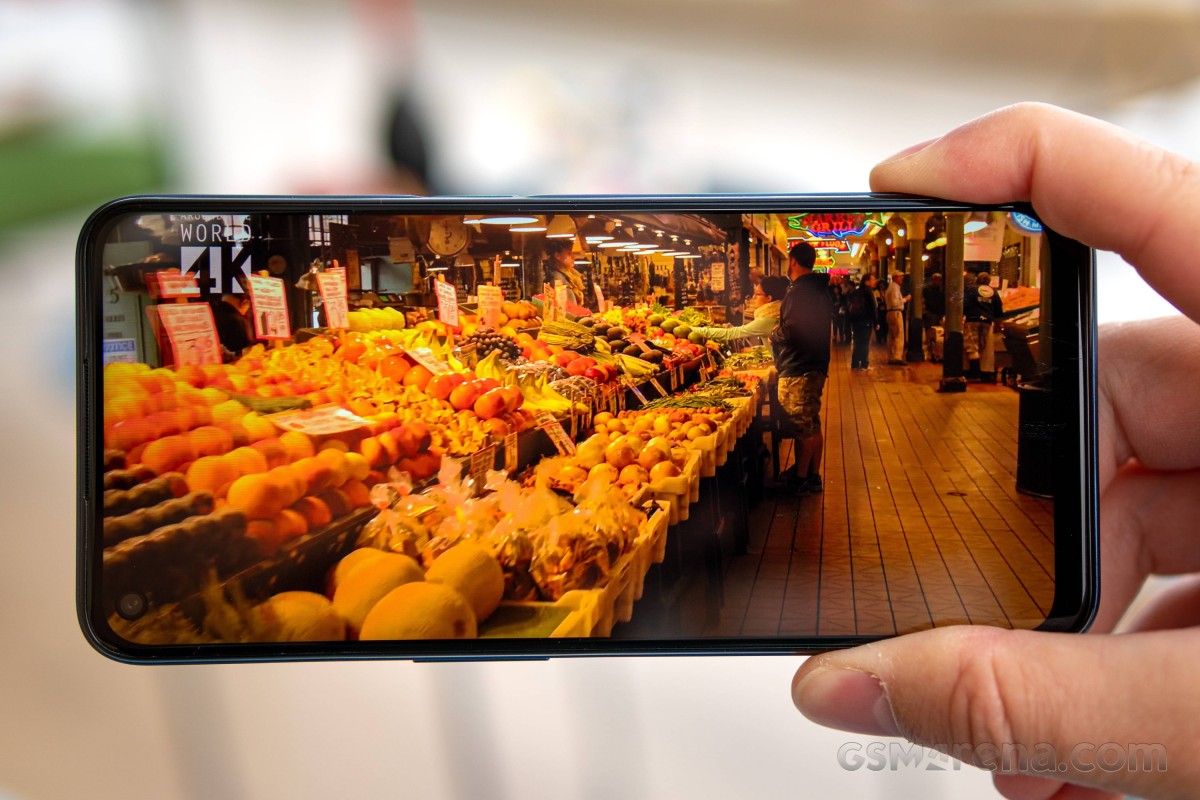 In terms of brightness, the Realme 8s 5G managed a respectable 411 nits on the slider in our tests. Good, but also the lowest out of every other Realme 8 model we have tested thus far. With a bright light source present and max auto mode kicking in, we measured 530 nits. Again, quite respectable, but a bit lagging compared to its siblings.
Display test
100% brightness
Black,cd/m2
White,cd/m2
Contrast ratio
Xiaomi Redmi Note 10 (Max Auto)
0
682
∞
Realme 8 (Max Auto)
0
657
∞
Realme X7 Max 5G (Max Auto)
0
640
∞
Realme 8 Pro (Max Auto)
0
627
∞
Realme 8 5G (Max Auto)
0.408
577
1414:1
Realme 8i (Max Auto)
0.475
540
1137:1
Poco M3 Pro 5G (Max Auto)
0.366
536
1464:1
Poco X3 Pro (Max Auto)
0.4
534
1335:1
Realme 8s 5G (Max Auto)
0.383
530
1384:1
Samsung Galaxy A32 5G (Max Auto)
0.338
497
1470:1
Xiaomi Redmi Note 10 5G (Max Auto)
0.275
492
1789:1
Xiaomi Redmi 10 (Max Auto)
0.4
477
1193:1
Xiaomi Redmi Note 10
0
475
∞
Realme 8 5G
0.334
472
1413:1
Samsung Galaxy A12 (Max Auto)
0.349
472
1352:1
Realme 8
0
458
∞
Poco X3 Pro
0.327
458
1401:1
Realme 8 Pro
0
454
∞
Poco M3 (Max Auto)
0.277
439
1585:1
Realme X7 Max 5G
0
433
∞
Realme 8i
0.348
433
1244:1
Samsung Galaxy A32 5G
0.286
426
1490:1
Poco M3 Pro 5G
0.28
413
1475:1
Realme 8s 5G
0.311
411
1322:1
Samsung Galaxy A02s
0.23
406
1765:1
Samsung Galaxy A12
0.292
398
1363:1
Xiaomi Redmi 10
0
396
1494:1
Poco M3
0.252
395
1567:1
Samsung Galaxy A22 5G
0.236
385
1631:1
Xiaomi Redmi Note 10 5G
0.21
377
1795:1
Even so, we found the Realme 8s 5G was usable, even if far from perfect outdoors on a sunny day.
The discrepancies in display performance continue on to color accuracy as well. The Realme 8s 5G has two color profiles available - the standard vivid one, which targets the DCI-P3 color space and a gentle one, which aims for sRGB. Neither managed particularly impressive color accuracy, though. Scoring worse than the Realme 8 5G, which further backs up the theory that the two phones use different panels. With the new Realme 8s 5G getting a slightly inferior one.
Both phones, however, did have the same overall "blue" hue out of the box, with oversaturated blues and a bluish tint in whites. You can use the provided color temperature slider and crank it all the way to "warm" to counteract a lot of that blue tint in vivid mode. This results in much better DCI-P3 accuracy, but still far from what would be considered "color-accurate". Just refrain from trying the same tactic on the gentle color mode since that simply oversaturates the reds immensely.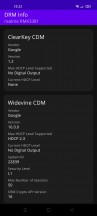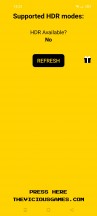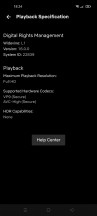 Widevine • HDR support • Netflix playback capabilities
Speaking of colors, the Realme 8s 5G still lacks any HDR support, just like its Realm 8 5G sibling. At least any previous issues we had with Widevine and content streaming seem to be officially fixed (an update on the older Realme 8 5G took care of that, as well), and the Realme 8s 5G reports the highest Widevine L1 support, which allows apps like Netflix to stream in 1080p, saturating its display resolution.
High refresh rate handling
The Realme 8s 5G has a 90Hz refresh rate and a trio of settings to control the display mode under Display settings: auto, 90Hz and 60Hz. One would, hence, instantly assume that the auto mode tries to do some clever switching to conserve battery, whereas the 90Hz and 60Hz modes are just straight-up fixed toggles.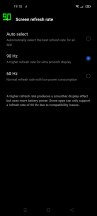 High refresh rate modes and smooth scrolling
Unfortunately, that is not entirely true, and while we can't quite pinpoint what the differences are, auto and 90Hz are similar in their behavior. Both tend to run the UI of the phone and most apps, like browsers in 90Hz mode, and both run others, like YouTube in 60Hz mode, which is great to see for conserving battery. Auto mode, however, seems to run more apps in 60Hz mode overall, like the Phone or Messages apps, both of which the 90Hz mode ran in 90Hz. So, if you really want to get the most use out of the 90Hz refresh rate, the 90Hz mode seems to be the way to go, with no immediately apparent battery downsides. Realme needs to make this menu and its options a bit clearer.
Another rather interesting feature on the Realme 8s 5G, under the Realme Labs experimental menu, claims to improve scrolling smoothness. It's a rather vague claim, if we've ever seen one, and after playing a bit with it, we can't say that it makes a discernable difference over the improvement that 90Hz brings over 60Hz anyhow.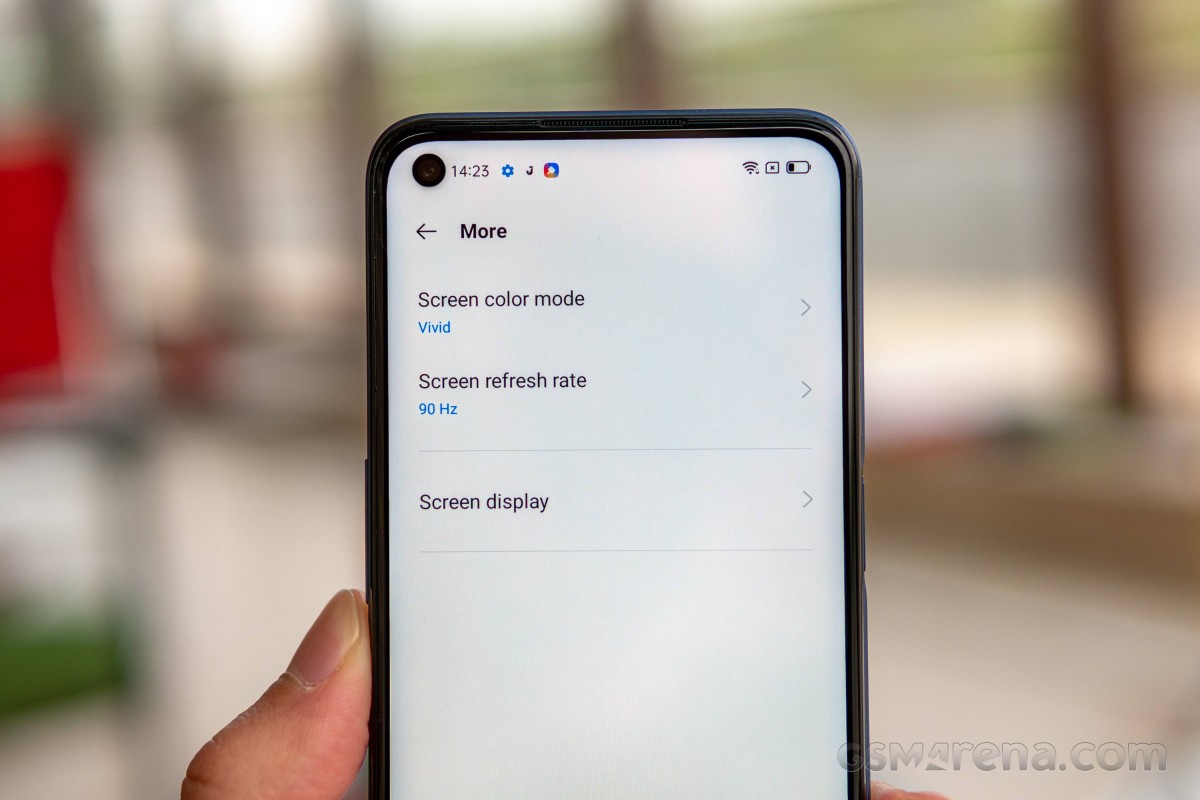 For all the available refresh rates and smooth scrolling options, however, we have to note that we were pretty underwhelmed by the pixel response time of the display on the Realme 8s 5G overall. It is pretty sluggish and exhibits plenty of smearing when scrolling, more so than its siblings, which again leads us to believe that some panel downgrading has taken place here.
Battery life
The Realme 8s 5G is rocking a 5,000 mAh battery, just like its siblings, including the Realme 8 5G. Also, like it, it has a very similar, specs-wise, 6.50inch, FullHD+, 90Hz IPS display. Two reasons to expect pretty similar battery endurance between the two. And indeed, looking at our video and web on-screen tests, we see similarly impressive numbers, with the Realme 8s 5G lagging behind just a bit.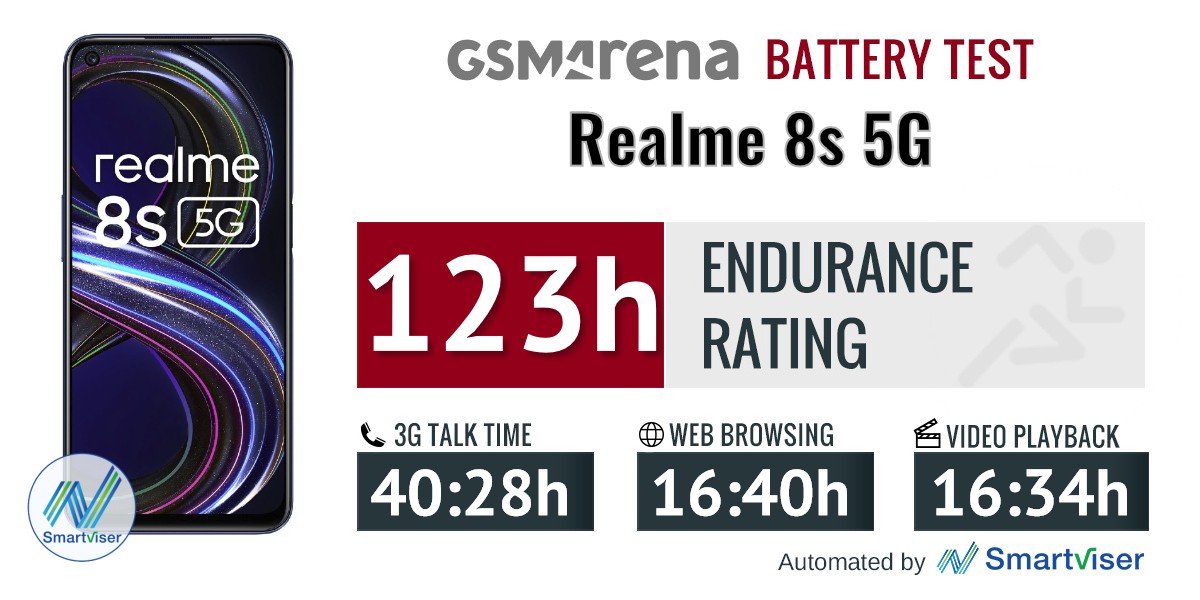 However, one notable difference between the Realme 8 5G and the newer Realme 8s 5G is the new Dimensity 810 5G chipset in the latter. It is made on a theoretically more efficient 6nm process, which seems to shine through with excellent 3G call test numbers. Though, it is worth noting that the older Realme 8 5G and its Dimensity 700 chipset still managed better standby times.
Tabulating all of the numbers, however, works out in favor of the new Realme 8s 5G, which has nothing short of excellent, all-around battery endurance.
Our battery tests were automated thanks to SmartViser, using its viSerDevice app. The endurance rating denotes how long the battery charge will last you if you use the device for an hour of telephony, web browsing, and video playback daily. More details can be found here.
Video test carried out in 60Hz refresh rate mode. Web browsing test done at the display's highest refresh rate whenever possible. Refer to the respective reviews for specifics. To adjust the endurance rating formula to match your own usage patterns check out our all-time battery test results chart where you can also find all phones we've tested.
Charging speed
The Realme 8s 5G advertises charging at up to 33W - a nice little upgrade over the 18W on the Realme 8 5G and theoretically even faster than the 30W Dart Charge on the vanilla Realme 8.
30min charging test (from 0%)
Higher is better
Realme 8 Pro
88%
Xiaomi Redmi Note 10
65%
Realme 8
56%
Realme 8s 5G
50%
Poco X3 Pro
50%
Xiaomi Redmi Note 10 5G
33%
Poco M3 Pro 5G
33%
Realme 8i
30%
Samsung Galaxy A02s
30%
Realme 8 5G
29%
Xiaomi Redmi 10
26%
Poco M3
25%
Samsung Galaxy A32 5G
23%
Samsung Galaxy A22 5G
23%
Samsung Galaxy A12
20%
Time to full charge (from 0%)
Lower is better
Realme 8 Pro
0:38h
Poco X3 Pro
1:08h
Realme 8
1:09h
Xiaomi Redmi Note 10
1:13h
Realme 8s 5G
1:14h
Xiaomi Redmi Note 10 5G
2:00h
Poco M3 Pro 5G
2:00h
Xiaomi Redmi 10
2:13h
Realme 8 5G
2:20h
Realme 8i
2:21h
Samsung Galaxy A32 5G
2:24h
Samsung Galaxy A22 5G
2:29h
Poco M3
2:30h
Samsung Galaxy A02s
2:36h
Samsung Galaxy A12
3:03h
In practice, however, the Realme 8s falls just short of its performance while still clocking in an admirable 50% charge in 30 minutes, with a full top-up taking right around an hour and 15 minutes.
Exactly what charging tech Realme is using on the Realme 8s 5G seems to be a bit of a mystery, though. Thankfully, the 33W charger is included in the box, but you might just have to hold on to it and not lose it. It is rated for either 5V@2A - a USB standard or the ambiguous 5V-11V@3A. The latter suggests both variable voltage and a fixed amperage.
3A is also a rather odd number. While it does appear in the v1 USB Power Delivery spec - the one that still allows for the USB Type-A to Type-C cable that the Realme 8s 5G is using, the voltage for the 3A profile does not match (12V). The newer PD standards are much more flexible but require a Type-C to Type-C cable, which is not the case here.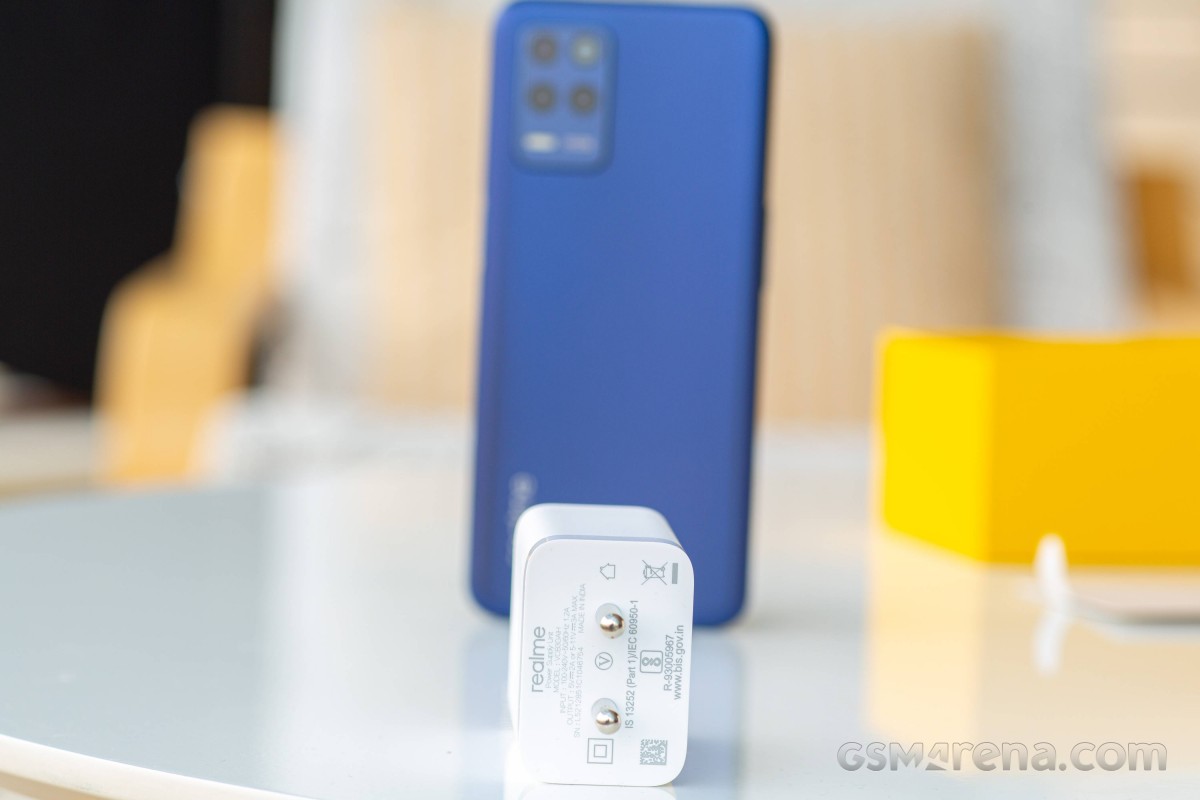 In any case, the system works well enough. Though not as good as Xiaomi's competing 33W charging tech, as seen on the Redmi Note 10. Plus, the USB-A to USB-C cable appears to be standard and not proprietary, which is great to see.
Speaker
The Realme 8s 5G has a single, bottom-firing speaker at its disposal. The entire Realme 8 family generally has the same setup.
Performance is pretty comparable across the lineup as well. The Realme 8s 5s managed to earn a "good" loudness rating in our tests. The quality is decent but not overly impressive. It has well-presented mid-tones, but it lacks in the low and high notes.
Use the Playback controls to listen to the phone sample recordings (best use headphones). We measure the average loudness of the speakers in LUFS. A lower absolute value means a louder sound. A look at the frequency response chart will tell you how far off the ideal "0db" flat line is the reproduction of the bass, treble, and mid frequencies. You can add more phones to compare how they differ. The scores and ratings are not comparable with our older loudspeaker test. Learn more about how we test here.
its very useful product (realme8s5g)...... camera quality 100%excellent.....
Krashul gupta
18 May 2022
rK7
This phone is really vry bad guys pls don't waist your money for buy it my set is hanged many and many times when I play games and battery backup also is vry poor I suggest realme team please fix these problems
JustAThought
22 Nov 2021
tZ0
Mainly poor battery life and weak signal strength. Curiously, Realme phones perform well in battery lab tests but not that well in real life. Best example would be the X3 Superzoom. It got 103 hours endurance rating, but in real life barely able to l...