Realme Buds Air review
Yordan, 18 December 2019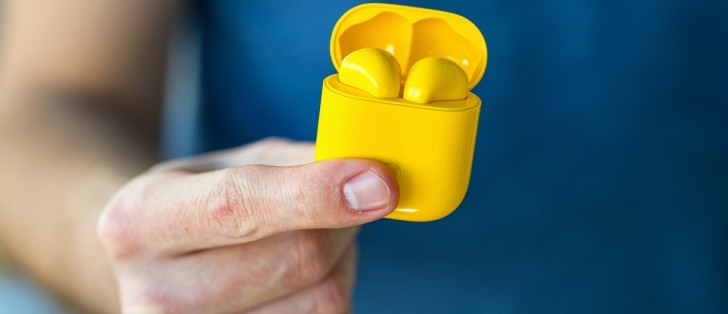 The true wireless earbuds market is so hot right now, everyone wants to be a part of it. Even up-and-coming Realme that's as busy as anyone expanding its smartphone lineup decided to join. Yesterday we saw the Realme Buds Air go official and we got to see (well mostly hear) what they can offer.
I've been using multiple wireless 'hearables' in the past two years, so I decided to take them for a spin. We got the yellow version and to say that it stands out would be an understatement.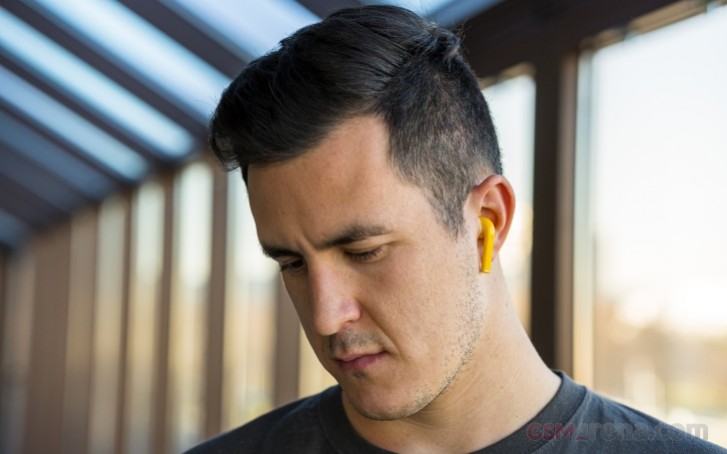 When you get the Realme Buds Air, the retail box has white earbuds on top of it, and they look a lot like Apple AirPods. However, you can always look at your receipt to remind yourself that clean design doesn't have to cost triple digits in US dollars. When we opened the box, we had the Yellow case waiting for us - color coordinated boxes would have been a nice touch, but it's not like anybody will lose much sleep over a piece of cardboard.
The case has dimensions of 51.3 x 45.3 x 25.3mm and weighs just 42 grams. It is incredibly lightweight, and the earphones contribute just over 4 grams a piece from that. There is a USB-C port on the bottom for charging, but the case supports wireless charging up to 10W on every basic Qi charger.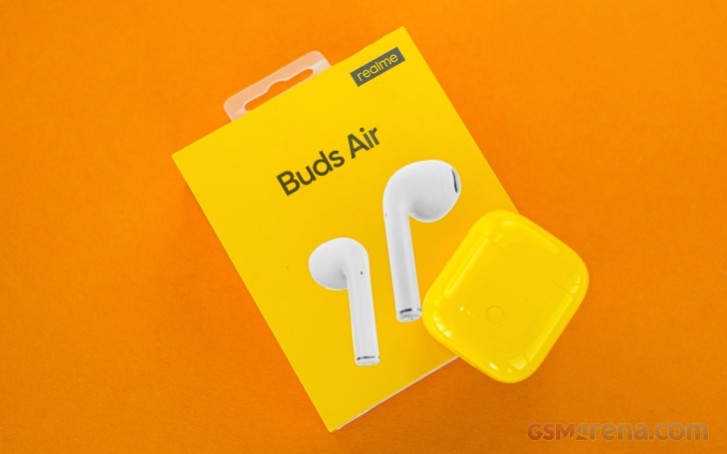 The default wireless charging capabilities of the Realme Buds Air is truly refreshing in a world where other companies will charge you handsomely for the feature. At the moment of writing this review, Realme is yet to announce its Qi charging pad, so we had to use a pre-sale unit the company kindly provided. Until there is an official launch, you can use your own Qi charger, given it can output such power.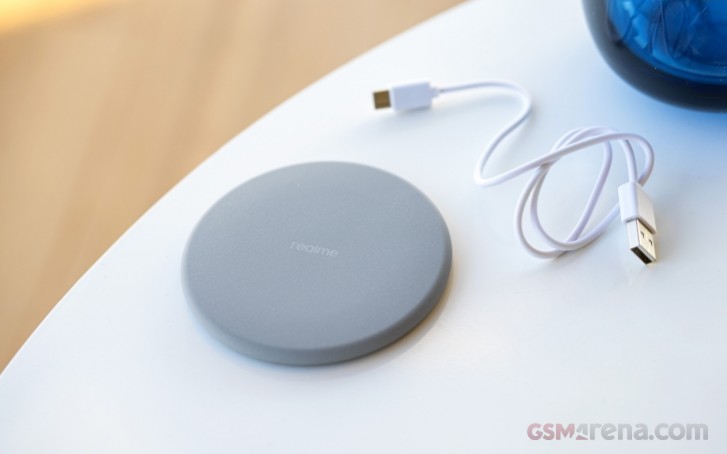 Realme is a company that is always pricing its products aggressively while attempting to match the performance of big players, and the Buds Air are built on the same formule. There is a 12 mm bass booster that does a lovely job of providing a crisp sound at normal levels of volume. The earbuds fail to impress when the volume is at 100% - the bass disappears, and you hear the treble more than anything.
This same issue appeared with the Huawei FreeBuds 3 and the Galaxy Buds, but you can't judge manufacturers harshly - it is hard to put a big bass driver and keep a small footprint. Only Apple's AirPods manage to provide proper deep bass at high levels at this point, but even so we wouldn't suggest you sticking to that kind of volume levels for prolonged periods.
Another issue we are having with the Buds Air is the build of the case - it is entirely plastic, just like every other pair out there, but the lid is so flimsy, at one point it becomes a fidget toy. At least Realme will allow you to buy just the case (or a separate earbud, if you manage to lose it) if it breaks (and that seems quite likely).
The setup button in the center also fails to impress with its durability, but at least you don't have to press it often - you hold it for three seconds the first time you pair the Realme Buds Air over Bluetooth 5.0 and then you can forget about it until you change phones or need to reset your current one.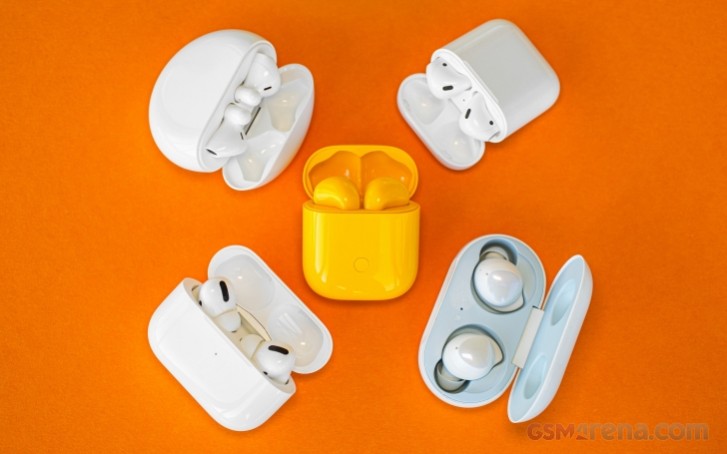 Now let's get back to the sound and the overall performance of the earphones. There are two microphones in each bud - one for conversations and one for noise canceling. Talking through them has a slight distortion - you can hear whatever the other side is saying well enough, but your voice comes out slightly robotic and nasal, making any conversation a challenge.
The music, on the other hand, sounds pure and crisp. Both earbuds have a touch-sensitive area with some commands - double tap pauses the track or answers a call, triple tap skips to the next song. Conversations are ended with pressing for two seconds, but if you press both buds for two seconds, you enter Gaming Mode.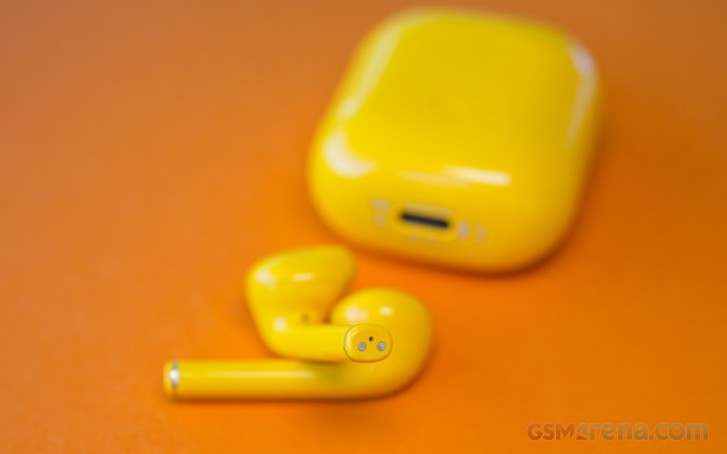 You will know you've switched modes by two sounds - car engine revving up means it is on, piano tunes mean you turned it off. There is also the ability to turn on whatever voice assistant you have on default - ours is Google Assistant. Just press the earphone for two seconds, provided you are not in a call, and it will launch it, even if the phone is locked.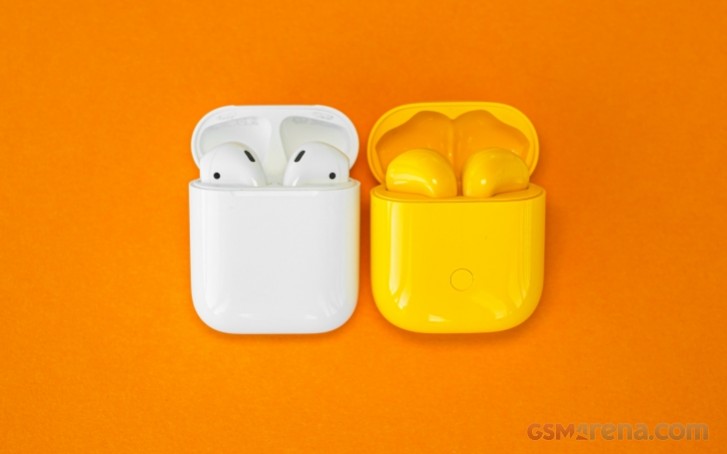 The Realme Buds Air case has a 400 mAh battery. It helps expand the 3 hours battery life to 17 hours (at 50% volume). Throughout the several days of listening, we had no trouble with the charging - there was not a single moment when the earphones had to be out of the case for more than 3 hours, so provided you have a wireless charger on your desk or home, you can pretty much enjoy the earphones at any given time.
When the battery is on low power, you'll have an indicator lighting up and letting you know. There are different modes and three colors for the different levels of charge, but with the yellow case all of them have yellow-ish hue, so relying on your phone to tell you seems more convenient.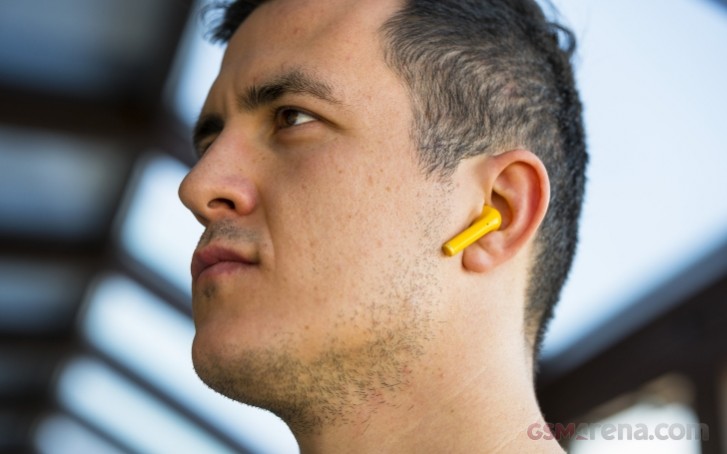 The Realme Buds Air is a pair of true wireless earphones that can easily challenge the big players and change the market. Realme did a great job showing you can do a lot without breaking the bank. They certainly aren't the best around, but with a price tag equal to €50 you can quickly look past them and get the Buds as a gift for anyone loving the freedom from cables.
Related
The Realme buds are great considering the price. The core mediatek chip powering it does a nice job too
Anonymous
31 Aug 2020
sxs
My left realmi airpod begun heating, and I dont know what to do. Im using it for 1 and a half month now
50 euros so around 65-70$
Popular articles
Popular devices
Electric Vehicles