Realme Buds Wireless vs Mi Neckband Bluetooth Earphones
Prasad, 01 December 2019
The Realme Buds Wireless and the Mi Neckband Bluetooth Earphones are two of the most affordable wireless options on the market from the competing Chinese brands. Both feature a neckband style design and both are within spitting distance of each other in terms of pricing. And despite the low price, both also offer the peace of mind that comes with products from know brands instead of the many cookie cutter alternatives littering Amazon.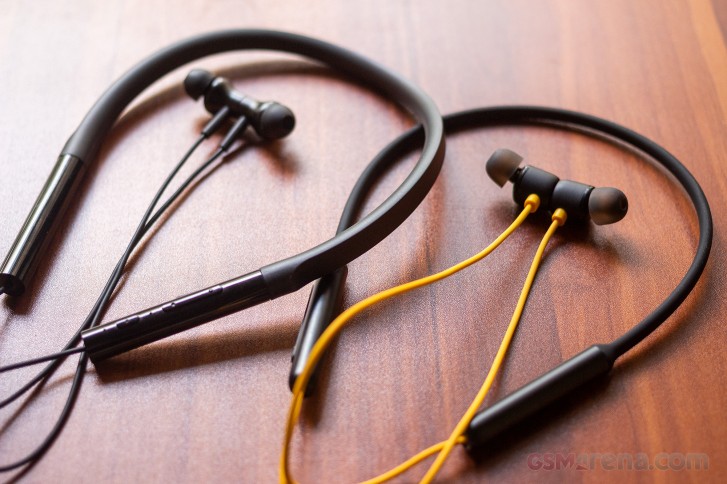 So, which one should you choose if you happen to want low priced wireless earphones? We spent some time with both of these options to see which one comes out on top.
Design
Both the Realme Buds and the Mi Neckband employ a neckband-style design, with cables emanating out of each end. It's a tried and tested design and, in our experience, we've never had any issues with this form factor. We prefer them over a cable tethering us to our phones, even if it may not be truly wireless like the AirPods.
The neckband on the Xiaomi has a more rigid, flattened design than most neckband-style earphones. The neckband is still flexible, but it doesn't quite collapse and crumple into smaller size like some other models, including the Realme Buds. This means you can't exactly fold it to keep it in your pocket.
The Realme design is more flexible, which means it can be bent into any shape and squeezed into your pocket.
The Mi Neckband body is made entirely out of plastic. It's not necessarily cheap but there is no pretense of opulence here, either. The cables coming out of both ends are also rather thin and kept their kinks even after being outside of the packaging for several weeks. The earphone casing is made out of metal, although it's very lightweight.
The Realme Buds have a rubberized neckband but the two weighted modules at either end are encased in metal. The striated cables, although even more adamant about retaining their kinks, are thicker and in a bright shade of yellow. More flashes of yellow are seen on the controls and the inside of the silicone ear tips. The earphone casing is thicker and also made out of metal. You also get a set of fins to keep the ear buds in your ears during workout but they can be removed if not required. Speaking of workouts, the Realme Buds are also IPX4 certified for splash resistance.
Both the earphones have controls placed on the modules at the end of their neckbands instead of on the earphone cable itself. This results in both having non-intuitive and awkwardly placed buttons that are frustrating to use. You're probably better off just using the controls on your phone.
Both earphones have magnets in them, which allows the casing to snap together as they hang from your neck. Snapping them together turns the Realme Buds off and separating them turns them back on again. On the Mi Neckband, you have to manually turn them on or off using the physical button on the side.
Overall, the Realme Buds are definitely the nicer looking and feeling of the two. They are also more flexible, have sweat and water resistance, and the automatic power off when you snap them together is a convenient feature. The Mi Neckband decidedly feel like budget earphones in comparison.
Features and operation
With both earphones being budget models, there isn't much here to talk about regarding features. There is no accompanying software for either and neither supports software updates.
The Realme Buds support SBC and AAC audio codecs. The latter is an unusual choice, especially since these will mostly be paired with Android devices, which don't work with AAC as well as Apple's devices. The Mi Neckband, on the other hand, only supports the basic SBC codec.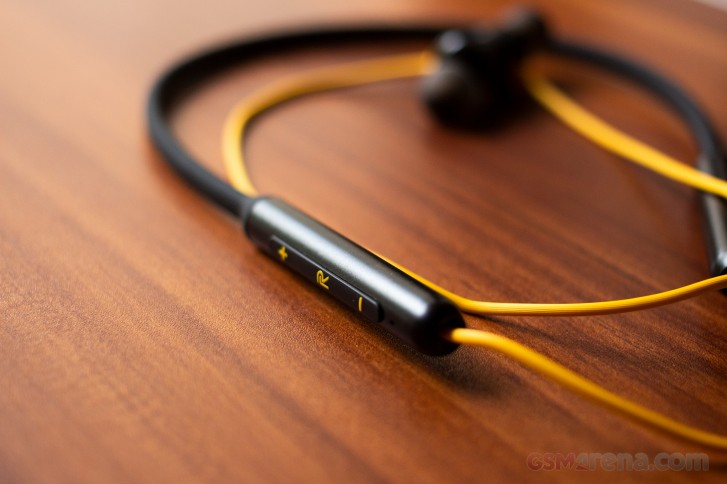 As mentioned before, the Realme Buds turn on or off simply by snapping the two speakers together magnetically. On the Mi Neckband, you have to turn them on or off using a button on the side, which also happens to be the pairing button.
The implementation of this power/pairing button is rather odd that would make one think Xiaomi has never made or used any other Bluetooth headphone before making this one. Pressing and holding the button when the earphones are off turns them on but also immediately puts them into pairing mode. After that, they will pair to the last paired device or keep searching. It does this every single time even though on most other Bluetooth products, enabling paring mode requires a significantly longer press and hold then the one required for turning it on.
It's even worse while turning the earphones off. Pressing and holding the button again puts the earphones in pairing mode and you have to keep pressing the button to move past that and for the earphones to finally switch off. It's utterly baffling why the earphones are in a constant hurry to go into pairing mode and why the button acts more as a pairing button than power button, especially with it not supporting the snap to turn off gesture found on the Realme Buds.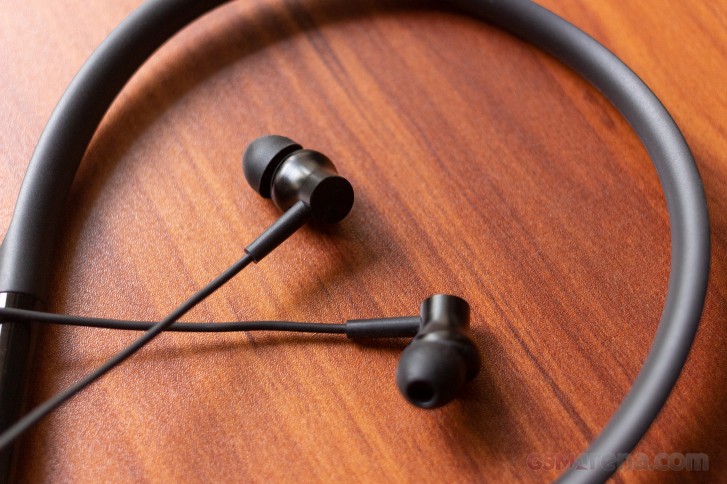 Then again, Xiaomi is known for making terrible decisions regarding Bluetooth on its phones, such as not allowing you to turn off device visibility when Bluetooth is on and not still not supporting Bluetooth absolute volume for audio products even in MIUI 11, so we shouldn't be surprised by this.
The Realme Buds, on the other hand, work pretty much as you'd expect any normal Bluetooth audio product to work and you don't have to let go of habits formed for well over a decade of using Bluetooth products to use this one.
Both earphones support Bluetooth 5.0. Neither had any connection issues during testing with our iPhone XR.
Performance
Being budget earphones, one has to temper expectations when it comes to sound quality. At this price point, some concessions have to be made, whether it's in the quality of the materials or the amount of engineering effort that has gone into making and tuning them.
Having said that, the Realme Buds still sound like washing your ears with warm mud. The sound is congested, narrow and lacks any sort of musicality to it. To suggest that someone actually tuned it this way is laughable.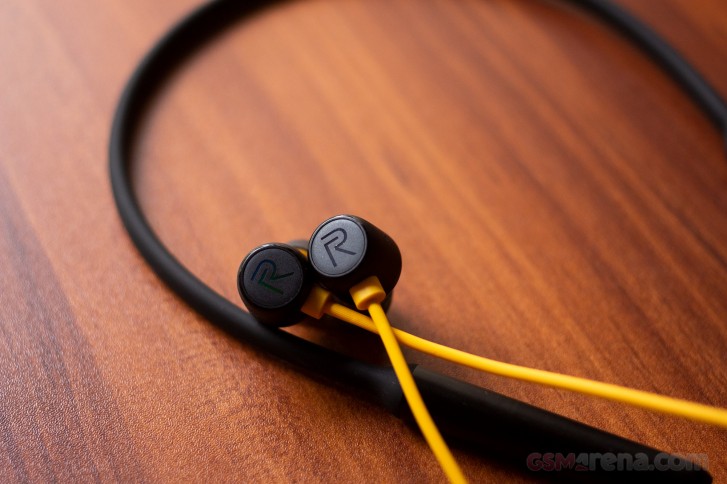 Starting with the bass, the low-end on the Realme Buds is lackluster, with neither the accuracy nor any volume to make up for it. The mids only seem to exist in the lower mid of the frequency spectrum, where they come across as mellow but still lacking any sort of detail and presence. The highs, on the other hand, are so bad you'll need to hire the services of Hercule Poirot to solve The Case of the Missing Treble. At a point in the frequency spectrum, the drivers just give up and leave it up to you to fill up the top half of the spectrum with your own imagination.
The sound is also weirdly congested and compressed and the soundstage is non-existent so it all sounds like it's going on in the middle of your head.
Surprisingly, despite trailing behind the Realme in the previous categories, the Mi Neckband redeems itself well in arguably the most important category. They actually sound quite decent and there seems to be at least some thought gone into how they sound.
The Mi Neckband has a louder and more prominent low-end response, especially in the mid-bass region. It's obviously not accurate but it seems to have some personality at least, unlike the lifeless low-end on the Realme. The mids lack some energy in the lower-mid region but are reasonably strong otherwise without too much of a dip that we normally find in budget audio gear. Lastly, the high-end is once again rolled off here more than we'd like and the upper mid/lower high region is particularly dull but depending on the genre this may or may not be noticeable.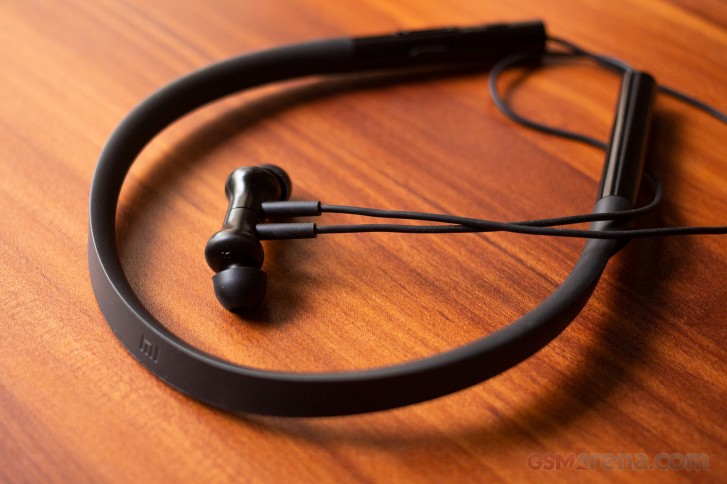 The good thing about the Mi Neckband sound is that it doesn't sound as compressed and congested as Realme Buds. Truthfully, neither of these are great sounding earphones, but the Xiaomi sounds good enough for the price and you can easily get some enjoyment out of them but the Realme just doesn't make us want to listen to them.
Both these earphones are comfortable, so that's not an issue. Both use silicone eartips but the ones on the Realme are softer and nicer. Both do a decent enough job of blocking external noise without any active noise cancellation.
In terms of microphone quality, the Realme Buds are far and away superior than Mi Neckband, which sound like listening to a radio broadcast in an old war movie. The Realme Buds have a much more lifelike audio, that too despite the usual Bluetooth audio compression issues for voice calls.
Battery Life and charging
Both the earphones here have reasonable battery life, but there's no doubt about which one is the unrefuted champion here. Realme claims 12 hours of battery life for the earphones, which in itself is fairly impressive but they actually lasted for 14 hours in our testing.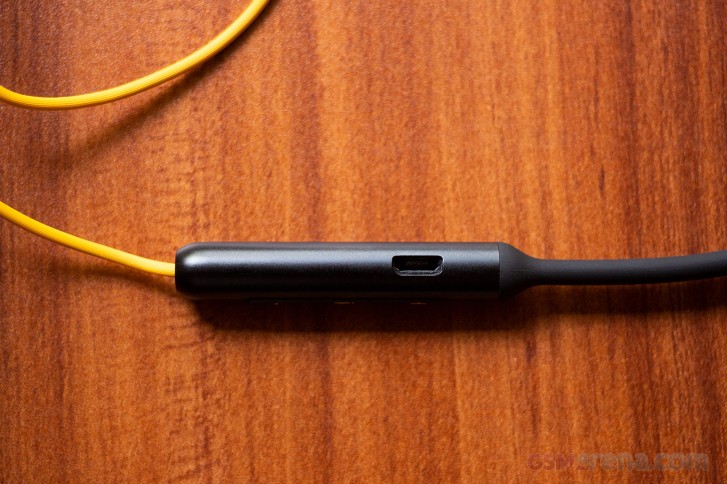 The Mi Neckband, on the other hand, claim only 8 hours and while they too went above and beyond that claim and lasted for 9 hours in actual testing, that's still a good five hours less than the Realme.
As far as charging is concerned, both take about two hours to charge fully. Both also annoyingly still use microUSB connector. Xiaomi puts it under a flap, which is cumbersome. Realme has its open but the hole in the shell is nearly symmetrical so it's difficult to tell which way you should position the cable before plugging it in and it's easy to get it wrong nearly every time.
Verdict
Writing this verdict is a bit frustrating. The Realme Buds should have won easily as they have so much going for them and they trounce the similarly priced Mi Neckband in nearly every aspect. They have surprisingly good design and build, including IPX4 water resistance. They have great microphone performance and also excellent battery life. All of that and they are still super affordable.
In comparison, while not a poor product per se in any aspect other than the bargain basement microphone and the general silliness with the controls, the Mi Neckband does trail behind the Realme Buds in practically every area.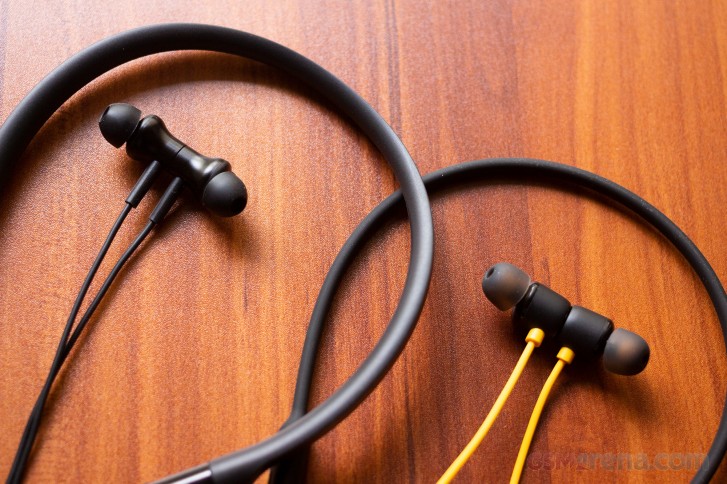 Except the most important thing, apparently, because when it comes to the sound quality, the Mi Neckband wipes the floor with the Realme Buds. It's not even that the Xiaomi sound particularly great; it's just that the Realme sound pretty rubbish overall and there are hardly any genres of music that are tolerable on them.
Based on that cardinal sin alone, we'd wouldn't recommend the Realme Buds Wireless and instead suggest going with the Mi Neckband. In India, they are priced at INR 1599, which is also cheaper than the INR 1799 price for the Realme Buds Wireless and you more or less get what you pay for with them.
However, if your budget allows it, we would recommend going with our favorite in this segment, which is the original OnePlus Bullets Wireless. At INR 2992, they are twice the price of the Mi Neckband at the time of writing but they are 100% worth the extra money. They are much nicer overall than either of these two models and run circles around them in terms of sound quality. If you can find them, they are well worth the cost.
Realme Buds Wireless
Pros
Good design and build quality
IPX4 water-resistance rating
Great battery life
Great microphone quality
Low cost
Cons
Poor audio quality
Awkward controls
microUSB connector
Mi Neckband Bluetooth Earphones
Pros
Low cost
Decent audio quality for the price
Cons
Poor microphone quality
Annoying power/pairing button
Not as flexible as other models of similar design
microUSB connector
Related
The Realme Wireless bud is stated that it's tuned by Alan Walker, and I gotta say that NOT ALL PEOPLE love the sound and tuning as Alan Walker's music. The Realme's earbud is clearly not for people who preferred classical, soft, jazz music. Those kin...
Popular articles
Popular devices
Electric Vehicles