Realme C15 hands-on review
GSMArena team, 31 August 2020.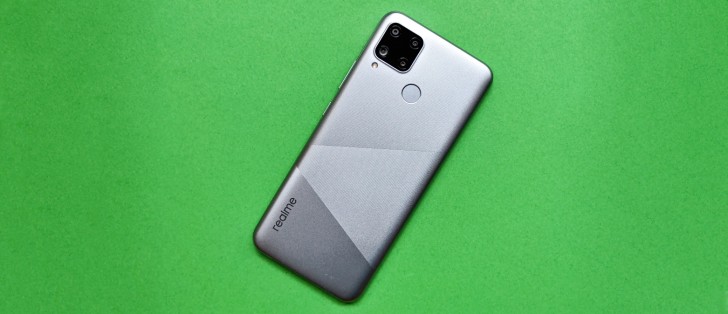 Design and handling
As we said, the C15 is practically identical to the C12. In fact, they share dimensions perfectly. So much so, that they could share cases, as well, with just the re-arranged single LED flash being a potential issue. That, alongside the different number of cameras on the back, is the only real way to tell the two apart.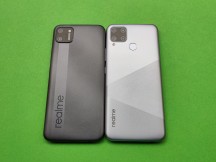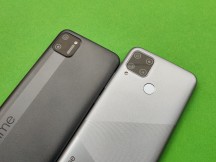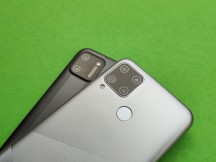 Left to right: Realme C11, C15
The differences don't really ramp-up much when moving down to the C1 either, nor the Realme C3, for that matter. All of these use the same textured back finish. Only their designs and colors are slightly different, so we're likely witnessing a nifty cost-saving measure in terms of production. A side bonus, of sorts, is that if you can get your hands on just one of these models, you can get a pretty accurate feel of what all of them are like.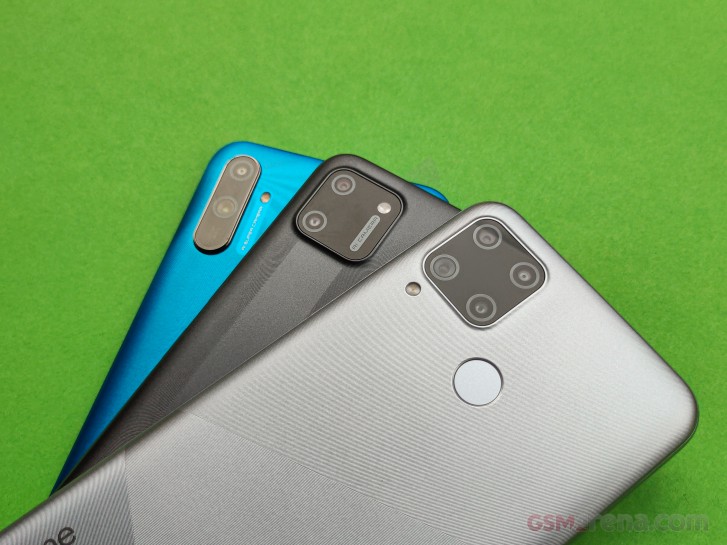 Bottom to top: Realme C3, C11, C15
Due to their increased battery capacity of 6,000 mAh, compared to lower-model-number siblings, the C15 and C12 have their square camera modules almost flush with the plastic back panel. Wobble is hence a non-issue with these models.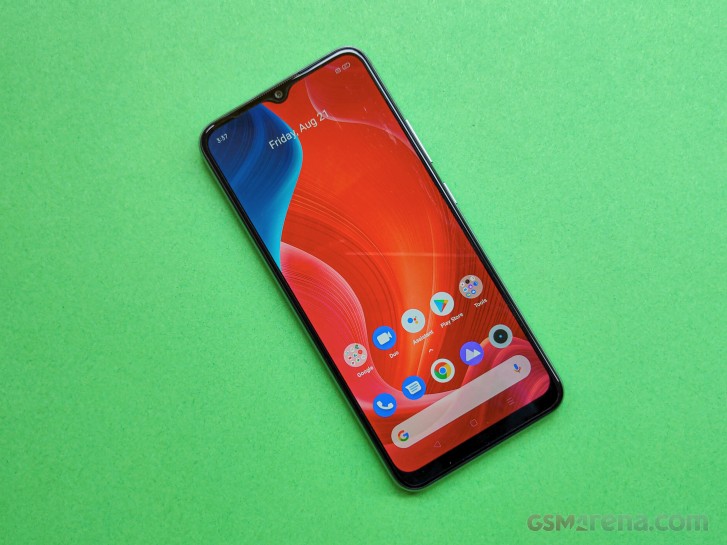 Circling back to the huge similarities in body dimensions across the Realme C lineup, we have to assume that this is very-much deliberate and that a lot of mold reusing is taking place for the sake of cost optimization. We can't say that's a bad strategy either, since Realme seem to have found a formula that works construction-wise.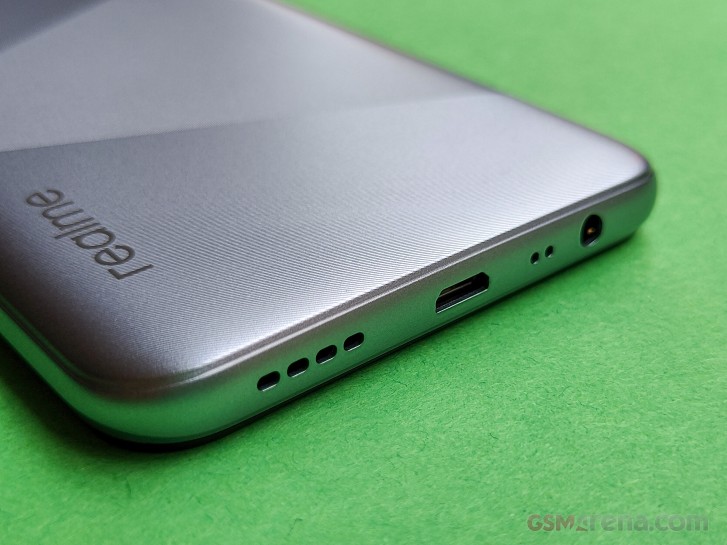 Like its siblings, the Realme C15 employs a three-part build. Both the central frame and the back are made of plastic, but feel very sturdy and well put-together. Plastic has its merits. It is a light, yet structurally sound material that does not bend or shatter and typically chips in a rather unobtrusive manner. Above all, it's affordable and easy to scale, which is all the Realme C lineup is about.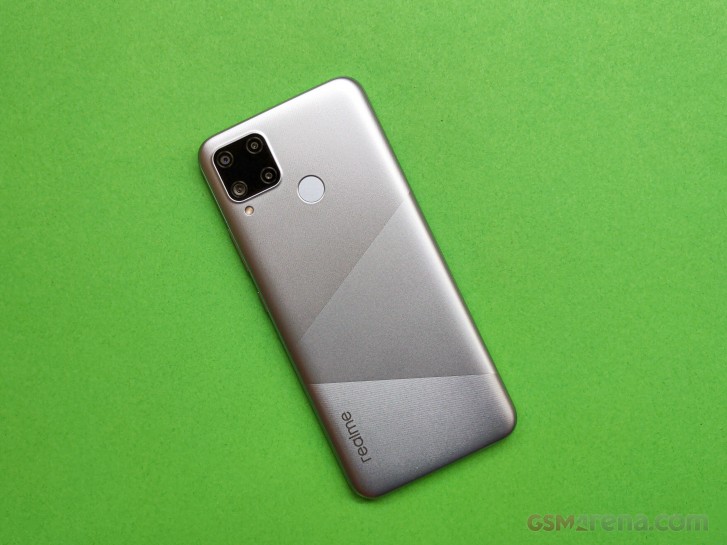 There is still glass on the Realme C15, where it counts - the display. It is covered by a protective Gorilla Glass layer. There are cheaper solutions than Corning's out there, so, we guess Realme deserves a nod for "splurging" on the popular stuff.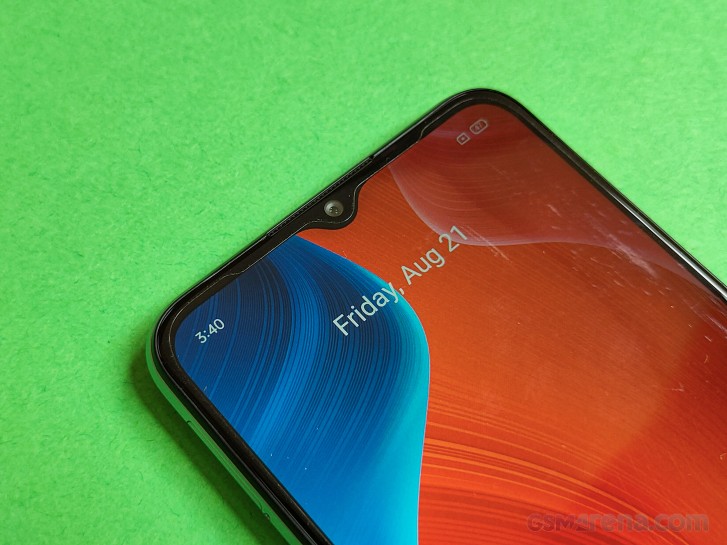 Speaking of the display, it is yet another case of strategic part reusing and cost-mitigation. The 6.5-inch, 720 x 1560 pixels, 20:9 IPS panel is a common sight throughout the Realme C lineup. It's nothing to phone home about, but still looks good in person. Brightness is slightly lower than we would have liked to see, which makes for a difficult outdoors experience. At 270 ppi, it's hardly the sharpest around, but plenty good enough for the price. If Realme does decide to take the lineup higher than 16, a bump up to FullHD might be in order in a number or two.
Joking aside, the Realme C15 display appears to offer a perfectly-decent experience. Colors look good and the teardrop notch for the camera is one of the less-obtrusive notch designs out there. Still a notch, though, but that's a topic for a whole other discussion.
Speaking of the notch and space utilization, the bezels surrounding the display are all very reasonable. In fact, it's impressive just how slick budget design have gotten recently.
A few words on controls and usability then, since this is a hands-on experience. The Realme C15 feels confidence-inspiring in the hand, but does have a certain heft to it. That's partly to the larger 6,000 mAh battery. However, even with it, the C15 tips the scale at 209 grams. So, we are inclined to blame imperfect weight distribution for the arguably cumbersome in-hand feel, at times.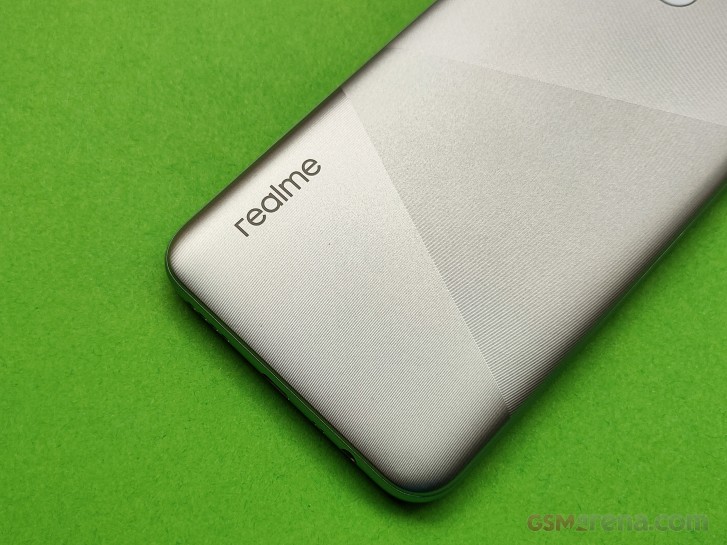 Controls and ports on the Realme C15 are a very straightforward affair. All of the buttons are in their correct positions on the right-hand side. Both the volume rocker and power button are nice and "clicky", with great tactile feedback.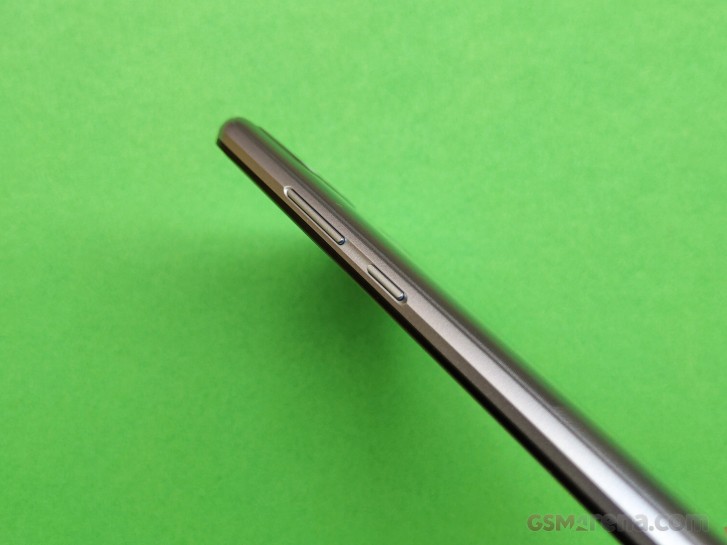 The rear-mounted fingerprint reader is a breeze to use. It is very quick and accurate. No real surprises there, though, since traditional capacitive technology has had so long to mature and come down in price now that a great fingerprint experience has become the norm. Even on a budget device.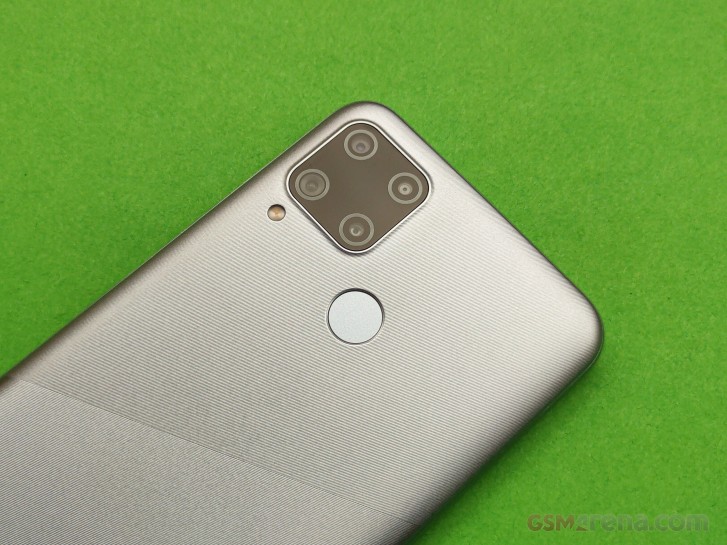 The bottom side of the phone has a cutout for the single speaker and the main microphone. Alongside that - a 3.5mm audio jack.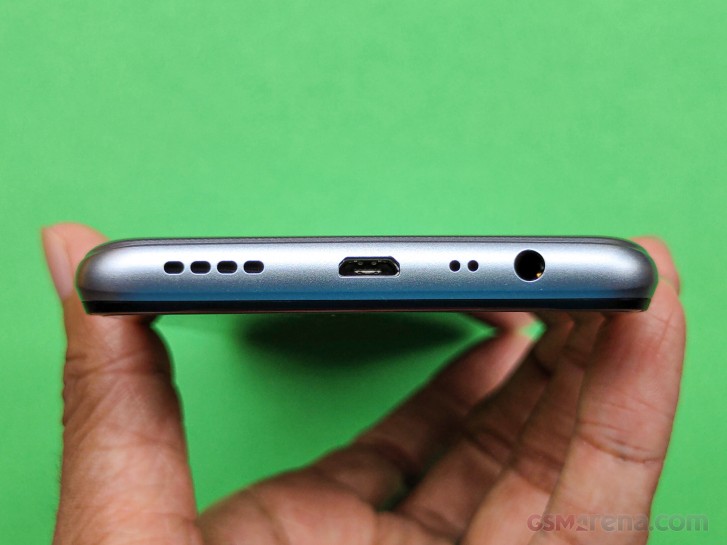 Unfortunately, we are still stuck with a microUSB port. The Type-C connector does cost a fair bit in royalties, so this is probably going to remain the budget norm for at least a while longer.
On the left-hand side, we have a rather spacious SIM tray. It's of the triple variety, housing both two nanoSIM cards and a microSD card. Top points there.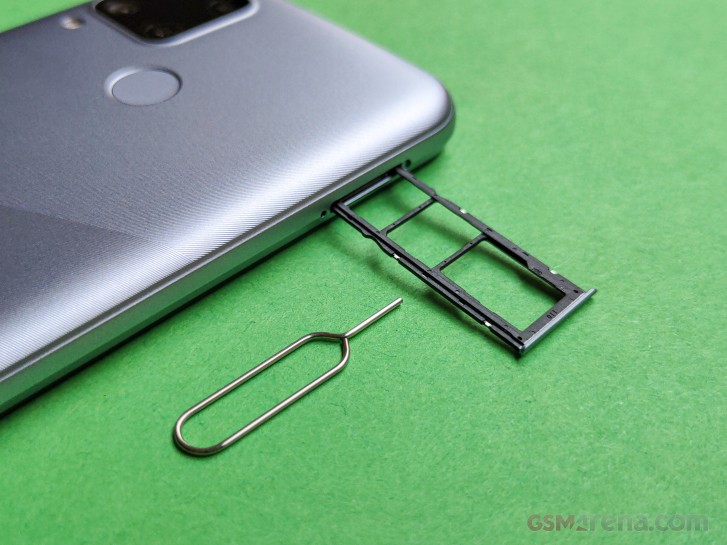 Connectivity-wise, you are looking at a MediaTek 4G LTE WorldMode modem, which includes essential dual 4G SIM support allowing VoLTE/ViLTE on both connections. Locally - Bluetooth 5.0, with LE support and aptX are joined by Wi-Fi n (no ac here), GPS, with A-GPS, GLONASS, BDS and an FM radio receiver. No NFC. No notification LED either, in case you were wondering.
The Battery 🔋 lasts so long, right? Charge up while you're sleeping! Easy peezee! People are so spoiled these days. This truly a nice and reliable phone. It gets the job done, alright.✅ Reliability! Durability.
yes i am also using this mobile it is really good product